What Microsoft revealed about Xbox and Windows 10 today at GDC 2015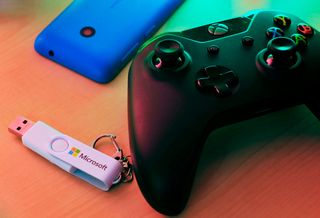 Microsoft's Phil Spencer just wrapped up their presentation on Xbox, gaming and the future with Windows 10. The stream is expected to be up later, but for now, here are the big things we learned.
Certainly, more information will come out later today and tomorrow, but for now here is what we know.
Microsoft doesn't count the sales in the Windows 8 store as a success (as in sales volume was lower than they wanted)
Cross platform gaming is going to include cross-buy as well. Buy from one device, download and play on another device
Developers will submit their apps and games into one store. This store includes Xbox One as well
Pinball FX2 is coming to Windows 10 (free if already bought on Xbox One)
Xbox Live SDK Preview is going live today
DirectX 12 adds a 20% GPU boost to the Xbox One
A Universal Development center will allow devs to develop games from one application
Xbox will bring games to Hololens
HoloLens APK should be available around the time of BUILD
Implementing crossplay is "super simple and easy"
ID@Xbox is now helping devs for Windows 10, including Phones
Porting Shovel Knight to Xbox One and implementing cross play only took 1 day for the devs of the Yacht Club
Game 4 from Behemoth is coming to Windows 10, as well as Swordy, This War of Mine, Wasteland 2, Cuphead, Shovel Knight
Battletoads are coming to Shovel Knight
A wireless adapter for Xbox One controllers to work with Windows 10 will be coming out later this year
Gigantic from Motiga is a shooter, moba, rpg mash up coming later this year to Windows 10 and Xbox One
Phil Spencer is teasing that most first party games will be available for both platforms
We'll have more on Microsoft at GDC later today and tomorrow. As soon as the stream from today's event is posted, we'll let you know! Stay tuned.
Windows Central Newsletter
Get the best of Windows Central in in your inbox, every day!
Daniel Rubino is the Editor-in-chief of Windows Central, head reviewer, podcast co-host, and analyst. He has been covering Microsoft since 2007 when this site was called WMExperts (and later Windows Phone Central). His interests include Windows, laptops, next-gen computing, and for some reason, watches. Before all this tech stuff, he worked on a Ph.D. in linguistics, watched people sleep (for medical purposes!), and ran the projectors at movie theaters because it was fun.
So if the HoloLens SDK is set to be available around BUILD, it means HoloLens itself will probably be released by the end of this year, right? That could boost Xbox One sales.

I dunno. Most of these developers will be dealing with vr tech and holograms for the first time; work may take a long time

"Microsoft, on the other hand, plans to get Project HoloLens into the hands of developers by the spring." - http://www.wired.com/2015/01/microsoft-hands-on/, http://windowscomments.com/?p=299

It is planned, yes. My guess is the holiday season, which makes the most sense.

Daniel, what do you think the hololens price will be? Consumer oriented, or something more expensive?

HoloLens is a standalone wereable PC, but would it be able to connect to the Xbox and give the player an Illumiroom-style experience? That sounds exciting.

I do not think so. The illumiroom's main purpose was to fill your periphrial with visuals. Making your whole room part of the game. The HoloLens though appears that it is projecting an 'in front of you' image. So, I guess it could have a bit of an extended screen but not completely. I see no reason though why you wouldn't be able to play a game through the Hololens, no One needed, pinning a virtual screen to your wall (similar to how he watches Soccer in the demo videos) while it allows you to extend the screen as you look around. I would not expect that out of the gate though.

I find that seriously hard to believe they'll have a working product released to the public in 5 months? I'm thinking more 2016.

They've been working on it s couple of years already, it's not just the best five months.

Agreed, but a working model hasn't even been seen or used.

Then why did they use the big bulky test models for people back stage? Sony is releasing their VR spring of 2016 and has at least shown the model that's close to release. Doesn't make sense.

What we saw in January (on stage) was the finalized hardware that was just cleared a few days earlier. I wore a working prototype, which is just the same gear, but 'open' for easy access.

Thanks for clarifying that Daniel. It amazes me the falshood some people try to pass around. I thought it was pretty clear the one on stage was final/really close to final. But I guess some people missed that.

They have been working on it for a good number of years, what they showed on stage (Jan 21) looked like a product nearing the final stages of completion.

If it was close to completion, again, why didn't they let people try it out?

No they didn't. They were using an old prototype attached to a computer that looked nothing like we saw on stage.

How do you know that? Did you test one out?? Most of the people who have tried it have described it as basically what they saw onstage, but with power from cables instead of a battery pack.

Highdefjunkie: Hi, I was there in January. I wore the HoloLens prototype, tried out all the demonstrations. I also saw the finalized hardware. It is planned for release later this year. Nothing more to say on the matter.

I just hope they don't "Kinect" the HL. Kinect was an early failure imo because people couldn't see the potential in it because MS A. released it way to early and B. the games sucked. So something worthwhile was never given a chance. I hope it doesn't happen with HL.

By what measure Kinect is a failure? You just heard someone said that then believe it.

Now I pride WC community as not being like those on Yahoo, so please no assumptions about people like,

"You just heard someone said that then believe it."

I appreciate the vote of no confidence in making my own opnion / poor grammar. ;) Kinect is a failure in the overall scheme of things. I like talking to my Xbox, sure, but the ultimate vision (and potential still there!) for Kinect was never realized. It wasn't adopted widely because of several reasons as stated above and is seen as a mere peripheral instead of uniquely integral to the Xbox experience. Name any really game changing effect it directly has had.

Exactly! I couldn't agree more. How I invision HL with Xbox One and Kinect -- I'll be able to use my voice and talk to Cortana while HL renders a 3D model... It's not game chaning, but I think that would be a pretty awesome experience.

I'm slightly amused at the thought of people running out to buy the Kinect once they get a chance to use Cortana. I use the voice recognition it enables every time I turn it on/off and when I pause video or music and of course control the volume. Cortana will hopefully take the voice recognition up a notch or two. I can't imagine Xbox without it. Of course it still isn't necessary but I like it all the same. Works great for workouts.

Kinect has only failed since it was bundled, other than that it is a great accessory, I understand Hololens is a standalone PC but may with an Xbox game Kinect may have viable reasons to interact with the device as well.

Kinect 360 worked for us in our house. Not a big American lounge, but a regular UK terrace house.

HOLOLense SDK will be included in win 10 ... read their latest blog

Actually, already there if you have the preview build 9926 and above. Just not available in Visual Studio yet. (I meant API already in Windows 10, SDK not in Visual Studio yet.)

Shovel Knight having cross play includes phone, right?

This is why Microsoft needs to go all in on Intel-powered Windows 10 phones. Don't even distinguish at all anymore between PCs and phones and everything in between. Make them all Windows devices and don't nerf any of them in any way.

I was hoping 10 would bring this, or extremely close. Maybe 11... :/

Intel has already announced that their chips are coming to phones running Windows 10.

I don't want a desktop on my phone. Nuf said.

So buy an ARM-based phone instead.

Having any phones with a desktop would make people think Microsoft had gone back to the stone age.

No. The opposite of that. It's the future. Docking small devices into workstations will be a huge business shortly.

Android was and is not a desktop class OS as much as people pretend it is. It might be built from one, but it isn't. Motorola Atrix had lots of short comings. I agree with coip that those devices will come now that Windows will truly run everywhere. Didn't someone do this with Ubuntu, but it never got off the ground?

I really really really want what you said to come true. They can intelligently choose which features to present based on hardware already so I don't see why they wouldn't try this on some devices.

I keep hearing "this new blah, blah, blah will make it easier for apps to be made for all versions of the OS" and nothing ever changes. How many times did we hear about something like this with Windows Phone 7/8 and Windows 8? I also wish they would get their heads out of their asses and fix the crap known as Xbox Video and Music. Its been said 10 trillion times for a reason.... Bring back Zune and just rename it. And there is a reason it has been said 10 trillion times...THAT IS WHAT WE WANT. Try giving us what we want instead of trying to convince us we dont know what we want.

this is what you want not all of us / zune is dead because of ul and many other things , forget it music and movie app is really fast and have good ul

please seee in the voting section how many have voted to bring back zune. its simple thst Microsoft can keep that app name xbox music or of they keep it zune music and video it will still attract many ppl who remember zune and loved it the most.

Yeah, I can never understand how one person (or cry baby in most cases) feel they are qualified to speak for everyone.

Zune is not dead because of UI. The UI was great.

zune has a unique ul , yes but is not good for flat design and just remember the fisrt music app for windows 8 has somethings from zune but it's not a good app , it was slow

Ever think that the code behind Zune wasn't compatible with WinRT, and that's why they decided to start over with Xbox music? I'm confident all the features you miss will make their way over. Just have some patience.

You're acting as if the Zune was *just* discontinued about five months ago. It's closer to around five years ago. If features were to be carried over, it would have happened already. The current Windows 8.1 Xbox Music app is *still* inferior to over a five year old piece of discontinued software.

"and nothing ever changes" You haven't been with WP for very long, have you? The app situation has gotten much better. It's night and day. "Bring back Zune and just rename it" Bring back 10 year old code???? Then try to adapt it to the cloud? I'd cancel my music pass instantly if they did something that stupid.

And yet the Zune we got on WP7 was a better solution than what Xbox Music is today......

Zune was good for what it did, but the tech behind it does not belong in the modern world

I prefer the Xbox Music to Zune on Windows 7, am I the only one?

it's one of the main reasons i stick with windows phone 7.8

The public has made known through sales results that Zune was not a success and not popular, fan boys like yourself aside. Conflating apps for one OS and the UI of another is not a coherent well thought out argument. The public moved on from Zune to iPod/iTunes (and moving from Windows Phone according to global market share). Either wait for Windows 10 mobile or move on too.

"The public" didn't move from Zune to Ipod. They wet already on Ipod when Zune came out, which is the problem. Microsoft were too late to market. At that point it doesn't matter how good your product is.

The public did indeed move on to iPod. Check the market share of Zune to the market share of iPod.
The "late to the market" theory has been disproven time and time again (e.g. Windows OS, Google search engine, Apple iPhone to name several prominent). A great product and proper business plan is a better predictor of success. Stop parroting what you read in mass media and properly understand what you're discussing.

Those are bad examples. When windows os and google search came out there was no dominant product in their category. For Search, google made an engine that was better than the dozen other engines available and it took off and became dominant. With windows, there were a bunch of OSs and they were mostly proprietary and used with a set hardware. Microsoft made their OS available for all oems and that brought the cost of PC down and it became dominant. With iphone, the other smartphones used keyboards and a stylus. If it had a touchscreen, it was poor and difficult to use. Iphone implemented the touchscreen better and did away with keyboards and that why they dominanted for a while. Android took the iphone approach and allowed oems to make many phones, bringing the price of smartphones down. Microsoft came in several years late with 2 dominant player and so far has made great phones but with no really unique features.

Hopefully more more and more quality XBox games for Windows Phone!

That seems to be the case now that ID@Xbox is being extended to Windows 10 devices, as #SaveXboxWP has been asking for since 2013.

I'm also hoping the deeper integration of Xbox with Windows 10 leads to more Xbox-Live games on WP. I just hope they won't end up just expecting you to stream the games. 'cause I can't really carry my Xbox One around with me =P

Oh come on. You don't think that we should have to carry backpacks with a generator (or giant battery pack), and an Xbox one inside? Seems like a reasonable requirement for a phone game. :P

Imagine that if we can stream xbox games using phone(high end phone)+custom joystick for phone.

I don't think we need high end gear to stream games. I could be wrong though. I'm sure MS experimented the same thing (albeit from the cloud, not XBox) on a Lumia 520 last year or the year before. Custom joysticks exist for phones! MOGA is one of them... But it would be nice to have alternatives and the actual Xbox one controller support. :P

No phone OS development talk will ever come out of an XBOX event, it is pretty obvious.

I'm going to install it on my Nexus 5!!! /s

Probably a typo. I'm sure they mean API. The K is next to the I. Makes sense MS will announce an Application programming interface at a developers conference

No, I believe APK stands for "Application Development Kit", just like SDK means "Software Dev Kit".

As a developer I've never heard that term before.

Yeah same, when I think APK I think of android apps.

APK means Application PacKage...

All sounds sweet. Looking forward to the watching the stream later.

By the time Battlefield 5 is ready I will have saved enough money for hololens! Yessssss

We don't know how much HoloLens will cost, but I hope you're right, and I hope it pairs up with Kinect for the ultimate gaming experience.

Well I don't want to crush any ones hopes but this can't be cheap. Maybe if ms wants to push it they could sell it at break even but you know

I really hope that adapter for the controller works with W10 mobile.

Why? If we can get a Windows 10 phone with Wi-Fi Direct built-in and the OS itself supports the Xbox One controller there would be no need for the dongle. But that would make too much sense. :P

Problem is its not wifi-direct its tech based on white-fi

This is great news for everyone!!!! :)

I just hope they realize that Halo can't be cross-platform. Unless they have a way to be sure that the PC players are using a controller.

They most likely will have a in-lobby-filter.

You can use a keyboard and mouse on the Xbox. Also I'm a firm believer that the whole controller vs KB&M is a myth. It's only natural that a person will normally be used to one and suck on the other. I play mainly on console for everything except strategy games and a few outliers from my past that I go back to. Not to long ago I played BF4 on PC with a controller, I consistantly ended up in the middle of the pack, which is where I run if I use KB&M.

It's really not a myth. Microsoft has experience with this.

They have experience with people complaining about it. I dont remember seeing Microsoft, or anyone for that matter, doing a formal study to prove KB&M is superior to controller

Ever tried a trackball there supposed to work great with these games

If you're referring to what I think you are, I disagree completely. I use a Logitech m570 at my desk for work, and I'll say it's awesome for regular computer work, and I did light graphic arts with it, I hated it for gaming. Tried MMORPG, RTS, and FPS.

I need Titanfall on Holo Lens.

NO we don't want you jumping of buildings xd

A lot of this is great news, especially with the cross-platform purchases, but as an achievement whore the downside is that there'll be less games to stack, unless they still keep the lists separate which would be be great.

I thought I was the only one getting multiples of the same cheevos XD

Potatoes has a point. It wouldn't be One generation of they're sitting there trying to make everything work for every OS and device. If every device just has one or a few specific easily convertible codes like Windows 10 provides, making one product for all devices would be a hell of a lot more simple. Plus, time of production would be faster

"Xbox will bring games to Hololens" What about Windows games and Hololens? "A wireless adapter for Xbox One controllers to work with Windows 10 will be coming out later this year" Only with Windows 10? Will it work with Windows 7 and 8 as well?

What about upgrading from Windows 7 and 8 to Windows 10 for free? You know....sorta the whole phoint of One OS....universal apps.....everything that was announced.....you can upgrade from Windows 7 and 8 for free......if you miss out on any of this...by staying with 7 and 8.....it .....is....your....own fault. Microsoft has made this clear.

How about buying me a new notebook that supports upgrading from Windows 7 to 10? HP has refused to release new GPU drivers for my Pavilion dv7 Quad core with AMD HD 6770M gpu and the generic Intel+AMD drivers break the switchable graphics functionality, this has been reported in multiple forums including HP's, and they still refuse to release updated drivers. So upgrading to Windows 10 is simply not possible, so get of your high horse buddy.

I'm not in a high horse and you speak as if Windows 10 is already out and that drivers cannot be updated at if there is no hope. 10 is in development, of course there are going to be driver problems and much more.

I'm with John on this one. HP and other manufacturers lock their hardware to their drivers. If they choose to never update, you can't move forward. My HP envy is stuck in Windows 7 thanks to the video driver.

I'm calling bs on that. If my HP Mini 110 from 2009 can run the windows 10 tech preview then any laptop can. Any hardware has manufacturer drivers that can be used if you do a fresh install, I highly doubt there is any peice of hardware in a laptop that the OEM has the only driver for (outside of perhaps Mac).

Its no BS, if you instal the generic drivers from Intel and AMD you screw up swichable graphics; i.e. the ability to switch between using the Intel gpu and the AMD gpu. Of course you don't have that issue on low end devices that don't have a dedicated Nvidia or AMD GPU, but simply and Intel chip.

Why would you even want to switch between an iGPU and a Nvidia or AMD GPU? Just use the more powerful GPU. Unless you are talking about using something like Virtual MVP and using both at the same time. Either way, there are lots of threads out there about getting switchable graphics to work with W8, so getting them to work with W10 shouldn't be any more difficult then doing some searching.

The manufactures may not release drivers bit can you not install AMD drivers for for card and OS? Just curious

You can install the AMD generic drivers, but then you lose the ability to switch between the Intel gpu and AMD gpu. Currently it works that you can designate certain game or programs to use the AMD gpu in the Catalyst Control Center, so the AMD chip only comes on if you run a game or other software that you set to use the AMD gpu, in all other instance your notebook uses the Intel gpu which is part of the i7 cpu. If you use generic drivers you are no longer able to do this.

There is no hope, HP has not released drivers for Windows 8, and no driver for 8.1; so there is close to no chance they will suddenly come to their senses and release Windows 10 drivers. All I can say is, this is for sure my first and last HP notebook, as I have no need for a PC that can't even be updated because the OEM chooses to abandon driver development and makes it impossible to use generic drivers.

Get rid of the HP branded version of Windows on tha laptop and I think you'd find you would have no issues with manufacturer or generic drivers

Please don't spread misinformation if you are not familiar with specific HP notebook with swichable graphics. Just do a simple bing/google search for HP notebook AMD HD 6770M gpu drivers and Windows 8 and you should find plenty of forum threads that discuss the issue of not being able to update the drivers and still keep all the functionality of you notebook's GPU's.

I did, and found threads that post solutions..I suggest you do some more reading.

It's possible. Look into the modded inf community, places like laptopvideo2go.

@John20212 Dude search leshcat labs. Ding ding ding we have a solution. Drivers for the 6770m that work for Windows 8.1. I used them for a couple of years.

Thanks, will check it out; still does not change the fact that official driver support is nowhere to be found, so unless you like tweaking stuff and using unofficial drivers and DIY solutions you are still screwed when it comes to official driver support.

I agree. My HP laptop died too just a few weeks ago. Same model as yours. Now I hate HP. Terrible support and terrible computer.

This is nothing new for hp i'd suggest dell(select band labels like aw)/eurocomm being that they support mxm graphics interface which reference drivers work better usually. Or if your into ati & dont mind amd CPUs go with an apu powered computer

Xbox is coming to Windows 10, so, yes. No, it will only work with Windows 10. Windows 7 and Windows 8 have free upgrades to Windows 10 anyway.

I'm not sure, but I think 'Windows games' is going away. Microsoft seems to have been working to put their gaming brand under Xbox exclusively. It'll likely just be a name. As far as the adapter, they still support windows 7 and 8 so I doubt they will leave it out. This was an Xbox and Windows 10 event, also, if you have Windows 7 or 8, there's really no reason to not plan on going to 10.

W10 for Phones please!! The waiting is killing me!! X'(

Can you please clarify the first bullet point? What does "Microsoft doesn't count the sales in the windows 8 store as a success" mean? Sales as in units sold, or sales as in sales prices?

As units sold. They see this sales as a disgrace.

I too was wondering what that sentence meant. I wasn't sure if they were referring to just the Xbox games in the Windows 8 Store, or to all apps.

Basically the Store hasn't sold enough content for it to be called a success.

Well they were late to deliver windows branded gift cards to their various retail partners

I think phone all dat is just meh fuk all dat put more focus. On xbox n games for it no every gonna be using phoned for da xbox all dats shit it's. Point less

You write terribly and make no sense. The English language is off somewhere crying in a corner because of what you did to it.

Hahahaha, I laughed! He could add an English Keyboard option on his OS, I have that on my WP 8.1, works pretty smooth!

No problem. Let me help... Original: "I think phone all dat is just meh fuk all dat put more focus. On xbox n games for it no every gonna be using phoned for da xbox all dats shit it's. Point less" Translation: "In my opinion, Microsoft's focus on Windows Phone is not very interesting. They should focus on the Xbox platform and games that play on that platform. I don't believe that users will flock to Windows Phone in order to play Xbox content on the phones and it would be foolish for Microsoft to pursue it." (Wow, that was hard!)

Holy grammatical and spelling errors Batman!

What the hell did you just say?

So does this mean we can buy a AAA-game on Xbox and also get it on PC? That would be amazing

That is exactly what it means.

Sounds like it's only for cross platform games.

So direct x 12 gives a 20% GPU boost to Xbox one. Any info yet on how it will help PC GPUs?

Kinda surprised no one has elaborated on this point yet.

Wow can this be true, 20% boost is amazing... :-)

They still haven't really showed true dedication to PC gaming...

That would depend very specifically on the GPU in the PC.

It doesn't, at least not in the way you are thinking. The X1 GPU is limited so it can be made faster by optimization..thus the boost from DX12 but PC GPU's aren't limited by their hardware in the same way the X1 is so they won't see a boost the same way; instead they will experience an easier ability to do the same things, any improvements won't be noticeable to the user

Pretty sure you have no idea what DirectX does. If your GPU is DirectX 12 capable then yes, you will see a boost.

If not I wonder if vendors like say lucidlogix could bridge that gap

I believe they showed a demo in January same hardware one dx11 and one dx12 & the difference in what could be rendered was pretty impresive

Probably hard to answer since there are a lot of varying hardware (GPU models, CPUs, etc) where XBOX ONE = 1 set of hardware so they can define it specifically.

As far as I understand, WindowsCentral is wrong on that statement. the 20% boost was made in reference to PC, not the Xbox One. There is a reddit discussion here about it, and even Major Nelson chimmed in saying it was in reference to PC, not Xbox.

on pc the improvement in raw performance is even bigger, since we have a lot of older code(since winxp times) getting in the way of todays games & hardware, that's why, in part, you can play from nfs(the original) all the way up to Rivals using the newest hardware, directx 12 will cut all this nonsense(but of course you will keep older directx for older games) and so far the benchmarks show incredible improvements, like from 10fps to over 100fps in some cases, its about time this happened if you want to know more visit some old school pc gaming sites

This is more like it, great news... :-)

Is anyone remember the post which was posted on jun 14 " http://www.windowscentral.com/microsoft-next-version-windows-will-have-g... "
Is "Hololens" is game change feature for windows 10..!

It will be nice to get all the media streaming channel/apps on board with Windows/Windows Phone. The Xbox is a pretty good market for streaming. It could really benefit Windows if Apps are truly "build one App for all".

we should be able to use the windows phone as a game controller with on screen buttons and controls, integration into the screen/app and be able to play xbox games on phone when away from system. It could kill playstation's vita and nintendo's ds systems. Also allow android inspired games to appear that would take out any up and coming android competitor.

Touch screen controls are terrible.

To some but to have the option could push them to get a windows phone if they are a xbox user

When is Pinball FX2 coming to Windows Phone? They showed it off a couple of years ago and then it disappeared.

Shelved indefinitely I think

Pr0n for Hololens. MS would be the most valuable company on the planet.

Daniel Xbox and windows 10 PC is what I am using and believe will excel in future.. I just I was in time where I needed change in platform and I went to android.. But I am waiting to see where windows 10 goes.. Excited.. Hope like Xbox, PC. In phone department also new things shall will come and by come I mean soon.

Did Sony already showed off everything they had for GDC, or there is still something to come? Because the system evolution of PS4 hasn't been close to the one with XBOne.

Sony never really talks about updates. Now they're working on Project Morpheus and have announced it should arrive to consumers in the beggining of 2016. Probably everything until then will be in preparation of that. But yes, Microsoft has been updating and improving the Xbox One at a far greater pace than Sony has the PS4. Which is why, for the first time, I bought an Xbox One instead of a PS4. Sony has been slacking on PS4 updates. But then again, Microsoft wants the Xbox One to be more than a gaming console. Sony doesn't.

Xbox games on HoloLens sounds awesome. Can you imagine GTA VI on the HoloLens? How awesome would that be?

All I want is a keyboard and mouse to be fully usable on the Xbox One. Until then, there's no point in me even considering gaming on it. I'll stick to my much better equipped PC.

You can buy adapters to do this. I have one and play COD with it. Although I still suck.

Okay, this is really cool. However, it's not really useful for PC gamers, if you can't get your games on steam and do this. I had hoped MS had finally realized that PC gaming right now IS Steam.

I wouldn't say pc gaming is steam. That's a very dangerous assumption. Steam is important atm, but the openness of pc is even more important. Yes they should work with steam, but not FOR steam. Instead Ms should work with game devs, to make sure things like game streaming and hololens work well, because in the end all steam is for a game is a drm platform.

GoG has got to be the best for finding older titles as theres no drm

People said the same about origin, which sucked at the beginning. Now I don't mind it and I actually prefer it. Much better interface than the retarded small fonts on steam. I moved every game I could to origin. Steam still has a huge market share, but the interface and embedded web browser suck.

So I'm reading all these bullet points that say, "X, Y, and Z will be available for Windows 10!", and I have no idea if that means Windows 10 on a desktop PC, or Windows 10 on Xbox, or Windows 10 on my phone, or some and not others, and my conclusion is that calling it Windows 10 everywhere is a colossal mistake, as most of Microsoft's naming decisions have been the past, oh, 4 years.

It's not as bad as the decisions NOA has made on behalf of their Japanese parent

sounds good so far, an HoloLens coming to Xbox will be cool hope the price of the gadget isn't too expensive. I'll drop $200 if there will be enough games for it. but if not then has to be $100 :D yeah I know, I'll keep dreaming

No way the Hololens will be under $500. I wish it was going to be, but for somehting as cool as it seems to be MS will be able to charge whatever they want for it, and thats NOT going to be sub $200.

It would have to be under $250 at least, If it wants to be a success in the consumer market. They can not charge the price of a full console for it unless they put all the support around it that xbox has. Most people will see it as an accessory. Any games or complicated programs for it will require an xbox or pc. It's an accessory. The better plan would be to sell it relatively cheap ($200) so that a vast more amount of people can get it. Then they will have saturation of the market enough for developers to want to write software for it.

What makes you think it will require a PC or Xbox? It's standalone.

Did they show anything of a new UI of Windows 10 on the Xbox?

I am stoked for Hololens... Not for games but for Structural Engineering and Civil Engineering.... Bamm

I'm not a gamer either, but I can see the massive potential in hololens, in all different areas of life... Imagine watching horror films where the dead girl climbs out of your TV, or walking around a museum with hololens on instead of the audio guides, or bringing live stage theatre to a whole new level... As well as all the endless educational possibilities. Man I hope they get this right! :D

Pretty much all good news. Well except for the cross-buy thing. I can already BUY on one device and PLAY on another. Now if I could buy AND play on one device, and also PLAY on another device type, that'd be awesome! I've bought several games multiple times for different platforms.

I don't think you understood this right. Let's say a game comes out on Xbox and PC. Buy it on Xbox and you can play it on your PC for free.

daniel why is xbox wire saying it was only for PC and for Fable Legends. SOme confusion on this, was the 20 percent referring to xbox one ? Thank you for your time.

No mention that the magnificent Elite: Dangerous is coming to Xbox one, as was announced today.

I think the division game from ubisoft will benefit from hololens

Was the 20% GPU boost a misquote for Xbox One? I'm confused, people around the internet say it only is in reference to PC (Fable Legends on PC, specifically).

gaf said that you dont know what you are talking about and misspoke ... official pr saying just PC... can you confirm

Damn, may need to get a Razer laptop after all then.

Battletoads coming to shovel knight? What does this mean?!

source was wrong hence thats why he didnt answer.... liveblogger get your shit together come on man

How about bringing gears of war and halo back to PC? Well,a gamer can dream.

Xbox will bring games to Hololens HoloLens APK should be available around the time of BUILD Implementing crossplay is "super simple and easy" ID@Xbox is now helping devs for Windows 10, including Phones Porting Shovel Knight to Xbox One and implementing cross play only took 1 day for the devs of the Yacht Club YES! YES! YES! This is awesome.

Curious about what they'll do for Xbox Live Gold subscriptions? This going to be coming cross platform too? I'm pretty sure there will be a huge backlash if people would have to pay to play PC games online when they didn't have to before...
Windows Central Newsletter
Thank you for signing up to Windows Central. You will receive a verification email shortly.
There was a problem. Please refresh the page and try again.