What VR headsets can you use with Valve Knuckles controllers?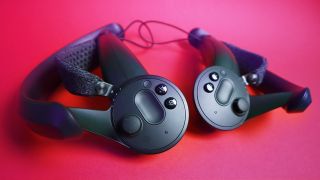 What VR headsets can you use with Valve Knuckles controllers?
Best answer: You can use Valve's Knuckles controllers with the Valve Index VR headset as well as with the HTC Vive and Vive Pro. You can also use the Knuckles with your Oculus Rift, but it will require some additional hardware and extra steps to set up.Definitely, yes: HTC Vive Pro ($1393 at Amazon)Yes, but with extra steps: Oculus Rift ($690 at Amazon)
Index Knuckles with the HTC Vive and Vive Pro
The unique design of the Index controllers are built to work directly off of the Valve tracking system in the same way the HTC Vive and Vive Pro do. You can definitely use your Knuckles controllers with an HTC Vive or Vive Pro headset.
Simply pair your headset and controllers through the standard pair controller set up found within Steam. This is all possible without the need for additional software or hardware to connect the two.
Syncing your Index Knuckles with an HTC Vive or Vive Pro means you'll be able to take full advantage of the 87 sensors built into the Index Knuckles used to capture pressure, motion, touch, and optical data.
You'll be able to have a more natural and accurate hand tracking experience in VR without having to download new software or purchase new hardware.
Knuckles with Oculus Rift
Unlike the HTC, if you want to use your Knuclkes with the Oculus Rift, you'll have to do a little extra leg-work. It is possible, but keep in mind that you'll need to purchase (2) Vive Base Sations and (2) Steam Controller dongles to do this. Here's how to do it.
Download & Install Steam, and then set up the VIVE Base Stations.
Connect your Oculus Rift and sensors, and install SteamVR.
Opt-in to SteamVR's beta branch and install the Knuckles Drivers.
Get the Watchman Controller Update and update the Steam Controller Dongles.
Change settings so the Rift can work with the VIVE base stations in SteamVR.
Download this unique default vrsettings file, and then pair your Knuckles Controllers.
Calibrate the guardian systems using OpenVR-SpaceCalibrator.
Value tracking system
Since the Index Knuckle Controllers work incredibly well with any VR headset that uses the Valve tracking system (except the Pimax VR headset), pairing the controllers with an HTC Vive and Vive Pro is super simple. Of course, if you're up for the challenge, it is possible to pair your Knuckles with an Oculus Rift, just be prepared for a little bit of work and an investment of an extra $300 in hardware.
Definitely works with Knuckles
Ultimate VR experience

Dual-OLED displays with an industry-leading resolution of 2880 x 1600 pixels for unparalleled visual fidelity of graphics, text, and textures.
Yes, but with extra steps
Oculus Rift + Touch Virtual Reality System
1st Gen Oculus Rift

This first gen VR headset can pair with your Knuckle controllers with a few step. The set features two sensors, controllers, and six free titles, including Robo Recall, Lucky's Tale, Quill, Medium, Dead and Buried, and Toybox.
Get the Windows Central Newsletter
All the latest news, reviews, and guides for Windows and Xbox diehards.
Bobby Carlton is a contributing writer for Mobile Nations who lives in Upstate NY and has covered events such as SXSW, CES, Tribeca Film Festival, Learning, TechLearn, Comic Con, and countless other conferences that may have the latest in VR and AR news. He's obsessed with finding the perfect backpack (it's currently the WANDRD HEXAD Carryall Travel 40L Duffel!), absolutely loves black coffee, and always willing to talk Star Wars. Follow him on Twitter at @bcarlton727. {.end}