Microsoft Build 2019: 5 things we're dying to see
The Build developer conference is Microsoft's yearly chance to talk about its future software efforts. With that in mind, here's what we're hoping to see Microsoft talk about this year.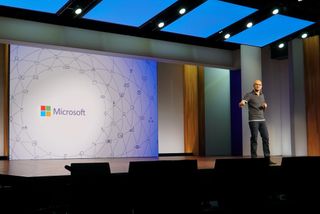 (Image credit: Windows Central)
Microsoft's Build developer conference is back this May (opens in new tab), and as usual, we're expecting lots of long talks about Visual Studio, the cloud, and other super powerful developer tools and platforms. However, we're secretly hoping that Microsoft puts a little more emphasis on Windows this year, with things like Windows Core OS, HoloLens 2, and Anaheim in the works internally.
Here's what we're hoping to see at the Build 2019 developer conference.
Windows 10 20H1
Microsoft recently started flighting 20H1 preview builds to Insiders in the Skip Ahead ring, which is notable as 20H1 isn't scheduled to be released until April 2020. That means 20H1 will be in testing by Insiders for at least 13 months, the longest of any official Windows preview phase since Windows 8. Microsoft's only official word on the matter is that it's planning new features that need longer lead time for development and testing.
While nothing is confirmed, we have heard whispers that Microsoft may finally be planning to introduce more "CShell" universal shell elements to desktop with 20H1, including an updated XAML taskbar, system tray, and more. This would explain why Microsoft is giving 20H1 a long lead time. It would be awesome if Microsoft finally opened up about its new universal shell at Build 2019, talking about how it can adapt and showcase improved animations and consistency across UI elements.
Whatever Microsoft is planning for 20H1, we think Build 2019 would be a great place to start talking about it.
Windows Lite
Another Windows-related thing in the cards for Build 2019 is Microsoft's rumored lightweight version of Windows, known publicly as "Windows Lite". This is a new flavor of Windows Core OS that's designed to take on Chrome OS and iOS for iPad, with a new user interface that drops live tiles in favor of the more familiar static app launcher but still has deep ties with web experiences and puts the Universal Windows Platform (UWP) front and center.
If Microsoft announces Windows Lite, we'd also like to see Microsoft give out a developer device to those in attendance that comes with Windows Lite preinstalled. This would give them an incentive to support Microsoft's new Windows OS.
More on HoloLens 2
Microsoft is expected to announce HoloLens 2 at Mobile World Congress (MWC) on February 24, but we're not expecting there to be a huge deep dive into new developer opportunities at its unveiling. So, that makes Build 2019 the perfect time to open up more about its plans for HoloLens 2 and detail to developers what exactly they can do to take advantage of HoloLens 2's new capabilities.
It's worth noting that HoloLens 2 is another Windows Core OS-powered device from Microsoft. Windows Core OS is the magic behind Windows Lite, Surface Hub 2X, and HoloLens 2, so perhaps a discussion about Windows Core OS itself will happen at Build 2019.
Microsoft's new 'Anaheim' browser
We might actually see this show up before Build 2019, but even so, we'd love to see Microsoft talk more about its plans for its new Chromium version of Edge, codenamed "Anaheim". It would be great to see Microsoft detail its roadmap for Anaheim and talk more about why it's switching to Chromium and what kind of improvements and new features to expect because of the change.
An update on PWAs on Windows 10
This kind of ties into both Windows Lite and Anaheim, but it'd be great if Microsoft started talking more about its progressive web app (PWA) plans for Windows. Considering Windows Lite is all about the web, you'd think Microsoft would be making some big strides in ensuring PWAs work well on Windows, and it might even want to convince developers that building PWAs is a great idea if you're considering building an app.
What do you want to see?
That's our list of things we're hoping to see talked about at Build 2019. What are you hoping to see? Let us know in the comments.
Windows Central Newsletter
Get the best of Windows Central in in your inbox, every day!
Zac Bowden is a Senior Editor at Windows Central. Bringing you exclusive coverage into the world of Windows 10 on PCs, tablets, phones, and more. Also an avid collector of rare Microsoft prototype devices! Keep in touch on Twitter: @zacbowden.
I want to see some type of mobile device by MS.

Hey Rodney, it's been a long time. Launching 'some type of mobile device by MSFT' will cost them a fortune, it will fail, again. Supporting Google one hundred percent isn't going to get them anywhere, they know this. I guess they are simply catching the wind if you know what I mean. I still believe they are taking their time to perfect the Hardware to OS synergy, it needs to connect with consumers and I think it's justifiable enough for the delay.

I am fully aware of MS's position in the market, and it's quite irrelevant at this point, my friend.
I could care less about if it fails, or not, or any technical matters, for that matter. It's not really my problem. The question here is what would you like to see MS show at Build. It's like asking someone what kind of car would they like. Personally, I would love a Ferrari, but maintenance, and insurance, would be out of my budget if I were to get my hands on one... BUT THAT BS IS NO FUN TO THINK ABOUT! lol. lighten up, people🙄 That's why I like the old days of WPCentral. We were free to express what we wanted, and any ideas we had, without them being reasoned to pieces (or pathetic trolls negative panicking about others opinions) Either way, long time no see, whoever you might be👍🏾🤤😘😉🐙❤️🌡️👀🙏🏽😂

They'll announce more about PWA once Blink is incorporated deeper in the OS and Edge replaced.

Excellent response! I want the same. Put a Surface in my pocket and I'll call it a day!

Facts aside I like to see MSFT show some commitment to general consumers, if Belfiore and Panos is really trying something BTS that would be a game changer whether it be an immediate plans for Andromeda or a roadmap to a future consumer device that will forever change the industry, I can wait for it to happen cause I believe the current smartphone market is going nowhere; it has reached the end of its potential. You can think that I'm dreaming but I'd really love to see that happen in my time. IDK about you, I think that things are the same except a few. I don't mind trolls, they have zero effect on me. :-) Yes, it feels so long I had to take some personal time, reality can get hard sometimes you know. But it's good to be back :-D and I hope you're doing well. Oh hey I'm finally switching to a droid, had to put my L930 down over a bad phone condition. I hate it but I'm hopeful to return to Windows ecosystem someday when they do things the right way.

I want to see some type of ARM based mobile device with a 6-7" screen, runs Windows 10 on ARM in tablet mode, supports SIM/eSIM, and has a dialer and support for SMS/MMS messages.

I want to see all the above... + Andromeda :)

Î Definitely want THIS ! ! ! ! ! !

You'll get Andromeda, at least if you are a developer in attendance. ;-)

🙄🙄🙄🙄🙄🙄🙄🙄🙄🙄🙄 Please. That's not gonna happen.

Surface Scribe spring 2019!!!!!

Microsoft must compete with Samsung Fold or start their exit strategy from anything consumer related.
We are witnessing a take over of the consumer space starting with personal devices. As mobile devices grow in size and power, why do you need a desktop? Tablets are on the brink of obsolescence already.
Once your foldable is your desktop, where does that leave Windows?
If MS thinks they can integrate their apps seamlessly on another device/OS, they are fooling themselves. Consumers will switch to more integrated alternatives to MS bolt-on additions.

I believe the consumer take over is the canary in the coalmine of what is sure to happen in the enterprise market as well. It starts with CIOs realizing that 85% of their cubicle workers, who run primarily web based apps anyway, can be switched from expensive laptops to inexpensive, easy to manage, Chromebooks. This will be followed by the realization that an integrated G-suite productivity solution is preferable to MS' O365 subscription model. We've already seen this in Education.

Chromebook is only in the US. Across the globe, Microsoft and Windows are championing the education sector.

What are you blabbering about? Foldable device is not just about the hardware. Windows is Microsoft's greatest strength, they will work something out if not for an immediate Paradigm Shift you ppl are expecting from them, All major first iterations had their fair share of time. SURFACE division FTW!

Lol.. Surface Scribe is a awesome name.. I should name my first born Scribe😉😉😉

I would like to see a dead easy way to leverage my UWP development knowhow for the creation of Android apps. Microsoft owes that to UWP developers after leaving us without a mobile platform.

Maybe a UWP app that teaches you Android Studio?

There are many tools to do that. Either use Uno or Xamarin.

For me it is
Windows Core - very, very important step in the Windows development, CShell, consistency, improved UI and animations, optimalisation for better, smoother running of the OS
PWA - apps, one of the most important things for Windows.
and of course Anaheim

I just need a Microsoft Android phone, with a Microsoft "app store". Is that too much to ask?

Huh?? Please explain further.

Microsoft developed ROM based on AOSP Android with Microsoft Store with Android apps in it. Pretty much what Amazon is doing with Kindle tablets

Wow... Do you know what you're talking about?

Lol. He sounds pretty sure of it.

An Android phone with access to the windows store is what he is asking, doubtful it'll ever happen, but doesn't mean it can't still be something he hopes to see.

At this point aliens landing on Earth is more likely than Andromeda...

This would be cool. Anything to get off of the Google ecosystem without having to touch an iThing.

Microsoft Launcher for Android and you have it... However, it is not a full windows phone experience. Launcher 10 for Android will give you some of that feeling though.

I want to see emphasis an real touch support and significantly enhanced hands-free use. I want an AI/assistant that lets me interact without ever touching the device, but when I need to touch the device I want the user experience to be something other than this Windows 7-like experience they have now.

"I want the user experience to be something other than this Windows 7-like experience they have now"
They already tried it with Windows 8 :)

Cortana needs to be a lot more than what it is right now in order to maintain a hands-free function on a Windows 10 device. You're talking about Quantum AI, mate.

I don't think a real tablet mode is coming back to mainline Windows. It sounds like they're going to focus development on a ChromeOS/iPad OS competitor. Which is fine - it may be great for me in the end - but I really did want my Surface Pro to work like a tablet without third-party gesture hacks. And that don't look too promising.

I would like to hear news about Razor Components, Blazor and WebAssembly (essentially that's one facet of PWAs).

Additional information about Cortana

As far as Cortana is concerned, all I need is for MS to continue to develop it further into its launcher for Android. Speaking of Launcher, I would like to see MS mention doubling down on Launcher for Android, and giving us a tile option in Launcher.

Hey, when did you embrace Android? Are you still using any Windows phone at the moment?

I got a Note9 back in September, and it's pretty awesome, even though Android appears to be 2008 software compared to the refinement of WP. Android is a nasty cluster ffuck, but it has everything, so that's that.
Yepers, I still have my 950. The camera on my 950 is still comparable to my N9. I wish the N9 had the clarity, and zoom sharpness, of the 950. Colors on ghe N9 are much better, though🤔 Personally, if I could get a device that ran Android, and Windows, that would be gold.

They aren't even going to have Tiles in Windows soon. Why would they put them in their launcher?

Who gives a **** if they do, or not? We're just talking about what we want to see. Stop panicking, troll.

All the information you need to know about Cortana was released by Nadella last month. Basically, it is dead. Time to adopt a new assistant if you want to use one.

OMG ur back!!!!!!! <tears up> You ever find a hobby, bleached? Do-it-yourself dentistry? Smuggling? Crochet? I'm guessing no.

Bleached's (< I'm pretty this is a stab to the chest to any English majors) responses has been acceptable since I explained the effect of his delivery in his posts.
At least from what I have seen since but admittedly I've only witnessed a few.

Never any actual response, huh? I guess it is tough when you now I am right. Cortana is dead.

It's not your opinion, rather that nobody likes, respects, or wants to have anything to do with you here. I'm sure everyone in your "real life" can't stand you either. And, you're ghe one who never answers the question "why are you here?"

I have no issues with him, don't speak for other people thanks, just speak for yourself.

No surprise there's more than one troll here🙄

Wow! So the number of trolls have gotten up on this site these days, huh? You weren't kidding.

I'm with bleached so stfu

Any Mobile efforts like Andromeda or Centaurus.

+1 Jibberish to meet word minimum.

I'd love to hear how they're addressing the bazillions of inconsistences they have in the W10 GUI.

Wish list: Uwp apps that actually compile as fast as wpf and generate a real exe file that doesn't give you a dll error when you try to run it from your build directory... and better uwp widgets that don't suck...

I'm honestly more curious about 19H2 at this point than 20H1

Build is a time to get developers pumped up for the future. Microsoft knows it needs to nurture its relationship with developers, because without developers, Microsoft, along with any tech platform company, will fail. I agree Zac it is time to unveil Windows Core OS/Window Lite. They owe this to the developer fans to tell them what is going on and what to expect in the future. I think a lot of developers have lost faith in Microsoft due to its failure in mobile. But I think with the long range planning that has gone into Windows Core OS, it will be clear that Windows 10 Mobile was just a planned temporary stepping stone to where they want to be with Windows Core OS and these adaptable shells. They need to really share with developers their vision of a form factor agnostic OS that developers can embrace and plan for.

How about what I don't want to hear, that's any more talk of Hololens, this week it's been non-stop, and especially I don't want to hear about it from people who don't wear glasses (<50% of the adult population apparently ?) and therefore have no idea of the fun that is having to change lenses in cycling glasses or buy new every couple of years, the time wasted trying to find the glasses you put down 10 minutes ago or the fact that heavy plastic glasses can't be worn for long before you want to throw them away.

xCloud demonstration please

Good point! Actually I want to see more about how xCloud tech can be used for other, non-gaming technology, like Citrix on steroids.

A believable explanation of exactly how UWP is useful without a device smaller than 10 inches to run our "universal" UWP apps on. Or better yet... a device under 10 inches in size.

I see that Ms just got gazumped, AGAIN, on foldable. Can MS get anything right these days? Call me a luddite if you will, but they have not had a serious vision since Balmer left and that's setting the bar very low. Sooner or later someone is going to have to reveal that, like the emperor, he has no clothes.

How?! Andromeda hardware has been completed. Plus have you seen the galaxy fold?! There's a TON of compromises and clearly a Gen 1 category. Ms is right to not rush to be first. With the compromises that the Fold has, imagine it with no apps on top of that. With that being said, I still I want Andromeda now 😏 Balmer had no vision?! Surface a multi-billion dollar bisness ... The greatest thing that's happened to the pc market in the last decade? NO vision?! Really?

I said no vision SINCE Balmer. Nadella is a bean counter and not a techie. You need bean counters but I've yet to see a visionary financial manager. Nadella has just jumped onto the tail end of stuff that was well into the development process when he arrived.

What compromises? Seems actually fairly polished for a first gen device. It will also run every Android app, there will be no issue there. It isn't that big.

The gap between screens when folded. I think they copied the least-liked feature of Surface Book. :D

They clearly had to compromise on the phone screen size, because it's rather small compared to the device which isn't something that Samsung is known for.

I have to say I haven't ran into the app Gap that everybody likes to talk about for the Microsoft store. I would like to see Andromeda launched

Andromeda would be laughed at now that the Galaxy Fold has been announced. Dual screens are quaint next to a true folding screen, not to mention the app gap which has grown bigger since they killed Windows phones. Until they can get a folding screen and a revolutionary experience, there is no reason to launch a new phone.

bleached, you're sounding so optimistic. New meds?

Honestly, the Galaxy fold looks like a too small phone attached to a too small tablet. But I suspect that is going to be very common in these foldable devices.

Consistent and efficient desktop UI. You know that thing we're awaiting for many years.

What I wanna see is MS store not being an unusable piece of crap. Both my xbox one x and i7 pc the store is so slow its not even funny

I want to see a full field of view Hololens. People are never going to be fully satisfied when if you turn your head slightly, things just disappear. It could render in lower fidelity for peripheral vision, but it has to still be there. If they actually have it this year, that would be a welcome surprise, but I think it will take a few more versions.

More cutting edge features for Blazor.

The MS Courier with today's mobile chips processing power, today's display technology and fully integrated OneNote and the software that was showcased on the MS Courier teaser. That's all I would need. Willing to pay 2000$ for that.

I wanna see pocket pc with telephony, surface or not, foldable or not, windows core os/full windows. I'm on fire now since watched 950XL with full windows on it. Not gonna lie Hmm

What would I love to see? I'd love to see Nadella walk on stage with CitiBank, Bank of America, Wells Fargo, Intuit (makers of Mint, QuickBooks, TurboTax), Chase, Discover, Capital One, H&R Block, eTrade, TD Ameritrade, Fidelity, Merrill Lynch, Charles Schwab, American Express, all announcing their shiny new official PWA apps posted on the MS Store.

I think everyone is going to switch to Android. Windows made it clear, they are shutting down mobile this year. I already switched. I will continue to use Windows tablets and pc's.

I want to see what is next to UWP. The buildup leading to now has been a rollercoaster. Now there is PWA. Where is the universal approach? What happened to it? What is in store if the vision is still alive?

I have a dream. A dream where all windows devices are connected. A dream where a windows phone can run windows appa and make phone calls as well. A dream where the Lumia 950 XL like phones will see a come back in the dorm of a Surface phone. Then I woke up and saw the Samsung foldable phone as well as the Samsung galaxy S8, S9 and S10... I then thought what the hell why not just go all in on Android when talking phones since that is what Microsoft has done... 🤔😎😂
Windows Central Newsletter
Thank you for signing up to Windows Central. You will receive a verification email shortly.
There was a problem. Please refresh the page and try again.