WhatsApp could be working on a Windows desktop app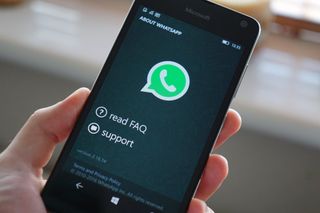 Some leaked documents from WhatsApp seem to show that the popular messaging service could be working on native Windows and Mac desktop apps.
The documents come from the WABetaInfo Twitter account, which posts information on upcoming WhatsApp builds and releases. In this case, the screenshots, which come from an unidentified source. seem to show download buttons in the works for Windows and Mac versions of WhatsApp.
While these images have not been confirmed as coming from WhatsApp, it's certainly not outside the realm of possibility that the service would be developing Windows and Mac desktop clients as they have been very open on releasing apps for a variety of platforms. Hopefully we will have more concrete information on this soon.
Yah! soon there will be a uinversal whatapp app.

Oh I hope so. I was really thinking about doing one myself like Mr Huyn, it's the next logical step. Specially with the UWP platform.

No whatsapp API's exist, how would you build one yourself?!

Backward Engineering? Now it might be impossible with the encryption though. Btw: Toxic community in here.

It is toxic sometimes, but in this case it is true. You can't create a third party WhatsApp.

Remember the Nokia n9 ?
It has a third party WhatsApp app called whatsup Posted via the Windows Central App for Android

Remember Snapchat, Instagram and much more? They all don't have an API from which you can create a 3rd party app, but they existed on WP8. If you don't know how it works (or just don't want to believe that it works), just don't comment. Ignorance is not an excuse.

Ahahah commenting about toxic community and then being an arrogant, step down from your pedestal. Even if reverse engineering was still possible now that there is end to end encription, and I don't know that, whatsapp has been known for banning third party app users and since there is a fully functional and costantly updated client a third party client MAY be doable but he pointed out that it would be kinda stupid to develop it, obviously you are free to do it, just don't feel so smart about it :P

Why were you saying it is not possible and now you say it is? I am not downvoting your comment, even if it's wrong. I am just telling you that you are wrong (and apparently you know that). If you asked kindly, I would have explained why it is possible to do a 3rd party WhatsApp. And yes, maybe it gets banned, maybe it doesn't. Other Devs did this already and got a working 3rd Party App for other services (even if the services tried to stop that). MS also has the need of bringing those services to their Store and maybe they want to put pressure on the companies like WhatsApp, thus leaving the 3rd Party Apps on the Store.

Ok sorry I should have said it can't be legally done ;) Breaking terms of service is not a great thing to do, I'm all for it when an enterprise does not support the platform. Anyway I wish you good luck with the legal battle :) And no, they do not want to put pressure on whatsapp since it is owned by FB which is the only big enterprise fully supporting windows apps. Messenger is going UWP, instagram is UWP, official FB is going UWP, this one may be not nice aesthetically but it's updated monthly.

There's famous whatsapp client on android called whatsapp+ . And as far as i know it hasn't faced any problem and lots of people use it instead of official whatsapp.

I know that, but... https://www.whatsapp.com/faq/en/general/105 http://mashable.com/2015/01/22/whatsapp-third-party-apps/#k_8veVtwIOqs I'm sure you can hack into their services, I'm just saying that when it's not really needed it's kinda stupid and risky to do so.

Oh yeah Posted from the still best Lumia 640 running build 14332

Is this what we want? Desktop vs. UWP

We want UWP, but we also need Desktop. Windows 10 is still not even 15% of Desktop market share.

I think a desktop app would be a waste of resources. True, right now, it will be good for some people but in the future, it will not be needed. Also, this 15% comes from an analysis that include includes business computers and windows XP. These will probably not be supported. So the figure would be closer to 25% for mainstream.

It's incredibly simple to wrap an existing web in something like Electron, and this will then be shared work across Mac. Versus building a Mac app and a UWP app. I'm sure UWP will come, via the phone app rebuild. But it's not the right move for them at the moment.

I'm actually spit between Desktop only or UWP. I hope if possible they can do both. But yeah, I'm kinda leaning on Desktop for now since pretty sure Viber wants larger userbase from older version of Windows. It would be great if they can take advantage of Live Tile and Notification system of Windows 10 even with a desktop app, just like Slack already doing on toast notification. It would be better if they can implement Actionable Notifications since its a must for a messaging app. Sent from Turing Machine

If they have the UWP app for phone then they are 98% done for the Desktop version. The web option may be fine for Mac and older windows versions.

Your opinion says waste of resources, but your logic makes a crystal clear case for absolutely needing desktop right now. Why the disconnect?

I'm saying building a UWP app to reach desktops is a waste compared to simply wrapping their web app in an installer. UWP is a good long term goal across the Windows ecosystem, but wrapped web apps is a quick solution that reaches 99.9% of desktops including Macs and legacy PCs.

UWP means only Windows 10 users get it, which is silly at this point. Desktop means Windows 10, 8, and 7 users can all stay involved. Limiting a messaging service to certain platforms is always a bad idea.

Hopefully it'll be a UWA! Posted via the Windows Central App for Android

Couldn't this all be avoided with UWP?

Sadly certain apps that need to be associated with mobile numbers ( rather than email or account login) have some limitations while sonsidering for UWP.

viber works this way i think..wht not whatsapp???

Uh, no? This is utterly incorrect.

Viber and Line work fine. Not sure what you mean...

Why would people want an UWP app, but a desktop app instead?

Because we need new WhatsApp app for Mobile. It doesnt care a desktop program, nobody want to use it on PC

Because we need new WhatsApp app for Mobile. It doesnt care a desktop program, nobody want to use it on PC

Nobody wants to use in on the desktop? You hear what you are saying? You cant speak for the rest of the world. And on top of that, if FB is to release Whatsapp on the desktop, they should make it an UWP app, as it will run on your beloved mobile as well

A properly written UWP app runs on desktop and phone. And it's easy to do that.. easier than writing a whole separate 'desktop' native app.

A properly written UWP runs on less than 15% of desktops, versus 100% if they write a non-UWP app. That's just a fact of life at the moment. And they will likely just package up their existing web portal in Election and be done with it, like Slack and HipChat and many others do, so I doubt there will be very much duplicated work.

If you remove business and xp computers, that 15% figure would rise to 25%.

Then it means the time for upgrade has come for those stubborn people not willing to get win 10

Nobody wants to use it on PC, that's why they created Whatsapp web, because nobody will use it
Srsly, *** off

Hopefully if true it'll be a UWP app that'll work across WP, PC & even Xbox!

Facebook pls, make it an UWP app

Maybe it'll be WhatsApp Web as a standalone application which won't require our mobiles to be all the time connected to internet.

They are working on a UWP-App. Inofficial confirmed.

To be honest, there's no real advantage for Windows if Mac too sports an app client. :/ Posted via the Windows Central App for Windows 10 Mobile

Why not just make a UWP app? They'd get desktop, tablet, phone, XBox and HoloLens support then.

Remind me the market share of UWP availability on desktops versus Desktop apps?

Thats the one growing faster than w7.... and really with centennial you are better off with w10 as all those legacy w32 get repackaged and less reg/dll bloat in the system. Why do you think steam wants a UWP store of its own? Its better for a lot of reasons and though they still have some tweaking this will be better for everyone- even the begrudging die-hards,

Don't get me wrong, I'm all for UWP and the future of Windows 10! You're talking to a diehard fan (not a fan boy, mind you). But it just doesn't make sense to develop a full new UWP to target

Because UWP is an illusion

I need a quickReply feature

If you are interested to make Desktop app, why not make it universal!!! Develop once and serve it multiple times..

I think we should rather pray they (and other devs) use Visual Studio to write iOS/Android apps so that w10 could be written for with very little extra effort and thereby ensuring apps come here too.

Was hoping for a UWA but just desktop will do too.

Say bye bye to Skype.. MS have been fiddling their fingers.. They had a chance.. You snooze you loose Skype

What? People said goodbye to skype like 4 years ago, where have you been?

Too late, WhatsApp, my heart's with Telegram now. (Seriously, though, Telegram is great.)

Sad that no one uses telegram tho

I think they should of done this in windows 8. For me the universal app on windows is really going to change things for Windows Mobile going forward.

Nice the more the better we even have an undamaged snapchat app that hadn't been taken down or any other the charts are going up from here hopefully stays that way less down more up even if it slow more for us when we build up

I can't send pdf file by whatsapp after last update.Any one have this problem?

I checked WhatsApp web version a while ago and I thought... Hey it looks pretty much as W10 UWP app. So I hope they make one. I want to use WhatsApp this way on my phone while in continuum mode instead of logging into web version.

I want it on continuum...plz

Yay! Make a UWP built for windows 10. Best of every world.

I hope this app will be universal for Windows 10

Yaaaaaaaaaas ***** yaaaaaaas

Woowww, a very welcome news of the day Posted via the Windows Central App for Android

oh !crap...do they Even Remember their Windows Phone App or Windows Phone. and Hopping for Universal app not any Mac Port.

I hate facebook. And now I hate it even more both messenger and facebook app for windows 10 are not actually built for windows 10 they are MAC ports and even instagram is iOS port. I don't use any of their apps now. bye facebook and ya I don't use WhatsApp as a primary msenger too. So if facebook really invests in making true UWP for their services then only I'll use their app

There is no Mac App Store app for Facebook man... Do you even Mac? :) Posted via the Windows Central App for Android

UWP would be nice. Though I am almost certain it will be a desktop program.

Whatever they do, UWP or desktop app. I just hope that they implement multiple sessions feature. Phone can't stay connected to internet all the time.

They better. And no phone is not connected to internet Bullshit. Posted via the Windows Central App for Android

Wonder why! WhatsApp web works fine!

it is really a logical move. I use whatsapp instead of sms texts. Whenever I am sending link of an article to my friends I have to use facebook messenger , so that they can recieve the message in their phone. There is a whatsapp web but thats not user friendly. And after the redstone 2 I really want to send reply to chats via cortana, directly from my pc. man, future is hassle free.

The vision of UWP is taking waaaaaaaaaaaay too long to encourage anybody to take up the idea of having identical programs running on W10 desktop and W10 mobile. I used to be exited by Microsoft's vision but time marches on and I live in the "here and now" - there's simply no incentive for me to stick with windows mobile anymore hence when my contract expires next month I'm reluctantly switching to android - apps are better implemented and all the microsoft apps (like One Note etc) are all on there anyway so no lost sync issues as well. Firefox is available for browsing which sits better with me than Edge too. Also I'll get my Here Transit and Music Unlimited HD Download Free back so I wont need a poxy Music Pass. What's not to like? Another consumer lost. Hey ho ... (sighs..)

So you didn't like Windows Mobile, if you needed an incentive. Get whatever phone you want for the reasons you want, just don't make a post about it like you're breaking up with someone, because people don't care.

It's exactly this kind of complacency on the part of Microsoft that has caused take-up of its mobile arm to not only not grow but actually decline. I actually think windows mobile is the best platform as far as actual layout goes - it's just a sad fact that for the vast majority of potential users it's simply (STILL) not fit for purpose. That, I'm afraid, is the truth as ninety nine percent of smartphone users see it.


Good, they totally should release a Windows 10 app, or even a UWP app. What would be even better would be to improve its windows 10 native integration. For example, having Cortana send Whatsapp messages, or read them aloud through bluetooth (for example, inthe car). But we know MS and FB are not that friendly anymore though they are friendly.

That is what we are waiting for••••

That is what we are waiting for....

and waiting - and waiting...

waiting patiently like puppies waiting to be fed. Hell no, not THIS one mister!!!!!

If this app is anything like the Windows Phone version, might as well scrap the idea as the phone version is pretty bad when compared to the Android and iOS counterparts...
Tired of using the Windows Phone version with missing notifications, slowing down, randomly vanishing media and all that Posted via the Windows Central App

I hope so Posted via the Windows Central App for Android

I think that the above two posts go quite a long way to show what's wrong with WM, IMHO. Sub-standard half-baked apps with the constant message that improvements for this or that will be "coming soon". When (and IF) they do actually come they're often a disappointment. Even Microsoft can't get it right with their OWN apps! To detail just one of many examples take a look at Mail, which has been dumbed-down to such an extent as to make it almost unusable (or at least not half as usable as its desktop equivalent). This sort of issue runs across the board. Even WM fanatics are rapidly losing patience with the situation and are fed-up of waiting for things to improve. More worryingly, enterprise users - who Microsoft are trying to encourage to use windows mobile - can't actually afford to wait either. You can't run a business on hope! Or waste valuable time constantly having to use workarounds.(or even resetting the phone!), either. No, let's face it. It's all just not good enough. Just as the signature in Justin's post above shows.
Windows Central Newsletter
Get the best of Windows Central in in your inbox, every day!
Thank you for signing up to Windows Central. You will receive a verification email shortly.
There was a problem. Please refresh the page and try again.