WhatsApp quickly releases patch to address recent update issues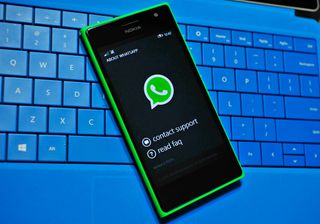 WhatsApp received quite the update earlier today, but users quickly complained that the release was buggy and hampered the messaging experience. The team have quickly turned things around by releasing a subsequent patch to hopefully address issues raised in version 2.11.586.
Users reported crash issues soon after updating, resorting in re-installing the app to sort everything out. This latest version is now 2.11.587, which should squash said bugs. Give it a download and let us know if all is well once again in the realm of WhatsApp.
Thanks to everyone who tipped us!
Windows Central Newsletter
Get the best of Windows Central in your inbox, every day!
Rich Edmonds was formerly a Senior Editor of PC hardware at Windows Central, covering everything related to PC components and NAS. He's been involved in technology for more than a decade and knows a thing or two about the magic inside a PC chassis. You can follow him on Twitter at @RichEdmonds.
Does this bring back all the convos that it erased????

Backup everything in WhatsApp setting

I've never gotten any backed up convos on whatsapp, EVER! It just doesn't work! It does now after the update, but now it takes 4-5 seconds before it loads the actual app. Great work WHATSAPP!

UGH my chats are still gone.

same..dont care now..need more features lol..lik cortana integration and name should hav tiny dp also and time wen status was uploaded

Remove the app and install again, this will ask for restore backup, I know this isn't most recent message, but you still can save some messages. Was ok in my 920, but 925 of my wife had problem. This fixed the problem.

@leandroihabela unfortuantely that didn't work, it will work for others though. My issue was when I installed the earlier buggy update, I freaked out and hit 'backup' in settings to see if I can restore my previous backup, but I didnt realize it was going to SAVE a new backup and override my empty messages (they should really add a prompt to make sure). Now they're gone. But that's ok, at least my pictures are still saved locally on my phone.

Humm, I can imagine your frustration. The soon WhatApp backup system need to be overhauled.

Yes it does. Uninstall older one, install this and restore from backup. Unless you overwrote your backup after the buggy version.

Crap I think I overrode my backup with the buggy version.... UGH i shuold have just waited to update. Glad they fixed it, but that doesn't help me :(

Check in the chat settings when was the last backup. If that's after you updated to the buggy version, then you lost it.

Well yes after the bug fix its working good .!! And a good update

U CN get ur chats back if u want..there is an alternative

Uninstall the app...go to files in memory card open WhatsApp datebase...and rename any last backup as msgstore.db then again install WhatsApp n restore

How do I do that if I don't have a memory card? (920 here) I don't see any WhatsApp db when i plug the phone into my computer.

My convos went with buggy version, i didnt uninstall it though, just updated to the bug-fix edition and all my convos are back....on another note, something i appreciate that has finally been included is when a contact has more than one number and you open info to see which number is being used for that convo, it highlights it, something small but glad it's finally there

Still no music attachment

Is that a good thing for her then?

Indeed, that was a super quick fix ! Good job by the Whatsapp team...

Is this working without issues??

Yes it is, backup works fine now.
A tip uninstalling and then NOT restoring the backup/chats makes it twice as fast compared to restoring the backup.
Tried it myself!

Already downloaded but nothing new or any fixes noticeable.

Aside from,whats listed for new features, something i appreciate that has finally been included is, when a contact has more than one number and you open info to see which number is being used for that convo, it highlights it, something small but glad it's finally there.

Yes, this update restores all the old chat history

Can someone tell me how/where can download that background of WhatsApp???

It is in the about section of the app

Yup, all conversations are back and it's working again.

Well for the first time whatsapp developers have done it almost instantly. Very good update :) no problems now..

Didn't have any bugs in the first update !!!

After update still no chats restored, says failed and stuck on creating favs screen :(

Try installing in phone memory, mine got fixed.

Great and meanwhile another update for Microsoft XIM. It's now available in all countries...

Yeah, it got international support.

To restore older chats, uninstall previous version, install this one and restore from backup. Hopefully it wouldn't have overwritten the backup after the buggy version (at least for me, it was safe, so I got all my msgs). :-)

Guys make sure u backup ur convos before updating! Make it a habit ;)

How do you know with automatic update turned on? :)

Good one devs of watsapp. Everything works good now.

'Loading' screen on app launch got reduced by at least half a second, more faster now.

This fixes everything. My backups now got backed-up as it was supposed to be.

Well I guess I downloaded the latest version and had no problemo

Updated. Works fine on my Lumia 730 now

Feel as same little buggy.

Well un-install and reinstall works for me...i think I just updated to the latest patch version

I re-installled the app and it asked me if i wanted to restore my history. Works fine now and i still have all my history.

Why would some one use an app that you pay to use every year? There is Skype, Line, Viber, fb messenger. All free

For your information, i have been using WA for 4 years already and it is free, auto renewed annually when the time comes... I have like 440 contacts on my list and that is the main reason i use WA...

And if you read app description its free at first and then 99cenrs annually. So yeah enjoy

Bookmark this Page, and Comment here after 1 year to get Your Answer! (~_~) p.s. I Know it is free and Auto-Renews every Year, but i preferred paying to Support Developer, when they were Itsy Bitsy Small Start-Up! Lol

Go and check for yourself

Plz update soon my what's app is not working

This. Is. The. Update. Bro.

The new patche solved all issues. Now its working great in my Lumia 630...

On start up they changed that green back ground to Loading this thing sucks !!

No issues on my 630 so far. Maybe I was just lucky and updated at the right time. Anyway: I love this update! The animation, when you open a chat, is very nice and finally I can scroll through the smileys in the same group.. Good job. Hope, you guys get your chats back.. If not so, look at it as a second chance..;))

No cpmplains from me...only 2 things missing 1) no background for home page.. 2) cant send audio!

File manager integration is required which Microsoft should do. So that watsapp can have access to file manager. There are many restrictions on giving APIs by Microsoft for security fixes.

Does this fix the in app vibrate notification issue that many of us are experiencing?

now yes.... i love it "Perfeito"

Didn't have any problems with the update before, but oh well! (:

Funny I didn't see anything wrong with it after the first update and I'm using a 920

If it updated flawlessly the first time for me, should I still update?? Lol. Next thing this update messes up my perfectly working updated whatsapp? Now that would be ironic

Wtf I lost all my conversation n it says no contacts found

Mine was fucked beforehand and only worked if I didn't restore chats. Now that it's been updated again, I have uninstalled then reinstalled and the restore function now works. Thankfully a backup was created this morning at 3am so all of my chats have been restored.

They should add that splash screen. May it be for a second. Because it shows Loading at the start for just 2 seconds on my Lumia 820 but that is irritating. The splash screen would be better.

I prefer when apps have a splash screen too. Even if it's for half a second, it makes the app look more polished and is nicer than the black 'loading' screen.

Hope they are reading this ;-)

Feel like new! (I lost all my old chats) Anyway, i like the update, especially the smaller font and UI. Looking forward for another old-chat-cleaning-up update after this! Makes the app look so brand new and clean...

Can't even download the app from the store error code 101a053. Lumia 800 wp7.8

After .587 all back up restored however it slow now.....as usual " Resuming...."

Works like a charm! :) :)

Mine is working...than god...and my chats are back...L920

Mine work fine without update

820 cyan update. reinstalled WhatsApp and it restored everything perfectly good update

Please bring save to gallery option like IOS

Everything is working perfect for me.. And love the new updates!!

Thank you guys.. I am now okay with the reinstall thinking..

Update was quite smooth. WhatsApp is now much smoother than before on WP. :)

Off topic...but the pictures you take as topic images are awesome!!feels so refreshing!!

That's the main thing on windows central. They make a small topic so cool looking.

If possible can u give us Cortana support in the next update. When u update next time.

Please bring the save audio to sd card option like in android... It's quite worrying to scroll the entire past messages to listen to an audio long back... Please is a must have property...

I have to reinstalled it then it restores everything
And its good to go

Thnx for the support. My 1520 is happy.

Yeah looks awesome on 1520

Still takes time to open.

Now regretting the backup override ' cause I erased it by mistake.... Duh.

The UI has changed the font size of the app... A bit annoying for me at least. But still a pretty good update.

And ya dat Lumia 730-35 is looking awesome.

Improving with every update...the biggest bug i guess is now removed (noise coming out from loud speaker when a chat is on).
Cheers to WhatsApp team, it makes me happy when i see people working for Windows phone platform....as this is the future of mobile os...i love wp, and also WhatsApp.
Overall the whatsapp is really improving day by day....
Thanks guys, keep up the good work.

Never lost my chats but the text is now back to normal size instead of embiggened as it was for ages.

Still can't share photos from the photo hub direct to Whatsapp.
Poor show

I can now do that after the update, maybe u need to unistall first

You can share an individual photo....yes...
However, if I try to select and send more than one photo, the WhatsApp share option disappears. Facebook and Facebook Beta both show up, as does OneDrive. So it isn't an API limitation. Just a WhatsApp one!

I can. http://oi59.tinypic.com/2mzkg7.jpg

Are you selecting and sharing multiple pictures from the photo hub? Or just sharing one photo at a time (mine works fine using the latter method....but if I select more than 1 picture, WhatsApp share option disappears!)

Oh, come on! You can share multiple picutures in the app... thats enough... you tried to have a point, but you haven' one.

You may like to compromise on apps, but where possible, I'd rather not...
Facebook Beta and OneDrive both work without issue....Whatsapp doesn't.
That is frustrating for me, because that means I can't just go to my starred/favourited photos in the photo hub and share them. I instead have to go via the WhatsApp photo selector (which doesn't include the 'favourite' photos tab)...and then trawl through all my photos in order to share the ones I want.
It's annoying, and not the way things operate on iOS and Android. Given that we've waited 4 months for this update, I think it's reasonable to expect WhatsApp (as a photo sharing messaging app) to support such things as sharing photos direct from the photo hub. So yes, I have a valid point.

Unable to mute grps.. The dots keep on moving forever... Is it just me?

No its working properly...L720

Hmm.. Still unable to do so..

one year mute time! yeah!

Now it doesn't work as fast as it was ,, every time I do any clicking , a white screen comes first as a sign of loading which is boring and disappointing ...

Very good update.. Everything just work fine, just two things:
1. When you're waiting for the "email chat history" it doesn't show you a progress it just lets you work
2. Can we select multiple messages?

Reinstalled new patched update. Working Great now.

Do we have Cortana integration. ???

Great update but no Cortana integration yet :(

NOTIFICATION CENTER IS STILL SHIT CRAP BULLSHIT! Already read messages dont disappear! Where is the fucking problem to make that work! It works with Mail and SMS, so why not Facebook, Whatsapp and all the other apps! I thought its because the apps are not optimized for 8.1, but whatsapp IS NOW OPTIMISED for 8.1 (thats what they said, right?). So why the hell does it not work!!!

Calm your tit.. Teeths* I think only stock apps work with clearing read content in notification center.

Mine is fixed.. And my chats are also recovered..

WhatsApp really is fast now, it fixed the only problem I had with it

Best update for my Lumia 1320

Fixed the issues.. My chats are back.. Uff.. :D

Still not working with Data Sense enabled and notifications not grouped by chat... ;/ Fortunately, it seems the app is very close to Android/iOS ones in features.

It still has this annoying noise like a hum. I bet it's the reason behind the massive battery drain

My Whatsapp has never been a big battery drain....aside from when I am actually using it (but that is the same with any app when using my 1020)

Thank you ...it's back on track

Wp central is updated! Its now called windows central!

Working again, it's good they fixed it fast. Next time test before release.

Need some update to attach mp3

Yo...it worked for me too...!!!! Thanks to WhatsApp.Inc

Features need to added in the next update ( all are basic features and are present in other platform for years)
1. We could send and recieve pre recorded mp3.
2. Previous status should be there.
3.lastly the annoying vibration in between the chats should have a option to turn off.

Also: 1. Faster initial launch
2. A prompt on the "backup" setting to ensure the user wants to override backup
3. Cortana integration
4. Progress bar for emailing chat history Other than that, this update is excellent. The best update for WhatsApps to date and brings it on par to Android/iOS. :)

Faster inital launch? Buy a L930 / 1520. The app launches as fast as the SMS "app" =instant. No splash screen, nothing. It's just there. *pop*

Is the start screen gone?

I was also surprised n shocked after the update.none of my chat history was available.chat page was totally blank.I immediately uninstalled n re installed the app.n problem was solved..and after that again update.but I was sure that it was far fixind of problem.thanx WhatsApp for prompt action..

All my message came back maybe I backup automally or not ?

issuing patch of WhatsApp not updating in l920 India.. Otherwise its work fine ..its stop during installing time

Most amazing update by whatsapp...the fonts are smaller which makes more text on screen..emoticons are faster..contacts info shows common groups..faster...superb developers

Can mute the group for one year

Please optimize it for WP 8.1

Profile pic not able to download. did one experienced same??

Not Available in India Till Now..
Any idea When it will be updated.

I updated it. Its available.

I don't knw why I am unable to c in stores. It still shows old update

Switch off and on your device.
Hope this may help.

yeah i did that and it worked.
Thanks Guys

Is it just my phone or is it an issue after the update.? Whatsapp seems to be a bit slow. It has lost its fluidity. Lumia 630

It seems a lot smoother in my 520.

Its working fine and the update brings WhatsApp on Windowsphone in competition to WhatsApp on Android or iOS
1.The option to mute groups for an year is really great.
2. Different backgrounds for different chats is another boon.
3. The refreshed UI is also interesting and actually refreshing!

Awesome!! It loads up quickly without that green splash screen....
something that I always wanted. Lucky I waited till the bug patch arrived....dint loose any data.

I havent be able to update it/re-install. It is failing.

I fixed it by uninstall and reinstall again

Immediate fix is lot of good news. What's app team still working for WP. We need frequent updates like with other platforms. I miss still multi select, audio sent, video crop features and use slider while playing videos from app and draw (wp skype feature) on attachments.

Just discovered a bug. When you tap on group info the app blacks out. Version 587 Anyone else got this bug?

I did not have any issues with the previous update, however updated the app with this update also on my L730 running DP.

I still didn't get the first update

MUTE FOR ONE YEAR. Thank you very much, it was a pain muting those family groups every Sunday night.

That animation when clicking on friends name looks irritating for me .....

Lucky!!! I hoped they will release a fix soon and i refused to choose "dont restore" Now updated again and it works like a charm.

Lol its a shit update i didnt find any difference with this update the startup of the app is still very slow

Picture viewing is fluid instead of choppy. Can crop and comment on photos...& faster too.
Useful additions

Anyone else not able to download the patch update? Error 80860005

Working like a charm. Atlast got the high resolution support. Text are crisp and compact

Seems definitely faster now. I also like the new design with the smaller text.

They added better support for higher resolution screens.

Work flawlessly. Ativ S DP

Working but seems laggy.. Deleting old chats..

Seems so much smoother now :)

Okay, how do we set backgrounds for individual chats?

Under every individual chat you can find it.

Yeah got it now, the first time I opened the app, it wasn't updated. Restarted it and I can finally see the changes.. Thanks.. :D

Ha my WhatsApp isn't even updated yet, TAKE THAT! :P

Just updated and all is restored,, I had to first uninstall the bad one from this morning & then update to this lasted one ALL my chats are back. Nokia Lumia 1520 cyan

But, its not allowing to save profile picture of users like in previous version. For groups its allowing..

Still not working on my phone (Lumia 920 Cyan) !!! Doesn't even open the application... I installed and reinstalled several times and still not working. Help. Any suggestions??

Deinstall -> Restart -> Install.

Already did it and it didn't work :s

The latest update fixed the issue. My saving grace was I waited for an update and didn't re-backupin the earlier build. I was able to restore all messages as well.

I would recommend to those with problems, don't reinstal, simply update, that should work. And if you open it and you're chats are gone, don't back up either! Worked for me on 735 and 720.

My WhatsApp has just borked itself for the second time today. My home screen icon has gone dark, and I can't open the app...
I reinstalled the app when the second update came out today - and it had been working throughout the afternoon...
How does Whatsapp manage to mess these things up so consistently?!
I'm definitely regretting updating

Where can I find my WhatsApp received photos?

Mute group now can go up to 1 year. Lol

Finally...... great update too, faster and loving the different backgrounds for different people/chats, no more telling the wrong person I love them thinking its my girlfriend lol

Awesome .. This was one of the fastest fix provided by any one in the market... In My 925 works fine and is really faster version now

the previous update they had just released was messed up, all conversations were removed, couldnt send picture messages or even normal messages. This update fixes all those issues again. thanks.

In new update font size is very small no change the fonts

What abot Mp3 aatach files?? Please do somethimg about this...Please

I am not able to install WhatsApp. Pls help

How do u send location on current whatsapp

Whatsapp doesnt save the pics that i recieve now. It used to before this latest update, now it doesn't. Any idea ?

Inspite of all the settings, updates, I am not able to get rid of vibration....whenever msg comes in WhatsApp phone vibrates. Requesting help.

Now I can't check anyone's dp in WhatsApp. You can't even select them or save them. Damn!

I take back my word. Lol.

Loading time increased for me using 925

It keeps telling me that it cant install. Said I should check of my phone is up to date.And I have the latest update from dev. Preview. Plus I have unistalled the previous whatsapp. Please what should I do?

There is perfect website about Whatsapp! There are answers on all your questions!