WhatsApp set to receive Media Autodownload settings with save-audio in future update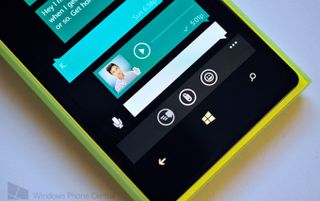 That WhatsApp messaging service has been on a roll lately with updates, support and bringing the features people want. On the side, they also have their private beta, where they bring online new features (though most of the time it's just non-disclosed bug fixes). It's been quiet on the feature front lately, but this morning, we have a report that version 2.11.366 beta has been pushed out to testers with a new tool.
Under settings, users in the beta testing group will find a 'media autodownload' selector, pushing that number up to six, along with text size, lock screen, screen rotation, blocked contacts and backup. Media Autodownload is an extension of the app's ability to automatically save videos and photos to the camera library. Up until this point, media was saved automatically, regardless of a user's connection.
New autodownload settings
With the addition in version 366, users can choose to have images, audio and/or video saved based on three criteria:
On mobile data
On wifi
When roaming
Just as interestingly, users can choose to have audio saved, which presages the ability for users to attach and receive audio files directly, yet another highly desired feature. Currently, Windows Phone users are restricted to just creating audio clips for sending, but can't attach anything from their music library, which is found on other platforms. That feature, along with Microsoft's assistance for API access to that library-call, is most likely in the works, seeing as attach-video was recently brought over.
Unfortunately, there is no visible inclusion of wallpapers yet, which is yet another requested feature high up on the list from users. However, we're sure it's on the roadmap for the WhatsApp team, seeing as platform-parity is their long term goal.
There's no indication of when the auto download configurator will be brought over to the accessible public version, but past reports indicate that it is a few weeks out at most.
Thanks, to our tipster, who wishes to remain anonymous
Daniel Rubino is the Executive Editor of Windows Central, head reviewer, podcast co-host, and analyst. He has been covering Microsoft here since 2007, back when this site was called WMExperts (and later Windows Phone Central). His interests include Windows, Microsoft Surface, laptops, next-gen computing, and arguing with people on the internet.
What's that on the whatsapp !! Sweet !!!!

We want a new User Interface!!!!And fast

Good to hear new features coming

Seems faster. Looking at the screen shot. Yes, definitely.

LOL +920 for sheer comedy goodness!

Nice one to start the weekend.

In before "WHAT ABOUT WALLPAPERSZZZ???" comment

Thank God for auto download selector. I personally wrote to them to change that feature. Glad they listened.

Would love to know how many people are checking the store now to see if the update is there lol

Hah, yeah, that happens all the time. Also there's the requisite "how do I sign up?" requests.

Haha! I know I had a look to see lol

on the other hand kik hasn't been updateded yet!

Kik pulled support for Windows Phone ages ago. We reported on it.

Though, it is one of the top free apps

oh yea the whole wp doesn't support webkit BS. Now i remember

I dont think it will ever be

Nor do I. Kik is a barebones messenger anyway. I don't know why it's so popular. WeChat is free and does everything Kik does and more. I mean, video calls, voice calls, 100 person chat rooms, kik can't do any of that.

Maybe wallpaper support lacks because Microsoft is looking at an OS solution? Right now the black or white background of the OS follows in the apps. It would be cool if they could do the same with other backgrounds as well.

What about bing wallpaper backgrounds it will be amazing

Perhaps I am mistaken but I don't think wallpapers are excluded due to the OS. Apps like Super Calendar allow you to apply a wallpaper just fine.

Viber hike allows us to set chat themes

Good to hear about the new features. Having the auto download selector comes in very handy especially for those who have a limited data connection. Wallpapers would definitely add iceing to the cake.

Does this version include SkyDrive support? I heard it was removed in the last version.

Yeah I hope they bring it back. I don't understand why they removed it in the first place

Most missing feature for me. I have no idea why they exclude it three or four updates ago.

I hope we can see future change in UI for whatsapp on WP8

Thanks man! They never gave me credit either. (Viewr for Flickr)

... If we don't give 'credit' it's because you didn't earn it ;) That means we had someone who was...wait for it...first. Or, you know, sometimes we're our own source.

You even replied to my tip saying you couldn't find it because I only called it Viewr.. https://skydrive.live.com/redir?resid=1E16F943D769C94B!6173&authkey=!ADF... https://skydrive.live.com/redir?resid=1E16F943D769C94B!6172&authkey=!ABK...

stop lying if you were the tipster they will knew it was you since you are registered here

'they will knew' = incorrect

knew is the verb (past for know ) dont teach me anonynmous tipster

@Aalok05...Pretty positive you *didn't* send us those screenshots

where is the custom notification sound :'(

Any word on when we will finally be able to have a setting to hide the "last seen on" and the "online" notifications? I find amazing that in these days of privacy concerns, whatsapp is the only app that doesn't respect my wishes to be invisible sometimes.

What id like is contacts integration. So you can whatsapp someone directly from the people hub just like texting and skyping. I think iphone has something like that, where the contacts are linked.

That too, but I'd like to see it go even further... have it directly integrated into the messaging app, together with texting and facebook IMs.

Fuck this shit. I want to transfer my conversation data to my new device. Audio clips are worthless

That doesn't work with Backup and Account transfer?

Unfortunately not. The backups are stored locally, per their website and there is no solution for WP. Apple and Google have tools for this. I dont understand the point of the backups. Excuse my foul language. I'm just tired of a pay app not supporting important things on WP.

I just got my 1520. Its currently synchronizing all my accounts. Will report back with how whatsapp handles this

Yeah, custom sounds of notification

I want watsapp to open fast. I still face the huge bug when i gotta view previous msg

Yea. I am facing too in my l925.

Good update. I'm hoping group chat can have designated colours of chat members like on iOS and android.

This, I want this so much

So long for this! And wallpaper background too!

This app is just crap...they updated it a billion times without solving a single bug. It just keeps crashing update after update (eg. scrolling a conversation or viewing the media folder) Plus it's deadly slow.

I've never had those issues. Don't know anyone who does, so it looks like just your device? Or rather, it's an isolated bug, not widely reported. Need to think beyond your own experience before calling it 'crap'. The app maintains a 3.5 rating, which is steadily going up.

Sorry for the language, but I'm pretty sure I'm not the only one as I've seen several people with these problems, even in Wpcentral forums. Maybe is a problem affecting only 512mb Ram devices, or only lumia 720, but definitely I'm not the only one.
Again, sorry for my previous statement but you know, it's pretty frustrating as it is the ap that I use most on my phone!

Yup, understand your frustration. Hopefully it'll get better with this or the next update!

It crashes very often even on my phone, i cannot view old chat history , if attempted it crashes unconditionally , also if a contact has more than 5-6 photos associated with it than even that cannot be viewed ...there are many bugs not only on my phone but on also on my friends phones .... I don't how you didn't come across them . Also it lacks many features when compared to iOS and Android apps

No. This happens on many phones. You must not be using it as often. I'm unable to scroll back in a conversation more than like 50 messages or so. The entire app shuts down when you scroll back past X amount

Nop in my L920 with gdr3 + amber it also crashes when I try to find a photo in the media option and I scroll up a lot... it just crashes... The same thing happen when I try to read an old conversation (scroll up). Anyways... all I want is to be able to open a conversation and that it places itself in the first unread msg! :/

Are you actually telling me that WhatsApp on your phone hasn't EVER crashed while scrolling for previous messages?

Daniel u one lucky guy who is not having issues with whatsapp....i presume u use a 1520 so maybe because of some great specs its not having issues :P.....but on low memory devices these bugs are widely prevalent...specially while scrolling up old chats and when trying to access media....hope its resolved soon:)

Its not only with low end devices scrolling older messages cause crashes everytime on my L820 . I have to ask my friend having android to mail the entire conversation also the conversation is truncated in windows phone when we email it

Still having notifications issues

Awesome WhatsApp team. But also look for bugs

Please fix the crash issue
It should be fluid as android WhatsApp
Hope the fix it first

Don't compare it with android please

Why not?...its the same team that's developing for all the platforms...truth is they don't care much about wp because user base is not much as compared to android or ios

When the heck will it fix that annoying "Vibrate-the-crap-out-of-the-phone-if-two-people-message-at-the-same-time" feature? It sucks the battery. Also they *NEED* to leave the audio APIs alone for heaven's sake! Aaaaand what happened to using custom text sounds? It is an IM app for the sake of baby potato, why won't they use the feature that is DIRECTLY relevant to it? It's like WPCentral choosing not to report on Facebook updates ;)

+920 , they should dsiable that annoying viration, it really sucks battery , i told my pal not to msg me when i am chatting with other buddy , but he makes fun by sennding me usless agahghgj msgs :/ and forcefuly i have to block him temp :-p

Nice they're improving but I just wanna change my every chat background; it just feels too stale this black and white theme.

This site reported Wallpaper support in the WhatsApp translation page. http://wmpoweruser.com/whatsapp-translation-task-indicate-chat-backgroun...

Interestingly the link within that article talks about 10 features missing in Whatsapp - out of those 10, 9 features are already in WP Whatsapp. The only one not there is chat background.

Is it gonna be possible..for WhatsApp to allow sending of audio files saved on d phone

Would love to see infinite silent mode, instead of weekly. I had bunch of group and i hate to silent it every week.

Is anyone else skeptical about this supposed "save audio" feature in a future update? I don't think Microsoft will allow WhatsApp to access to the Music library. In my opinion, I think the 'audio' thing in autodownloads simply allows you to decide if you want to download audio clips sent to you - which will be stored in the apps itself since the photos hub can only show photos and video.

How to get Whatsapp BETA? :b

Forget new features, how about stop the POS crashing every time you do anything with an image first?

Works very gud, but i m really missing option to SEARCH text within a conversation (available in android version) and abilitiy to change GROUP CHAT tone,

I want to be able to send mp3s!

please, NO backgrounds...just plain and sexy b/w
Windows Central Newsletter
Get the best of Windows Central in in your inbox, every day!
Thank you for signing up to Windows Central. You will receive a verification email shortly.
There was a problem. Please refresh the page and try again.