WhatsApp updated to v1.6 with new features, fixes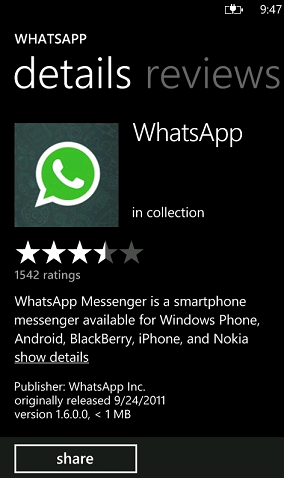 Everyone's favorite chat app, WhatsApp, has received what seems like its monthly update--gotta love their commitment. Version 1.6 just hit the Marketplace with a nice changelog of minor new features and a bunch of fixes that must have been introduced in v1.5 from December:
Unread message count in chats pivot
Improve behavior when receiving photos on EDGE networks
Able to add unrecognized users to device contacts
Able to forward messages
Update status in UI when successfully setting your own status
When creating a group, able to remove users from initial list of invitees
Confirmation prompt when inviting a user to a group
Fix sort order in group chat invite screen
Workaround for "no text" problem caused by Advanced Configuration tool
es-ES localization
Not bad but nothing too crazy either. But those minor additions go a long way for users who rely on this everyday, so its always good to see. You can pick up WhatsApp for free in the Marketplace here. Thanks, Israel I., for the tip!
Daniel Rubino is the Executive Editor of Windows Central, head reviewer, podcast co-host, and analyst. He has been covering Microsoft here since 2007, back when this site was called WMExperts (and later Windows Phone Central). His interests include Windows, Microsoft Surface, laptops, next-gen computing, and arguing with people on the internet.
I haven't really found a use for apps like these. With unlimited text messaging... Why use one of these app? I assume you would use them if you wanted to get rid of your text plan altogether but then can't send pic messages right? I have 7 people in a group message, would I be able to do that in this app? 2 of us in the group are wp7 users but the rest are iPhone losers... Would I have to get everyone to use this app as well? What would be the benefits... Sorry I'm rambling on, if anyone can share their uses for these apps please do :)

I have unlimited texting, so my main use for this app is international texting and picture/video messaging. I don't know why you would think you can't send picture messages with this app. Even with unlimited picture/video messaging on my plan, i still use this app to send them because the picture gets sent instantly. Often when i text a picture to my friend, they don't receive it for hours. Sometimes even days, or even not at all in some cases. When i send something with WhatsApp, they receive it instantly every time.
With video messaging, whenever my friend has texted me a video there's been a couple issues. 1) It takes FOREVER to send, and when it finally does 2) the quality has been ruined. The video, instead of being full screen, is now about half the size of my screen and made up of like 5 pixels so it's hard to even see what the video is the quality is so bad. With WhatsApp, the video sends almost instantly, and in perfect quality, exactly like it was on the phone that recorded it. My question though that i would like an answer about: the description of WhatsApp says video messaging is possible, but i cannot send a video to anybody. My iPhone 4 friend can send me a video, but i cannot send him one. I can't text a video either, so i was wondering if it's a WP7 limitation, or a limitation of my phone?(LG Optimus 7)

If I need free international messaging - I use this amazing new service called e-mail. It was attachments (photos, videos, etc), delivery receipts, shitloads of companies offer it for free, it has push notificatioons, there is no need for third-party apps, and everyone online already has it!

You can't have a fluid conversation over email, and instant messaging requires you to be logged in and have a username, while Whatsapp works in the background like its a true replacement for texting, without the bill from your carrier. That's what Whatsapp is for.
Back to your hole, trollboy.

Are you incapable of recognising humour?

There wasn't anything humourous about your post.

Most countries doesn't have unlimited texting. Where I live the texting rates are absurdly expensive. On the other hand, data plans are cheap.

just to add to the fire, Bell charges me an arm and a leg for texting plan so i don't have one, so whatsapp works for me and if my friends decides to send me text via whatsapp im usually fairly happy (Bell charges me for receiving text too =..= that annoys the hell out of me, after my contract expires im going else where)

I live in the United States and it's a brilliant way for me to keep up to date with all my friends back home in Australia. We have a group chat of consisting of five of my close high school friends and me. It works far better than facebook since it feels like we're all just hanging out on MSN again.

I have limited Text, so this is great to use with people I know I will text alot with and save the rest for limited users. WhatsApp feels slower than eBuddy. I hope eBuddy really competes with WhatsApp as I prefer eBuddy's fluidness and color scheme.

Great news for people that use it.
Went to WhatsApp's website and it doesn't show anything on their homepage stating they have an app for Windows Phone. So, like, what gives?

I emailed them about that and i got this responce
"our graphics designer has been out last few months, he went to brazil and got lost."
i dont know how to respond to that, but i guess its not ganna be on the website anytime soon.

"Not bad but nothing to crazy either" should be *too.

I can't open pics with this new update on my Titan so don't download if not needed

I remember whatsapp was one of the few non ugly android apps, but damn the windows phone app is the ugliest I've used. It's just a little too basic for my liking, they should use the colour scheme of iOS and Android while keeping it metro

Gfx designer getting lost just sounds like lazy excuse.

The only thing I can't seem to stand about Whatsapp for WP is more like a fault in the OS: why does the WiFi have to disconnect every time we turn off the screen? We need the option to disable this, until then Whatsapp over WiFi will be super lame IMHO.

i don't think this is wp specific... when i have a lot of downloads in the marketplace queue and the screen times out the downloads continue under the locked screen. so wp must have this functionality... maybe just not to devs outside ms studios?

Yeah they probably didn't make the specific API public. That's a bit retarded IMHO. How can they expect decent development if APIs are too limited? I understand the "closed" approach and its benefits, but even Apple is more "open" than this.

I mean why can't we just control the WiFi sleep policy from the settings, like on Android? It's annoying when you wake the phone and you have to wait seconds before it reconnects. Sure, not a big deal but it doesn't sound right at all to me.

Just yesterday I was complaining about the missing option to leave a group or uninvite others. Now this update is supposed to fix that. But HOW do I do it? I can't tap and hold the member, I don't see new options...
This app is just really bad compared to others. I might give KiK another try. They guys at Whatsapp just don't seem to really care enought about WP7 users to give them all the features they give Android/iOS users. It's been way to long and yet so much is just missing.

As daguila said, i can't open the received images after the update, wish i knew that before I updated.

Would prefer it if they could improve the crappy messages UI

after updated i cant´t download or open pictures and videos

There was an article awhile back about a whatsapp GUI redesign concept, I think it was a post on xda, that guy needs to be hired to design the app

Guys (and girls) DON'T download the new update if you want to open pictures. Something has happened where it's not working (i'm still on 1.5 it works, friends on 1.6 it doesn't work). Hopefully an update in otw soon.

Just to make things clear, people are saying you can't open downloaded pictures.
Rather than view them in the app, is it possible to view them from the Saved Pictures album in the Pictures hub? Or is it all just messed up and they don't save on the phone either?

I started using this two weeks ago when I found out how expensive international texting is though the carriers. Works great with my friends in Great Britain and the middle east.

Hopefully all this problems are ironed out when I buy the lumia 900 in march... I hear Ebuddy XMS is really good though.

Many of my friends heavily use whatsapp. But as long as whatsapp is so bad (slow, looks ugly, ...) i cant recommend wp7.. Its a shame!

Not sure actually. I'm still on 1.5, it's a friend who made me aware of this problem. As far as I know it could be both, or not.

I hust got an answer from the WhatsApp-Team:

"The submission for 1.6 came from a "tainted" build machine and was not linked correctly. This makes us fail to download media. We regret the error and have sent an update to Microsoft. Regards,
Andrew"

So it seems that this picture-issue will be fixed soon.
Windows Central Newsletter
Get the best of Windows Central in in your inbox, every day!
Thank you for signing up to Windows Central. You will receive a verification email shortly.
There was a problem. Please refresh the page and try again.