WhatsApp updates Windows Phone app to address registration bug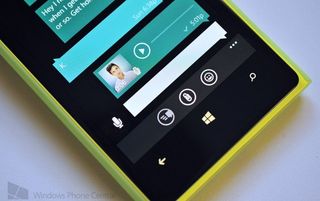 WhatsApp, the popular messaging service, have once again updated their Windows Phone app. We last covered the app when the company addressed some bugs, and today we're looking at more fixes. If you're a frequent user (we know many of you are) you'll be pleased to learn the developers are working hard to improve the experience.
So what's new in this update? As noted above, WhatsApp has fixed an issue in this latest release (version 2.11.310), which threw errors when some people attempted to register with the service - the app would provide a "no routes" alert.
You can download WhatsApp from the Windows Phone Store. Let us know if you notice anything else new in the latest release. QR code can be found below. via: Plaffo
Windows Central Newsletter
Get the best of Windows Central in in your inbox, every day!
Rich Edmonds was formerly a Senior Editor of PC hardware at Windows Central, covering everything related to PC components and NAS. He's been involved in technology for more than a decade and knows a thing or two about the magic inside a PC chassis. You can follow him on Twitter at @RichEdmonds.
Hope they so something about the crashes. My dad hates windows phone because WhatsApp crashes every now and then.

That's weird. Have you reinstalled the app for him? I have a 99.9% success rate with whatsapp

Well the regular updates haven't helped, so I'm doubtful reinstalling will achieve anything.

You never know. Reinstalls sometimes do wonder.

So true. It doesn't hurt to try it.

Actualy, it is Works, i tried to my previous Line, and reinstall it fix the problem

Phones with 512 Mb RAM are facing crashing issues too often...
Mine crashes tooo..only one on my friend's l820 it works fine, without crashing.. Rest all with 512 Mb ram are facing crashing issues.. They should fix this asap..

Unfortunately the fix is a 1GB phone. With all the features these apps have it's alot for 512mb to handle. I know it's not what you wanna hear but it's reality.

512MB is more than enough for WhatsApp

Tbonenga: When feature phones with less RAM can have WhatsApp with more features, reality seems to be different.

I've never had an app crash on my 520.

My WhatsApp crashes if read the previous chat history...

Yep I also get crashes when scrolling back through history. 1GB RAM here, 8X.

+720, & one who says whatsapp works without crash on 520, bro you should try it one more time..

Dammit this is definitely one annoying problem. Happens to me on my 520. And it shouldn't happen because of the relatively small amount of RAM. It's loading goddamn messages!

I have both lumia900 and 920, WhatsApp works greatly on each phone, always. With recent updates, I pinned 20+ of my contacts to start and it is such a great thing for a WP user to have something that no other OS can actually have.

Wow, so many updates. We're on a roll!

WhatsApp was using battery again and as I don't really use it I have removed it again.

How did you determine it was killing your battery?

The battery drains to half in two to three hours, I can get at least 8 (or more) with out whatsapp installed

Rather than uninstalling it couldn't you just have shut down its background process?

I used to get 8 hrs earlier with just what's app installed and now i get 15 hrs of battery life with line what's app wechat hike and viber installed... May be gdr3 have improved battery performance - L820.. :)

Cant send multiple pics like in android and ios. pls update tat and can bring more themes to whats app and change its background style... Hoping it ll come soon....

Sweet, can now send multiple videos and have access to Lumia black firmware! Lol joking, always nice to see an update though!!

Is it possible to send one video?

OS limitation. Lame, I know.

I would like different notificationsound. Allready received GDR3.

BBM is more better and secured than Whatsapp. I always receiving spam messages on the whatsapp and the only reason for that is they know my mobile number. Unlike BBM its PIN to PIN basis. Hope BBM will come on WP

In 2-3 years of using whatsapp I never got one simple spam. Used to get them with kik though. Isn't your number advertised somewhere? :)

I guess that must depend on the type of use and information you`ve got online. I`ve been using WhatsApp for a few years now and never recieved any spam.

Never received any spam on whatsapp as i don't give my phone number to spammers/advertisers, besides don't have any contacts on BBM, even people with Blackberry use whatsapp so they can communicate with others. As long as BBM pin drama continues it won't reach whatsapp userbase of 350 Million "Active" users.

Spam in WhatsApp!!!. Hearing first time

Here in India what's app in wp is highly criticized because of its inability to attach music and videos. Also the app crashes a lot has notification issues and a long list of other complaints. Hope the developers work for a serious update to bring it on par with other os.

Music & Video api is restricted by microsoft! That's nothing to do with WhatsApp. Notifications are working OK.
& Yes it is crashing If you scroll through older messages history in any conversation.

App also crashes while you are on 3-4 conversations at a time...

Yeah! May be crashing is due to less memory! I want to know any1 having same problem on device with 1 GB ram?

Well I have a L920 and I havent seen Whatsapp crashing yet be it either scrollin in my conversation history or opening multiple chats. I have pinned many chat gropus and ppl on my homescreen n I easily jump on milti window no matter what. Havent seen any crash on my phone yet. *Touch wood*

Thanks, Then it is crashing due to less memory (512 MB). I have experienced crashing whatsapp on both Lumia 520 & 720.

I don't understand why they don't use a workaround for api's i have moliplayer pro who has full access to sd cards and videos as well as it can run any format.. There are many softwares who can access at least the camera roll on sd cards so why not the messaging apps find that api

Works fine on my Lumia 820

Has anyone experienced issues with BROADCASTS? The app on my phone freezes as soon as try to re-broadcast and try to add people!

I also have the same problem, and when it freezes if we press back key then WhatsApp crashes

Exactly! I'm having this issue since last two updates! Why is everything sucky on wp8?

I have an issue with broadcasts. It used to show a little icon in the corner of the text box if it was a broadcast, but now it doesn't (many updates ago this stared happening). So I can't tell if someone sent a broadcast or a direct message.

This. http://forums.wpcentral.com/windows-phone-8/229397-redesigning-whatsapp-...

That looks great, as long as it had an option for a dark theme.

Am I the only one who is not receiving the toasts notifications? I need to enter in whatsapp to see if I have answers or someone calling me! Hate that!

Restart your phone and you don't receive notifications in battery saver mode (just telling)

I'm with you mate.. And I've tried all the methods, but no luck.. Have to open the app everytime to get new messages.

Turn off the automatic update of time in phone settings.it worked wonders for me

How to turn off the automatic time update from whats app ? Please assist me

i too experienced the same problem. after a lot of googling the only solution i found is "reset the phone"

I had same prb I,did,NT get toast notifications n,my fb chat was also not working n had even,errors in msgs n calls also I was frustated cz my gf wud fight y I dnt rep on,tym. Then I got solution I did a soft reset n trust me,buddy all probs solved . Whtsapp toast msgs , fb chat , msgs b call err all prbs solved in one shot . So,give it a try soft reset .

Never received spam either. Only thing that bothers me about whatsapp on wp is that I sometimes don't receive notifications on time, or none at all. But I think this has to do more with wp itself. Notifications from every other apps are a mess, for example facebook and even 6tag. But on the bright side it has got better with GDR3, so I'm hoping that it will all be resolved with WP 8.1

WhatsApp on my phone uses over 450MB!
We NEED an option to delete the app cache, it uses way too much space. :/

Now we only have an option ie. Reinstall..

oh come on!!!why dont u delete all the videos pics audios recieved thru whatsapp and moreover try disabling auto save incoming pics videos audio watever!

GREAT! So you mean I should MANUALLY delete one by one every single photo/video I have in WhatsApp? I have more than 600 photos there, are you serious?!
Also, disabling auto save is pointless: I do want the pictures to be saved in my phone gallery, so that I can backup them via SkyDrive and delete them from the phone. I don't want them to be saved inside the app as well! WhatsApp basically saves two copies for every single media file received!
It's not that crazy to ask for an option to clear the app cache, come on...

yaah its harmless to ask for it!!...still manually deleting would have been easier than complaining if u wud hv never allowed 600 photos to accumulate knwing this very drawback!! if u knew and still u allowed it then i dnt knw what to call u!!*no offence*

Okok, so let me understand.
WhatsApp on both iOS and Android allows the user to delete the app cache. If I disabled the option to save the incoming photos, WhatsApp would still save them inside the app. It simply wouldn't have saves them on the phone camera roll, but that's NOT a problem, since I can easily backup them and delete them.
It's the cache inside the app that wastes too much space, and you cannot delete it nor prevent the app from saving the media files there.
So what are you actually saying?
I'm not sure you really got the point...

Bro , leave all this.. If you go with my suggestion, take backup of whatsapp and reinstall it..
This is what I did..

mictosoft should really partnership with them a speedier "full" whatsapp can really push the platform and i mean what i am saying because the only issue my mother is hating here 925 is the whatsapp experience... its slow

They have to add custom background and different colors not the accent color! I use it alot and when i get tired from the color, i have to change my accent color!! Please some customization whatsapp!!

Is it possible for your photo be seen everytime you chat like i see Daniels?

I am still facing issues with toast notifications. Have to open the application to check messages :(

1) try to uninstall/reinstall the app; 2) check if Whatsapp's background task is activated.

I have a problem about vibration feedback. Whenever my phone is in pocket i don't get vibration feedback and when i am in using WhatsApp I get a vibration feedback. Anybody having this problem ?

It is designed to vibrate when u r inside app. Not a bug

But on android it is vice versa !!

My WhatsApp is always stuck,on creating favourites anyone having this issue.
I am very much irritated with WhatsApp that I deleted it.
can anyone help me to solve this issue.

All the reviews have disappeared from the store ??

Whatsapp in WP shud be renamed as Bugsapp

A lot has already been said here about whatsapp challenges faced on this platform and the much needed upgrades seemingly pre-existing on other platforms,but Iv got to say this:" push notifications are toast!" This needs fixing,coz it's integral to the use and and not just the aesthetics of the app. Thanks.

When I got my first wp8 (810) whatsapp had some issues but the got better with each update, seeing how many updates we got in the past time I am not complaining. I like whatsapp and happy its on our platform

Wont install on my L920 in UK.

I love WhatsApp in my Lumia 520......!!!

Sometimes I wonder if they even test this app before releases given the regularity with which its updated - amateur hour??

Thank for the update, I was faced to some old issue on my windows phone. Now its better. :)
Windows Central Newsletter
Thank you for signing up to Windows Central. You will receive a verification email shortly.
There was a problem. Please refresh the page and try again.