WhatsApp for Windows Phone gains quoted message support, tweaked UI in new update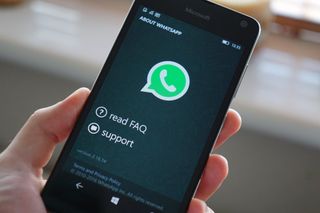 If you're one of many Windows Phone users who are users of WhatsApp, we have some good news for you. A new update has just been pushed that introduces a new feature called quoted messages, which allows users to quote a message directly in a reply, similar to Twitters quoted-retweet works.
The update also brings an updated file picker for uploading files and images into conversations, using the default Windows 10 Mobile file picker rather than the old Windows Phone 7 one. And above all, the update introduces a couple of UI tweaks that make using the app much more bearable, such as moving the send message button to the right of the text box, rather than right above the Start button.
The update is now available in the Windows Store, so if you're a WhatsApp user make sure you grab it now!
Download WhatsApp from the Windows Store
Zac Bowden is a Senior Editor at Windows Central. Bringing you exclusive coverage into the world of Windows 10 on PCs, tablets, phones, and more. Also an avid collector of rare Microsoft prototype devices! Keep in touch on Twitter: @zacbowden.
A little little, step by step it's turning to a Windows 10 app.

I didn't get the file picker. Have you?

Try to attach a document. The photo picker is still the same.

Now we can see someone's status update time and the status has been repositioned as well.
I wonder why the status update time thing took so much time to arrive in WhatsApp for windows phone.

Because Facebook Inc. is busy working on the UWP apps for Facebook, Instagram, and Messenger

I wish group me would update with some more useful feature. Like video sharing and when message was seen.

Stay on topic please or you will be banned!

It is available since a while now

Omg, so glad they moved the send button. So many times I have accidently hit the start button when trying to send a message

Guilty as charged! But the phone button was even worse. So many accidental WA-Calls.

Now I'm hitting the Select button all the time! lol help ...

Same here. Why adding a select button when you can simply tap in the display corners to do the same? Just copy the Messaging app and get rid of this button...

Does messaging app has this feature now??

Now when I hit it, I have to exit the message and return to resume the message. But hopefully, sooner or later I'll get used to it

Check the store again if you don't have it set to auto-update apps because that issue has been fixed!

What issue has been fixed? The select button?

The select button doesn't really do anything for me.

Same here. Hate that. I guess ill have to get used to it.

Same here haha. They have to give us something to torture us

Every damn time man! I'm actually getting annoyed.
Hope I can get used to it soon.

I hope I'm not the only one now hitting the message picker that is EXACTLY WHERE THE SEND BUTTON WAS! Why not just leave it empty?! Why Zuckerberg!!!!!

Me too... it needs to be returned.

WhatsApp! Listen up! The "select" button at the bottom is SUCK! Give us back the "Send"!!!

Yeah, now i hit the select button everytime i want to send... Great choice. Not!

I can't quote messages for reply

Hold press on the message and press reply. GL

It does here. Groups and private.

Not working for groups... Lumia 950XL

Just sent a quoted message to a group. L730, though I really thing this doesn't depend on the device type. Hope u can fix it

Try it in a group where all the members are in your contacts, it should work...

Works on my 950xl... Am on latest insider build though.

Doesn't work anywhere for me

Any of you can use select button?? For me, no function.

Oh ok, thanks for the correction :).

How? Please explain me, I can't.

Just press the button to multiple select of your conversation.

Not working bro, I will restart my lumia 950 XL...

working perfectly here... Lumia 950xl latest insider build

Lumia 950 XL, Still not working

Only hold press the message and press reply.

I wish they could bring cloud backup not just local backup

Aren't the messages encrypted with a key only present on the device itself? Or if you reset your phone can you restore old messages?

Needs Windows 10 UI.... Hate using this 8.1 UI app. :/

At this time I am glad for every app that is using some kind of Windows UI, be it 8.1 or 10...

Select option is not working

Select option is not working

Still the old File Picker. Just me?

Yup... very limited in what type of file/document formats it can handle... eg, zipped files...

Worst position of the send button ever, I'm left hand and send button is miles away! Select button doesn't works at all, and they remove the old way to select messages. If you have a 950XL and use the left hand, skip this update for your own good. DON'T INSTALL OR YOU WILL REGRET.

I honestly prefer the recent position of the send button even though I may accidentally exit the convo

Are you using the phone with the left hand? How can you use the phone with one hand with this button there?

Nice move for me because i accidentally hit start button most of the time while sending a message

Are you using the phone with your left hand?

Overall, the W10 UX is designed for use with both hands or right hand. It's a pity that there isn't an option to a lefty mode but that would probably demand many man-hours to implement, both in design and programming. I truly recommend you to start training the use of your phone with your right hand, even though it's not your good one

Nice joke, the programmers needs to use their brain to think not the foot...

Wow, update .108 just came out... Select button is working as intended now...

There is no windows 10 file picker in this update

Another update, now select message does work.

The file picker and image picker is still the old one..... Nothing new there

Yea for me too. Just have the quote option. And changed send button position. But i do think the resume speed as improved a bit

They have status time now. That's a start. Wish we got the numbers for the group chat in different colors and access to our ringtone file from the so called custom notifications.

Cool cool cool! Keep the updates coming Whatsapp!

Guys there's an immediate update available at the store. Do now!!

Select function is working, but the file picker is still the same

1. Now we can reply to particular message in group. Just hold on that message and select reply.
2. There is a select button to select multiple messages in the group. Don't find it useful as long as we can select the message by hitting at the left corner of the message to enable select function.
3. Now we can see when our friend has updated his/her status.
4. Little bit of UI adjustments like the send button on the right of the chat box.
5. Lastly it really seems faster. Windows central please post the screenshots of the new file picker cause I didn't see any new file picker (atleast not for albums). It's still the old one.

Quote Reply doesn't work for Group Chats

Just tested this out in one of my groups and it works. Just press and hold on the chat u want to reply to and hit the reply option.

Yes, tried the same... It works perfectly for private chats... Doesn't work for groups though. I can see quoted replies, but can't send one. I have also tried reinstalling WhatsApp. Same story.

What I just now figured out is that all members of the group should be in your contacts only then can you send quoted replies. Please check at your end and confirm.

Olympics Emoji added in Sports category

Yes, You are right. In a group where i have all the contacts saved in my phone, quoted replies work fine but if u dont have even single contact saved then the quoted replies wont work.

Ok, found out another requirement, you too have to be in the contacts of each member.

-.-" that's a odd one... lol. It should work regardless if a person is in your contact list or not.

Doesn't work anywhere for me

I don't see the file picker too. Idk maybe Video and Picture are separate - was it there before?

Can we still tap on the left side to select messages?

I haven't really notice much of a difference in it cause I have to move from the keyboard back there top right to just send a message

There are a bunch of new emoticons inside every category.

Is document sending working now?

I hate the replacement of the send button with an annoying select message button at the bottom of the app. Else the update is very tight. Load screen seems to be gone at least for now.

Use the support inside the about to tell them.

Select function now works after second update!

No full-screen support yet. Hiding the navigation bar still gives the annoying space between the textbox & keyboard!

Why they have to put select button at the bottom

No ones knows, you can use the support inside the about to tell them.

Update yesss. A question though, can the windows phone/mobile WA chat backup be restored onto android one?

Why would you want to move to droid?
Probably not but you can restore someone else's backup in android.
Sickening but true.
Stick to Windows, much safer

No no no I ain't moving to android,not in this life(idk) , this was just a query which arised cause my mom moved to android :P

Hey Guys not sure what's the Quoted message thing about? I've updated Whatsapp, but can't seem to find out about this feature...

On screen buttons made you feel like that button was on start button. We would like to say that the button was on appbar.

Stuck in store for me, won't download. On build 14376, 950XL ds us. Never mind, it finally installed.

Why did they move the send button... It has become quite annoying to stretch my finger till the end of the textbox... Still fine...but why the hell they've put the select messages button over there... Completely unnecessary... (personal opinion though)

I strongly agree with you. That select button on appbar is completely unnecessary! Moreover, the send button don't provide any visual feedback! It's just a static button. That's a bad designing principle. And yes, the appbar send button was better. But I get it. To remove accidental press on start button on windows 10 they maybe implemented this. Whatsapp was better on WP 8.1 (in terms of design) This windows 10 designing is ......... Meh.

Worst if you are a left hand user like me. Use the support inside the about.

I feel the pain bro! Me too Lefty

I hate that select messages button from the core of my heart..wish i could replace it. Infact, why keep one single button, and take up one whole strip of the screen? And we don't need that button when we can press at the side of the screen! The send button is placed fine..even though left handed people will have to stretch their fingers across the screen..but, i just want them to remove the whole strip they used for one single useless button!

They should update the text bubbles to a more modern look.

I'm not a Win10 user. Can you please send me some screenshots of whatsapp in win 10 [For privacy, send messages to yourself and screenshot them] ?

Send button in the message.TextBox is ok. But it was better in appbar. That what it was for. Apps function on a single...unified place. But what's the point of selection button in appbar... When it's a native feature of the OS that are always known to us! Much improvements on the app. But UX designing needs priority. Refer to msdn for great UX design. I'm not saying it's no good. It's of course good. But can be better. Good luck whtsapp. (is there any way I can directly provide feedback to them? Like Uservoice or beta test program?)

Inside the about you will find a support button.

I know it's there. But I want to get into the beta testing program, so that I can directly provide them feedback even before the app comes to public.

Still app doesn't scale to the entire screen... A black space remains at the bottom.... Anyone knows when they gonna release UWP app ? Just like fb, msngr are they gonna port it ?

They already have a officail web scrapper desktop app. I don't think they are gonna make a UWP for Whatsapp.

most of the time i use web whatsapp so no issue...... but problem is with other apps, i have 20+ apps which need to be fixed for scaling issues. i sent email to the app developers but no luck, they don't want to put additional resources on Windows 10 mobiles. So forever we have to suffer with these scaling issues, the problem is that i have some apps where i order food, pay electricity, water bills, "Pay Now" is hiding under notification bar and unable to make a transaction. I am using mobile site now. MS should do something.

What is quoted message, and how it works?

I think its like just seen in fb.. We can reply to specific text.. Like we reply to the comments in fb.

1. Now we can reply to particular message in group. Just hold on that message and select reply (Will work only if u have all the contacts in the group saved in your phone).
2. There is a select button to select multiple messages in the group. Don't find it useful as long as we can select the message by hitting at the left corner of the message to enable select function.
3. Now we can see when our friend has updated his/her status.
4. Little bit of UI adjustments like the send button on the right of the chat box.
5. Lastly it really seems faster. Windows central please post the screenshots of the new file picker cause I didn't see any new file picker (atleast not for albums). It's still the old one.

WhatsApp is taking baby steps in aligning the UI with W10, we should give time, they should have fully redesigned app by end of this year(hopefully). That too if MS doesn't kill WP

I wonder why WhatsApp has not released a Windows 10 Mobile app...

What happened to Ask Dan segments on YouTube, I know this is somewhat off topic but technically this enhancement would have been discussed there :D . I am also facing the issue with the select button on my 830.

I wish there want such button anywhere..it only takes up so much space!

WhatsApp becomes to much slow..

Where is the download link?

Facebook beta also updated

Really neat changes, especially the placement of the send button. The fonts have become more streamlined too. The app is starting to shape up into a windows 10 app. Waiting to see an overall UI change to make it look and feel like a windows 10 app.

But i hate the placement of the "select messages" button

Letting select messages like before, with no "select messages" button below would also increase the space in the chat screen..

They should make it UWP and throw away the slow Electron desktop app.

Nice addition of features.

Who, they fixed the issue quick. They just posted an update which allows you to select the messages now

My phone is crashing too much after new installing new update

It ate battery for Breakfast, Lunch & Dinner. 25% of battery consumed by WhatsApp in my L1520

It's been quite sometime and still waiting for an option to respond from Action Center without opening the app

The only app can do that is line .

Anyone getting "Waiting for this message. This may take a while. Learn more" error on received messages in a group??

I have the same issue Posted via the Windows Central App for Android

Quoted messages don't work in groups. Thought that was the most effective use of the feature :S

2.16.108 is way too slow and laggy on Lumia 1020 with Windows Mobile 8.1, to the point of being unusable.

I still hate the app whole heartedly

Has this been released in the UK yet? Still currently on v2.16.108 with no update available in the store?? (950XL)

This update made WhatsApp on my Lumia 950 so buggy and slow...

Feeling the same...
L930 here

I can't update WA please help me. It doesn't even downloads, it says acquiring license and then the error pops it's 0x080070005 I'm in slow ring latest update

Damn the select button to hell :D

Reason for swapping send button ????...And the select button usage is very very low...please revert back in next soon in next update

That is a very good questions. I don't see the use of switching the two bottoms at all. From my point of view can remove the entire "select" option and enable a swipe from the left to select messages.

Each and every single time, since the update, I have pressed the Select button. Sigh

Hey.. This is for those who got problem with new send button position.. Just follow this simple steps.
Open WhatsApp> settings> chats and calls settings > turn on enter sends message
After it, you don't have to stretch your thumb to send button.. You can directly send message from keyboard by tapping enter key.

On my L930 the app is so freaking slow and buggy after the update.
:(

I'm having trouble sending videos on whatsapp.. This wasn't the case when it has a 16mb limit but since they removed that limit I cant send videos easily anymore.. it takes like 1-2 hours before it was sent. Anyone has the same problem with me? :(

OMG now we get the status set date after I've been missing it for like 4 years
I used to see it on my Symbian phone NOKIA C7 back in 2012

It is better than old updates

WhatsApp for Windows phone is very buggy. It crashes always when I'm on multiple chats. I've Lumia 640xl running on Windows 10 Mobile. Does anyone of you have the same issue??

how to write a quoted message ??

I'd much rather have a good PC and tablet client, like a full UWP.

2.16.114 is out, does anyone know whether it fixes the slow, laggy, crashy performance for phones on WM8.1?

Installed 2.16.114 on Lumia 1020 with WM8.1, unfortunately it didn't help much, still slow and laggy, maybe perhaps a little less crashy but I wouldn't bet on that. Real bummer this.

In windows 10 there is one nasty bug....If I type really fast after sending two messages the WhatsApp won't allow to open the keyboard for 1-2 hours
Windows Central Newsletter
Get the best of Windows Central in in your inbox, every day!
Thank you for signing up to Windows Central. You will receive a verification email shortly.
There was a problem. Please refresh the page and try again.