WhatsApp for Windows Phone getting call-contact feature in future update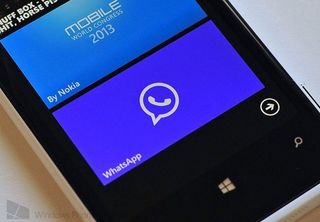 We've been teasing and dancing around the next iteration of WhatsApp for Windows Phone, an update that is looking to be quite considerable for the platform.
One new feature has just been revealed sounds more exciting than it is: call contact. No, this is not WhatsApp going all VOIP on us, but is instead just another means to facilitate an easier transition when communicating with people. In a chat conversation, users will be able to quickly direct dial the recipient by just bringing up their contact info.
New direct-dial feature in WhatsApp private beta
For instance, if you're chatting with someone and they say something dramatic, instead of typing back you may want to call them right then and there. Currently, you would need to minimize the app, head to your People Hub, look them up and dial. In the coming update, you can just dial them right from the app (as it will hand off to the Phone).
It's a small but interesting addition as it shows WhatsApp (and Nokia) are looking to more tightly integrate the popular messenger service within the OS. Who knows, maybe WhatsApp will be integrated into the OS fully down the road? Such a feat though would require a full OS update whereas for now, they can just do these little alterations to make it feel more native.
New features in WhatsApp beta for Windows Phone
WhatsApp is currently in a private beta (version 2.9.172) and is expected to hit v3.0 when it is released as a fresh overhaul of the service. Other additions found in the beta include:
In addition to UI improvements we've rewritten our background agent code for increased performance (biggest plus no more music API usage)
New smileys
Fixes notification issues for WP8 users.
Users can now see smileys on the double wide tile.
Fast resume. (If the app is open and you click on the incoming notification it opens as if in Android, very fast really)
On the start-up now it ask you to backup your chat history.
Large images shown
No word on a release date for the new WhatsApp, but we're figuring May 14th would be a good time to announce it.
Source: WindowsTeca
Daniel Rubino is the Executive Editor of Windows Central, head reviewer, podcast co-host, and analyst. He has been covering Microsoft here since 2007, back when this site was called WMExperts (and later Windows Phone Central). His interests include Windows, Microsoft Surface, laptops, next-gen computing, and arguing with people on the internet.
While they receive a lot of flak for the WP version, it is really nice to see them constantly updating the app and fixing bugs and adding features. Removing the background audio agent would be the most welcome change!

That's true, because my music is often replaced by this audio hack so I can't play the musics until I go to the music+videos app again. Can't wait!

I thought they had removed the background audio agent already with the last update. I guess I won't be installing it until they release version 3.0.

Integrate WhatsApp in the OS will be a killer feature around the entire globe!!!!
When Mango was released I tought that Microsoft will continue to integrate new social newtworks and another services in the Windows Phone, but, after a 1,5 year, only Skype became integrated. But now I´m hoping to see more about this in the coming future. Instagram maybe next?? :) Bad Piggies, Temple Run 2, Temple Run update to run with 512mb and WP7, Jetpack Joiride, Fruit Ninja update, Real Racing 3, Foursquare major update, WhatsApp major update, even new Facebook release, and of course Instagram... Am I missing something?? May 14th will be a mark in the history of Windows Phone!! I cant wait!!

Integrate this integrate that. Enough with the integration. If WhatsApp gets integration who's to say Viber shouldn't? Or Kik? Or Line? There's no end to this. Plus lets suppose WhatsApp IS integrated, what happens when they roll out some kick ass new feature for iOS and Android? How do you suppose you'll get that in your 'integration'? It will need an OS level update. Don't even get me started on the idea of an OS level update for WhatsApp.

Just like Facebook integrates to the Windows Phone. Isnt the full package of features, Is just the basic. And you can get the app to do more things...

This. Why do people struggle to understand any integration is good integration as you do those tasks quicker than opening and closing apps. Even if its basic, at least you can do basic tasks quicker. Every little helps..

So tapping the icon on the start screen to open the app is somehow a cumbersome task as opposed to 'integration'? And people don't want 'basic'. They want the real deal. That is afterall why you pay $650 for a top end phone.

If it's integrated it would sync into the Me tile and become a part of the sort of notification centre.

Me tile doesn't show message notifications. This will be for the Message hub. The counter will show 1. Good luck figuring out whether that 1 is for SMS, Facebook, MSN or WhatsApp without opening it. Like I said, useless and serves no purpose. Dedicated app is the best solution.

The Me tile shows notifications for social networks. This could quite conceivably go there, or into the messaging hub. The dedicated app is a good solution, but some deep OS integration would be nice for contact sharing etc.

because there should be an API to integrate communication services to the Me or people hub, right now I have the tiles of the people I care most in the top row if there is integration by communication apps, I should be able to see when I got a message it doesnt matter if it was an email, sms, whatsapp, twitter, facebook, skype, viber or whatever I should see a notification of it, same of the people hub right now is the most useless thing in the world

This is my idea of a Notification Center on Windows Phone.

You can see text, call, emails, fb updates, tweets and skype calls and skype msgs right now on your people tiles!

yet I cannot see whatsapp, viber, IM+, kik.... wanna keep going?

That is the kind of integration I want for WP8 I want my app to still be whatsapp, yet if I have my gf pined I want to tap the icon see the notification and be able to launch the app, I want to see the people hub to show me a notification if someone I dont have pined to the strat screen wrote a whatsapp message so I can unpin the whatsapp tile from the start screen because is going to be useless.



+1000.
This and they should build API to allow apps to integerate into Message Hub, and build a phone hub and API, so Viber and Skype and other voip servcies can integrate there. While we're at it, remove all the camera-apps from the app list, since you can access them inside camera via lenses, kind of like how games are hidden. Ditto for music apps, since they already have a Music+Video hub. If you want quick access, just pin to home screen.

Ever pinned a contact card on your screen? Ever saw text, write on wall, tweet, skype call, normal call all nicely sat under a photo of your favorite person? Tapping an app will open an app, you will search a contact, then write on wall, tweet or whatever. Pinned contact will "integrated" app card will be one tap and I will be writting on their wall or leaving them a whatsapp msg or calling them on Skype! Those are basic things that we do on daily basis. People don't make groups and events daily on Facebook but they do write on wall or update status five times a day which WP does faster and better than anything else out there. You seem to have never used WP with an open mind. When you come back to WP try to be intuitive and you will see why its simple, basic stuff that matters in life - Not a quad core.

It's not about intuitiveness it's just about how you prefer to sort out your information. I don't like all my stuff jumbled together in one app. I don't like a thread to show Facebook + SMS + WhatsApp conversations; that would just be too messy for me. Haven't we learnt anything from built in Facebook chat and how badly that turned out to be? I can be having a perfectly normal conversation with someone using built in chat but the moment I decide to send a picture I'll have to launch the dedicated Facebook app because that feature is not available in the messaging hub. The result? I'm using two different apps to Facebook chat the same person.

This iOS is the OS for you. WP isn't going to ever fit your needs. You need dedicated apps for everything and iOS is a dedicated app launcher,. Match made in heaven.

Its not really about that though. Whatsapp chats would be integrated into the messaging hub (threads). It would be a pretty seamless experience, IMO.

All I want from this app is no sound API, people hub intergation and voice integration like with the text messaging app. Once that's done, its going to be a perfect app.

I dearly would see WhatsApp integrated, but that would also invite backlash from carriers. I believe this is why we haven't see Skype being bundled with WP8 yet.

What we need is for the os to provide hooks into messaging and people hub so that apps can "integrate" themselves in a natural way without os updates. Similar to the new VoIP hooks that Skype is using.

Another vote in favour of integration. Ammarmalik, having baked in integration is what makes Windows Phone superior to app riddled OSes like iOS or Android. As a user, why do i even care how a message is coming, be it SMS, WhatsApp or Viber. I would much rather have them all in one place.

That would be a neat way. You can integrate basic stuff into the Me Tile, but for more complex stuff, there's always a dedicated app for those. Foursquare, WhatsApp etc. all needs to be integrated to the OS.

I for one agree with you. Make it like iMessage and you have an instant winner.

Just hoping that this update comes to Windows Phone 7.8 people also.

seriously! gradually, all developers (including MS itself) are withdrawing support from WP7.
but since here Nokia also comes into play a bit, you can hope for some WP7 love.
if anyone really cares about legacy devices, it's Nokia.

a proper whatsapp after ages of waiting

Id like to be able to save videos to my phone/sd card outside of the app. So many family movies from abroad I can't save elsewhere.

That's currently an OS limitation, I believe, that there's no API for video access. It's also the reason you can't send videos from your media library

Counting down 11 days will be hard. Then another 7 after that. Man the wait and suspence is too much. Excited.....? Oh hell yeah!!!

OMG (pulling hair out) Can they just stop teasing and bring the damn thing out already.
I'm waiting for this so I can turn this 920 in and get a warranty replacement cos this old version has f**ked up my battery, phone's always hot when whatsapp is running.
changing the background agent and introducing the calling feature is very GOOD news, even better news will be telling us when we will get this update

I might have to reinstall. Hmmm

I hope this update finally gets whatsap to work on my phone....damn it

Please release this update soon, it looks awesome! I'm so glad whatsapp is supporting WP!

The existing ver is so bad. I hope this update really fixes the problems.

If u r wp8 user then surely it will.

This plus Tapatalk and the Facebook app and I'll be a happy WP owner. Is it much to ask Snapchat? But it can wait.

No it's not, I want snapchat soon! Once that arrives I'll be completely app satisfied :D

Where's my QR code to update?

How about adding avatars in chat mode?

Starting up straight after closing the app is still a big issue with whatsapp. Hope there will be a lot of improvement in this matter!

But will it have the "modern" design? Lol.

Where is The fucking update. Whatsapp is soo slow ans laggy.... Its such a shame. Every cheap Android crap is faster.... I hate to weite messages with whatsapp. But all This people in my country usw This shit. Nobody knows sms...

Still waiting for being able to send Videos that have already been recorded ....

Does this work on the crappy battery issues? Mine seems to tank when using Whatsapp.

you guys should be thanking Nokia who've been helping them with development! i dont think we'd have seen the changes with the audio API so soon if Nokia hadnt leant a hand!

Still no option to save videos into video library, or share video from phone library. which the iphone and android have it a loonng time ago.

WP8 API limitation. Blame MS for that, not Whatsapp. Having said that, never used that feature even when I am on Android so no big deal to me. But understand that it is a feature that needs to be made available.

Come on, implementing this feature takes 30 minutes, maybe less time then writing this article... Its a shame... :)

While this is great news, I have been secretly wishing for a speech-to-text option as with the regular texting. I cannot count how many times I have looked for the microphone icon while in this app. I don't know about other people, but for me this would be a game changer and something Android and IOS doesn't have - to the best of my knowledge.

One thing that bothers me about the whatsapp live tile is that when you see it on advertised phones the live tile is actually a green icon of whatsapp and on our phones its the same colour as our accent with a white outline. I just wondered if anyone else noticed lol.

That was the old tile. For me I like it the way it is now.

just release it now please..lol

How many times does people need to blame whatsapp for not being able to send saved video or save received video to media hub, when its in fact the OS limitation? I know whatsapp for WP is far from ideal yet but come on...

Who cares, I don't know anyone who actually uses whatsapp... making it obsolete to me.

You're not in my contacts, and unless you have nice tits, I'd rather you not be.

The day they add music and video sharing to their update me and my other friends who own WP will jump with joy :P

Will the changes only be for WP 8 or for WP 7.x devices too? my biggest gripe with the app was the API abuse.

Just release it already, Iam dying!

how do i join private beta for whatsapp ? any ideas ??

Not available for public.

are we able to send videos and sound files that are stored in the device with this update ???

Not yet n dont expect this to come soon.

The most appreciable update would be to increase the working speed of the app. And enable video sharing from the gallery .

Thats a good news, especially the calling feature..

I'm sorry WPCentral, I have a question. How is the whatsapp development a "+Nokia" thing? I don't understand.

Nokia helping developers of whatsapp to built a proper app.

It is a good feature which also means we are gonna to wait for another couple of weeks before the new version release. Hope it works much better and no more buggy like the previous updated.

When the hell will they release this update? -.-

May 14 was day when thy were suppose ti announce da update of WhatsApp n tmplern 2 n few mre apps but till now no such news ?

Any good and smart ppl can,add me @ 919033786504 .

Boss....its 1st June...when will dis update come?

When I read: 14 june is a good time to announce it, I broke my waters. If it really would be, then it should be released somewhere after that date. Still to far away now. Can't wait!

It has been quiet for a while now. When can we aspect the new Whatsapp version for our WP users? Any news on this WPC?

This still not done. Looks like WhatsApp has dumped WP8. WTH....

The new whatsapp update for 7.8 has new emos :D :D the voice call feature is there and now gives faster notifications... Photos shared get maximized after its been downloaded and much more
Windows Central Newsletter
Get the best of Windows Central in in your inbox, every day!
Thank you for signing up to Windows Central. You will receive a verification email shortly.
There was a problem. Please refresh the page and try again.