WhatsApp for Windows Phone updated with many new additions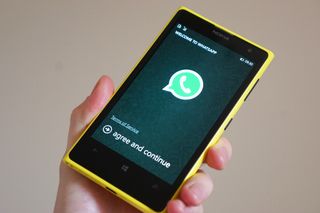 It's been a while since the WhatsApp messaging app for Windows Phone has been updated with more than just bug fixes. Today, that changed as the latest update for the app has a number of additions and improvements.
Here's what's listed for version 2.12.112.0 of WhatsApp:
Mark chats as unread or read
Added several new emoji. You can also tap and hold on some emoji to choose different color
You can select multiple messages in chat and forward or delete them
When you receive a contact card, you can now quickly message or save the contact if they're on WhatsApp
Lower the data usage used during WhatsApp calls in Settings > Chats and Calls
You can now enable or disable sound and vibrate for in-app notifications
Choose a ringtone for WhatsApp Calls
Thanks to Mohammad for the tip!
Download WhatsApp from the Windows Phone Store
2 min silence for WP7 users! xD

Sounds like "2 min silence for Win98 users!" XD

There's still Windows Phone 7 users? :v

Me... ;-)
Samsung Omnia 7 still doing it.

Yeah. Dell venue pro here

Now we just need a better W10 design. Functionality is there.

What w10 design.. We still dont have the ability to select and delete contact chats. :/

Did you mean clear chat history? Select the contact/group, go to info > clear chat history. Done

WhatsApp is the only popular 3rd party app for WP that gets attention near the level of it's iDroid counterparts.... SMDH..
.....
Why is that❔

They catered to almost every platform since the very beginning.... Part of the reason of there huge no. Of users.

That's the same power spotify has over other music streaming services!

They even still support the Symbian, that's how all of them should work.

It gets it ..enjoy it dude.

It could be that since whatsapp is massive in Europe and windows phone in some places in europe is over 10% they think it is worth while

Except for the messages count per screen.
I was able to view 11 messages per my 5 inch screen in a conversation but now it's 9 messages,

Thank goodness Posted via the Windows Central App for Android

Yessssss :D finally..
WhatsApp developers are really working hard..

How to select multiple chats ? Can't get it to work

Touch in the edge of the screen, just like you can do in email and Messaging app.

Thanks, I wasn't working but reinstall sorted it

Tap on the left edge of the message to make it work

Don't think you can multi-select chats. Shame though, even after waiting for so long, we can only multi-select messages. :|

It's for messages only not for chats, it's not possible yet to select multiple chats.

i think broadcast lists is for that purpose

Finally but the ui is the most boring among all

For me its dark theme ui is good as it doesn't hurt my eyes all the time but it needs many changes

How to set the dark theme please.

Change your phone theme to dark.Settings, start+ theme, dark theme

I like the minimalist dark theme on WhatsApp windows phone version.

Dark theme is good.. But not the UI..need a revamp without effecting the perfomance

persormance is very bad. it takes forever to load and always shows resuming. they need to improve performance by tons.

That's the problem of Windows Phone OS itself. Not the app. I get instant reloads on Android. WP sucks when comes to multitasking.

That's bcoz WhatsApp is made on Microsoft Silverlight technology. The need to access Microsoft's new and updated tools.

Even in my lumia 525 it resumes faster

My phone loads and resumes Whatsapp in an instant. Sometimes it takes quite a bit of time to load or resume, but that's pretty rare.

Which phone you use? Because in my Lumia 920, it's blazing fast(not literally but there are no resume screens). It actually loaded fast even though there were 500+ unread messages in a group. Only time when I usually see resuming screen is with low bandwidth. And few more times without any reason. But most of the time, it is quite fast. Try uninstalling and reinstalling the app. It might help, I guess

I've had +5000 unread messages once, and it still loaded instantly on my 920.
It depends on the quality of the phone, I think people expect phones like the 530 to be as fast as the 930, that's so illogic and unreasonable.

Still lagging behind other platforms but it's really good to see frequent updates for WhatsApp especially when they are not always just minor bug fixes.

I wonder if they share the same code base between Android, iOS and Windows Phone/10 Mobile? Since you say they are basically out of sync, I suppose they have platform-specific code for the different platform versions. That could explain the delay. Just a guess.

All the apps will likely call the same API but the apps themselves will have separate code bases as they are programmed in different languages and technology stacks. If they use Visual Studio they could use a lot of shared code and write virtually everything in C# but it's very unlikely that a company like Facebook would do that unfortunately!

What is lagging from iPhone or Android? I am asking with curiosity as I do not have other devices now. Also, I was told that whatsapp in Android doesn't have option to choose different backgrounds for different chats, different ringtones for different contacts, default color will not change based on the accent color you chose and a few more.

Features are usually implemented in iOS and Android first then weeks or months later added to Windows Phone. My wife has an iPhone after jumping ship from Windows Phone, she says WhatsApp is much more reliable there along with Facebook, Instagram and all that other social nonsense. I think you're right about the background feature though, never used it myself but I might do it later just for fun!

Sticky fingers(double V) emoji is having bug(displaying square) in writing/displaying on home screen message.

It's a problem with Windows. They haven't made a Spock smiley.

And bumped to 22 MB and anyone with a Download via Wifi? Because I don't want to. I have enough cellular data.

Just got a 3G pack just to update that shit.

Getting issue while downloading via wifi..
Uninstalled it and tried again.. Still not working... But 3g worked for me... Will be seeing better version of WhatsApp in a while..

Thank you, Whatsapp devs!

Awaiting the universal app from WhatsApp developers... Please make one soon

That won't happen ever. Due to the way WhatsApp works, you can't have the same ID operate from multiple devices. So bye bye Universal App. Posted via the Windows Central App for Android

I have same ID in my Lumia 900 and Lumia 920. Am I missing something here?

I guess he meant same mobile number..because you cant use the same mobile number for WhatsApp on more than one devices.

Good one...but One feature which is there in Android since long..still missing...forward messages to multiple recipients at one go..

Create a broadcast list for that.

He means "forwarding messages" and not sending newly constructed messages which would be suitable for broadcast list. Something similar to multiple selection in SMS on windows phone and then forwarding the selected messages in bulk to recipients.

I am loving it! Very Very Fast and Cool Fade Animations.

Hopefully it becomes a universal app that supports desktop messaging soon!

I think I prefer the summary of this article on the main page where it indicates WhatsApp now allows the "ability to mark chats as read or unreal." I've had some pretty unreal chats on WhatsApp in the past and would certainly welcome this feature!

I want WhatsApp with good Microsoft Office integration where I can download xlsx,word doc,sways and pptx files. But WhatsApp is owned by facebook so never gonna happen except Skype.

Wish Viber would have attention like this :/ Cant even send a video longer than 15 sec.

Viber and skype sucks in WP

Yeah, pretty much. But Viber has a nice W10 app so if it goes universal it will be nice.

Lets hope they will make it universal.. But skype is a gone case.. Shame on MS

22 MB, should have video calling feature :P

Lol. If it's a 30mb file then I bet it will have HD video calling packaged along.

Haha, when whatsapp add video calling feature, many chat apps will be uninstalled. I don't know why no other chat apps can beat its performance

Any tips how to send videos of all sizes in WhatsApp? Really frustrating when you can't send video of all sizes. On android you can.

Tips?.. Have patience.. This is how things works in WP community ;-)

Download video optimizer for whatsapp from store

Yeah. Download "Video Optimizer for Whatsapp"

It has been more than 3 yrs using
But WhatsApp. Smileys still suck compared to bbm and Skype smileys.

Any word yet on whether it solves the crippling battery drain whatsapp causes?

No battery drain issues here..

there is also custom notifications for each contach u have in whatsapp

Thats meeee im mohammad!!:D and youre always welcome windowscentral :DD

Still no Fix for not displaying Contacts, only conversations ):

even posted about this on the forums [ http://forums.windowscentral.com/windows-phone-8/376639-whatsapp-problem... ]

I think the low data usage is not even available for IOS and android. I think we are the first.

it was 1st availabe for IOS then andriod and last but not least us...
now it has all the feature which are present in other platform
indivdual contact mute , rington and message tones ..

We are also unique on setting different background for different chats( that's from the last time I checked WhatsApp on android).

Always loved this feature ...

Checked for Android, its not available, unless i missed it.

Per chat custom notification (message tone, Ringtone ) settings and mute option is also included i guess now its on par with other platform

Was waiting for the individual contact Mute.. Thanks for the info

oh this must be my best day

I started using LINE instead, because of webtoons officially being translated last year. The app's pretty nice, and there's a desktop version too.

I cant even think about switching from Whatsapp to Line..

very diffcult to swtich to other msging service , untill whatsapp start charging .. ;)

The app only got updated when I searched for it in he store. The store needs to be improved to show apps needing updates

Sad.... better luck next time.

Finally be able to make calls Edit: Facebook Messenger should be next

Uhhhh... Calling was implemented months ago...

can, any whatsapp beta tester confirm that all features from BETA version is availabe in this public release

I've been able to do the top two features for, well.. I noticed them about 5 days ago..

How do I mark chats as unread?

Long press the chat and you will get the option to mark unread

Love this app and EVERY person I know uses this, I haven't used SMS for years.

Won't even let me type in my phone number...

Its faster on my lumia 1320 well dne whatsapp team

Still no custom notification ringtone??

It's present.
Hold on the contact>Contact info. You'll find the setting there.

Does it works for you?? cause for me It just doesn't seem to work. I set the custom notification tone for one of my chats but whenever notification arrives from that chat i hear the same sound which i have set as default notification tone for all the chats. Please help me if i am doing anything wrong.

Cant find reason to use it coz its not that popular in the Philippines, and among friends. But i appreciate the developers' effort. So i might install it to support their figures so that they can continue developing :)

Now that we have tackled racial diversity and sexual diversity. On a lighter note, When will WhatsApp release the different colors of poop? Like seriously different people identify with different colors, brown is to.... What of green, black, yellow???

Any way yo forward messages direct to broadcast list -

Ay way to send messages directly to broadcast list after selecting multiple messages on chat

Halleujah no more in app vibrate!!!!

Now Search needs to be fixed. I say fixed because long time ago it was actually working

Should have these options few years ago

I can't understand notification settings. If you change the alert tone no changes appears. When if you change in windows settings it changed. What is the use of NOTIFICATIONS in WhatsApp settings

Finally..!
-Add more ringtones for WhatsApp call.
-Add video call option also

No password protection in this version too, most awaited demand of people..

Anyone tell me how to select multiple chats to forward

I am unable to select multiple messages for deleting/forwarding....
Anyone having same issue.....

Me to.. And I'm sure they said it could in the change log

Tap on left edge to select messages

Friends what is message preview option in notification settings???

It means you can choose whether or not you want the message details to be shown when you pull down the notifications

Is this for windows 10 users?

Arrggh.... Lately I've been seeing updates only to W10 apps

Got the best so far, multi select messages tapping the left edge of the screen

Take a time when tap searching in favorite....does anybody have this issue ?

Whats app is available for wp tp build 10512 -yes or no

Yes, it now even integrates calls with the Windows 10 calling interface.

Why WP not beat Android ? Why they would not faster than Android in their Application updation.

Why can't they make their app prettier?

How can select multiple msgs

Can't download it over data pack

Per chat custom notifications and mute.
Way cool........

How to push upgrade I mean in my L920 WhatsApp was automatically updated but in my wife's L730 its not. I tried to do it manually through store but I have found no option of upgrade its still showing " View" and " Share" . What I have learnt that if there is any update available, store shows " Update" option rather than " View". Pls suggest.

WTF..... its updated through WiFi. How come? Both the fone have same settings but my L920 update through 3g data. But my wife's L730 required WiFi network.

Don't you have WiFi at home?? O.o

Go to Store->Settings->turn off "Only get updates over WIFi"

Go to Store->Settings-> Turn off "Onyl get updates over WiFi"

Also on settings check
"update apps on wifi" is on, you can turn it off, then use 3G

Thank you ,whatapp devs
We want background of whatsapp home screen

Even here in WhatsApp update we got new animation for msg waiting, sent, delivered and seen... Just check out in the ticks area

Still cant scroll within the text box
.. Bloody rubbish!..
Wth Whatsapp....just a basic option!!

Anyone able to select mutiple messages to forward/delete as suggested.. I cannot..

Yes Vinayak ... on the extreme left of the screen ..swipe towards your right (just like native messanger app)

Thanks Balaji, for some reason double tap on the left of the screen worked for me like a charm. Im using Lumia 1520. However could not find an option to mark chat as unread. [Update] : Figured it out. Mark as unread option is available on long pressing contact and not individual messages.. it marks the last recent message as unread.

Pls provide search option which can search messages within WhatsApp just like native messanger

Exactly. this is the only thing missing.

Sound and vibrate in-app notification doesn't work on my lumia 735 ._.

i cant find update option. in my phones whatsapp app its showing 2.12.72 but in store its showing 2.12.112. only view option is there. no update option

When are we getting the automatic blur border while zooming out your profile picture? Ios has this for months now.. On WP now it just cuts off pictures to fit in a tiny frame

can anyone tell which smileys have option of changing colour wen press holded for long.

Mark chats as unread or read. How does this option work.?

under chats section, long press a chat.. It marks recent message as unread inside that chat..

"hold on some emoji to choose different color".. Not working. No colors available

also got whatsapp web! Or did we have that before?

Whatsapp web on wp support since about 5/6 months ago haha

Thanks so much whatsapp developer team for win/wp.. WA for wp is the best of all platform

Why it is not allowing to download it on mobile data, damn its asking for WiFi being only the case of 22mb!

Is ringing while webwhatsapp on (and in certain chat) fixed? It used to ring on every message, but iz shouldn't if that chat is active

We getting there slowly but surely. If only they can add "Multiple Select" on Broadcast Lists, same feature as selecting multiple messages (which came with this update). Ooooooh, I almost forgot another feature. File Size on Media you receive, this is very important. Big up to WhatsApp Inc.

I also noticed the check mark animations have changed. It now fades from queuing to one check to two checks and then the blue check mates. It's the fade animation.

"Update brings some new features & imojis...Thanks."

i just update the whatsapp i saw whats new in this update.i saw that they give an update for multiple selection of chat.but there is problem that i cant select multiple message.if anybody find these new features plz reply..

Tap on the left edge of the screen

ohk thanks ..n what about unread and read option??

Long press on a chat you will get the option..not on individual message

Design and animations are more like Windows 10 mobile

I cannot select multiple texts...to forward or delete...

you also get the option save a number you don't have that messages you straighthaway. the only problem i have is that it only only allows you to create a new contact without the option to add it to an existing contact already

Video compression for WhatsApp is needed ..... It's so frustrating that WP users get everytin last

Mid fing emoji is missing

Its taking quite alot of time to load contacts when you try to search contact or forward message to a contact
Though a nice update.. Finally we are reaching there.. Hope this issue would be sorted out in the bug fix update.

How can i set my mp3 tone in windoow 10 mobile?

Secret Whats Messenger Calculator PRIVATE CHAT
A Windows Phone Calculator that works – and looks! – Exactly like any other calculator until you type in your secret passcode.
https://www.windowscentral.com/e?link=https2F%2Fclick.linksynergy.co...

Hi, I'm using Lumia 640 Xl. And in whatsapp the Broadcast lists are not visible in chat list. We need to select and see the broadcast list separately. Also not able to forward any message or files directly from one to chat to boradcast list. Is there anyway to solve this issue...? Thanks, Santhakumar A
Windows Central Newsletter
Get the best of Windows Central in in your inbox, every day!
Thank you for signing up to Windows Central. You will receive a verification email shortly.
There was a problem. Please refresh the page and try again.