What's happening with The Division 2's promised new content?
While Ubisoft is off talking about NFTs in one game, promised content for another has vanished.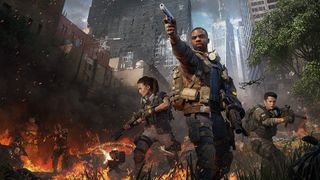 (Image credit: Ubisoft)
Update: It turns out that a delay to the new content discussed below was publicly delayed, only it seems many people (myself included) missed it entirely. After all, why wouldn't the website carry this kind of message or it be pinned in the forums? In any case, it has been delayed and at this point there's absolutely no clue until when. Ubisoft still really needs to work on communication. In other news, coincidentally today it has been announced that Season 2 will be re-running beginning mid-February.
I love The Division 2. It's been one of my favorite games of the last couple of years, much as I really got into the first one. I play a lot of games, so for anything I touch to see over 300 hours is a good indicator that it's one I've properly enjoyed.
I'm also painfully aware that games always have a shelf life. They're going to end one day. Outside of MMOs such as World of Warcraft and Final Fantasy 14, games with incredibly long support like Dying Light and Destiny 2 are the exception, not the norm.
So I've always been prepared for that day to arrive when The Division 2 would end active support. But we're not supposed to be there quite yet, and yet, stealthily, it seems like we are. New content was promised based on how supportive the player base had been. And yet it's still MIA and stirring up community concern. So where is it, Ubisoft?
What should be going on with The Division 2
When The Division 2: Warlords of New York expansion dropped, with it came another year of active support with new content in the form of seasons, manhunts, global events, apparel events, all kinds of things for the player base to grind out. We've seen a second raid added, the 100-floor Summit building with its own set of challenges and rewards, the constant rotation of Kenly College. There's plenty of content to play, and for a new player even now I wouldn't hesitate to recommend the game.
Lots of folks still play the existing content regularly. But that's not what's grinding my gears.
In 2021, Ubisoft, or rather the developer team at Massive, promised new content for The Division 2, including a brand new, never before seen game mode. Awesome. That content got delayed into 2022, which while disappointing, was totally understandable given the world is still dealing with a pandemic and new ways of working.
But when the delay was announced we were told that a reveal would be happening in January (opens in new tab), ahead of a PTS for PC players to try out the new mode and a launch in February. Additionally, there would be monthly community updates, but the last of those was in November (opens in new tab).
You can probably see where this is heading...
January is in the rearview mirror and not a single word. Nothing to show off the new content, but perhaps more so, not a word to the community to say that it has been further delayed. Delays happen, it's absolutely fine. A polished, well-executed game always trumps one rushed out to meet deadlines (never forget Cyberpunk 2077). But equally, if you make promises and then just seemingly ignore them, that's not a good look.
While one arm of Ubisoft is off pushing NFTs into its player's faces, elsewhere they're being ignored altogether. Which isn't a good look. After all, the next installment, the free-to-play Heartland, has already been quietly delayed potentially into 2023 without much communication beyond sneaking into an earnings report.
We don't mind delays, no matter how excited we are for a game. But we do mind when it looks like we're being ignored.
Mad February is upon us
So, I, and anyone else who plays The Division 2, should probably face up to there being no new, as-promised, February content drop. I'd love to be taken by surprise, but let's be real. Massive has its hands full with the Avatar game and presumably, Red Storm is still focused on Heartland.
But we're not exactly going hungry in February, are we?
This month we've already got Dying Light 2 to play, Elden Ring is approaching fast as is Destiny 2: The Witch Queen. Lost Ark finally launches in the west, CrossfireX is hitting the Xbox and if you also have a PlayStation, a little title called Horizon Forbidden West is dropping, too.
I'm sad to see that one of my favorite franchises appears to be fading out, and I do hope that someone at Ubisoft is still working hard on The Division universe to give us more to play. Just, please, at least tell us what's going on.
In the meantime, I'll be spending at least the next couple of weeks diving into Dying Light 2. What's on your February hit list?
Windows Central Newsletter
Get the best of Windows Central in in your inbox, every day!
Managing Editor - Tech, Reviews
Richard Devine is a Managing Editor at Windows Central with over a decade of experience. A former Project Manager and long-term tech addict, he joined Mobile Nations in 2011 and has been found on Android Central and iMore as well as Windows Central. Currently, you'll find him steering the site's coverage of all manner of PC hardware and reviews. Find him on Mastodon at mstdn.social/@richdevine
I'm also wondering the same.
Not hearing anything from them lately.

Massive already said the content was delayed from February to later this year, without more details. It's not like they said there's gonna be new content in February and never said it was delayed beforehand. Although, the lack of any kind of communication or even the most pointless teasing screenshots, concept art or whatever modicum of indication anything is going on outside the "Expertise" additional artificial progression grind is worrying, to say the least.

The last "official" communication on the new stuff said there'd be more revealed in January. They can't expect tweets from people on the dev team to random strangers or burying it in a forum thread somewhere to cut it. Communication is appalling. Even the monthly community updates stopped two months ago. If it is delayed even further then I would say the game is basically dead. Basically a year on from new content drops already and we're not exactly short on new games coming.

Honestly, as much as I love, the game, I would rather that they just cancel any additional content for this game (unless they're going to fix that b.s. with Faye) and concentrate on Heartland or D3. I'm sick and tired of playing manhunts, etc. and running the same missions over and over again, getting the same crappy drops that I just deconstruct and so on. It's going on three years. I'm tired of companies chasing the games-as-a-service model. Just let us enjoy the 20+ hour campaign and move on.

I'm kinda tired of these articles about the updates one because we know they're not happening and two all anyone ever mentions from youtube or in these written articles in pve content and the game is quite literally being kept alive by its contingency of PVP players. That is the best part about this game, people stop playing pve because it has a shelf life, whereas pvp doesn't. This game has the most unique pvp concept whether it is dark zone or conflict, and that's the most loyal fanbase on the game. Yet every time I see people with, "influence" speaking on the game it's only about pve, I guarantee if they fixed pvp it could save this game and allow for higher revenue streams. Nobody cares about the storyline or faye lau or boring ass story content. We need fixes to PVP as well as PVE you can't just do one without the other which has been going on for far too long in this game.
Windows Central Newsletter
Thank you for signing up to Windows Central. You will receive a verification email shortly.
There was a problem. Please refresh the page and try again.