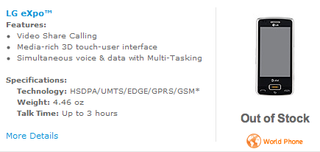 For being the very first Snapdragon 1Ghz Windows phone in the U.S., the LG eXpo is sure hard to find these days.
Never listed on their consumer site (opens in new tab), AT&T only lists it "Out of stock" in their business channel (opens in new tab). Outstanding orders are being put on backorder-status (opens in new tab) and even 3rd party retailers like Amazon.com (who sell it for a fair $99 with contract) (opens in new tab) are reportedly having supply issues. (Side note: Canada's Telus seems to have them on hand still).
So what exactly is going on here? One would like to believe that the phone is selling so well AT&T simply cannot keep them in stock. But for those who frequent the various smartphone forums may notice that the eXpo crowd is quite tiny compared to other devices. So, yeah, probably not.
The issue appears to be on LG's end or whomever is actually handling the manufacturing. Unfortunately (and not surprisingly) no one is stating specifics, though we imagine there could be quite a few possibilities:
Chinese New Year: this time of the year, it is not uncommon for manufacturing plants to shut down, halting production.
Supply issues with Authen Tec's AES1711 fingerprint reader/sensor technology
Supply issues with Qualcomm's Snapdragon CPU
The Chinese New Year issue is common with electronic OEMs and not a surprise. In turn, many companies prepare for the temporary downward production by increasing production before the holiday. So not likely.
Supply issues with the Authen Tec's AES1711 sensor is a possible, being so new to market. Likewise, HTC could be gobbling up all the Snapdragon's they can for their hugely popular HTC HD2 (probably being massed produced now for T-Mobile U.S.).
AT&T told WMExperts this in response to the eXpo's shortage:
Why a "limited time" only? And why not for regular, non-business consumers? (Business & Premier users can order it here (opens in new tab)).
We're not sure but hope this situation doesn't last as the eXpo is quite the Windows phone and has, at least for the time being, supplanted my Touch Pro 2 as my favorite device (Hint: 1Ghz matters...a lot). Stay tuned.
Windows Central Newsletter
Get the best of Windows Central in in your inbox, every day!
George is the Reviews Editor at Windows Central, concentrating on Windows 10 PC and Mobile apps. He's been a supporter of the platform since the days of Windows CE and uses his current Windows 10 Mobile phone daily to keep up with life and enjoy a game during down time.
"simultaneous voice and data with multitasking" lol!!! LG sucks

i think it was only available on Premiere for all of a couple of weeks before being permanently sold out. It's currently back on Amazon.com, however. Quick question, Mal, having had it for a few months, how sturdy is the slide mechanism? Can you use the on-screen keyboard in landscape without the two halve of the device sliding apart? i'm having that problem with my Fuze now and it's rather annoying.

The slide KB action on the eXpo is exceptional. That's one area on the device, imo, that is indisputable. The overall build quality is just fantastic and the KB literally snaps open and closed, very sturdy. It shouldn't be a problem using the soft KB in landscape.

Mal, I have a Tilt2 and LG IQ(Telus version). It would be ideal if you could take the best of both devices and create a device with 3.6" screen, nice keyboard, 1GHz processor and Sense 2.5...OK back to reality How do you deal with lack of screen sensitivity and small menu's? I have tried the suggestions for improving screen sensitivity on LG eXpo forum, any other suggestions. Is anyone cooking a 6.5.3 ROM that may provide improved finger friendly menu's?

Ha, I agree with you 100%. Combining those 2 devices would be awesome. I've basically just adapted to the screen. It's not really *insensitive* so much as requires you to *hold and press* a 1/2 second longer than most devices. I think they did that to prevent accidental button preses on screen. But it does feel odd when compared to a Tp2. Re: ROMS, yeah 6.5.3 would be ideal for this phone. We don't have an unlocker yet, so custom ROMs are still not possible. I'll cover it though if/when it happens.

Also, For users in the US, the Telus LG IQ (same unit as eXpo) cannot be unlocked, Telus will not offer unlock codes

I returned my Expo due to screen sensitivity. I just couldn't get used to it. Shame too because other than that it was fantastic. My other phone is the ATT Pure which happens to have the most sensitive resisitive screen of all IMO, so that probably wasn't doing me any favors. But to Canada Dave, I found that if I rolled my thumb forward(I usually use my thumb to tap the screen) just enough to use the edge of my nail on the screen it helped quite a bit.

The phone is feature rich with Wi-Fi, AGPS, Bluetooth, a MicroSD card slot for expanding its memory, and all the features you

I have no problems with the screen at all, but that's probably because I got used to using the the edge of finger nail with my Xperia X1. Also on my Expo I'm running HTC's finger friendly menus which helps alot. But to get back on point, It is extremely disappointing to hear that this awesome phone is not available anymore, I could see this coming though-back in December. It was just so hard to find and for no reason either, I'm glad I pulled the trigger on Amazon.com when I did.

For anyone lucky enough to have an Expo, you can always download a stand-alone .CAB to install HTC's GUI over WinMo, from someplace like XDA-Developers. There are plenty of Manila/TF installs available, vanilla or otherwise. BEST UI EVAR FOR WM. P.S. Also what is with the goddamn spam filter on this website being REALLY DAMNED FUSSY about my post, and I've got to rephrase my text and retype my email and stuff like 20 times to make an actually post? SPAM FILTER LULZ
Windows Central Newsletter
Thank you for signing up to Windows Central. You will receive a verification email shortly.
There was a problem. Please refresh the page and try again.