Why you should consider the Microsoft Band 2 over Android Wear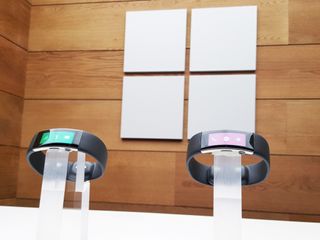 Microsoft's latest wearable, the Microsoft Band 2 is now upon us with pre-orders open and general availability on both sides of the Atlantic in the next month. The wearables market is busier than ever and Microsoft is just one player in it.
One of the other big dogs in the yard is Google with its Android Wear platform. Unlike with something like Apple Watch we can't just compare devices, since Android Wear is a different beast. The software platform is constant across devices, it's the manufacturers who decide what to do with it from there.
So, Microsoft Band or Android Wear, then? Here's a few good reasons you should go with Microsoft.
Cross-platform is Microsoft's gig
Of Apple, Google and Microsoft it's once again the team from Redmond that can boast better platform support for its products. The Apple Watch is useless if you have an Android or a Windows powered phone, and Android Wear requires either an Android or an iPhone in your pocket. Even then, iPhone support is greatly reduced compared to pairing your Android Wear watch with it compared to an Android phone.
Enter Microsoft Band and just as with the first iteration the new one supports Windows Phone, iOS and Android with the Microsoft Health companion app. Further still there are also desktop apps for Windows and OS X as well as a new Universal Windows 10 app on the way.
Functionality is mostly on par across the platforms, too. Cortana is currently exclusive to folks paired with a Windows Phone, but with that headed to the others sometime soon as well, who knows what the future holds.
More fitness focused
Smartwatches are great but if you want to track your fitness activities you need a fitness band, really. Android wear has things like Google Fit built in and support from a bunch of third-party apps, but most of the devices on the platform are watches first. And they're getting fancier, too. The Huawei Watch probably isn't the sort of thing you're going to strap on and hit the gym with.
Microsoft Health has already grown into a superb platform for tracking your health and fitness related activities. Guided workouts, cycling, built-in sleep tracking, even tracking your Golf game if that's your bag. And all this while still showing you the time, weather, notifications, paying for your Starbucks and soon with the new one, even hailing an Uber.
And believe it or not, you still can't officially pay for Starbucks using Android Wear.
The Microsoft Band 2 is a great hybrid of smart features and fitness. And both of those are only going to continue to get better over time.
Priced to compete
Not all Android Wear smartwatches are more expensive than the Microsoft Band 2, it's true there are some that are cheaper, like the ASUS Zenwatch 2. But at $249 in the U.S. and £199 in the UK it's definitely competitive.
Sure, price also comes with whether you want to wear a band or a watch and some of the latest Android Wear watches are getting really fancy looking. But if you're on the fence, don't let price put you off.
GPS
This is a big one for the outdoors types who want to accurately track their activities. GPS on Android Wear is pretty sparse at present and if it's a must for you you're not left with many choices. The Band 2 has it among its vast array of sensors, which all links back to its enhanced fitness focus over Android Wear.
But if you want it, Band has it.
Wrapping up
A lot of it will come down to the type of device you want. But what's clear is that the Microsoft Band 2 offers a great deal of flexibility. It's not prejudiced against which phone you have in your pocket, it'll still give you your email and messaging notifications, Twitter, Facebook, and soon call you a ride home.
But it's also packed with technology to help you track your active life and assist you to get to where you want to be with your own health and fitness. The trade off is the appearance. It's not ugly, but it won't look as nice with a suit as something like an LG Watch Urbane.
But is it such a trade off when you consider everything else you get?
Pre-order the Microsoft Band 2 now at the Microsoft Store (opens in new tab)
Richard Devine is an Editor at Windows Central. A former Project Manager and long-term tech addict, he joined Mobile Nations in 2011 and has been found on Android Central and iMore as well as Windows Central. Currently you'll find him covering all manner of PC hardware and gaming, and you can follow him on Twitter and Instagram.
Going to be a purchase. Just hope it is widely available in the UK and not just through Microsoft.

One thing I'd like that Android Wear has is watch faces. I usually have mine on watch mode, so it would be nice to customize it a bit. I know it would decrease battery life, but I still want it.

Agreed big time. that is about the only thing I wish Band did. Maybe, just maybe, I'd like a bright LED on it for a small flashlight . Just making the screen white isn't really good enough.

We should all out in some more suggestions to improve the next one. I think an LED that small on the back where the clasp is would be nice to show notification. In case if you have the band off while in the theater a small light would be awesome to have to show your notification indiscreetly.

If I have a phone with Android can I receive notifications of calls and messages in the Band?

Pretty sure you can. I've only used mine with an iPhone (I have an Android Wear watch connected to my Android phones) but Android allows notification access to connected devices so I don't see why it'd be an issue.

I find it immensely curious that you have Android phones. Not slating you or anything juvenile like that, far from it. But it does say volumes.

Well according to HIllary Clinton, you must have more than one phone if you have more than one e-mail address, so maybe he just wanted variety.

Because the best way to do our jobs is to embrace and experience all platforms. The fact I know and use Android Wear I hope gives me better credibility to write a post like this. Without just being fanboy words.

The fact I know and use Android Wear I hope gives me better credibility to write a post like this. Without just being fanboy words.

Yes, it totally give you better credibility. While I consider myself a huge MS fan (I love my SP3 and XBone) my current phone of choice is the Note 5 and I also have a Phone 6+ I use as well. I consider myself well versed in all the mobile OS's and helps me understand the pros and cons of them all.

I respect this alot. Posted via the Windows Central App for Android

The notifications should work on Android for Phone, Text, Email, Twitter, etc. The only real different that I know of is that Cortana doesn't work, obvioulsy with Android phones; though that could change in the future if Microsoft integrates Cortana with future Android devices(like Cyogen).

The keyboard does not work on any but WP I believe. At least gen 1 band Posted via the Windows Central App for Android

That was going to be my question. I have just moved from my Lumia 925 to the LG G4 as I just fancy a change in OS for a few years as ive had WP since the 1st set of phones. I have a Band gen one and I cant use the keyboard on the band to reply to texts on my LG G4. If MS make this happen I will upgrade on day one to the band gen 2 if not ill stick with my band gen one for now.

Yes you can. I have an asus zenfone

Yes, however Cortana doesn't work. Posted via the Windows Central App for Android

I had my original Band paired with iOS, Android, and Windows Phone. I have not tried it with Windows 10 Mobile yet. On Windows Phone, you have Cortana, the Band keyboard and the ability to write out or speak a custom reply to text messages. You also get phone, text, and FB, Twitter and FB Messenger notifications. iOS has the least amount of features available. It's good for basic phone-related notifications but really nothing is interactive with it. On Android, you have access to all notifications through the OS so you can choose to receive any notification your phone receives as well as the customized ones the Health app provides. You lose Cortana and the Band keyboard but you do have the ability to reply to text messages with canned responses that are configurable from the Health app.

Does it pair to ask three without restoring it to factory settings? I have a Moto 360 but it only allows it to be paired to one phone without performing a factory reset. This is a bit of a pain as I would like it to pair to both the phone I use for work and the phone I use for personal use. It would be much better if I could just un-pair the Bluetooth without having to perform a factory reset. Posted via the Windows Central App for Android

You can only pair with one device at a time. So pairing with phone 1 unpairs it with phone 2. But, you don't have to reset it. quite a bit of pairing though if you ask me. Not as simple as just turning off BT on phone 1.

It actually works better with android in my opinion. You get more notifications, you get notifications from apps aswell. Like when i'm using google maps I get the turn by turn navigation messages in the band. Spotify notifies me the song name. I use it with a samsung galaxy 4 mini now. I had a 1520 before that one. What is missing is the keyboard to reply to messages and cortana. The rest is here.

The answer to that question is Yes. Yes it can. You'll get calls, texts, as well as filter notifications by Apps. For me, I don't want all notifications on my band, I just want Pushbullet, Groupme, and maybe one or two others. I can filter specifcally by the apps I want and when I'm wearing my band and my Moto 360 v2, the band gets the notifications a second or so sooner than android wear does. However, with the Band you cannot respond to the messages beyond a few canned responses "yes", "no", and a few responses you can program in. With Android wear, you can use Google Now / Coffee to initiate or respond to text messages on Android. That said, on windows phone, you can't even use Android wear. Also, the Band has a keyboard that works very well for texting, and Cortana. I found that my Lumia 640XL was "just ok" with Cortana and the keyboard because of it's mid range specs, but far better than my 635. I'm certain that more powerful handsets would have better results. I thought I could switch from my band to my moto and stay on one device, but I can't. I use the band for exercise with the onboard exercises available and tracking. I take off my moto when I do that. The rest of the time, I wear them both. Admittedly, since I'm on android now and won't be back on windows phone until the apps that I specifically use exist, I've turned off my notifcations on my Band and limited it's functionality to exercise tracking, leaving all the other things turned on in the Moto. I get a chuckle out of people who see me wearing two devices, but it's also a conversation starter. Usually, after a conversation on why I wear both devices, I'll generate quite a bit of interest on MS' platform. I've even seen a few folks I know with a band and AW as a result.

I was actually considering this, and still am, but I'll need to see one in person. I'm in Canada, and haven't had the chance yet. My inital impression from the hands-on video was, "Damn. That clasp is ugly and bulky. I couldn't wear that." So, we'll see... :)

It's not ugly at all in person, I like the contrast metal/rubber look.

I'm a little worried about the clasp too. The one on my Band 1 doesn't bother me, but the one on the Band 2 looks to be a lot bulkier.

They moved the batteries from the sides to the bottom. Before there were bulges on either side of the band. Now the bulge is at the bottom. How often to people pay attention to the bottom of a watch?

My watch band sits in the natural resting position for my wrist when I'm sitting at my desk, I take it off about half of the time when I'm at the office. So to answer your question - every day.

I've been worried about how bulky the clasp is also. It didn't look to bad though on Panos Panay and Satya Nadella during yesterday's presentation.

It didn't look bad at all. I went to the local MS store to try it out. Pre-ordered two of them

I used/wore the Band 2 yesterday at the Microsoft Store and have to say the improvements are everything we were expecting from a 2nd generation Band. Much more comfortable to wear, more responsive touch screen and better looking too.

They have them already at Microsoft stores to try out?? If that's the case, I'll be taking a ride to my local store this weekend.

Again, I keep posting this comment and I don't knwo how anyone else is not talking about this..... .that clasp! How are you suppose to wear it with that huge metal clasp on the top of your wrist??? Hideous

I think you should see it in real life before commenting Posted via the Windows Central App for Android

Go to a Microsoft Store (I did today at lunch) and try it out. It is not as bad as you believe. If you want to be more fashionable, go get an Apple Watch

I did, yesterday... it's horrid. The clasp is this big shiny square on the top of your wrist... awful

The trade off is the appearance. It's not ugly, but it won't look as nice with a suit as something like an LG Watch Urbane.

IMO, the problem isn't the Band...it's the suit.

That's why I didn't purchase the band either. I have a fitbit that I don't wear because it's nothing to look at and my phone can track my steps and has gps and music. I now use an iPhone 6 as my main phone and opted for a Moto 360 over the Apple watch because it just looks better, imo.

Love my Microsoft Band ,wear it everyday. May upgrade to the Band 2 .

Love my Band 1 too, just pre-ordered Band 2 :)
Guess my wife will be having her first smartwatch somewhere mid-november when my Band 2 arrives ;)

I have the Microsoft Band and fitness wise is absolutely the best in tracking. However, I'm a fashion guy and grown weary if it's ugliness. I picked up Huawei Android watch and love it, but Android Fit sucks. However the form factor is worth it even though I'm not the biggest fan of Android Wear. My only concern is keep the Huawei cause it's not compatible with WP should I leap back with the 950. I wished MS had made a fashion watch form than it would be a no brainer for me. Posted via the Windows Central App for Android

You could have the best of both worlds. Wear an MS band on the one arm and a proper (real) watch on the other :) Watches are still the most personal, sophisticated and fashional men jewlery in my opinion, no smartwatch comes close.

Yeah um no. If I just want a watch and band I would use a Fitbit. When I wear my regular watches I never wear my band. Having a smartwatch eliminates having two things on my wrist and while I agree with you fashion watches can't be beat, having a having fashionable smartwatch when I step out looks much better than that rubber band, especially when I can change watch faces to match my attire with my Huawei. There's no comparison. Posted via the Windows Central App for Android

Today I'm wearing a Rolex. Yesterday I wore a Tissot. I'm thinking about wearing a Movado this weekend but I can't decide on the black face or the green face, the Bulova, or the Omega. I just received a very nice steel band to supplement my brown leather band that came on my Moto 360 v2. I challenge your opinion of what a beautiful piece of functional jewelry the Android Wear collection can be. Because there's no way I could afford as many watches as I am using today otherwise. I do wear my band on the other wrist however at the same time. Because hey, I just saved a boatload of cash on my watch collection.

What microsoft don't understand is I would sport both a band 2 and a MS based watch. I would swap between depending what I am doing. I love the band and it would replace my fitbit, and a MS based watch would replace most of my timepeices. Please MS, give us a proper watch!

Interesting thought, Maybe they'll go that route assuming the Band 2 sales well. I want the band mostly for the fitness aspect, that's why I want one. I don't think it looks any more ugly than my Timex Ironman watches I've been sporting the last several years.

agreed, I still like having a real watch face on my left wrist. But the band is awesome. My fitbit is just a little gadget compared to the band 2. I am defenantly getting a band 2.

Folks, all my data is on Runstastic Pro, is there a way to transfer and take it forward with MS Band 2?

Runstastic has a WP app and I beleve it works with the band.

Unfortunately it doesn't. There's a limit with the current band in which it doesn't accurately transmit realtime heart rate info over a bluetooth connection, thus poorly integrating with third party fitness apps. However, I always take along my phone for music, so I track my run both in Runtastic and on the Band/Heath app ;-)

I have First gen Band and i'm definitly not upgrading to band 2 because its more expansive with same features, i will buy one once my current band is dead.

Believe it or not, you still can't officially pay for your starbucks using your windows phone!

I don't believe it. I have used my Windows Phone to pay for starbucks. What do you mean by officially pay? If you are talking about official starbucks app, then why would I care if I can pay using 3rd party apps?

I just use the bar code that comes up when you log in to your Starbuck's on the phones's browser. I have it pinned to the start screen. Now "mobile order and pay" through either a Lumia or the Band would be awesome.

Just a minor issue: I can actually buy Android Wear watches in mainland Europe! I can try it in a shop, feel it, look at it. The Microsoft Band? Nowhere to be seen, not even online, without resorting to grey import myself. So these articles are quite foolish to the majority of the planet. Unless Microsoft wakes up and realizes the world is much bigger then the US, Canada and UK.

Oh for goodness sake, if you're in the EU, order from the UK.

The UK is not in the euro-currency zone. And it still means I can't try it for a proper fit, which is important for accurate heart rate measurements, I have to fake a billing address, etc. You can defend microsoft all you want but unless they have a similar distrubution as the competition they will not get the same mindshare. And without the mindshare they will never achieve their goals of "people using windows not because they have to but because people want/love to". Your reactions just sounds arrogant to people in markets long ignored by Microsoft, even though these markets contribute a very large part to Microsoft's success and profit margin.

Did you bother to read the article? The Band 2 will be widely available on both sides of the Atlantic. It's already on the MS Canada website, and the Band 1 never was. Band 1 was a 1st generation almost-prototype, I don't believe MS ever intended to have wide distribution.

but probably "this side of the Atlantic" will still consist only of US and Canada, so I make his point mine. there are no Surfaces here either. MS just can't get international the way Google and Apple do.

The term "widely available" just refers to the addition of the UK and Canada to the launch countries.
The chances of actually being able to buy one in the rest of Europe are zero. Same for Australia and most of the rest of the world. Even continents where MS is doing comparatively well in the mobile space - in those markets MS is just pissing off existing customers by failing to take their new products there.
It's been the same story for years.
And plays a large part in keeping MS market share so low.

If the Band 2 was able to be worn in the shower I'd get ASAP. I love to jump between devices (and OS's) and it'd be nice to have something that looks that nice with some smart functionality and does all my workout things as well. But the thing about wearables that get worn while working out is they're exposed to a lot of sweat and get stinky, and being able to wear it in the shower fixes those problems.

Are you sure you can't wear it in the shower? It's water Resistent, I assume it's similar to a cheap Timex Ironman, it's also resistent, yet I showered with it no problem. It should have some minimum standard of water resistency. I agree, if you can't wash it or shower with it then that's a fairly sizable drawback. EDIT- I see on the website that your not suppose to shower with it, that it has been tested for temporarily immersion @ 1M for 30 mins, but that does not mean it should be immersed, That'a bit of letdown honestly. What are you suppose to clean it with alcohol or something?

I'm going off what I read here: http://www.microsoft.com/microsoft-band/en-us/support/safety-guide

If I could get some trade in value with my Band 1 I would do it. Guessing they wont be doing any thing like that so I will wait for Band 3.

I'll get a Band 2 if I can get trade-in value for my original Band. If not, I will probably just ride out this original Band til the end of its life and go back to dumb watches. 9 months of ownership of the Band really hasn't been all that impactful oher knowing when I get an email and occassionally telling Cortana to play music, but with "Hey Cortana" and the Android/iOS equivalents now coming into form, it's really not all that nesecary for me to have something on my wrist that is "smart".

I ordered one from the UK for Switzerland.

Microsoft Band 2 is the first Band being officially available in Canada so needless to say I've already pre-ordered one sight unseen.

Nothing matches it from a health, fitness or golfing perspective. Fitbit comes close but more sensors in the band and better software (e.g. Golf app) mean that the Band wins. The new version looks better too! I suspect it is a little more comfortable too.

I really enjoy my original Band, so I'm pretty excited about this! It looks like the charging port is different as well, which is fantastic, because that is the only complaint about version 1. Getting corrosion around the charging/syncing port on the Band, even with regular cleaning. Hope there is a trade in credit so we can trade up!

Just preordered my band 2. The clasp on my band 2 broke and best buy gave me full store credit. Just had to pay the extra $70 over the old one. Got their 2 year warranty since it worked out on the band 1. I suggest buying the warranty wether you get it from Microsoft or somebody else.

Because it isn't Google? :D

I have a band and I have a Moto 360 and the heartrate sensor on the 360 is utter garbage. Honestly the only feature I really need that the band doesn't have is music controls, all I want is the ability to play/pause and skip. Track info would be great but I don't really need that, but music controlls would be killer.


No, the Moto 360 and LG watch Urbane looks much nicer, premium and they have a beautiful round screen. If i would care about al the sensors the Band offers, i would buy the Band. Posted via the Windows Central App for Android

I think the best competition for the Microsoft Band 2 on Android is the Sony Smartwatch 3. It has GPS and is more focused on fitness than the other Android Wear offerings. That said, Sony also has their Smartband and Smartband Talk which the Microsoft Band resembles. I personally don't care for fitness bands. I rather use a smartwatch and LG makes beautiful ones. And while I have no plans to replace my GWAR anytime soon (because Android Wear hasn't evolved enough to justify it), when I do, I'll probably still not consider the Microsoft Band for those reasons. But for Windows Phone users, it's definitely their best option...actually...it's their only option if they want something that resembles a smartwatch. Apple users will get the iWatch. It's not even worth trying to convince iSheep otherwise. And Android users have so many great offerings from fitness bands to smartwatches that I don't really see them flocking to the Microsoft Band. Specially for $250.

I'm an Android user and would rather get the Band instead of Android wear. Mainly because the Band works on all 3 platforms. Then I have the freedom of any phone and my wearable still works. Plus I can still wear a regular watch on one wrist and the Band on the other
:-)

That's because you clearly value the fitness part of the band more than the watch part. I don't ;)

I think the best possible alternative would be the Moto 360 Sport. It also has built-in GPS. No release date yet though. I will be choosing between the two. The thing that the Moto 360 Sport has that I wish the Band 2 had is the ability to play music directly from the watch to a bluetooth headset, no phone needed. Then I could go for runs/rides and be able to track them and listen to music without my phone. I might still go with the band because it will likely be $100 cheaper and I'm not sure I would ever really go anywhere without my phone anyhow.

All of what you mentioned is available on the Sony Smartwatch 3 by the way. Anyway, if I had to pick between the Band and the Moto 360, I'd pick the band. For two reasons: first because I think the Moto 360 is overall the worst of the offers on Android Wear regarding specs and specially screen. Secondly because I find the Moto 360 the most horrendous round smartwatch ever designed on Android Wear. And the flat tire is the final nail in the coffin. But to each his own ;)

I don't quite get the point of this article. It's extremely vague annoy the Android Wear options, from features to pricing to availability. This essentially reads, "there are Android Wear devices that do what the Band 2 does but not all of them, and we're not saying which is which."

But neither are compatible with windows phone

I first want to see windows 10 prime time ready and polished. Then I'll think about the band two. ​

Already pre-prdered mine! Anyone want to buy a Band1? ;)

If I didn't have a Fitbit Charge HR I'd consider the Band 2. Being as ingrained in Microsoft's ecosystem it makes the most sense for me. I'll wait for the next generation though.

no need to convince me...Microsoft Store Miami Dade Mall, Jan 2016 will be the month when i get my Band 2.

Is there any other band/watch that is compatible with windows phone that can do Notifications (inc WhatsApp) and some of the health stuff eg step counter, calories etc

Ugly clasp on band 2 though

Yes, it's horrid. Kept me from pre-ordering it. How can someone have that thing on their wrist all day?

YES! PLEASE SELL IN PORTUGAL

What is the difference between the 2 bands, other than the obvious hardware and new style?

Barometer. So you can track things like elevation changes.

How are the ms bands for just being a watch with the ability to view messages?

Biggest thing for me is that I dont have to carry my phone when I go for run... bad thing is that when it rains it cant handle the water. Water proofing could have made it best fitness device in the catagory.

Do I have to wear it on the inside of my wrist? I want it mostly as a smartwatch but not if I have to wear it that way.

I trialed an MS Band for about 3 months. I now have a Moto360. This article is spot-on. The Band blows the competition out of the water for fitness, especially my Moto360. The 360 is clean, elegant and useful, but it is just a smart-watch. The fitness aspects are actually pretty thin and downright laughable compared to the Band.

I'm strongly considering Band 2, but I find Moto360 as the best all around to my tastes. It's a stylish watch and I love the complications of having the date, current weather and step count on the watch face. It's exactly what I would want. I currently use an Iphone 6+ but considering going back to a 950 so the Band 2 is the sweet spot.

i'm only considering this for the golf app but since it is winter here in AZ and golf cost about 80$ a round. I think I can wait to see if a price drop something next year.

Well actually windows users don't have a choice here, and wait does the band support whatsapp notifications?