Wikipad's Gamevice controller billed to bring a new level of gaming to Windows 8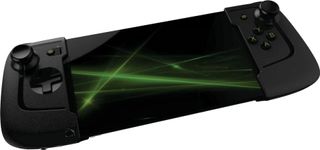 Say hello to the Gamevice, a new controller from Wikipad (www.wikipad.com), which is hoped to get consumers playing mobile games with more immersive input. For the time being, the company is working on support for both Android and Windows 8 (no Windows Phone mentioned). Take a gander at the photo above and head on past the break for some details.
As one would imagine, the Gamevice is billed as the "next-generation detachable console-like controller for mobile devices." We'll have to see just how 'next-gen' this new controller is at CES 2014. The product itself will connect to a device on both sides with a bridge to connect both parts together. Since there are multiple sized hardware around today, it's handy to have a flexible construct (hence the name "Gamevice").
Here's what Fraser Townley, President of Wikipad, Inc. had to add to the official press release:
What will the Gamevice offer consumers? You'll be able to turn your Windows 8 tablet (or Android hardware) into a mobile gaming device with dual analog sticks, both L1/R1 and L2/R2 button configurations, as well as an analog D-pad and four buttons – you'll feel right at home should you already be a heavy console gamer.
The estimated time of arrival for the Gamevice is sometime in 2014. we'll hope to learn more at upcoming CES 2014. Who's excited for a gaming controller such as this?
Windows Central Newsletter
Get the best of Windows Central in your inbox, every day!
Rich Edmonds was formerly a Senior Editor of PC hardware at Windows Central, covering everything related to PC components and NAS. He's been involved in technology for more than a decade and knows a thing or two about the magic inside a PC chassis. You can follow him on Twitter at @RichEdmonds.
Good looking,hope having good futures!!

I guess that's fine if you're a console gamer. I hate console controllers. I always go right back to keyboard and precision mouse. Plus no console can touch the graphics on my computer. 'enough said.

You couldn't build a PC that can touch the gaming graphics of a console for the price you pay for the console. PC gamers just love to state the obvious.

Fair enough, I hate vírus, config files and device drivers. It bores me to death wasting my precious time "working" while I can be entertaining myself.
Plus "office desk" gaming is so passé. In fact, I hate office desks at home. And, pc gamers have this negative speech, like yours, as they're always angry and ragey.

Nonsense, stop stereotyping for no reason. Im a pc gamer and while it is obvious that PC is superior for playing at home, a controller like this is by far the best option for playing when not at home.

You do realize that you can just plug your PC to your flat screen tv and use a controller right? Wireless mice and keyboards eliminate any need for desks

PC is superior to play at home for you. I would never waste any time with PC stuff while at home, I like to press a button and start playing. In fact, I do know a fella who use a pc connected to his LCD, and, that is a lot of work, and messy.
To each its own, console gaming is clearly superior, to me.

XB1,PS4, Or something else. Which do you prefer?

You know, I play PC games too. But when the second comment on the entire thread is as douchie as the one you just made, not to mention, just out right out of place, it makes me almost ashamed to be a PC gamer.

Hold the presses! Did I read correctly that a company is going to work on an Android and Windows 8 accessory and delay the iOS version based on customer feedback? I think this is a big deal.

That should have been put in all caps lol.

Yeah because all the other ton of controllers for iPhone arent as big a deal as this.

The IPhone doesn't really need a universal mounting systems, since Apple only knows one design.

Good to know that windows 8 at least now gets good stuff on time as there other counterparts

It'll look like a Wii U gamepad. And I really like the gamepad. Sounds like a perfect match for the Venue.

Hopefully there's a setting to trick the computer into thinking it's an Xbox 360 controller

It probably supports xinput, which does exactly what you ask.

analog D-pad? surely thats a contrdiction in terms?

Hahaha... I missed that. Analog digital pad.

D-pad technically means directional pad, so ots not a contradiction. I believe that ps3 and Xbox 360 both had "analog" directional pads.

You are right, but it was still contradictory.

If they havent start work on Windows Phone 8 yet, what the hell is that inside the controller? A Surface? That would be like carrying a microwave around! Secondly, almost everyoe cases all their mobile devices. They need to make sure this is compatable with the different devices and different ase possiblities or ths is just a no go for a lot of us.

It could be a Dell Venue Pro 8, or a Lenovo Miix 2. or a Nexus 7. It also could just be a placeholder to show you what the controller actually looks like. This is going to be awesome!! Gonna be playing soo many SNES games, PSX games, Steam games with it :D Do not have a tablet yet but I am VERY interested in Asus' new tablet, the VivoTab Note 8. It seems it will allow me to do what I want to do, which is read comics and browse the internet, play games and watch tv shows without worrying about if it will play or not.

Look at the buttons and scale it in your head. Those buttons would be very small if it was a phone.

I don't case any of my devices in a rebel breaking all the rules I even wear my visor upside down AND BACKWARDZZZZ

Don't play games enough to want but this would be grand for the 1520. That 6 inch screen would be a perfect size for gaming with this should it ever reach WP8 status

If that's a controller for the Surface, then that's going to be hard to fit it into my surface case while attached to mu surface 2. Hmmm, well I'm still glad to see that this is going to be available. I wonder if this would be compatible with the Xbox.

If only the thumbsticks were in their proper places.

The analog sticks are sitting on a ball, so I think they need to be on the outside of where it grips the tablet. As you can see, they are using the Xbox One controller as a basis (view, menu buttons etc) which is nice.

It looks like they are aiming at devices around 8 inches. This year's Atom SoCs, this controller mount, and a Windows 8 tablet; the PSVita is dead.

"Who already own an Ipad or an android or Windows 8 Mobile device" does this means Windows phone 8?

Can this be compatible with the Xbox?

This should go great with my XPS 12 ;)

yes....looks very nice....nadie en Español por aca????