Wild Kratts for Windows 8 and Windows Phone 8 makes learning science fun for kids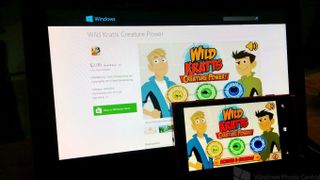 Based on the PBS KIDS series, Wild Kratts, the Wild Kratts Creature Power app intends to make science interesting, relevant, and fun for children.
In this app, kids can step into the role of the animals and insects around them and learn through games. The kids dive into the world of animals with the Kratt brothers in three adventures - pollinate flowers as a bee, bathe elephants, and feed a family of raccoons - while focusing on a specific science concept. As they play along, the budding scientists can earn stickers and take selfies in a Creature Power Suit.
Wild Kratts is a fun, engaging game for kids aged 6 to 8 years and the immersive adventures are filled with interesting science facts. If you've got kids that age, take a whirl at it, and let us know how your kids like them.
The app is available for $2.99 for Windows 8 from the Windows Store (opens in new tab) and for Windows Phone 8 devices from the Windows Phone Store. Wild Kratts is currently only available in U.S market.
While the Windows version has a trial available, the Windows Phone version does not. Pleast note that the app's titles differ slightly in the two Stores. The app is 'Wild Kratts Creature Power' on Windows Store and 'Wild Kratts' on the Windows Phone Store, but despite the difference in the name, it's essentially the same app.
Windows Central Newsletter
Get the best of Windows Central in your inbox, every day!
what about it? click the link and you will see "Supported processors x86, x64, ARM", most of the time when they refer to win8 they also mean RT especially in this apps that dont need much resources like a videogame.

What? Reading the article isn't enough anymore? ;)

My son loves wild kratts good to see this, will definitely be checking it out over the weekend

I just downloaded on my ATIV S Neo. It crashes immediately. :-(

Yes! Now I can continue my work on string theory!!

I use to watch the real show that wasn't a cartoon when I was younger

A gubment funded app... So I paid twice for an app that crashes when I open it on my L1520. Sounds like a website i know.

How come u could review a u.s only,app?
P.s did u change the region lol ;)

any idea when they plan to fix this app???