Could HoloLens 2.0 use Snapdragon 845 instead of Microsoft's custom chip?
On December 5, Qualcomm introduced its Snapdragon 845 processor, the company's most powerful processor yet.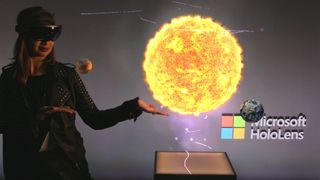 Senior Vice President and General Manager for Mobile at Qualcomm Technologies, Alex Katouzian, shared that the 845 would enable a range of advanced computing capabilities.
Powerful Hollywood-quality 360 degree image and video capture, immersive augmented and virtual-reality (VR) experiences, integrated AI that learns users, vault-like security, gigabyte LTE, and longer battery life will be enabled by this latest chip from the company whose technologies power virtually every smartphone and smart device on the planet.
So what about HoloLens 2.0?
The 411 on the Snapdragon 845
The debut of this chip (as with all of its processors) is the result of Qualcomm's years of collaboration with partners. Qualcomm begins working with partners three years before a chip debuts so that it can design the processor to partners' needs. A 2017 introduction and 2018 launch of the 845 in partner products means Qualcomm began its collaboration for the 845 with Microsoft (and others) no later than 2015, the same year HoloLens was introduced.
Microsoft's now working on HoloLens 2.0, which is expected in 2019. A revision to the HoloLens roadmap resulted in Microsoft skipping a version, enabling it to move the planned third model a year earlier.
Will the advanced AI and augmented reality (AR) capabilities of the Snapdragon 845 replace Microsoft's custom Holographic Processing Unit (HPU) in its second-generation AR headset? Or will Microsoft continue using a custom HPU to enable HoloLen 2.0's AR capabilities? Given their partnership and the synergy of Qualcomm's and Microsoft's missions, which include edge computing and cellular PCs, that's a fair question. But unless things have changed, Microsoft is advancing its custom HPU for the next generation HoloLens.
Microsoft's custom HPU
Microsoft's first-gen HoloLens impressed many when its creator and futurist Alex Kipman demonstrated it onstage in 2015. A completely untethered, wearable holographic computer was something out of science fiction. But it was real. Among the specs that power this device, Microsoft boasted about the custom HPU it had to design to make the device a reality.
This HPU receives the inputs from a diverse array of sensors on the HoloLens. This includes four environmental sensors, an inertial measurement unit (IMU), four head-tracking cameras, an infrared camera and a custom depth sensor. It is responsible for aggregating this input along with the movements and gestures of the wearer as he interacts with the physical and digital environments.
The HPU is a 28nm custom-designed TSMC-fabricated coprocessor. It has 8MB of SRAM and, arranged in 12 clusters, are 24 Tensilica DSP cores. It also has 65 million logic gates and is capable of performing one trillion calculations per second. Before settling on the Tensilica cores, which were chosen due to their flexibility, Microsoft entertained other options. Those other chips did not meet Microsoft's targets for overall performance, however. Microsoft ultimately added 300 custom instructions to the Tensilica cores.
All of this tech talk simply means that the HPU was critical to making the HoloLens the only fully self-contained holographic wearable computer. It seems that Microsoft is committed to driving that innovation forward in HoloLens 2.0.
HoloLens 2.0 and HPU 2.0
In July of this year Marc Pollefeys, Director of Science for Microsoft's HoloLens division, said (opens in new tab):
So as of July 2017, the HoloLens 2.0 is sporting the second version of Microsoft's custom HPU which will also contain, as has been previously reported, an AI coprocessor.
So why write this piece?
Qualcomm's 845 announcement included a range of capabilities this chip will enable. Immersive AR experiences was one of those experiences. Given that we're expecting to see the 845 in new devices in 2018, some may feel that's plenty of time for the chip to replace the custom HPU in a 2019 second-generation HoloLens. But Microsoft is committed to the custom HPU with incorporated AI chops.
Augment your reality
A vision of AR in everyday life.
Though the second-generation HoloLens won't get the 845 treatment some may have expected, perhaps we'll see HoloLens-inspired AR headsets from OEM partners using the chip in the not-too-distant future.
It would be great to see the AR extreme of Microsoft's Mixed Realty mission embraced by OEMs and pushed by Microsoft as we've seen VR marketed and embraced this year.
Do you think AR will be the future of computing Microsoft envisions? Are you looking forward to OEMs bringing AR headsets to market?
Jason L Ward is a columnist at Windows Central. He provides unique big picture analysis of the complex world of Microsoft. Jason takes the small clues and gives you an insightful big picture perspective through storytelling that you won't find *anywhere* else. Seriously, this dude thinks outside the box. Follow him on Twitter at @JLTechWord. He's doing the "write" thing!
Irrelevant to the article but
PHOTOSYNTH IS BACK IN THE STORE. I checked my library and spotted it

Well, Mr. first to comment. You definitely sound excited about that. Merry Christmas 🎅🏽
........
Or Happy Holidays, if that offends you🙄🙄🙄

Why is Merry Christmas offencive? Even if one do not believe in Jesus, it's still the name of the day and the celibration and why the holliday was created, or recreated or what ever. Who cares if Jesus was born on a different day, and if we celibrate on the 24th here in Norway. If you do not believe in Jesus as Gods son, you could still celibrate and thank him for the hollidays. Alot of people like the holliadays, and the word Christmas only means lots of people Celibrating Jesus. I'm for sure one of those, thank you for the hollidays.

Personally, I don't care either way... I was just being facetious.

Christmas originally had nothing to do with Jesus, that is why you won't find any reference to it in the bible. When Christians moved up into Europe they adopted pagan holidays to make it easier to convert them. See Easter and Holloween as well. No ghouls or bunnies in the bible either.

Nice to know! I loved that app. Its back on Windows Store, but I cant see it on Apple Store as it was..

Photosynth like functionality has been rolled into MS' pix photo app on Apple.

Surface "Scribe" definitely could 🙂

It's not an imaginary product that he came up with, its an actual product that we have lots of evidence Microsoft is building and ready for 2018. What this infantile came up with is the retarded super lame name "Scribe" that he writes under every WC post, which is pathetic and he thinks he is interesting with. He also tries to be positive to irritate people when point that out to his face, like a typical internet troll (also calls people - trolls) and yes, like an immature internet infantile pounds the emoji keyboard with "lols".

Wow, you people are grumpy.. And I, for one, think Scribe would actually be a pretty good name for that product.

It's a great name... I haven't been here on WINDOWS PHONE CENTRAL all these years because of my poor product placement skilllzzzzz😉

Another pathetic child who has enough hurt in himself to cry about me... Just like I told the other kid, I can't help you with your issue. Cry to someone else because I don't give a rats ass. If you don't like what I write then ignore it. Simple as that. Ignore it.

Dude, sounds like you gota problem that you're gonna have to find a solution for, and nobody gonna read that BS.. Chill Da Faq out.
.......
The sooner you realize that I don't give a $hit about what you think, the faster your life will improve. Here, I'll help you. Ignoring your petty ass, now.........

@rodneyej there is definitely a marketing opportunity with a brotherhood of steel branded limited edition Scribe tablet, after all the duty of scribes is to record and write down history in the fallout series lol.

Hey, whatever works sell it!... The definition of the name actually makes sense.

Scribe only if the device could rolled up like a papyrus

Yes and no!
Yes- to replace the Intel chip which is used as CPU and GPU for the Hololens.
No- MS will still use its custom made HPU chip to do mixed reality things on Hololens.

My thoughts exactly 😀 HPU/DSP is running very different calculations than general purpose processor

I dunno about a 5g modem strapped to my temple. It's part of the soc right?

I don't think so because I don't see Hololens as a consumer device. It is clearly a business device. I would guess the price of the second device will be 1500 to 2000. All speculation of course

If they bring up the specs an capabilities, it could be worth it for a business device or professionals. For consumers, the OEMs can just improve the Windows Mixed Reality headsets

Only one thing needed in order to succeed: 180 degree field of view.

We can barely get the optics for such a field of view into a heavier conventional VR headset. Trying to do that in an AR device meant to be even lighter weight is basically impossible right now.

Plenty of us wouldn't & besides, that tech is so far away as to be irrelevant to the discussion.

Slow news day in androidcentral?

For your version MS would need a smartphone and a decent market share. While HoloLens just runs Windows and should easily connect with other Windows devices. Also MS likes to do things wireless, not a cable connected to yet another device. A lighter and better looking HoloLens would be ok

The 845 isn't really much of an upgrade though. Perhaps a better upgrade would be a Core m3 which would be pushing the limits of a device in a form factor like that but we've seen it's possible on small devices like the GPD Win 2. Both the CPU and GPU in a Core m3 would be more powerful than that of the Snapdragon 845.

fixd review
click here
fixd price

Monthly Calendars Online Calendar Printable Calendar Blank Calendar

A long article with having no information at all.

Thanks for sharing the posting and keep on updating like this posts regualrly. For more exciting games Click Here.
Windows Central Newsletter
Thank you for signing up to Windows Central. You will receive a verification email shortly.
There was a problem. Please refresh the page and try again.