Will the Samsung i788 be called the BlackJack III?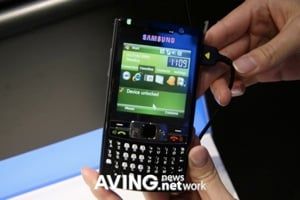 Mobility Site is reporting some new tidbits on the Samsung i788. That's nothing big, we've been expecting the Samsung i788 on AT&T for awhile now. What does seem new is confirmation that it will, in fact, be called the BlackJack III. That's what SK Telecom is calling it, anyway.
Samsung's sequel to the BlackJack II are being sited on the internet as well as details on what the new phone will bring. The SCH-M480, otherwise known as the BlackJack III, will launch with Windows Mobile 6 Professional and will be the first BlackJack with a touch screen. It will sport a 2.6" 320x320 screen along with a Blackberry styled keypad and finger mouse. Additionally, the BlackJack III will feature WiFi 802.11 b/g connectivity, a 2.0 megapixel camera, Bluetooth support, mp3/mpeg4/wmv file support and will be fitted with a microSD card slot.
Expected delivery of the BlackJack III on SK Telecom is sometime in late July. AT&T: We still don't know.
That device is CDMA I believe.
Surur

Post Script....
After thinking on this, I'm a little dissappointed that it appears Samsung is abandoning WM Standard. While many will welcome the move to WM Pro and the touch screen, WM Pro isn't for every user. I would have preferred to see Samsung incorporate a touch screen with WM Standard and leave WM Pro for another device.
While the BJII will be around for a while, it wouldn't surprise me that its days are numbered. From there, you have to wonder what device will step up and become the flagship for WM Standard? If no device moves to the forefront, is this an indication that WM Standard's days are numbered as well?
While the release of the BJIII offers a new device with interesting features, it may mean a lot more.

a finger mouse?
cool i never seen one before

wedding invitations
wedding invitation
unique wedding invitations
wedding dresses
Windows Central Newsletter
Get the best of Windows Central in in your inbox, every day!
Thank you for signing up to Windows Central. You will receive a verification email shortly.
There was a problem. Please refresh the page and try again.