Windows 10 build 10240 has three small updates to download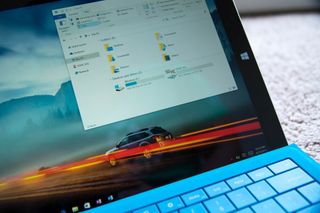 Most of the over 75 million users of Windows 10 have build 10240 installed on their PC or tablet, at least for the moment. Now, Microsoft has released three new updates for build 10240, but at the moment, there's no word on what these files are designed to do for the OS.
The cumulative updates have the Microsoft support numbers KB3081448, KB3081449, KB3081452. The company's support site currently doesn't list anything under those numbers, but it's more than likely these are just a few bug fixes for Microsoft's latest operating system. A few days ago, a Microsoft spokesperson confirmed the company would not offer detailed change logs for every Windows 10 update, unless it was one of "significance " that added new features.
Remember, these updates are for Windows 10 build 10240. Windows Insider members who have Windows 10 build 10525 won't see these updates.
Via: Reddit
Saw 'Windows build...' And thought it was a Windows Phone update...got excited then.

Ikr. :D Story of every insider.

when its going to be realese. ?

Message ah nalla read panniya

Epothan windows 10 mobile preview .vanthalum onnum sollikra mari new features lam illaye

Downloading, but only KB3081449 and KB3081452

It would be nice if they would list the fixes. Particularly interested in a WIFI fix for my Surface Pro 3 where i have to turn location services off to get decent bandwidth, and also had to turn off allowing program access to my SD card due to high CPU usage and battery drain. If we don't know if these issues are fixed, you cannot determine if you should set the settings back to default or not. Hate the trial and error, especially on the battery drain issue.

You apply all the sp3 fw updates???

Surface 3 has similar issues too. I'm wondering if they'll ever be fixed.

Didn't see they are updating edge with more features, it has been a month , almost

Another day, another one sentence article about nameless Win10 updates.Thanks WC for the pointless news about the pointless updates to which we know nothing of what they fix.....I understand it shows Microsoft is working hard to keep these fixes coming out quickly....but these clickbait articles....ugh.

These are hardly clickbait articles. Windows Central has already reported that Microsoft is not providing details of their updates. WC is just reporting that there are new updates to be installed, and even clarifying what build are they for. It js still valuable information to me. If you don't like it, then leave feedback to Microsoft asking to reveal update details going forward. I do understand it'd be great if WC had sources to provide update details, but the information they are providing is still useful. Definitely not a clickbait article. That's not how Windows Central works.

But we can't not install them anymore so unless we know what they are, telling us is useless... But I like to know so I can refresh and dl immediately... So I see both arguments.

Why can't you? Because you are not using 10240?

I believe "uservoice.com" had "less restarts" as one of leading suggestions for Windows. Yet what we received is a restart every week at least. And I never tend to do so. I have too many apps opened and I usually hibernate, but now I have Windows insisting that 3.30am every week is the good time to get rid of all my windows and restart just because some unnamed "cumulative update". Is this the progress we asked for?

And to make it worse these overnight restarts don't put the system all the way back to sleep, at least if it is plugged in for the overnight battery top-off. More than once I've pulled my tablet out of my bag only to find it warm and on. As long as I remember to unplug, open lid, let screen light up, then close lid again, the tablet goes back to a normal sleep.

I thought you could defer updates or at least change the schedule time for the restarts. On Pro versions it even let's you configure it so it doesn't automatically restarts, which I'd the way I have it set up.

Wikipedia shows unreleased win10 mobile details.. But I don't what's going to come.. Waiting

Since I forcefully upgraded to Windows 10(I didn't get the update via the Get Windows 10 app) my laptop(hp) doesn't power off when I shutdown.
I have tried many tricks by binging for the solution but still everytime when I shutdown the laptop just goes blank and then I have to keep pressing the power button to power it off. :(
Maybe this update will help.

Maybe HP or Intel should release drivers for your machine!!

Trend Officescan gave me similar issues. Check you AV.

Try disabling 'fast boot' either in W10 settings or in your bios. I had same issue and this worked for me.

I have the same problem just download the driver Intel MEI(management engine interface) something like that of "Windows 8.1" of your particular HP model from HP website and don't update your driver from windows update.

Onedrive placeholders please!

Amen to those sorely missed placeholders.

Not gonna happen. Buy a bigger HD.

Why do you say that? The mobile apps show all files.

Says the guy who isn't running Win 10 on a tablet.

Yes, undo the kneecapping of OneDrive!

They finally fixed the automatic update option in the Store for Home Edition!!!

The option to turn off automatic updating of applications

It wasn't a bug. Home edition it's supposed to get Windows Updates and Windows Apps updates automatic (with no option for disable it). But it looks like MS changed their minds? Can you confirm that it's a Home edition and you can disable/enable automatic apps updates?

It was a bug, because it was written to contact your system administrator, but will not say upgrade to the Pro version. And Windows Home SL don't have this ploblem...

Burn the bugs !! ... Windows 10 still feels slower than 8.1 on my laptop..

When I did the upgrade my computer ran find with 10. Got a new ssd (Went from 128gb ssd to 512gb), I did a clean install. My upgrade was faster then clean install at login. :-o

I hope you get the issues resolved. All fine here

Make sure you clean your system after the upgrade such as using Piriform CC cleaner. And a thorough defrag as well.

Skip the defrag if you are running on an SSD.

Whut? Windows 10 is running so fast on my 7 year old laptop that came with Vista. It has almost SSD like speed, maybe it's because i do a lot of disc cleanup and defrag the HDD.

Get the drivers! You can't imagine how a bugged driver can spoil your experience.

And still nothing for Windows 10 Mobile.......

Offtopic: I rolled back from windows 10 on my lappie to windows 8.1.
I want to do a clean install. Will my copy of windows get activated if I do a clean install. I had logged in with my Microsoft account on my laptop after upgrade so will it be able to retrieve the serial key from cloud?

I'm only getting the last 2 of the listed updates in this article.

First 2 need to install then restart and check again and the 4rd will be there Posted via the Windows Central App for Android

Once again, praying that this fixes the "SHOW WINDOWS SIDE BY SIDE" bug. Don't know what I mean? Show your desktop, then open 2 Windows Explorer windows. Right click the task bar, and choose "SHOW WINDOWS SIDE BY SIDE". Then witness the FAIL!

Well how bout that... IT FIXED IT!!!!!! (for now, anyway) Now Windows 10 is 100% complete for me.

And its broken again. ##*(&(@*!!!!!! ##*(&(@*!!!!!! ##*(&(@*!!!!!! ##*(&(@*!!!!!!

Now I'm getting the other

BREAKING NEWS! Oh. Windows Central is strange sometimes...so hungry for fresh news about anything at all. Cool.

Just update my Lumia 520 (daily driver and My only phone) to Windows 10 mobile and I gotta say it runs very smooth.

No Fixa at all Windows Store Not updating M Edge No top sites Windows Universal app missing app Titles

Um, a change log would be nice. Sad we have to guess what has been fixed in a modern OS.

Unable to Sign in with Microsoft account bug is still there... It's just horrible... Can't update any apps... Unable to access store...

I have tge asus x205ta and runs ok but i want the surface 3 ever since a saw the screen do you think i should buy the 4gb model would ut be much of a upgrade ? Posted via the Windows Central App for Android

They fixed the issue where you couldn't log in to office 365 account on Edge or add a student/corporate account because it used EdgeHTML, thus blocking the use of Office mobile apps!

They were x64 both 448 & 449

My laptop crashed soon after installing these updates. Spent usual 2-3 hours of my life trawlling through the multiple errors in Event Viewer - very interesting Cat12 error requires a PHD in computer science to fix for example. Thanks Microsoft!
Really can't be bothered anymore with this nonsense. Just make the damned OS work properly after all you have had decades to get this right.

Looks like the background music playing issue has been resolved for me post these updates! Minimizing Groove or any music playing app paused it in the background earlier.
Windows Central Newsletter
Thank you for signing up to Windows Central. You will receive a verification email shortly.
There was a problem. Please refresh the page and try again.