Windows 10 build 10240 released for Windows Insiders in both Fast and Slow rings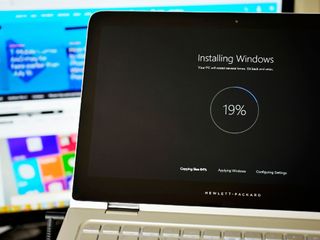 Microsoft has released a new version of Windows 10, build 10240, that will be available for Windows Insider members on both the Fast and Slow update rings. This is the build that is rumored to be the RTM (Release to Manufacturing) version that will be sent to PC OEMs.
Windows Insider head Gabriel Aul wrote:
One thing that is noticeable with this build is that the desktop watermark with the build number has been removed. Aul also posted a teaser about a "least one fun surprise for Windows Insiders coming up" which means there may be more updates coming before Windows 10 officially launches on July 29.
Source: Microsoft
Smooth..... MS: "Lock up your PCsss, we are gonna hit it and quit it"

Updating on my DVP8 now. Now I have to check and see if I can install it on my SP3 that I hadn't been running W10 on...

I don't think mobile win10 has a release date yet

DVP8 stands for Dell Venue 8 PRO. It came with Windows 8 PRO. It doesn't run Mobile. Nor will my SP3. EDIT: Never mind - I thought you were replying to me.

Not all pros came with Windows pro :P https://en.m.wikipedia.org/wiki/Dell_Venue_Pro Posted via the Windows Central App for Android

Ummm....... what? You link to a five year old phone and expect your comment to be relevant??? That's a DVP, not a DVP8. One is a phone, one is a tablet. And the phone was Windows Phone 7, based on Windows CE, not NT,like WP8 is. Completely different animals.

Did you have Win10 on your DV8P already? I was thinking about doing mine, but....

I don't remember when it was that I put 10 on my DVP8 (probably at least 4-6 months ago), but I do remember it was a major pain. First, there wasn't space to do the in-place upgrade, so I had to buy a USB adapter, so I could connect a USB DVD player and install from there. I did a clean install, wiping all of the existing partitions and letting Win10 make what it needed. If you got the upgrade icon in the system tray, if it were me, I'd just wait and let it go that route, as now it is too late to join a PC to the insder program. They shut it off yesterday.

So Gabe replied to my tweet, and I won't be able to get 10 on my SP3 until GA. The next question (the one he didn't reply to) is whether I'll be able to get it because my PC is domain-joined (on a domain at home), so it doesn't have the update icon in the taskbar. I guess worst case is I could disjoin from the domain, update, and then rejoin the domain. Then again, if they offer an ISO version, I'll be using that anyway, to do a clean install, so that won't matter, except for my wife's PC, which I won't do a clean install on, since all she does is facebook, web, and email.

But then again.... There's build 10074 in ISO in the MSDN library. I could use that and get the upgrade to 10240 from there......... (Just noodling this over out loud so you can all see my thought process).

No... I really want a clean install. I will wait until the 10240 ISO appears in the MSDN library and do that.

It's a constant data dump from your brain to your keyboard. No filter whatsoever... just a barrage of information.

Sometimes, that's how the brain works.There's always the option of skipping on by. ;)

I thought the same, it's hard to figure out what he's trying to say

Just convert the ESD to ISO and burn it to a DVD. No need to wait ;)

I did that on my SP1 but it dosn't find new Builds :/

Haha, for some reason, the last sentence made me giggle :D

LOL - isn't that really what MOST home PCs are used for? ;)

Don't you need to get the pro version to be joined to the domain?

It's a Surface PRO 3. It came with Windows 8 PRO (well, maybe it was 8.1 - I can't remember now). Yes, you need the Pro version to join a domain, and all of the PCs in my house are currently running Windows 8.1 Pro, with exception of the DVP 8 which is running Windows 10 TP, which is only in a Pro version so far.

You will be able to upgrade to 10 through windows update on release. If I have my notes right you just may need domain admin privaliges to install it. It is just the gwx.exe app/reservation that is being blocked from domain systems. something about not wanting users accidentaly, or intentionally, reserving the upgrade without domain approval.

Hopefully that is the case, as I also have all my systems joined to a domain at home. I'm on the Insider program, but haven't had the opportunity to put W10 on any of my systems, so I still have to wait a couple weeks.

@hopmedic, can't you just use the "Check online for updates from Microsoft Update" option of Windows Update instead of the default for updates "Managed by your system administrator"? I confess I'm not in the Insider Program, just for lack of time right now, so maybe that doesn't work here, but that's how I get updates that are not on WSUS (the update copies held by the local Windows Server on a Windows Domain). Unless the Insider Program doesn't use standard updating (which I guess I could imagine might be the problem), I would think that would work.

Or, if that doesn't work, just temporarily disable the update connect. You can change the registry setting at: HKEY_LOCAL_MACHINE\SOFTWARE\Policies\Microsoft\Windows\WindowsUpdate It probably currently lists a WUServer with a port of 8530. Save that whole WindowsUpdate registry key so you have it to restore, then delete it. I don't recall if you have to restart your computer or not (I think you do), but in any case, then it will ignore the Windows Server and only look to Internet and MS for its updates, just like any non-domain connected system. Obviously, be careful when you make registry changes because you can break your system, yada, yada. But if you're already on Insider Preview, I suspect that's not a concern. :-) After it finishes with the update, restore the registry key so it goes back to getting updates from the WSUS on your domain.

Thanks for the input - I do appreciate it. But since I've decided that I want a clean install of W10, the easiest way to do that will be to get the iso, (which I can get from MSDN or public, whichever comes first), and run it from there. ;)

I have been running W10 on my SP3 for several weeks now. Running 10166 currently. It runs great. Edge vs IE... No comparison... I have had up to a dozen tabs open in Edge, where as after 3 or 4 in I.E. with W8.1 I would see serious memory issues.

Yeah, I'm looking forward to it. Since I depend on my SP3, I've been hesitant to install on it. I've been running on the DVP8 for several months now, and while frustrating at first, it is a lot better now. As for Edge vs. IE, I'll be sticking with IE for the most part until Edge becomes capable of running extensions, plug-ins, whatever they're going to call them. I use LastPass, so I'm quite dependent on that. There are only a couple passwords I know, as they are almost all unique and strong now, so I have to have extension support so that LastPass can build the extension for it (I've already contacted them, and they will as soon as possible). I am quite looking forward to the Edge experience, though. I get quite tired of having to close all tabs, then reopen, because suddently all of them show a blank page. Seriously, Microsoft? You can't fix that???

Does the virtual keyboard show up for you in tablet mode? I installed the preview on my SP3 i5 8gb but although the touch worked it never brought the keyboard whenever I clicked a text box. I mostly use it with the keyboard but I still need to use it without it sometimes and without virtual keyboard it's mostly useless. It showed as not having a touch screen in the info page, I wonder if it's related to that, but all drivers were up to date, at least according to windows update.

Try going to settings, select devices then select typing, and then turn on the toggle which says automatically select touch keyboard..... Hope this works for you.

Long press task bar, choose 'Show touch keyboard button'.

i have loads of tabs up on explorer never a issue, even when i move the tabs around on my 3 monitors, something edge does very badly.

yup been running the TP on my SP3 for several builds now. just updated to this build tonight via WU.

Hey, hows win10 on dvp8? i own one. how is the stylus? is it working well with win10?

I don't have the stylus, so I can't speak to that, but on the DVP8 it was aggravating at first. Much better now. I haven't had time to play with it since yesterday's update to the final build, but the build before that was much improved. I'm a lot happier with it now than I was several months ago when I first installed the TP.

oh nice.... i bought dvp8 to develop apps, i wanted to install 10 but i use it for notes too. so didnt want to experiment. hopefully in the relase everything will be up and i can start making apps. thanks for the info. it is an all time classic tablet

I​nstalled then crashed now want startup. If this is RTM Microsoft has lost their marbles, again!

i cant update my win10 build 10166 into 10240 build :( even i have put my email into windows

You should've said "Windows 10 released to both rings"

Not everyone would know what that means. Yes, if you are on the Insider Preview it is logical to know what it means, and yes, if you are on the insider preview and don't know what it means, you shouldn't be on the preview. The thing is... Not everyone knows what it means, no matter how illogical it sounds. Windows Central knows whats best for a title and the community, let them make their decisions.

Thanks man. One for the player hater.

Agreed! For end users that means nothing if we just say 'both rings' without further description on which rings that the writer means. :)

Now there is one ring to bind them.

There is only one riiiing...preciouuuuuus.

Rumors are that it is the RTM build, but without confirmation I highly suggest not installing it on production machines.

This is the RTM code, they're probably doing one last test to see how the upgrade process goes on their production servers before signing off.

Then why does Gabe say another release may occurr before July 29th? Not to mention what seems like a new feature surprise? My guess is the kernel/shell code is finished and all it's going to be is UI changes from now on. There may be a big one coming up.

Because that's how the insider program will work. Even after RTM, GA, and even Redstone, Microsoft will be pushing new builds continuously.
"There may be a big one coming up"
Highly unlikely since they skipped a bunch of numbers (10166 to 10240), which they only do for milestones. That's all RTM is really, a milestone. Edit: Also, the watermark is gone from the bottom right corner. This is RTM.

Right so OEMs preload it and either do the updates through the production channels before shipping or ship as is and let the customers get the updates through production channels.

He said there'd be updates, not another Build released. That shows this is RTM and Updates will be coming out to update until release date!

The surprise will be when your computer gets upgraded to Windows 7 on July 29. Maybe Aero will make a full on appearance. Or maybe they'll leave it up to *gasp* user choice!

The new surprise is probably nothing more exciting than some new theme packs.

It could be windows 10 mobile

Feature surprise is Media Center support. You heard it here first.

god i hope not, that was never any good. Just use kodi or xbmc so much better.

Defeats the point of PlayReady 3.0. Update your HTPC setup if you need 4k ;)

U could say the same thing about after 29th. They will still be releasing new builds and features... It's RTM code its just in its very last stage of testing.

Win10 was stable enough for primary computers builds ago. Id say this is extremely stable now. (like RTM kind of stable)

Releasing the build to both fast and slow rings at the same time...my guess is that this is the RTM build.

Thy are stress testing the Update Servers to see how they'll handle the 29 July Release!

The update is called TH1; TH is an acronym for Threshold, the codename for W10. That also points to this being the RTM release.

Not to mention, it reads: TH1 Professional (rather than "impressive")

Hope not. It still crashes when I touch the trackpad, on my HP laptop, and I still cannot activate it.

Currently commenting from the new Windows 10 build! It's great and the Edge browser doesnt choke up on pages like WindowsCentral anymore! I don't beleive this is the RTM version though. It's definitely one version before it. I'm thinking that Gabe Aul's "Insider Surprise" is the Windows 10 startup animation which is still currently missing in this build.

i dont think it is the RTM but one of the RTM candidates, im pretty sure we will receive another update in a couple weeks.

Think you mean a couple of days. Only 12 days till actual release.

Symbolically, you're going to be getting the same code as your grandma will later this month. Other than that? Yeah, pretty much just seems faster.

Makes since, thanks for putting forth effort to respond, its appreciated my friend.

It's actually really fast, including the install.

My grandma will be getting it tomorrow, I converted to ISO.

Why is he getting so many dislikes on his comments

Boss username and to whom are you referring? People usually hate on my comments because im a developer and I talk often on here.

Hmm, seems buggier. Photos app doesn't work; it either crashes or displays a black screen while chowing down on battery with constant 25% CPU usage. The mail tile won't update after you check mail.

Time for you to do a clean install then. Sound like upgrade errors to me

I guess that has nothing to do with the code of Windows 10. The apps are seperate so they need to be updated via the Windows Store. They still have time until 29th. But the Windows 10 code "should be" finished by now. :)

Near to release !! Win win

You are missing 8 more "Win".

Win Win Win Win Win Win Win Win
---
Is there another lost 'Win'?

It may be RTM code, but this is NOT the RTM version. They wouldn't send a version to RTM that is completely lacking any Startup/Boot Windows Logo! I think this is a build that is right behind the RTM version. Gabe Aul's "Surprise" to windows Insiders that he mentioned must be the actual RTM build with the Windows 10 Startup Animation :D

This is actually a really good point!

Well that escalated quickly!

It's not available as an upgrade from Windows 7 or 8.1 unfortunately so it seems I can't upgrade my main install yet. I would have loved to!

Obviously. This is only RTM. Windows 7 and 8.1 will get them on the day they go GA, July 29th.

Unless your a vl customer as the usual scenario goes

Well, I guess it would make sense for MS to test the upgrade process to the final build so I don't find it at all that obvious. Then again, maybe that's coming later.

So even as an Insider and logged in with your Insider account, you still can't upgrade from 7 or 8.1 to 10RTM? I wondered about that. With the phone, you have the Insider app. You can be at 8.1 phone and still do an upgrade to 10 just because the phone configures you as an Insider whether you get the updates or not. I think...

You can still sign up as an Insider and upgrade your W7 or W8.1 PC to W10, just not through Windows Update (you need to download the installer).

Run the "windows 10 insider preview/technical preview" program and it'll give your computer the ability to update to windows 10 via windows update

The program isn't available anymore. Still, I know which registry key the program changes (it sets HKLM\SOFTWARE\Microsoft\Windows\CurrentVersion\WindowsUpdate\OSUpgrade\PermittedOSBuilds to 1) and even doing that manually doesn't let Windows 8.1 find the new build.

He said there would be updates and builds over the next 2 weeks, does that mean this is just an RC? Normally there are only updates after RTM, even before GA.

Possibly. Or they are already fixing known bugs they simply had no time for to fix it before they had to deliver RTM

Not necessarily. In the past there is usually RTM and then what they call General Availability. With Win 8 as an example on the actual day it was widely available there were slew of additional updates. We will have to see to be sure though.

): My laptop charger is ruined. Ordered a replacement so Still stuck on 10162... No new build love for me ):

Do you live anywhere near a Microsoft Store? Can't tell from the basic deets here... if you did it would be possible to bring there and see if they could help you. They're pretty decent for that... =[

I was on build 10162 and there was no update to build 10240. I'm now rolling back to Windows 8.1 and am going to wait till GA. Tell me if it works for you tho. Might try again

Work is so boring today. I would rather be installing the RTM on my tablet, instead I will just grab some popcorn and watch the comment section on this story.

Good idea. You'll love the commentsection here. May I suggest you read the third unnested comment for a start?

Very curious if they changed the battery flyout. Basically the only thing they never changed properly

Wonder what TH1 is indicating. Installing now!

Threshold 1 Usually there will be a TH2 as well...

Look at you all thinking smart and whatnot. Good call!

just FYI MS has not used the term "RTM" at all...yet all news sites are reporting it to be...but since we know where its gng...its all good :)

Well they kinda have to bring a RTM now. The launch is only two weeks away and companies need that RTM build now

Just because you receive an Insider Build doesn't mean it has to be RTM. For all we know, MS could've sent out RTM already but just decided to send the RTM code to the Insiders under build 10240. I definitely do not beleive this is the exact RTM version due to the fact that we are missing the Windows 10 Startup Animation. Perhaps in the next few days we will receive another build with the Win10 Startup Animation. (I think this is what Gabe meant when he said he had an Insider Surprise)

yes there are indeed newer builds now with TH2

"Your device is up to date. Last Checked: Today, 1950" Sure...

Sounds like you need 1.21 Gigawatts to get it back up and running again :P.

Here are some of the new things http://blogs.windows.com/bloggingwindows/2015/07/15/build-10240-now-available-for-windows-insiders-in-fast-and-slow-rings/ Edge should seem faster.

Anyone in the UK got the update yet, I have been checking every 2mins and no update.

I'm in UK. No sign of it yet.....

It's just starting to come down now...

Ha. We must have been hammering the servers...

Remember to test the hell out of this, people! This is what's going on normal people's PCs in 2 weeks. Microsoft needs all of the help they can get at this point! Very exciting times.

That's a good point, but adding to that, this is a nice gift for insiders since they will have the final release version 2 weeks before launch.

If they don't fix the OneDrive issues before release, July 29 will become known as the day Microsoft committed corporate suicide.

Will this new build be pushed for phones? I'm downloading it right now on my SP3!!!

I would accidentally throw my phone out the window out of pure excitement!

Haha! Well it certainly wouldn't be an RTM build for phone but I'd expect improved stabilty...

Assuming you are rocking a Lumia. Careful, you could kill someone or break the street.

sigh.... phone build are NOT connected to PC builds! Sure they use similar build numbers but Windows 10 and Windows 10 Mobile are still two seperate systems.

I wonder why the early drop?

To test the consumer update servers and to have the millions of insiders report any bugs that may have been missed or not previously reported.

Insiders, developers...developers, insiders. Here's Windows 10, go nuts. =p

Alright. Was about to go out with friends but installing this update instead. Bye friends and sorry. Hello 10240

That 1 pixel border... Please MS, REMOVE THAT 1 PIXEL BORDER!

Report it in the feedback app. If you have already reported it, report it again, then upvote it, then log into another account and upvote it again lol.

So, no ISO for this build?

As i understand it.... and i may not... there will be no more official ISO offerings from now until the official release date. Windows update is the only way you will be able to get 10240 (legally).

I think you mean "officially", not "legally". There's nothing about using Microsoft's own ESDs to make an ISO that is illegal AFAIK. Plus, even if it was, you'd never get in trouble for installing it. Gabe Aul has given a wink wink on saying its ok.

I have read gabe aul twitter replies and he did mention that the ISO for this build will be release for insider on 29th july or after that date.

if you try to do a clean install making your own iso from the esd it will not activate. you have been warned.

Right, this is also to test/coincide with their previously announced plans having to do with Microsoft Account and Activation Keys... hopefully I don't develop any major issues, I'd had to do a lot of clean installs and deleting old builds =[

I hope I'll be able to get it. Haven't been able to get 10162 or 10166....

I had a problem but searched the error code and found a fix :)

I had same problem n fix it by restarting windows update from services

Oh could you tell me how you did that??

Go to control panel, all items, troubleshooting and click "fix problems with windows update". You need administrator to do this.

It didn't work ): I'm trying to do a clean boot now.....

Hey listen I had the same problem. You might need to check if your BIOS or driver is updated. My Dell computer would freeze after downloading and installing and it prevented M from going further. So my advice is updating BIOS but have someone that you know and trust do it because it is the BIOS and you dont want to mess it up. After my relative updated it by USB in safe mode it worked and now i have latest! If you mess it up your computer won't work. But I'm positive my drivers were not updated. That could easily be what's wrong for you. I went to Dells website and it detected my current drivers and I saw I wasn't up to date. Sometimes before you purchase your computer and it sits on the shelves and doesn't get updates to drivers as a result and then you might find it freezes. If tho is happening to you then its a hardware problem. Mine was fixed today. I did what you did with clean install and it didn't work until we did that. Hope this helps and be careful!

To be clear if I upgrade my tablet now from 8.1 to the preview I'll still get the full update on the 29th license and all?

Ok thank you for the speedy response I got the preview on my main pc as a clean install on a separate drive but i just wanted to be clear on that befor going through on my tablet

10240 is the RTM version given to Dell, HP, Lenovo, ASUS, etc for the devices that will come with Windows 10 installed for August 1st. So you'll actually going to get the official release version, preview is now over, this build will have many testers to include any needed patches for July 29th for non insiders.