Windows 10 build 16241 for PC and 15230 for Mobile now available for Insiders
We've got another Insider Preview build to dig our hands into! This time, build 16241 for PC and 15230 for Mobile is rolling out to Insiders in the Fast ring!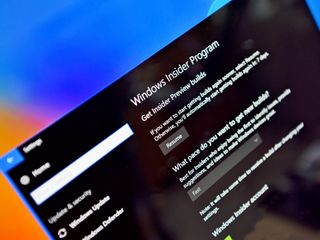 (Image credit: Windows Central)
Microsoft is now rolling out another Insider Preview build for Insiders in Fast ring on PC today. This weeks build is 16241 and is backing more bug fixes, enhancements and changes for Insiders to get testing. Also this week, we're getting build 15230 for Mobile!
What's new for PC?
Windows Shell Improvements
Recover your pin and password from the lock screen: Self Service solutions empower end users, unburden helpdesk/IT admins, and save organizations money. Cloud Self Service Password Reset (Cloud SSPR) has been a really popular Azure AD Premium (AADP) feature and now we want to take this great capability one step further – Windows Integration. If you're using an AADP or MSA account and you find yourself stuck at the login screen, you can now reset your password and PIN straight from here.
Refining Acrylic Material: We've heard your feedback, and in response in today's build you'll notice we've softened the noise layer of Acrylic Material.
PC Gaming Improvements
We fixed an issue preventing profile cards in the Xbox Live in-game experience from working.
We also fixed an issue causing Game bar to crash while broadcasting.
Task Manager Improvements
The GPU name is now shown on the left-hand side of the Performance tab for each GPU.
We now default to the multi-engine view, which shows performance monitors for the four most active GPU engines. Typically you'll see charts for the 3D, Copy, Video Encode and Video Decode engines. Right-click on the chart to switch back to the single-engine view.
There is now a total GPU memory text counter next to the dedicated and shared text counters at the bottom of the Performance tab.
The Direct X version now also contains the highest supported DX feature level.
Starting in Build 16241, additional processes (such as the Chakra JIT Compiler, UI Service, and Manager process) are now labeled in Task Manager. We'll continue to revise these labels based on feedback.
Mixed Reality Improvements
Added support for Mixed Reality Motion Controllers over USB (Wireless/Bluetooth support to come soon!)
Connection reliability improvements (Code 43 errors in Device Manager).
We've updated the Mixed Reality Portal icon.
We've updated teleportation experience to make this more intuitive and direct.
We have also improved stability of the headset during your Mixed Reality session.
We have fixed the issue where the Hill on the side of the cliff house flickers.
We have also fixed where the audio of HoloTour can now turn off promptly when switching between apps and cliff house.
we have also fixed speech commands to work during exclusive app sessions.
We have also improved the experience where we can now load the Environment effectively with no black screen during startup.
Mixed Reality Portal now explicitly informs users that headsets require USB 3.0.
Improved support for ASMedia and other 3rd party USB controllers
4K 360 Video streaming has also been improved in this build.
3Glasses improvements: we have fixed various issues with 3Glasses headset and controller to help jumpstart your development.
Preset holograms in the Cliff House now show up in the right order.
We have also fixed the issue where black screen is shown when the environment is loading.
We have fixed the headset's sleep cycle to correct according to user activities.
We have also fixed the issue to enable users to share the Mixed Reality captures to Facebook.
Delivery Optimization Improvements
Delivery Optimization has been synonymous with "Peer-to-peer" but few people are aware that it is also used as the main downloader for content downloaded from Windows Update and Windows Store. Delivery Optimization, even without P2P, is what makes downloads from Windows Store much faster as well as makes downloads of Quality and Feature updates far more reliable. In line with this, the main settings page – now titled "Delivery Optimization" – indicates that while you can enable or disable the P2P functionality, Delivery Optimization is still used when downloading updates and apps directly from Microsoft's content servers.
Activity Monitor: Here you can see the overall bandwidth used in downloads of OS Updates including Feature and Quality updates as well as Store App downloads and updates on your device. You will also be able to see exactly the amount of data coming from other PCs on your local network or other PC on the Internet based on your settings.
What's new for Mobile?
We fixed an issue where VPN profile appeared to be always ON.
We fixed a notification issue between the Bluetooth Support Service and device background services for fitness bands.
We fixed issues with Caller ID matching in Japan & Denmark.
As always, you can check out the full changelog, including a list of known issues at the Windows Blog!
Zac Bowden is a Senior Editor at Windows Central. Bringing you exclusive coverage into the world of Windows 10 on PCs, tablets, phones, and more. Also an avid collector of rare Microsoft prototype devices! Keep in touch on Twitter: @zacbowden.
Didn't they already fix that VPN issue 😂 I wish we knew exactly what else they've changed in Mobile insider builds. They are less performant and less stable than production which you'd usually say is normal in Fast Ring but not when there are only minor changes.

I find 950 Fast insider works really well and therefore no complaints. I find 950XL running stock CU runs really well and therefore no complaints. Looking forward to the new technology, whatever that may be. Meanwhile my smartphones run just fine.

Was hoping for fixes to Hello crashing and apps generally failing to launch, showing black screen longer than they should. Easiest way to get rid of the bugs is to go back to production but I want to get the app updates earlier on my main device so sticking with it

You might want to do a reset and restore on 950xl I find none of these issues you mention

Let's be honest here... We knew this for a long time. The problem is they are still not really *clear* about Mobile. All cryptic conversations (sometimes sarcastic ones).
Just TWO tweets from the Insider team - "Mobile" and "CShell" would cheer up the remaining W10M die hard fans. 🤯

Yeah I keep saying lately there are fans with bad attitude towards W10M and they ask.dumb questions. But even the polite and fair ones are met with a hint of hostility and to me that's not a healthy way to engage with fans of your company. Xbox and WP are probably two of the most die hard categories of MS fan and they aren't engaging with that Mobile fan base at all right now

I am excited that this is the last mobile update. CShell is going to be so much better. Having all the desktop store apps on my phone like Sling TV, Spotify, iTunes, and the upcoming LinkedIn is exciting. The future of Mobile really excites and intrigues me. I have toughed it out for so many years...a few more months won't kill me.

I bet it will be full of bugs at the beginning.. I just don't want to see another incomplete product from Microsoft

Probably that's why we are having to wait this long.

If they don't do anything for phones and mobile devices in the next 4 months, then the Lumia 950 will be the last device for me.
.
I will also have to find replacements for all my family's Lumia 930, Lumia 830, and Alcatel IDOL 4S devices (8 in total to replace)

Wow dude you have heavy investment on this test product. I can see 0.02% market in your family.

L1020, 535, 650, 950XL here...

L1020, 640 & 950 here. Just recovering my dad's L635 512MB back to WP 8.1. He had Windows 10 Mobile before they cut 512MB devices. My mum still uses a L800!

We should know after October when RS4 PC builds start to roll out. If they still won't engage fans on the Mobile issue I'd say it's clear. They seem to think Mobile is dead, but it's not quite dead yet and companies current mobile platforms are springboards into the future products

It's not the same as when people dumped Blackberry for iPhones and they didn't make that jump because the iPhone itself it was because of the story Steve Jobs sold the world. Just releasing a new category of product won't be enough

They will start rolling out feature 3 builds for mobile with 2-3 fixes.

If they do then the future will be clear. I'm still keeping my 950 into 2018, no reason to buy anything else for me right now

All Windows Phones have had 36 months of supported updates. MS have only just dropped support for WP 8.1 so that means all the devices that came with 8.0 are not getting more updates. That is at least 4 years.
I can see Feature2 running for another 18 months until the 950's are out of support. By then there will be ARM64 devices that will run full Windows 10 on a pocketable device.

hopefully running Windows 10 64-bit to support ARM capabilities and RAM higher than 4GB

Not sure I follow. What would PC builds have to do with W10M? They disconnected the two some time ago and have done nothing with Mobile since. Let's face it, they are going to finish "cleaning up" W10M--I'm betting one more build--and then they will start the End -Of-Live clock on it. After that, they'll tell us all to switch to Android or iPhone if we want to enjoy their services.

Yup. That's gonna happen with me too... I'm just waiting for either a proper W10M (W10 on ARM really) device or affordable flagships from NOKIA. The Nokia 6 is a solid device (just the hardware itself - really rigid and hard to break, bend). Maybe Nokia 8 or 10 🙂

Hold on man, they will definitely have something new but probably only march or April next year. I have little doubt it will be awesome

That's what people said last year. They said wait until summer 2017 for new "surface phone" to come. Has anything come? Nope. Not falling for that trickery again.

Please fix blank screen issue in mobile

I'll speak to donna, have a date this weekend.

On Mobile you mean? I've noticed that too, rolling back to production gets rid of the issue but I'm back on Fast to get app updates sooner and I think the feedback on bugs is taken more seriously coming from an insider build

Honestly, I don't think they bother about Mobile feedback much 😶

Well, this is a known Windows Central bug and this is the first time it's happened with me.

AbhiWindows10 just use the latest Windows Central app for Windows 10! You won't have this problem. Or other option is to become satan and get blocked!

I'm using the UWP version of the app. Also, up to date. 1.3.6.0 is the latest version.

Hp elite x3 has a firmware update 2

HP is really the only one supporting Windows 10 Mobile efforts.
.
Microsoft has ignored it for so long, and other OEMs simply don't care anymore.

Alcatel too with their EU release

No they are not, I haven't had a firmware update since I had the phone and it is in dire need of one.

Camera crashes, no useful VR apps (or any Alcatel-specific apps).
.
They need to show they support W10 by releasing updates to firmware, and port their apps here

Fixes only for mobile, the should rename Feature 2 to Maintenance. #sad 😢

They should simply kill Insider program for Mobile as it's pointless. Normally such builds will be regular bugfix updates but they are calling them insider previews which is spitting right in our faces.

I won't be surprised if the next "thing" that Microsoft plans to do to compete with current day smartphones also fails.

looks like W10M current builds are just like WP7.8 back in the days. Another reboot is on the horizon...another time "fans" and "users of Windows phones" get burned to death again 😈

I don't care if I have to buy a new device in 2018, that's when I'm keeping my 950 until anyway. I would just like to know. Would prefer not to spend money on UWP apps if I can't run them on a phone 12 months from now

You should be able to still use them on the next iteration. Just avoid any app on your phone that states the requirements as
- Windows Phone 8.1
or
- Windows 8.1

Also, you can run some of them on a PC too. PC isn't dying anytime soon 🙂

PC is dead just like you.
Surface and 2-in-1s are the way to go!

What's up with you? Surface is also a PC. Personal Computer.

The main WP8.1 apps I'd miss are Skype for Business and Netflix (unless the PC Netflix UWP automatically started working on a new device, but as it works now Netflix would need to tick a box to enable that in the dev dashboard)

"looks like W10M current builds are just like WP7.8 back in the days. Another reboot is on the horizon...another time "fans" and "users of Windows phones" get burned to death again 😈" But think about it. If MS never expects their market share to exceed the number of incurably gullible, there may be no downside for them. ;)

What they mean is feature phone, since it's not a "true" Windows device...which only means that they need these things to run not just a comparable OS that shares the stuff, but is the exact same OS with no compromise. 2018

Still no Acrylic in taskbar?

"We now default to the multi-engine view, which shows performance monitors for the four most active GPU engines. Typically you'll see charts for the 3D, Copy, Video Encode and Video Decode engines. Right-click on the chart to switch back to the single-engine view."
.
YAYYY. I requested this!! 😁

They should simply kill Insider program for Mobile as it's pointless. Normally such builds will be regular bugfix updates but they are calling them insider previews which is spitting right in our naive faces.

No, they should not. The insider prgram is the ONLY way for many phones to get bug fixes.Maybe rename it to not spit on beta users.

New Insider website is going to launch soon...keep an eye out to see if they drop mention of mobile

I suspect part of the core is still in grained into the pc updates they have to update the mobile builds, feature two probably has the basics in there to link Cortana etc pc to mobile wise etc.

I have this strange issue on my SP4 that after conversion to tablet mode, the whole screen flicks for a second, whole start disappears and cannot click or touch anything. Anyone else with the same issue or just me?

Just checked for updates and am now dowloading "Windows 10 Insider preview 15228.0 (feature 2)" ? Open market Idol 4s on AT&T

Sounds like my MS Band notifications may be improved in this build!

Isn't that great. We yell about it for 20 straight months. They stop selling them, tell us support is killed, tell us to go buy Android devices....then fix it 20 months later. Hahaha. Who the hell is steering this ship??? Oh wait....we all know who....

Dona Sarkar for the Insider team. But it's not her fault probably.

Right now, I don't know why they send builds for mobile.
It's just pathetic...

They have no clue what they are doing anymore. They have divisions working on things the leaders are trying to so passively kill verbally. The direction and leadership of this company is so all over the place right now its scary that the board has allowed it to go on this damn long now.

Mobile RS3: The bugfix update

Hmm there's more new bugs than there are fixes though 🤔They fixed two simple UI issues with VPN and changed two string resources. They've obviously changed other things under the hood but my question WHY

Windows 10 Mobile is NOT ON RS3. It is in Maintenance mode with name "feature2"

Anyone know if Edge is fixed. Still locking up and still getting video flick on landscape mode

yep, that video flick is a regular.

Thanks. They said they fixed last release.

Will this load on the Android and iOS phones Nutella sold us all on?

Can anyone confirm if Asphalt 8 works on PC after this update? It stopped working for me on 16237. I had to revert to 16232.

It does not work! Same problem as 16237 with very slow response on buttons. Updated my NVIDIA GeForce GTX750 drivers, but still no go.

Asphalt 8 still works on build 16241 on the Razer Blade Stealth laptop.

I downloaded and installed Windows 10 Build 16241 last week and have been trying to play Asphalt 8 and Asphalt Xtreme since then. Asphalt 8 doesn't go past the "input age and gender" screen because it doesn't accept any keyboard or mouse input, whereas Asphalt Xtreme accepts limited mouse input but almost no keyboard input although I was able to input my age and gender in the introduction screen. So, I am not able to drive vehicles in my favorite games. Microsoft has released Windows 10 Build 16251 recently. I am downloading that now and I will let you know if Asphalt 8 and Asphalt Xtreme work properly after installing the new build.

What's New For Mobile:
- We changed our minds, nothing new.

Basically, nothing for mobile apart from a new build number

Fitness band one is significant for Fitbit owners.

Laughable they support rival, but not their own products.

On demand for OneDrive is gone in this build??

Groove music update is too bad now it is showing theme colour instead of black which is bad for battery and not looking good, shame on you Microsoft

LUMIA 550 , 630 DUAL SIM, 720 730 DUAL SIM ,820 ,830 ,950 XL, User Here , And going To Sale All Soon And I will Buy OPPO F3 ,AND SAMSUNG J7 PRO 2017 EDITION

They still haven't solved the constant rebooting problem on Lumia 950 and 950XL.
Left Windows mobile owners in the lurch.

Mine never ever reboots. L950. Do a recovery, uninstall all apps possible, update to latest build, do a hard reset.

Only had reboots with one early 15xxx build. Now on 15230 still no issues - maybe you need a new battery?

Replace your battery. Had exact the same thing on my L950. Did everything (factory reset, recovery; everything) and nothing helped. Then I replaced my battery and the phone has been rock solid from then on. Phone was a half year old back then, battery status told me everything was top. Nothing pointed to the battery, then I read somewhere about the same symptoms related to the battery. Good luck!

Never experienced it myself, but this was meant to be fixed a while back. If you are experiencing *serious* issues like this (rather than minor inconveniences) have you been doing reflash and reinstall? Often resolves big, persistent, issues. I also found that restoring from backup brings back certain issues - so a clean install without backup is worth a try.

I'm on release preview and for a long time my Lumia 950 xl crashes often when unlocking it with Windows Hello. It seems like it happens when Windows Hello starts at the same time glance screen turns on. But still no fix for that besides disabling Windows Hello...

Why are you guys on the fast ring? You must be crazy lol. They add nothing, fix nothing, with every update you stimulate more corruption and bugs.

wow! mobile updates too long. ill check them out later tonight when I have enough time. haha.

If Feature2 is no longer in step with the PC builds when will it be rolled out on Release Preview?

I am thinking is it worth putting my 950 onto the fast ring.

How about just giving us an option to adjust and disable the grain effect?

MS really killed themselves in the foot when they released W10M and the OS was nowhere near ready for prime time, nor did they let all users of WP8 upgrade like they had mentioned. There may have been a chance for Windows mobile to still be relevant if they could have released Firmware updates for older devices running WP8 that made W10M usable on those old devices. Shame as I still prefer my 950XL over any other phone I have used including iPhone 6 & Nexus 6P.

Enough vpn and bluetooth... Hope next build includes some app start time fixes, camera speed and battery updates.

Battery drain back, camera jams on Saving.... And VPN drops

This article and their comment section is a clear sign how the people on this site are not representative for the general market. 99 percent of the commenters is whining about the 3 bullet points of the mobile built while nobody is talking about the 100 improvements on PC. I guess that is what makes people define you as a 'vocal minority' :)

Once upon a time, this web site called "Windows Phone Central". Many of us coming from that era. Altough they changed the domain name and their web title to windows central, Windows 10 Mobile related news are still the first reason for followers, readers, etc. to come here. I think the real problem is, nowadays many of them just don't use Windows 10 Mobile OS and device for their daily driver. They just come to talk and make some critics...

What I want to know is what is up with the WC app. I have seen my avatar show up on other people's comments and other peoples avatar show up on mine !

This has been the case for months - originally accused somebody of using my avatar, but then we figured out it was a bug. Haven't noticed any news on it though.

I use both Windows 10 on desktop and mobile. I have also been providing I.T. Support for Windows for the last 27 years. I use a Lumia 950 as my sole device due to my preference for Nokia high end devices. I used Symbian until I got the Lumia 900. Pre WP7 was not a good experience for me. Windows 10 Mobile sucked at first even kn the 950 but now it is much better and the improvements in the OS and Apps have made the 950 a nice device to use.

I just want a modern well made device with the elegance and fluidity of WP7 with modern apps.

I am experiencing some serious issues in my Lumia 950 insider fast. It's restarting frequently. Screen is getting black for couple of minutes and then restarting. Do anyone have this issue? I did a hard reset already. Still no use.

Had a few lock ups (screen freezes in current state - off or on) which eventually reboots or I have to manually force the power cycle. Might be the same issue - can't reproduce, but seems to be more common when there are several layers on screen (e.g. App + Action Centre or Volume/Media overlay.). Been unable to unlock a few times too... leading to reboot. Wouldn't say it is frequent tho - maybe twice a week? (too much though - remember the days when I hadn't rebooted my WP7/8 phones for literally months on end).

Probably a stuffed battery. Replace it.

Yes hard reset will solve it

Is the Screen Sharing for Lumia HD device working with this build?

Looks good. Need new features. Can't wait with feature 2.

MS needs to get Bluetooth and GATT working and released to everyone. FitBit is working hard to get notifications working on the Blave and Charge 2. Users need to run fast ring to test.

Tried to install on a Dell Inspiron. Says Restart now. system boots, and still says Restart Now. Tried Windows Troubleshooter. Suggestions? Any way to stop this cycle? I have already deleted the temp files.

Still have my 950 on the RP Ring. Should I go to Fast or Slow to get these updates? Or just wait until the final version?
Windows Central Newsletter