Windows 10 gets a quick update to fix critical Adobe Flash bug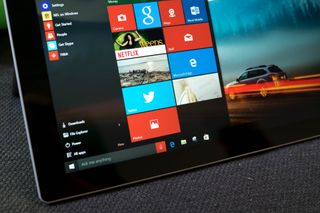 Microsoft is pushing out an unscheduled update Windows 10 to fix a "critical" security issue that was discovered this week Adobe Flash Player.
According to Adobe's support page (opens in new tab), the company discovered a large number of security bugs in Flash "that could potentially allow an attacker to take control of the affected system." One of these security bug has already been reported as being exploited.
Because Windows 10 embeds Adobe Flash in its Microsoft Edge web browser, the company is pushing out the update on its own. The company is doing the same for Internet Explorer 11 for Windows 8.1, which also embeds Flash in the browser. All other versions of Windows need to manually download the latest version of Flash to get the security updates.
I keep on getting "error" when trying to update...

Ooh adobe XD. I got this update yesterday

"..the company discovered a large number of security bugs in Flash "that could potentially allow an attacker to take control of the affected system..." Wow! To think this would happen to Flash.

a large number of security bugs in Flash I wonder if Adobe didn't check boundary in all memcpy() function calls and fix them one line at a time?

Does this apply to: 1. Windows insider releases (14279 etc.) on a PC? 2. Windows 10 Mobile releases, either the 586 series or the 14xxxx series? With the current mix of releases, articles like this need to be a bit more specific.

When's the last time a mobile OS used Flash?

You probably got it yesterday

how do u know that?? :/ ~DheeraJ~

I checked my update history and this update came yesterday for me

Oh okay. I'll check that as well!!

Android hasn't supported Flash for years.

Flash hasn't supported Android you mean. :p Adobe made the plugins. You can still use the latest plugin for Android with Firefox on any Android device with Firefox, no root needed. Posted via the Note 4/Nexus 7 (2013)/Lumia 1020/Lumia 2520

Finally! This has been a problem for a lot longer than a week!

this update didnt showed up on my system. is this because I'm on insider preview ring? ~DheeraJ~

Yes, Flash is on its deathbed, it can't come soon enough. You would think that a company like adobe would seriously test their flash objects, before releasing them, especially since their we'll aware, that their products are vulnerable.
How secure is the adobe cloud?
Adobe was comprised awhile back, acct info stolen, etc.
They certainly don't inspire confidence in their products.

I can't wait until Flash is completely gone.

Replying through notification centre is awesome

So happy that these come through windows update now! Makes updating Flash so much easier on my network for my users!
Wonder if we can get Java and adobe reader to update this way too. Would make my life that much easier. Also, anyone else notice a rather extreme improvement in boot times on the recent fast ring builds? My boot time droped form ~10 sec, which was already fast, down to ~2-3 sec on a fresh boot. Not sure what they changed, but I like it!

It's been the norm since w8. They used to embed java but were told not to do it anymore. If your using the metro version of Adobe reader it updates thru the store

Just disable Flash on Edge and problem solved. Use HTML5. ☺

Seems like HTML5 has finally been supported enough where you wouldn't ever miss much at all without Flash. I actually installed Flash on my Note 4, via Firefox plugin, and I really never need it anymore. Posted via the Note 4/Nexus 7 (2013)/Lumia 1020/Lumia 2520

Yay, I get to re-create my Homegroup and enter passwords and share folders on all six of my devices in my house again due to an update to fix Flash.... Something I haven't used in years. Thanks for that one. I just fixed my Homegroup yesterday and just re-entered that HG password into my WDTV via its remote yesterday.... Now I have to do it all over again today. My long weekend has just become longer. From WC W10M App on a 950XL

It'd be nice to get a Flash update that doesn't constantly crash in Edge on windows central's website
Windows Central Newsletter
Get the best of Windows Central in in your inbox, every day!
Thank you for signing up to Windows Central. You will receive a verification email shortly.
There was a problem. Please refresh the page and try again.