Windows 10 Mobile build 10240 leaks out for Lumia 640, 640 XL and Lumia 930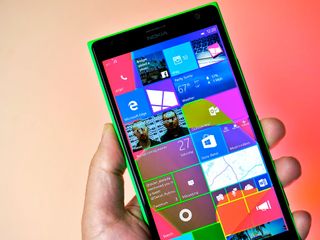 A ROM for Windows 10 Mobile build 10240 has leaked and is compatible with the Lumia 640, Lumia 640 XL and Lumia 930. However, it's recommended you stay away from these latest leaks as quite the bug has been detailed by Gabe Aul in this particular build, hence why it hasn't hit official channels.
Originating from China, this leaked ROM is making the rounds, but you needn't bother. As noted already, we recommend you disregard these ROMs (and like WinBeta we shall not link to them) simply because issues are known and they could mess up your smartphone.
That, and a new version of Windows 10 Mobile will hit official channels in due course. We'll be sure to give you all a heads-up when the next build is officially out. Stay safe out there.
Source: WinBeta
Rich Edmonds is Senior Editor of PC hardware at Windows Central, covering everything related to PC components and NAS. He's been involved in technology for more than a decade and knows a thing or two about the magic inside a PC chassis. You can follow him over on Twitter at @RichEdmonds.
Hope the 3D tile animation comes to mobile as well in the next build. Hate it at first but liking it now.

Dont recommend such tacky things lol

this is what i call infidelity against the windows phone identity. 3d is 2000s style. The windows design was a flip concept. Now it is circles and 3d cubes... These guys are lost. You have to stay true to your idea, the product and the cause. Of course not like steve ballmer true so you mess up everything

"you have to stay true to your idea" You also have to evolve and move on

Yep, evolving and moving on are great concepts. If only MS had followed those instead of trashing everything and going back to the old paradigm.

...and that's what I did. I'm now a happy iPhone 6 Plus owner. I do though miss Mytube! and flash movie player.

Are you really happy? Or are you just trying to pretend you are happy, with an inferior device. Tis sad how we lul ourselves into thinking a product like the iphone is decent device. Do not fear, there is still hope for you. First step to recovery is to accept that you have a problem, called Apple. The second step is to cry. Just kidding, partially. :)

I have both. My personal phone is a Windows Phone, my work device is an iPhone 6. Outside of some better apps, the actual phone itself is not that impressive. Everything is just blah.

Iphone? OMG ....do people still buy them? How embarrassing

I may go with an iPhone 6s+ in the fall. Windows phone has become stale and boring, and windows 10 mobile so far looks like a giant step backward. In particular the horrible new mail and calendar apps.

But iOS somehow isn't stale and boring? It's practically gone unchanged design wise for a decade.

Evolve and moving on doesn't have to be flushing your UX and design language down the toilet to appease Apple and Android fans.

"Infidelity against Windows Phone identity". Lol. Good lord dude. Get over it. Everything changes, especially tech stuff. Some of you guys on here act like this is a Religion. It's rather comical actually, (and sad)

Evolve within the principles of the design language /style. Flat circles are ok other than for the fact they reduce opportunity to include information (they do have the slight benefit of differentiating people and things - as if we wouldn't know otherwise). 3D cubes are not. :)

The design language style has changed since wp7. So they're still evolving within the design language style. The only difference is, they've got a new design. Just like apple did with iOS 7 and google did with lollipop.

I agree. If everything else techy can change, then why cant the windows phone identity change?

Even religions change except ofcourse the one religion that has failed to evolve, and some of its adherents are causing trouble and sorrow everywhere.
Change: Yes we can! Oops, I forgot that the Kenyan Mullah can't stand for another reelection bid.

Is this a joke...? If it is, Poe's law has struck again

Infidelity? It's a phone not a religion.

Windows (I mean real life windows) aren't always square. Windows shouldn't be always square.

Well for the sake of consistency, they should. I think they look fine, only the first iteration of it looks cheap and tacky because the animation isn't well refined. Win10 RTM cubish animations is way more polished than before (still there is some tearing graphical issues unfortunately). What I want best though is to have Windows Phone custom animations to port over in Windows 10 too. Like especially the Music app Live Tile from Windows Phone 8.1, other Live Tiles too from Cortana (really cool!), People (The circles are tacky though), old Games hub from WP8 and Photos. Windows 10 Live Tile animations looks generic in comparison to Windows Phone/Mobile.

Video from China of that Build here: http://www.microsoftinsider.es/79600/muestra-video-build-10240-windows-1...

Interesting. The video talks something along the line of an existing environment on build 166, and of course 240, which is supposedly intended for "converting" apk into appx.

Not a clue what he's saying and it shows very little but he does say Android rather a lot.

No way I'd take a chance at this one after the warnings put out to, already, us brave souls on the fast track insider. I'd recommend nobody loads this rogue and wait for official!

leak out or controlled leak out?

And just why would they intentionally leak out a faulty build to brick ppls phones?

Well why is it leaked out in the first place...

More than likely a person testing it, extracted the build and posted it on the web like an asshat. If you read the article, you'd know that this isn't the droid you are looking for. Wait, wrong article. This isn't the build you want I mean. There would be no benefit for Microsoft to intentionally leak a faulty build.
You know - common sense stuff

What exactly new in this build?

Winter Is Coming.
(I'm expecting OTG Support in next build)

Was OTG ever mentioned to be coming for WM10????

That doesn't answer their question ... USB OTG allows you to connect USB devices (storage, keyboards, mice, etc -- anything simple that doesn't require drivers) to a device that is otherwise not a USB host (eg your phone).

Sorry it wasn't to you liking dude man bro XD

Man, there are some idiots around here.... If its for 930 640 & 640XL, then why the hell would you ask if you should install it on a 1320. Jeez!!

idk, I fear for Earth sometimes. It's strange that humanity are the dominant species. I feel like it should be dolphins or something. Human range for intelligence varies too greatly

Opposable thumbs mate. Once the dolphins get that trick cracked we're all knackered.

Come on dude.. I never mention the leak build.. Don't think only u r smart in this whole world,,, ..everyone is bound to make mistake.. N dude.. U should be helping people.. N not hurt them.. Do something good in ur life,, ... For others

Its okay dude i know what you meant and hopefully it will be stable enough, I want to try it on my m8

@9sag9: Okay, so, let me get this straight .. this is what you meant, I think: Once the official version of Windows 10 Mobile Build 10240 comes out, should I install it on my Lumia 1320? That is something completely different. Right now, people think for obvious reasons that you were referring to the leaked version, not the official version. If you want to put it really short, like, if you were typing it from a Lumia device and the Windows Central app: When official, should I install it on Lumia 1320? That would be enough to get the correct message out to people. This is just an advice. I understand that it can be hard to express yourself when English is not your mother tongue. It's not my mother tongue, either, so I know the drill. PS. I hope this message reply gets to everyone in the thread: "SumairB", "dale yotter" and "9sag". I realise now I replied to "dale yotter" though. I don't know who will be notified of the message. Hmm :-)

Lol ikr I sometimes wonder just how stupid people can be.

@peng .. Okk,u win.. .. At least I was on the topic... A lot people r off the topic.. R u going to .. Poke each n every person .... Lets see how dedicated u r..

Nothing much new, looks like bug fix only, still has same bug as .166 the only thing fix is the market place can now download some 8.1 apps that's not working on wp10

I hope they release the build this week.. :(

They did say few days, which sound pretty specific, do sounds hopeful ;)

Joe b is using the 10240 too and says on twitter that it works great as daily driver. I go with gabe's alarm on this build and wwait a bit longer. Hopefully the new build will be ready today

Works great on the specific device he is using, the Xiaomi Mi4. Different phones have different hardware and configurations with firmware and what not. Microsoft obviously want to release a working build for every phone they support today on Build 10166. They got LOTS of angry comments when they first released it back in the early days of Win10 Mobile and it was like .. I think only Lumia 630 was supported or something? It was a PR disaster. EDIT: These phones were supported in the first ever release: Lumia 630, 635, 638, 730 and 830: http://blogs.windows.com/bloggingwindows/2015/02/12/announcing-the-first... Sure, if they were to release this immediately for the Lumia 640, 640 XL and 930, those owners would be happy - but the rest of the internet would get reaaally upset. So, they really shouldn't do that :)

Just wondering who's the one that leaking those build

As of rumours this build us feature locked. If this is so.i will roll back to windows 8.1 and never update to windows 10

Why? Feature locked doesn't mean forever, just until launch when they can start rapidly iterating.

When they use the term feature locked they only mean for the initial release of windows 10 mobile. You see windows 10 mobile will be no different then windows 10 for PCs they will be updated and new features add over time. It will only get better and better. And with the way surfaces have been selling as soon as we get a surface phone. I see windows 10 mobile to get a big market share bump. Just culm down I am using windows 10 on my Microsoft Lumia 640 and it blowed wp8.1 away in my opinion

MS would take their more time but not make a buggy OS for Lumias...

By the time of the final release it won't be buggy don't download a technical preview and bitch about bugs. There going to be there wait till the finale release and see there won't be any major buges

Isn't the entire point of preview to bitch about bugs to begin with Posted via the Windows Central App on my Lumia 640 or using the Android Version which is free*

No translucency in action/notification center :-(

Yes i wanted that too..same as windows 10 for pc :(

Right, that would be nice

We definitely need more features!!... Better live tiles, background on text messages, etc. This cannot be all the new features we're getting for Windows 10. We need to evolve more

it's like the desktop it will just keep get in feature


You don't need to tell me , Simple if its not available through the insiders program it doesn't exist!

Wait so the next builds are going to be restricted to just a few devices? No good. Posted via the Windows Central App for Android

Yep, just the 950 and 950XL. We're all screwed!

No, these are just the leaked ones he is talking about

Who said that? It's a blocking bug that messes up with OTA ( Over the Air ) updates. As soon as that is fixed the build will be launched to all the devices. You should probably see it end of this week or sometime next week

I like cheese, and burgers.

I like bheese and curgers :p

I like girls and curls. :)

"Rom"
Sounds some lagdroid-ish word hahaha -_-

I love WPCentral for taking so much care of us. You just saved my phone, thank you :) !!!!

Why do so many leaks come out of China?

They are the ones who test the software. (Well most of the testing comes from there)

Interactive tiles option will make windows 10 mobile the most functional operating system.

Gabe didn't really detail the bug, all he said was there's a showstopper. If he actually did detail the bug somewhere, I definitely want to read about it.

Yeah, leaked OS versiobn are normally follwed by a real relase soon after. And with the 10240 bug we should see the next build released very soon instead of this one. Can't wait. hope the next build is finally useable for my daily driver!

my lumia 730 runs update 10149 well
but there are some crashes in 10166
i restored back my 8.1
as this is my only mobile.

I hope the mobile hotspot is fixed. Mine keeps turning off when the screen locks.

I hope it fixes the store downloads error

All I want is to be able to download I miss it so much

Hey look three new builds of Windows 10 mobile have leaked! Oh, but you can't have them! What a tease lol Posted via the Windows Central App for Android

cool.. but still waiting for official build. once i tried in my L1020 with 10166, i had problem with pin so i downgraded back. now, i m with 8.1 Denim in my L1520 and L1020.

When the officially getting out
Windows Central Newsletter
Thank you for signing up to Windows Central. You will receive a verification email shortly.
There was a problem. Please refresh the page and try again.