Windows 10 Mobile build 10586.456 now rolling out to Insider Release Preview Ring [Update: PC, too!]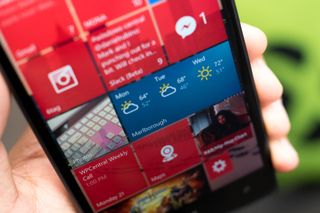 Update: The new build is pushing out to the Release Preview Ring for PC Insiders as well, Microsoft has confirmed on Twitter. Happy updating!
If you're enrolled in the Insider Release Preview Ring for Windows 10 Mobile, you should now be able to pull down a new update. Build 10586.456 is now rolling out to those on the most stable ring of Microsoft's Windows Insider program.
Currently, it's not quite clear what this latest build contains, but it likely includes a fair number of bug fixes, tweaks and performance improvements. If you do notice anything new or notable, be sure to let us know in the comments. Otherwise, you should be able to grab the update now through your phone's Settings menu.
If Microsoft provides any more information on this release, we'll update this post with details.
Get the Windows Central Newsletter
All the latest news, reviews, and guides for Windows and Xbox diehards.
Dan Thorp-Lancaster is the former Editor-in-Chief of Windows Central. He began working with Windows Central, Android Central, and iMore as a news writer in 2014 and is obsessed with tech of all sorts. You can follow Dan on Twitter @DthorpL and Instagram @heyitsdtl.
Pulling it down on my extra L830!

I've a L830 as well. Are you able to download songs through edge? Build 10586.420
And do you face that the phone sometimes black out the screen for least 1-2 second while you're using it.

I've had the screen going blank on my l830 with every single build of w10m....

Apparently the bug is no longer present in the RS builds. It's kinda funny how I used to get annoyed by that last time (and was the main annoyance on W10M), and now I've totally forgotten about the bug rofl

Hmmm been running rs build from the slow ring for the last two weeks and seems the problem still persists for me....very much so!

Haven't tried downloading songs via Edge as I'm a Groove subscriber. The screen flickering issue is most likely firmware related, so this OS update would not address that problem, unfortunately.

Ah, it's still too buggy. AT&T released a firmware update back in February 2016 which might be really important and we still didn't get it. The firmware update version numbers are 2179.0.15455.24047 which was released by AT&T in Feb for L830

I haven't been able to download any audio fie from Edge (I am on non-insider, production ring though).

Same here.
Anyways, August 2 is really important for every windows phone user. :P

Need rumors on Surface Phone.

I am pretty sure that's not included in this build -_-

You need to keep comments on topic first to earn those rumors. I expect discipline here (snaps whip).

Haha, reminded me of the whip app from The Big Bang Theory. P.S. it is available for Windows 10 too :P

Oh come on, we want those rumors and fast

Daniel, is it really worth to go for that Groupon offer for Lumia Icon ? I am in two minds with the much rumored surface phone coming out in 7-8 months from now.

L1520 is better option if youre okay with big screen, and want to wait for the Surface phone.

I would suggest get the Lumia 930, it is international version (not sure where you are based at but might be helpful for you), has more colors and looks sexy! I am not sure if you can find it refurbished for $99 or so, but even new ones would not be much expensive.

The 930 is a terrible phone. Display wasn't calibrated properly, battery life was terrible and Overheating. You will be better off with the 1520, I never had any issue with it.

second that, L1520 has been one of the best devices when its comes W10M on older phones, never had much of issues, the massive battery works very well,on release preview ring i was getting 3 days battery with normal use, and with current insider build i am getting 30+ hours, still not bad.

The 930 is an outstanding phone ..if it was slightly lighter and thinner ...it would have been perfect, aside from size, weight and camera ...i prefer it to my 950

What are talking about?? The purple/geen tint was never fixed. The amoled panel couldn't keep up with the cpu, you can see a purple trail while scrolling rapidly through a page. The battery was terrible, you would be extremely lucky to get 9hours out of it with mobile data on. It was a crappy device except for the design.

The purple/green tint was fixed centuries ago as my screen till this day still looks better/on par with some of the latest flagships. I scroll a lot through pages and looooong list of contacts ...i never see purple, its actually right next to me and Im trying to see if maybe it was something i never noticed ..but nope beautiful screen and beautiful colors. Battery was fine with Windows 8.1 but with 10 it does drain much quicker ...but Windows 10 also drains my 950, so I wouldnt pick on the 930 for that. Still love my 930 and thats while comparing it to my 950 and other devices as well ...i prefer the look of the gorilla glass on it MUCH more than my 950 ...I love my 950 but should the camera not have been so impressive, i would still be happy to use it as my primary phone.

This better fix the frequent phone reboots and the screen going blank and not responding on the Lumia 950 XL after the update to 10586.420.

That's what I am expecting to be fixed in this build...

Weird, not had that at all on my 950XL (10586.420)... I've never switched between RS1 branch builds (Fast/Slow) & TH2 branch builds (RP/Production), have you?

Release preview is same as non insisder? Or a little bit faster? Stable?

Non-insiders are Production Ring. It is one step ahead of production ring, but still lower and stable than Slow Ring.

Well, really on a different branch than Slow Ring. Slow is Redstone, Preview is TH2. I'm not altogether sure of the real purpose for slow ring at this point, since most Fast Ring builds attempt to introduce bug fixes, so slow could be buggier than fast.

Fast ring attempts to introduce bug fixes, true...but they also might introduce new bugs and could be unstable. Slow ring gets those bug fixes delivered with more stability.

Last build for Slow was last week's Fast build and it had big battery drain for older SOC

I know, my 930 wrecked its battery in 2 hours. Latest fast ring build is more stable, but i dare not give edge background usage. Cant believe MS pushed the update knowing it will make a lot of peoples phones unusable

Hope the new whatsapp releases soon :D

any information about it?

your link takes to Snapchat leak for windows phone!!!!

Downloadingggg..............

I found last build somewhat unstable on my 735 so hoping this one is better.

I believe the pattern is every two weeks updates cycle between the preview ring and production, so two weeks from now.

I assume it won't be a long changelog, downloaded it in under 3 minutes (14 Mbps internet connection)

It's 45MB, so I guess that's why it downloaded rather fast and I agree with you, I don't think it'll have a long changelog either. Maybe it's just an update to squash some bugs that are still lingering around. Hope it fixes the random reboots on my L1520! It's kinda frustrating having the phone reboot while taking a picture of a fleeting moment!

Let us know I got same issue with wife's M8 Posted via the Windows Central App for Android

Wish it had an updated Store.

Yeah it sure seems fast and slow ringers are the only ones getting store updates. I'm still stuck on the store version they pulled right after they released it... Super slow loads and still no screenshots for any apps.

NO doubt, store on Fast ring is ver improved

I have another 1520 on slow ring and that one is already much improved... think MS forgot about the ones stuck on the pulled version and not in slow/fast ring.

Hope this build wakes up Cortana on my L830! Lately I never get any more notifications for sports, news, or weather cards. #stablemyassss

Man I'm truly the lucky one with Cortana. She's always on the ball reminding me of appointments or when the Red Sox win or lose.

I still get reminders but sports scores no longer working the past few weeks. Not sure why. I've tried everything.

I did notice today the MSN Sports app told me the Red Sox lost instead of Cortana. MSN Sports also told me when the Sox game was starting. That must be a new feature with the update for the app last night.

The Sports app was notifying me of start times as early as May for the NBA playoffs; albeit inconsistently and slightly after actual game start.

Cortana used to do this for me too. Howver she stopped at 318......not sure I want to be updated to the Red Sox anymore, though-so depressing!

Yeah the lack of pitching is showing itself right now. Ugh.

Yay . Will download it tomorrow

Does this build still have the ability to enroll in MDM w/ a workplace? It seems to have been removed in the fast ring builds.

I have a lowly 550 that i'm super happy with after switching from budget android phones. This build instantly seems faster.

Same update is coming down for my SP3 as well...KB3170411

Not seeing the update yet. L830 on AT&T.

Update turns out I was no longer in the Insider Release Preview. Updating now.

So us non insider production people can expect this build being available in about a week? Fun!

na, we have to wait for 2 weeks

Hey thanks for the update.

Downloading on my Lumia 925 now.

how to move from slow ring to Release Preview Ring i am on 14372 slow ring 950 xl dual sim

What's wrong with show ring

Yes I'm wondering how to do this also

When will it be available for production / non insiders?

Got it on L928. Will battery life improve beyond marginal, stay tuned

Hopefully. I can almost guarantee it will be better after a hard reset

Update was smooth and quick. No issues so far.

22 mins for complete update on 950xl

Installed. Both Mobile and PC triggered new versions of all MSN apps (News, Money, Weather, etc.). Not sure what's new, though.

Recognized this too. Unfortunately since then no issues to the lifetiles! Can you verify that?

You mean the live tiles don't update? They do for me.

Would be nice if they fixed the phone #'s link issue in Bothe emails and calendars. Doubt this build addresses that as Fast Ring still has it. OS does not recognize numbers in emails and calendars. Really the only major gripe I have with WM10.

Very nice update.my Nokia Lumia 520 works really well

Have the same phone.How much is the size?. Any performance improvement?

Is it possible to install this latest version on my 920? That's all I got :x

Yep insider app release ring

I didn't receive update yet for my BLU win jr lte!!

It is available in india every new update is available

So we effectively have 2 of versions and 2 mobile versions. Anyone know why 2 pc versions

Windows hello feature is not available in insider preview build in Lumia 720

Your phone hasnot hardware for it man, its only available for 950-950xl

Nd it hangs lot much ...unnecessarily

Since that update, livetiles of all msn apps and wpcentral app don't work anymore! So annoying!
Anyone else having this issue?

Using a Lumia 520 has become a lot more stable in the last few releases. I'm not seeing the same lookups after coming out of the windows store. W10 is still slow on a L520, but it is working well.
Have no idea what is new/updated in 10586.456 but no problems noted.

How is the battery life in this build??

Don't know when they'll fix the call issue where sometimes you can't hear what the caller is saying until you switch to loudspeaker

Waiting for additional new features(except performance and stability improvements) till 12 July(Public release of 10586.456)

When come only 3g option.

U can chose it in settings if u want 4g or 3g

I updated and now the texting app crashes every time I try to type. No more texting for me I guess. I'm tempted to go to the slow ring just to try and fix this...

How long should this download try for a 950???? I've been stuck for a while now

Help me understand. It slipped from Fast Ring to Preview Ring? I'm on Slow Ring and I think i have an older build.

I have two 640's, one with redstone, one with threshold and a 925 with threshold. Just updated all three to the latest builds. I have always loved the feel and look of my 925, but the battery life has always been marginal at best. It always got hot when in use. I decided to give it a workout after putting 10586.456 on it Friday night. OMG! They may have hit on the build for my 925! Since the update, the battery hasn't dropped below 93% without topping off. No more heat problem. After some settling in I haven't found any other bugs. Going to go a few more days with the 925 then switch to the 640 and see if it takes to .456 the way the 925 has so far. Gonna keep my fingers crossed.

I updated my Alcatel one touch and my 650 to this build. So far I can't tell any real performance differences with this build, though it seems like I am getting a little better battery life with the Alcatel. Though watching videos' sucks the battery down pretty quick.
I will have to test for myself how many hours I can get out of this with moderate to heavy use.

This build has made my 950 not reliable. The screen has issues with brightness and the lock doesn't always work giving me a blank screen, and I cannot connect to WiFi now. Tells me no WiFi available anywhere I go with WiFi. Sad times.

What is the latest on this release ring, I did a hard boot through WDRT after failing multiple times on fast ring, the release on technical ring is 10586.494. Is that the latest?