Windows 10 Mobile build 15063.2 now available for Insiders in the Fast ring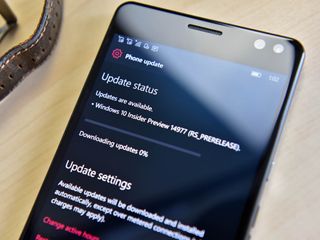 Microsoft is rolling out the first cumulative update build release for the Windows 10 Mobile Creators Update today which features one new fix that allows users to upgrade directly from the Anniversary Update to the Creators Update. The release of today's new build is further confirmation that build 15063 is indeed the final build that will be rolling out to the public in April.
Right now, build 15063.2 is only available in the Fast ring for Mobile users, as it contains a single fix for Mobile only. We assume it'll roll out to Slow, and the Release Preview ring pretty soon as this is the build that allows upgrades from the Anniversary Update. It's unknown when we'll see our first cumulative update for the Creators Update reach Insiders on desktop, but I'm willing to be it'll be soon.
Microsoft is now on path to general availability of the Windows 10 Creators Update, after several months of development and releasing pre-release builds to Insiders. Over the next couple weeks, Insiders should receive several new cumulative updates for both PC and Mobile via the Fast, Slow and Release Preview rings before the Creators Update rolls out to the public.
Get the Windows Central Newsletter
All the latest news, reviews, and guides for Windows and Xbox diehards.
Zac Bowden is a Senior Editor at Windows Central. Bringing you exclusive coverage into the world of Windows on PCs, tablets, phones, and more. Also an avid collector of rare Microsoft prototype devices! Keep in touch on Twitter: @zacbowden.
Sweet HapPap! Downloading

Anyone know what the single fix is?

It's in the first sentence of the article: allows users to upgrade directly from the Anniversary Update to the Creators Update

Doesn't seem like a fix but ok.

Really? So.. if you couldn't update from Anniversary to Creators before, but now you can... what would you call that? A new feature?

"New feature" sounds close. "Fix" seems to suggest that something was broken. It wasn't.

It wasn't broken for those already on the Creator's Update. It was broken for those wishing to upgrade FROM the Anniversary Update to the Creator's Update. It prevents having to do the "hop" to an intermediary build before receiving the final build. Since that intermediary build was full of bugs, this is something that needed to be fixed. As for those already on 15063, no hurry on downloading .2, because you're already there, though there may be some minor improvements not listed.

Can't be broken if not existing. Just strongly desired 😉

Anniversary users couldn't update to Creators update because the upgrade path was broken.

Depends on the reason why you couldn't update. Did they have to add functionality or was there a bug that needed a fix?

Yes, it's a fix. A fair assumption is that without that fix nobody on the Anniversary version would be able to install the Creators Update. If you recall, those of us who've been on the Fast Ring have run across a number of builds that, once we loaded, PREVENTED us from loading to the next one. The only solution for us was to use the tool to drop back a version and skip to the fixed version. Or, in the case of the PCs, we had to use the ISO files to install over the broken version. So, yes, it's a fix.

All according to plan. So, no "fix" indeed. (Even though it seemed broken for some.)

I'm so glad I'm not on the insider program any more.

Me too. Too much bs. Just give me the official production version when it's ready.

Insider builds are flawless right now

Most definitely not. I had 20 odd apps misbehaving or not loading up at all including Microsoft's own apps and apps which I used daily until the last weekend with the first version 15063. I then bit the bullet and completely reset the phone, installed the latest release version of the standard WM10. It's about 20% faster at least in comparison with the 15063 of last week and I have not found one single app from my collection which does not work as intended. ​The next update is when this whole thing is ready. Perhaps it's getting there. But it's not nearly flawless.

So it begins. Curious when we'll see it in Release Preview.

You are not missing much. I finally went for the fast ring - i was on RP before - and installed this latest version and it feels like nothing happend. I am sure there are some tweaks somwhere but generally the whole experience in underwhelming.

kinda pointless unless MS expects all insiders to roll back to AU to test this update.

They actually asked Insiders once for this because they wanted to test something new about the upgrade process.
Also how could you consider it pointless when majority of the users are on 14393? Not everyone is on Windows Insider. Maybe it's different for WC audience but on a global scale that's hardly anyone.

They probably only need some fast and slow insiders to test this to verify, then push it out to release preview (that's where the real/high-quantity AU->CU test will happen).

Good to see this. Since my Surface after the 15063 update started to overheat easily without anything opened, and the fan sounds like a plane taking off. Also mobile still has a lot of problems including random shutoff and reboots. Fingers crossed for some more bugs-crushing. I like how the feature is complete now but just wish it is less buggy.

Funny you mention the random shutoffs, happened twice so far on my 950. In the past I've had reboots but with this build my phone just shuts off. I end up soft rebooting, holding keys for perhaps 10 seconds. I do hope it gets 'fixed.'

My L950 xl has done these random shutoffs for quite some time. The last few build it seems it has been getting better, but this last build it got worse, at least three to four a black outs a day where the only thing to bring it back is the soft reboot. Hopefully it gets fixed.

It is not related to battery

How long have you had the phone for? Had the same problem, turns out was the battery. Had the phone since launch and got a new replacement through att in Jan 2017.

@xrs22 I've had the phone for a year and a half now, should I consider getting a battery replacement?? Why would it be the battery though? I always think this phone has bad compatibility with microSD cards and thought that might be the reason..

I'm not sure why but mine behaves much better since i put in a battery replacement. Did your phone drop a couple of times? Batteries do not like that at all. What could be the case is, that the battery is dropping voltage from time to time. In that senario, win will tell the smartphone to shut down because otherwise a battery that would run very low may get damaged. (batteries which loose all of their energy will be broken, because of that even so there is maybe 10% capacity left, most devices tell the user there is nothing left and shut down to protect the battery. But this is a guess.

Thanks for explaining. Definitely will look into a replacement battery. I dropped the phone maybe 3-4 times in total but most of them are pretty minor drops

@el_mono70 yes mine had been doing shutoffs rather than reboots as well. Cold reboot is also what I do..

I love how the replies are mostly agreeing with me but I got 4 thumbs down somehow... I'm simply voicing my concerns with this being the final RTM build for mobile. Just got the new update installed, fingers crossed. Good luck to you guys too!

my Surface Pro 3 is overheating like hell too, would like to know what is causing it. next to overheating it also drains the battery, looking forward to fixes....

I hope so too...that's why I was a bit disappointed to hear this is RTM.

My HP X3 randomly reboots on 15063

Once a day on my 1520. Not bad at all.

Eh, not bad?!? It shouldnt do it once a day.

Same here. I have a 640XL and 2 640 in my family. Non of them has any random rebooting issues with 15063.

Not a single problem with my Lumia 1520 too. The best build I had ever used. 💪👍👌

There isn't just a single fix if you check the full changelog

Wish they would've made that clear in this article

I was hoping this would possibly fix the biggest issue introduced with 15063. 15063 broke both continuum and the connect app.

Doing a full reset fixed it for me. It was annoying to have to set up everything again but my 950XL works MUCH better now, including continuum and the connect app.

I thought about it, but I'm also a bit scared to do it. The last time i had a similar issue was back in October. I eventually was forced to wipe the slate clean. I ended up losing my game saves for Minecraft and haven't been able to recover them yet thanks to the lousy way backups are done on winmo, but that's another story. The last time there was a continuum/connect issue it was fixed in the following update, so i guess i just have to be patient.

A Hard Reset or a WDRT Reset?

My only option is a hard reset. However I've been trying to do a backup for hours and it stalls about half way and just hangs.

Nothing changed on my 640 after I tried a hard reset. WDRT keeps crashing every few megabytes after downloading about 250MB.
You may want to try deactivating some of the the apps from within backup that don't need their data backed up or may not be compatible with the backup facility.

Worked fine here after the last update. It was a known issue in a few of the builds but it is fixed now.

It was fixed and working for me until 15063. The weird thing is it kind of works in wired mode, but i still don't get the onscreen trackpad

Hope it fixes Fitbit notification problems, creators update isn't done till that works imho

I agree. Need Fitbit notifications....

The fix is there. Fitbit needs to implement it

The one thing I do notice though, is the inability to set outlook or calendar as notifications on lockscreen.

Soft reset and it should work.

Outlook calendar notifications startedf working after the last update. I'm hoping this update will restore mail notifications.

Surprised nobody mentioned the Bluetooth issues. My goodness

Ditto, Bluetooth has been basically broken since the creators preview started.

Bluetooth is buggy and useless in Aniversary update too. No worries. I think, when nokia comes, i'll buy. I love windows but i am tired of everytime when i need the to do something (bluetooth, speedometer, maps) their has to be a bug i need to workaround.... Instead of releasing 1000. Updates they should perfectionate the core system.. The whole system is actually unreliable. Gallery has problems, camera has bugs, edge has bugs, bluetooth, flight mode. Everything has a bug. It is like an unfinished Hause, and everybody is living in and. Instead of repearing and finishing it, they are building more floors, space and rooms. The bigger it gets, the more work has to be done. And they loose control, cause it is too big and never fine nicely finished. Water leaks, their is gas only on the second floor. The walls are not plastered and it rains inside, cause the roof is never finished.

You are right thats why there is no such RTM build for mobile

A phone reset fixed the Bluetooth issues I was having, along with other issues that were fixed.

When you reset, you retire also?

I didn't do a restore. I've had the issues "restore" themselves before.

Yep, fixed it for me too... But DON'T restore from backup!!

What device? No issues here.

Bluetooth and Connect problems cant scan any bluetooth or smart tv it just takes me back to previews screen

Just tested on three different Bluetooth devices and a smart tv. All working fine. What phone do you have? Did you try a soft reset?

Had that with my 950xl last build, where i couldn't pair any devices. So i Just hard reset my device and restored from backup and all is perfectly fine now. Someone said they find performing a hard reset every few FR builds and whilst i dismissed that comment, i actually believe they're right. It irons out alot of stability issues

Works fine on my 950. Stutters a little when using Facebook or connecting to a Wi-Fi notspot. Other than that all fine for my headphones, speakers and Fitbit.

So far so good for ny Facebook. I was very slow before.

does it crashes even now??

Resetting is much needed to make phone work smooth? I have issue with keyboard and Bluetooth, keyboard works very slow.

When on alpha or beta builds (fast ring/slowring) that is quite common for any software. Keep in mind that you are testing bugs and settings which never will be experienced by production users and which may be introduced by fixing another bug. The update path is a whole different one for those builds with many more iterations and test settings inbetween.

Nowadays fast ring bugs comes to production build too so practically there is very little difference between fast and production build. For now there is no such RTM build for windows mobile.

I expected a much faster update with UUP. I was disappointed.

Does Cortana voice search work for anyone on 15063?

Hey Cortana, Voice Search and Speach to Text working fine here.

Nope. Even have no go home and go to work notifications

No noticeable issues here on my 950XL Dual Sim

I don't have notification sound for email

You may have to do a soft resent then reassign a sound.

you need to set this inside the application and allow the banners (then later disable the banners on the notifications settings in the phone) Actually I realize this a couple of days ago... and I thought at first this was an issue of the phone... hahahaha now i know its a settings thing

It didn't sound like it would work to me - diable the banner to enable notifications?

I have a BLU WIN HD LTE. I'm on 10.0.14393.593 may I get creator update? When I had a lumia , I was insider first ring. Now I get not prevew built. I selected first ring but shows ur device is upto date. You haven't any update.

setting/update/windows insider program- fast ring

setting/update/windows insider program- fast ring

The BLU Win HD LTE has been excluded from Insider previews since the lead-up to the Anniversary Update. Even cumulative patches to the Anniversary Update are failing to get pushed to the BLU Win HD LTE; you have to revert back to the stock OS using the WDRT and re-apply the full WP8.1->W10M upgrade path every month if you want to stay current on AU. At this point, it wouldn't surprise me if the BLU Win HD LTE ends up officially stuck on AU.

Bluetooth, Cortana, screen becoming blank,

Edge is unusable for me it reloads continuously. The battery drained to 38% after 8 hours of not touching the phone. The camera app won't update.

Camera app won't Update too

All I see complains no work 🏢 done

That's what some people like to do. Complain...
Im not having any issue here for the last build or this one on my 950XL Dual Sim.

Workers who don't know how to use their tools properly always say well it was not me but my tools!

Open WhatsApp and touch Cortana record button you will see a bug 🐛

:))). Turn on the phone, you will see many more.

The only bugs I see are the ones that insist on making negative comments here!

Good to see. Thought major update, when it said 5.23gb size. Didn't see article until after update due to all background tasks being turned off until battery drain is fixed or rogue app updated.

One video I watched the guy said now ur apps will be able to stay in background such that wen u go back to previous apps opened before there will be no sign of resuming, but Am surprised even after upgrading to the latest build i still experience loading and resuming issues quite alot, pls let us know if urs is the same.

Yeah this build made it worse.
Ram management was better before in previous build.

Yeah this build made it worse.
Ram management was before in previous build.

Facebook uses osmeta so it won't run in the backgroud and Whatsapp is 8.1 so no chance. Also depends how much RAM your phone has.

I just tried them now after this update. They stay in ram. No loading or resuming. However, I only opened 6 apps. Maybe if more it will affect it, or the phone will throttle quickly.
I have 950 XL

Couple builds ago I lost my text message history. This build fixed that. Full history restored.

Hmm wierd, with mine I lost about a months worth of history a couple of builds ago, with this new one my history is not only gone for both texts and calls but new calls are not being logged in history either. :(

Anyone else experiencing the incorrect time on glance screen issue? Noticed it for the first time this morning - displayed 5:34 (am) it was actually 6:30 (am)... this could cause some real issues if RTM.

Noticed this issue a couple of times on two latest builds, not including this 15063.2. Usually glance screen clock just stops at some point and stays there until I wake the screen. Lumia 950.

It's needs attention in the feedback hub, this is meant to be RTM (or very close to it).

Yes, I have noticed the same bug as you

Yep last night again. Thought it was cured after a hard reset last week but I guess not

I noticed it last night for the first time. It freaked me out because I had an important call scheduled and thought I might have missed it. It went a way when I unlocked the screen.

What country setting do you have set? Does that country use summer/winter time? (germany and many others in the eu do, etc.)

Guys did they change the way you soft reset and hard reset your phone ? My phone was lagging a bit so I pressed the volume down and power button for 10 seconds. My phone restarted but to my surprise instead of a reboot it factory reset my phone wth?

Really I would feedback that a.s.a.p.

This should only happen if pressed much longer than ten seconds, shouldn't it?

(double post. Unable to delete comments on WC app 👎)

It shouldn't. As far as I know you only reset after a certain button combination.

It didn't even show an exclamation mark. I remember with Windows 10 before the anniversary update I would soft reset my phone with the same actions but they completely changed it now. I have put my feedback on the hub. Let's see if others have issues.

If u press something after the exclamation mark then your phone will go for reset

Store have problems with ms apps, cant update apps...

Black screen issue didn't got fixed .

Try turning off automatic brightness and don't set lock screen wallpaper to Bing. This will not fix the issue but at least happens less frequent. Unfortunatelly w10m has nummerous bugs that are there for months.

Ha.. Reading these comments after not participating is hilarious... Sad actually..

One additional fix so why does it take as long (almost an hour) to install as it would a large update?

Apparently there are more fixes. They're mentioned in the feedback hub. One poster said this, I tried checking but there's nothing.

Could anyone update here if the Connect and Continuum pages are fixed? They don't open on my 950XL

Hard reset will fix it, I could not add new Bluetooth devices, continuum and connect was crashing. Hard reset fixed it.

Will try it, thanks! Although, the connect page problem seems to be fixed on my L830 after this update

Its simple.its called fix coz ur an insider.got it?

Did the update,using the tool. It just re installed the same version of the OS 14393.It told me on the update assistant it was upgrading it to 15063.

You are talking about the PC I think. Yes that happened to a lot of people. The tool wasn't working properly.

Yes, the PC version. It's currently installing last weeks monthly updates again now. But I'm missing my programme list blanked out. Might have to restore from backup, if that doesn't come back.

Am I the only one who has seen contacts disappear from the phone? Or not receiving any emails sent on my hotmail account? The couple of previous updates have been pretty crappy. Missing contacts, in some cases the person's name is there but the phone number is missing and the outlook app is not syncing properly. So I am not receiving any mails in my phone's hotmail inbox. Have a 950 by the way

Remember they are migrating a lot of Hotmail accounts over to Outlook (exchange servers)

And I'm still stuck on 15051 with my 650 :/ And my PC is on 15063, but now Edge can't play anything from HBO GO :/ Wish I stayed on relese preview...

Get of the insider program all together. My L650 works great, no problems/bugs at all.

Very nice build. It's faster and clean. Just 3 important fix needed. 1) There are some missing icons and titles like Gesture App @ Notifications and actions setting page (send notifications from these senders part)
2) Send notifications from these senders loads very slow.
3) Store app starts with duplicate windows store logo. First black and white logo appears shortly after your theme color windows store logo appears. Probably a scale problem.

Would be cool if you could report the same on the Feedback app. Thanks for the info!

Hey guys. Did anyone face the problem with WhatsApp, Adobe Photoshop Xpress and some other apps too. They stuck in loading phase every time I open these apps, and finally the display goes back to the home screen. What should I do? I've reset my phone but still, the problem is there. -Lumia 950 XL dual sim, just bought a month ago.

In fact WhatsApp and other apps are loading faster than previous builds.

Really? How unlucky am I to face this problem alone. Maybe I should do hard reset one more time. But one thing I noticed is that iris scanner works better and faster now.

Yes, mostly a hard reset will solve all the persisting issues.

Alright bro. I'll try one more time to reset

Installed on my 950 and on a backup 930. Smooth as butter - all working great.

How many data will take from 15063.0 to 15063.2

No notification on missed call.. It has been missing since a last few builds, any idea on how to fix it? Hard reset?

This build has fixed syncing/retrieval of old messages for me. Great build so far!

Hopefully another update release this week. Although some people mentioned positive improvements from this build, I haven't seen anything. All known bugs regarding edge and keyboard are there and
Phone heating alot while using wifi and Edge plus battery draining up to 60% is still there.

I am on 15051 for mobile, fast ring. Anyone has an idea, why dont get 15063.2? Thanks in advance.

I recently buy a 950, and it still has official anniversary update. I would like to upgrade it to fast ring update, but I'm afraid losing 4G only option on my network setting, as I dont have the option for my fast ring 830. Anyone with fast ring 950, please tell me do you still have 4G only option. I need the option because my data plan from my gsm provider give my some quota on 4G. Thanks at advance.

This build have polished start menu tiles it is not cluttering like it used to on previous builds.
Blank screen bug is also solved for me on L540

Very worst build, completely not satisfied, photos app reload photos again and again and again

action center not working

Hey guys! Im stuck on 15051 on my L640XL....no updates available... Is it normal?

Wow battery not charging.
Windows Phone is now a landline.