Windows 10 Mobile Enterprise version 1511 now available for MSDN subscribers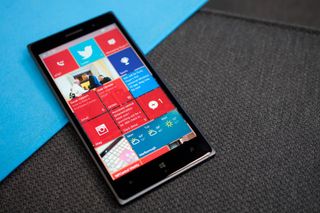 Microsoft has now released Windows 10 Mobile Enterprise version 1511 for subscribers to its MSDN service. This is the more secure version of the OS for business and enterprise customers.
Microsoft is making this version of the OS available for its Volume Licensing customers only; it is not supposed to be released to the general public. The company described what is contained in Windows 10 Mobile Enterprise as part of its SKU lineup for the OS back in May:
It should be clear that this release is not for consumer phones and downloading any files it likely not a good idea if you are not the target audience. It does, however, signal that Windows 10 Mobile is nearing its wider release around the planet.
Thanks to "cannon#WP" for the tip!
Source: MSDN (opens in new tab)
Congrats, you made it! OT: Why am I surprised this exists?

At least she felt like she wasn't.

Thats not what she said...

It is interesting to note that the ISO is named "en_windows_10_mobile_enterprise_version_1511_x86_x64_cd_7230658.iso". Not an ARM release. Very interesting, indeed. It's also worth noting that this is NOT the full ISO, at the moment. The MSDN Subscriber download site lists this file as being 0.611MB. I'm going to guess that the file wasn't correctly copied to the file transfer servers for MSDN.

I'm wondering if it's just an installer/flasher in the same vein as the Windows Recovery Tool.

The ISO only has an XML file that contains no useful information at all, actually. :)

probably config info for MDM.... and then whatever else is needed is downloaded/upgraded in the background?

Maybe? There really isn't a lot to this file. Unfortunately, that file is not meant for general distribution so I cannot share it out for you to take a closer look at, myself.

It is a remarkably boring file isn't it. I wish the details showed more.

Surface Phone with Intel x86 confirmed

"There will also be versions of Windows 10 Enterprise and Windows 10 Mobile Enterprise for industry devices like ATMs, retail point of sale, handheld terminals and industrial robotics and Windows 10 IoT Core for small footprint, low cost devices like gateways." More likely for ATMs etc running x64 processors.

Okay, I was wondering if it was my subscription not having access to the full version. I see exactly what you're seeing.

Yep. In more common language: Windows 10 Mobile Enterprise, Version 1511 (x86, x64) - CD (English) Having a company MSDN subscription, I will keep an eye on it.

I hope the official release will be as early as tomorrow.

Why not today? Are you busy today?

I'm giving them a chance ;)

Hold on there buddy.. It's Microsoft we're talking about..

Don't make me feel hopeless

Dec 4 is my Windows Phone-iversary! Can't wait until I can get the new Lumia... =D

When do we get a new build. And when wil they activate led notification.. Ms is to slow with new builds en firmware.

How fast can you churn out new builds of your Mobile OS?

This has absolutely nothing to do with the article in question. I suggest going to Windows Central's forums or Twitter for such complaints. Otherwise, please feel free to comment on the article itself.

Indirect is has alot to do with this article. I suggest u shut up or reply normal on my comment.thank you come again.

Obvious troll is pathetic. Have a nice day.


I just hope for a way to mute cortana when she goes off with a text coming in...Used to be able to hit the power button in 8.1, in 10, NO way to mute her.

Soon we will see this on XDA ported to Android phones :)

OoOooh..I wonder if they could put it on a ZenFone Zoom.

Can I put it on my Surface RT? :)

Wait...wait are you saying we've all been...Beta Testers? Dun dun dunnnnnnn

Anybody plz suggest me that window phone 10 support otg cable

It does, why? It even has a cable in the box.

If it's not for consumer phones then how do these get loaded on phones and which phones are targeted? Just the Lumia 950/XL? Or older ones like 1520/930/Icon?

None of the above. ISO that was released today is for x86/x64 CPUs which are totally different from the ARM CPUs used in all Lumia devices.

New surface phone, if and when available to be solely for use by Enterprise passengers and not for those in the cattle pen, (using Airline terminology).

you must create a provisioning package using WICD in ADK. Deploy the package and reboot. After it rebooted it will became Enterprise.

The kit is OK and complete, it contains only an XML file with some license keys. As Nur Imam Febrianto ​said "you must create a provisioning package using WICD in ADK. Deploy the package and reboot. After it rebooted it will became Enterprise." So the x86 or x64 platform is for where you run the ADK, not the target platform, and this will transform any Windows 10 Phone to Enterprise Edition; basically this means that your network admin can force you to get the Windows updates from the Enterprise WSUS server instead of Microsoft (so the admin can controll which and when updates get installed) and that he can install on your phone company apps without publishing them in the Windows Store.
Search Bing for "Windows 10 ADK" and you will find details on MSDN and Technet on how to use ADK for Windows 10 Mobile. I agree that the Microsoft description was OK - this has nothing to do with WP consumers.

im just hoping my 930 will get linked email and gestures back and my desktop gets a option in the background for skype to stay on so i dont need to keep it in the task bar then im a very happy chappy. Now all i have to do is find a reliable cloud and music offline player option that isnt onedrive :))

Where can I find a list of features differences between the consumer vs enterprise versions?
Windows Central Newsletter
Get the best of Windows Central in in your inbox, every day!
Thank you for signing up to Windows Central. You will receive a verification email shortly.
There was a problem. Please refresh the page and try again.