Windows 10 Mobile now installed on almost 9 percent of all Windows Phones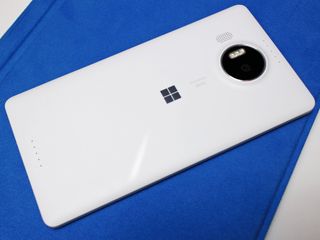 (Image credit: Daniel Rubino / Windows Central)
Advertising service AdDuplex has published the company's report for Windows Phone for the month of December, breaking down Redmond's mobile platform. Using a selection of apps, the company has been able to provide some data as to which handsets are more popular and who is rocking the latest OS release.
Interestingly, Windows 10 Mobile is continuing to climb in the table, thanks in large part due to the initial release of hardware from Microsoft, notably the Lumia 550, Lumia 950 and Lumia 950 XL. The operating system is currently sat on 8.8% of installs, compared to just 5.7% back in October.
Give it another month ad we should hopefully see Windows 10 Mobile surpassing Windows Phone 8. Aside from the OS figures, the AdDuplex report also showed how the Lumia 950 was more popular in certain markets, including the U.S. where it was noted as being more than twice as popular.
In the U.S., the Lumia 950 is twice as popular as the Lumia 950 XL
In France, the Lumia 950 is more popular than the Lumia 950 XL
In the UK, the Lumia 950 XL is more popular than the Lumia 950
In Australia, the Lumia 950 XL is more than twice as popular as the Lumia 950
The Lumia 950 appears in India, but 48 other Windows Phones are currently more popular than it
As well as numbers, we were also greeted by various unannounced handsets that appeared in the report. These included the RM-115 handsets from Microsoft with 5-inch 720p displays, a possible LG tablet (LG V496), and even an Acer S58xW WxGEN1 with two resolutions on a 5-inch screen - potential Continuuum supported hardware? Finally, there's also the mention of a 5.4-inch HP Falcon.
Windows 10 Mobile is also reportedly being tested on the likes of the HTC One M8, HTC Windows Phone 8X, LG Lancet, Samsung ATIV S, Samsung ATIV SE, Huawei Ascend W1, Huawei Ascend W2, and more. It's worth noting that this doesn't mean 100% all these devices will be updated.
About AdDuplex
The numbers from AdDuplex are collected through their in-app advertising that is prevalent in over 5,000 apps in the Windows Phone Store. That data serve as an important metric within the Windows Phone ecosystem. The full AdDuplex report for October will be posted tomorrow, December 22 on blog.adduplex.com.
Windows Central Newsletter
Get the best of Windows Central in in your inbox, every day!
Rich Edmonds was formerly a Senior Editor of PC hardware at Windows Central, covering everything related to PC components and NAS. He's been involved in technology for more than a decade and knows a thing or two about the magic inside a PC chassis. You can follow him on Twitter at @RichEdmonds.
And I still haven't installed it on my Lumia 640.

If you install it, the percentage will go up to %10 since only about 100 Windows Phone users left out there.

4 millions devices with W10M :)

Yeah! I installed it on my 630 yesterday. I see the increase in percentage ;P

U mean in 630? Is it working great ? Not crashing a lot ? Because iam too using 630 bt nt win10

Hey. I've been using w10 on my 630 for 3 weeks now. Very smooth and stable. No problems at all. 512mb ram creates a slight problem while running multiple apps but it's very much stable. Upgraded from 8.1 without hard reset. Go for it :)

The experience is pretty solid at present. Small UI bugs here and there. Did a direct upgrade without doing any reset. I presently don't feel that it needs a reset though! Will give a detailed report in two days!;-)

They are making it work with phones with less than 1gb memory ram (512mb to be exact). it's still recommended for regular resets though. :) ​ ​ ​ ​ ​

I had to eventually reset as the Phone memory was running low and was refusing to update!
The system was about 3.96GB and Apps around 2.3GB though actually it would have only been around 1GB.

And you now know all the 100 users..bravo..

I have it installed on my 640, and it works great!

Can be used as a daily driver?

I using on my 520 & it works great, all the previous apps from 8.1 runs and opens fast....You should definitely go for it :)

Can you please summarize your experience here or in direct message?I tried to install it on 625 but had :( smiley and had to reset.But I also have 520.How would you compare it to 8.1?

I had it running on my 625, but had to reset after two weeks because it froze and went in a reset loop. It's definitely a work in progress and feels nice but not as close to windows phone 8.1 when it comes to stability and smoothness. It has too much loading screens even when opening the dialer. It should be ready by early next year though. I'm keeping my fingers crossed :-)

I also reversed to 8.1 in my 625 due to long boot screens , the (until then) incompatibility with here drive, and a not so smooth experience. The boot loop problem might be due to some sd-card related problem.

some cases 10 is faster than 8.1 only just. But there were still apps that would open faster on 8.1. Hard to say as well because 10 isn't optimized yet for current phones as its still in preview mode and not official yet they will have to test the official update on each phone and optimize it then we'll have a more accurate guess. ​ ​ ​

Is it the latest insider build

No problems as far as stability, speed and battery life are concerned on my 640.

It can. Works really great on 735!

For me. No problem as daily driver. -Lumia 640XL-

Yeah,my 1520 is great too, oh wait, it is not a hunk of **** like the 640 and below...

Of course, we all know that bragging is a cover for other inadequacies...... I run a 'lowly' 1320 and .36 works great on it. Not bad for a phone much lower than a 1520.

Absolutely, no single crash for me so far on the 640.

It works great except for internet sharing which doesn't work for me on my 640 which is irritating because if it did I would run Windows 10 Posted via the Windows Central App for Android

Installed on my lumia 820 and its working fine

I have some performance issues. The apps open and close with a lot of lag sometimes.

I got in on my Lumia 1020

Will I've to install all the apps again after installing win 10?

All apps will be automatically installed

I had a Lumia 640 and that phone is definitely better on windows 10 mobile. Using w10 mobile on my 930, daily driver, its awesome, no going back to windows phone 8.1

Wait cuz it worth waiting

You'll be missing more than you're gaining on Winmo10. Still buggy as f#%&. Missing apps, camera app sucks if you're on a 1020, navigation is a joke, phone has frozen, locked up, Me tile is gone, Facebook app is nearly unusable, saving a picture will freaking drive you crazy in having to wade through folder decisions now, everything takes more steps, pictures hub is amazing bad, some apps don't open, edge works some of the time and opens an infinite amount of sessions in the background, circles are now in squares, tagging music through Cortana is completely unintuitive, and just trying to get to your games through the Xbox game hub take forever.... The list of genuine weirdness and things not working or just broken goes on and on..... Microsoft needs to figure this crap out fast otherwise I'm heading to Android and I'll be back once they get their act together.

I'm feeling the same way about the experience I'm having on my 1020. I may set some time aside this evening and go back to 8.1. This is not a good experience. I liked the simplicity of my phone, even with the multiple copies of my pictures. Now I can't find anything and feel I'm jumping through endless hoops.

It went up because Lumia 550, 950 and 950 XL was released. Not because more people signed up as insiders. Fact.

I am also installing windows 10 on my Lumia 520.. Works great. You should go for it.

Honestly, I feel so tempted to join the insider program... But its nearly here. I get to take advantage of all the fruits of the insider's labor.

MS is targetting everyone to be on insider, so That They don't have to release the official build :P

Ha nice they are taking their own time

They are turning newbies to pros

I think windows 10 is good bt isn't smooth like windows 8.x

While the developer interest in Windows store is falling: http://www.appcelerator.com/blog/2015/12/2015-mobile-trends-report/

Not in your link, but that same report on wmpu also shows that that interest in developing apps has fallen on all platforms, except iOS.. We are probably at the point where it is hard to get noticed as a dev. That doesnt mean universal apps wont work.

http://appcelerator.uberflip.com/i/606792-2015-mobile-trends-report

http://wmpoweruser.com/wp-content/uploads/2015/12/developer-interest-q4-...

No, just links to the source report, and btw, very interesting report.

Androids drop (73% to 70%) is still in the rounding error range while Windows ecosystem support dropped from almost 50% to 23% in just two years. And as Nadella said himself: Universal apps currently don't work to bring developers to Windows 10 Mobile. And what's even worse: According to Kantar World Panel Windows Phone / Windows 10 Mobile lost market share again in November (already heavily lost in September and October). In Italy Microsoft is down from 14% to less than 8%, in Germany from 12% to 6% – just within three months time! And these are just the countries where WP was very successfull in the past. But not surprising when you consider that 70% of Windows Phone users wanted to change to another ecosystem.

Nadella doesn't care about all this as he uses iPhone Pro and shows it off to others at Microsoft events.

Maybe because it was never WP that was popular but Nokia devices. With Nokia gone from WP, users simply looked for other brands and platforms. Posted via the Windows Central App for Android

my lumia 640xl look great with win10

I would love it, but no HTC 8X support.

8s much worse yet wind can sell them as refirbs

8s was the shittiest phone with its paltry 4GB storage. Glad I gave that to my sister and went with the 925

How is the latest build working on a low end device like 520,620,720.? I had downloaded 2 months b4 and the build was **** horrible. Random is booting, lag everytime loading resuming again.

On the 640 its nice and fluid, but I've heard there's lot of issues running it on dual core phones which I imagine the devices you listed only have dual core.

Running on 520 quite fine. Only had one reboot yesterday, because I was downloading some apps playing a game and doing other stuff. Battery life is also quite hood I got back from school (where I mostly play games) and still got 60% But make sure to do a hard reset after upgrade, it definetaly helps

Brother don't think of it, it is not working even on high end device 1520.... Rest unto u

Have you do hard reset before and after the upgrade?

2 months ago? Which ring? The Fast ring had 10549 or 10572, depending on how precise "2 months" is here and the Slow ring had the very old 10166 build back then. You might want to give it another try as we're already 3/4 builds ahead on the Fast ring since then and 8 builds ahead on the Slow ring. On my Lumia 520, it's running just fine.

@Rich *table, second para. :¬)

Heh, fixed. :-P Why couldn't they have called tablets something else? :-( #SadRich

A tablet with w10m. Sounds interesting. Wonder if they will make it possible to get on current devices.

What makes this article sadder is the writer believes this is good share worthy-newsworthy! Pitiful!

I thought it was worth sharing. :-( Oh I'm so sad now... I'll go re-evaluate my life. Thank you, last2dollarz, for enlightening me.

What was I thinking? Apologies all around. 9% is wonderful news to share. Keep up with the good work by informing the underdog! How foolish of me!

As an underdog, you have been informed. Now go get a life....

Don't listen to them, you all are our heroes, in good and bad days, and we love you all the same. :)

News is news. Whether you want to hear it or not. We're not here just for the happy fun time stuff.

Probably a much higher share than Android users running Marshmallow. Posted via the Windows Central App for Android

How do I install win 10 mobile on my Lumia 830?

Download the Windows Insider app. Open the app, tap Fast Ring and let it restart. Wait for the update to come or do it manually in Settings > Phone Update.

Don't install this if u want hassle free operation,and don't have time to continuously hard reset ur phone

Hard resets aren't really required anymore

A user who don't have any idea about insider build is giving advice..#irony....yu can't even dream how great these builds work on my Lumia..better than official 8.1

Agree - no way I would return to 8.1 now!

Running latest build on HTC M8 (daily driver) and 640 (purchased originally as Insider phone) silky smooth and without issues. Battery life OK on M8 but not as insanely long as with 8.1

Buggy beach. Haha. Too bug..lagging..still window phone 8.1 until window 10 mobile 1 year after release

He means Beach Buggy - been playing it in my SP3, great game :)

Jeez, its always Glass-Half-Empty & Sky is Falling with you commenters ... This $&#! Is getting ridiculous.
_______
Anyway, its good to see W10m is being tested on variety of Legacy devices. & the possible LG W10m tablet is very interesting news .... I'm guessing around 7" display.

Shouldn't say sky it is copyrighted after all

Anyone could test if Royal revolt 2 works on w10? I had to roll back a year ago because of that. It's the only reason why I wouldn't try

It should run fine, I have Windows 10 (PC) and it can run RR2 fine. They have OneCore as their main kernel on Windows 10 devices, so it should be fine. Be sure to give Flare Games feedback, though, regarding to this issue.

Still it is not stable and I don't believe this table cuz it is not officially released.

Its most definitely stable

Alarms work? Contacts? Calls? All of that was broken when I tried it

All of these work perfectly for me. Lumia 640, build 10586.36.

Would u try for me if royal revolt 2 loads ok? Early builds made the game crash at start. I would appreciate it :)

Well it does work lol. They fixed lots of bugs. I like it a lot now.

Everything works fine and idle battery life on my samsung ativ se is awesome, only 1% an hour. It's a new phone and i installed W10 right away, so no comparison with 8.1 available . .

Would be nice to know how many million ppl have windows phone so i can actually see how big of a deal those 9% are

Maybe early results for mi4 lte?

Still waiting for win 10m on 640 lte :(

Give Insider Preview a shot bro... Build 10586.36 is incredibly stable, fast and almost bug free on my AT&T L640 LTE.

Bro,may be for L640.... But for 1520&1320win10 is a curse.... Don't download

Rubbish comment. Plenty have no real issues with Insider and say it is stable enough for their daily driver. There are a few have issues and revert to 8.1 - I have the latest Insider build on my 930 and will not be going back to 8.1, ever!

Samsung Ativ S finally w10m coming soon

Lol coming soon. its one of few phones that have the specs that can run mw10 with few issues for the big cdn 3 providers & possibly one that will use their sec. SIM payment app their developing if no new mw10 device shows up

For me the real news is that there are more phones stuck with 8.0 (those should be perfectly eligible for at least 8.1) than devices running W10 Mobile.

Lol was lucky to receive an update to 8.1.1 official on my ativ s(aws lte)

When are they going to officially released it instead of trying to talk us into installing the preview?

Maybe I should wait till the official win 10 update? How is the insider version
?

Stop spamming telling people to wait. Its been perfectly fine on my 1520, 640 and now my 950

No mention of Xiaomi? Specifically Mi4 LTE version, running W10M. I was wondering:
1. Does it support Glance Screen?
2. Fast charging?
3. Mi Band compatible?

Glance is a ms mobile feature
Yes it should support qc2.0(the moto turbo charger being the top spec. Which is on backorder on wc shop)
This is the closest that can be done right now https://www.windowscentral.com/e?link=https2F%2Fclick.linksynergy.co...

You do know that the amount of ROM users on Android isn't THAT great right? And that the amount of Android users willing to replace their OS with Windows Phone 10 is even smaller, right? Posted via the Windows Central App for Android

Yes! W1 my old w1 is stuck on a terrible 8.1 with memory card and battery bugs.

I put a sim in my 1020, now theres 101 users..

Lumia 1520 &1320 don't download win10m... It has a serious bug that forces the screen to flicker and become unresponsive, sometimes it happens when you are not using ur phone and this sends your device into deep discharge.... Had been to win10m from long. Just yesterday reverted myself back to win8.1.

Never had any major issues with it on my 1520. On the 950 it works without any flaws as far as I am concerned.

It worked just fine on my 1520. You likely had hardware defects

Are you confusing flash with your screen no 1520 has ever had that reported!

Yes finally I'm part of the 9%!!!! :p

You should strive to be a 1%er! :D

I saw the 950 at AT&T yesterday and I must say I am not impressed at all with the design. My 1520 looks way better than the 950. LG, Samsung and even blackberry Priv designs are so much better .

I don't think you are on point with this comment.

I think the percentage went up because this number includes the lumia 950 and 950xl. It means that a lot of people bought these phones such that it made a dent in the overall number of windows phones.

Hi friends can I install windows 10 build on my Lumia 535 DS
It will run smooth or not

It should. Runs OK on my Lumia 520. Just check about the reset though.

I haven't install it on my Lumia 521 because it's not available yet.

If they'd actually released a commercial for the 950 when they released it that number might be higher. Maybe I missed it (I don't watch THAT much TV) but I've never seen one.

It's a phone for the fans so they may not be advertising it. Unlike W10 and the Surface which have been advertised a lot.

I have installed the insider build 10.0.10586.36 in Lumia 730. Doing great.

Battery back up, internet, all apps are working great. Only the led notification is still not active.

I installed it on My L 535 DS. I installed first time on my L 535 with the version 10586.36 and I surprised. Previously MX Player wasn't starting on my phone , but after this update I'm able to open MX Player. But also storage sense is loading more quickly.

No insider love for the BLU Win Jr LTE. Guess will have to wait for RTM.

Good luck installing WM ten that takes up three gigs of memory on a device that has four and alot of apps don't support downloading to the SD card.This phone is dead in the water like alot of WP will be when WM10 hits.This will be 7.5 all over again.

Huh huh, my comments being deleted again

#Lumia 830 user
-started being an insider since last week..from 10586.29..hard resetted..nw in .36..haven't hard resetted yet..and too lazy to do so.. For all those eager 830 owners or other sd400,1 Gb folks..here are my issues.
-battery drainage has very much increased..i have to charge the fon twice nw after some pretty decent usage..battery saver shows around 15-17hrs remaining..atmost
-i had a heating prob in .29..nw it's gone
-.Sure it has some bugs here and there..but nothing serious.. believe me I faced more bugs in 8.1..
-There are crashes once in a while..since it's a beta..u hav to expect that..i prefer crashin mor than the annoying loading and resuming screens i had in 8.1
-all the core apps..news..mail..calender..weather etc. Has improved..in functionality and looks
-no matter whatever people say..my fon is faster in win10 than it was in 8.1 and I have no plans to downgrade unles i brick my device
-i hail from India..and Cortana doesn't work in win10 unles v change the region to uk or us..and that too..with bad speech recognition speed and accuracy
-store app is the most buggy core app..and it crashes the most
-living images finally work in gallery..yay!!!!
-Lumia camera is no more..but windows camera Luks and feels very much similar to it..i've heard that it gives lesser quality images than Lumia cam..myt b true..
-ui glitches are there..but it's really not much of a deal..wudnt notice it during normal usage
-lock screen shows a slight delay sumtyms
-action centre buttons are all pretty useful and 'practical'
-file explorer app is a huge improvement from files app
-films and tv(swipe seek gesture and next buttons is a mis),groove music(really functional and aesthetic) are 100 times better than that dumb Xbox music and videos app
-in short..win10m although buggy is stil optimised enough for being a daily driver..with lesser battery life than 8.1..
-doing an initial hard reset is always wise -win10 is a go for all confused and eager 8.1 users..but expect battery drain and slights bugs..

after updates plex no longer recognises my paid version so i dont have use of plex. This hapened 3-5 months ago with tubecast and took a month or 2 too sort. Personally if your not a insider i dont think its near ready yet, not if these same problems are peering over.

I installed 4 days ago on my Lumia 1520. I chose slow ring. Installed w/o hard reset, took 25 min while plugged into wall charger over wi-fi. Few bugs here an there. Dislike the new people hub, love the pull down menu. Some apps still have to catch up . Overall im happy.

One known issue is that sometimes even the stock charger tends to charge the fon slowly...and new people app is bad..

After the last update to the people app live tiles that I have for contacts isn't working to swiftly.Alot of crashing or shows and blank page when tapping on a contact.

Those numbers have to be people running the preview.The 950,950XL and 550 are impossible to get a hold of in the State's or other countries.

Running super great on my 535

I've had windows 10 for about a week and can't stand it. Yes it looks pretty, however I find it clunky and harder to use than 8.1. Edge still sucks, and groove is terrible, one hand mode doesn't even work. Gone is the simple UI of 8.1. I can't believe Microsoft is shipping phones with this OS, it feels like it's barley in its final stages of testing. I'm going to reset to 8.1 whenever I have the patience.

It isn't ready and I feel sorry for people that shelled out big money on a 950 or XL.Microsoft is focused on W10 and Mobile is a fore thought.

& the virtual joystick on keyboard seems to have disappeared

They have removed alot of features that made WP great.The people app is a disaster and Me tile is gone.Still get the loading screen and apps are slow to load and WM ten is a battery eater.

Maybe they should sue like the mugs that run iOS!!

Those mugs know how to optimize hardware and software.Microsoft needs to watch and learn.

alright when you get used to it no different when some stuggled with 8

You, Mr it wasn't me, need to get out more. Maybe go to a comedy club and gauge what's funny and what's not....oh, hang about, you need a sense of humour to start with...

Running on 1320 ok. No resuming, no loading screens. Runs well. I don't know why people have a downer on dual cores. They are still relevant. A quad core only comes into it's own when heavy usage called for. Most of the time only one core will be active, and the others when called for. So a quad core running at 1.3ghz, would, under light use, be comparable to a dual core at 1.7ghz. The main difference would be the architecture of the SOC's, and the speed at which data could be processed. A dual core would throttle back way before a quad would. Dual cores are more than capable of running w10, with 1gb. I guarantee that an android would fall over, and a 512mb droid would give up and run home to mummy!! Why? Windows, as we know, is far better at resource management.

100% they are, really they are mini pcs. windows 7 desktops would come equipped with core 2 duo and dual core cpus with 2gb ram, now maybe if you're a up to date hard core gamer then that's not enough for them For a phone it is because all we use them for is calls, texts, internet maybe a few games they aren't demanding, if you want to play hardcore games you use a console, or a pc, for graphics design use a tablet. also redesigning ui isn't the samme as adding e.g they haven't added Edge without removing IE core apps have been redesigned. all the specs they put in phones now is either an easier way they can sell their products to meet customer desire or because their os and applications aren't optimized well.

and nice phone mine's 1020 ;)

Working pretty well on my Lumia 640XL for the last 2 weeks. I wonder when the official version is released and why is taking so long

Typical of Microsoft making promises that they can't keep.WP users are use to this:)WM ten isn't ready and they rushed it to market and now they're paying for it with alot of bad reviews on the 950 and XL.

and when you have people screaming at them to go faster? what would you do?

Best to get it strait and not release high-end phones that don't work.Take a big guess why they haven't been for sale in a month on the online store and scarce at the their retail stores.

Why is this worthy of an article. The experience should be what matters? Posted via the Windows Central App for Android

I was not aware there are 48 other Windows Phones lol

I've installed W10 Insider Fast version about two weeks ago on my Lumia 1020 - works great. Had more problems with Insider slow version. Actually contemplating W10 on my husband's Lumia 830...but I hate to move his cheese :) without telling him.

If you own a Lumia 950, 950 XL, 930, 830, 640 (all variations) and 1520, then you fall into the first bath of Lumia's to get the windows 10 mobile upgrade : http://news.softpedia.com/news/after-delaying-windows-10-mobile-microsof... Also the HTC One M8. There's also a 2nd batch, like the 1020, 920, 925, 620, 625, 730, 735, 720, 535 & 520 that will get Windows 10 mobile after the flagship first batch. So early Jan, im hoping for my Lumia 930 windows 10 mobile firmware upgrade!!!

I just want it on my L925 already. Ugh.

I've just installed Windows 10 beta on my Nokia Lumia 735 and it looks great, much better than 8.1. However there are a few very minor glitches, nothing that effects the function of the phone. It does appear that Windows 10 mobile is in a very advanced stage of development, so if anyone is wondering whether they should try Windows 10 beta go for it. Just remember it will invalidate your warranty and Microsoft are not responsible for damage done to your phone as a result of installing the beta version. So far my phone has not initated a self destruct sequence so you're probably okay.

I hope this article/blog was not meant to impress with real time numbers. These numbers would be depressing if they told you that Windonsphone are a small percentage of smartphone sales. <5%. I own a Lumia 521 and it works OK. It does not have the apps capabilities of other phones since it does not have enough market share to make app writers create apps for it. Main reason I bought it was price point, and little else.

This is impressive considering that 1) it's only officially on three devices and 2) It's only been out for a month.
Windows Central Newsletter
Thank you for signing up to Windows Central. You will receive a verification email shortly.
There was a problem. Please refresh the page and try again.