Windows 10 Mobile Store adds new hamburger menu options in latest update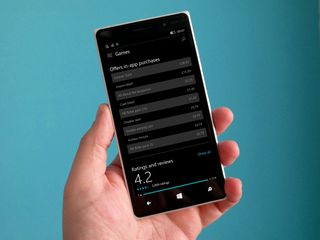 The Store in Windows 10 Mobile snagged an update today that brought a few additions to the hamburger menu. Users will now see options for checking various account information, such as payment options and account info, directly from the menu.
As you can see in the image below, the new additions include View Account, Payment Options, Redeem a code. Unfortunately, the each option simply pops you out to the relevant webpages in Microsoft Edge — so you won't be checking these things directly in the store app.
It's just a little bit of shine and polish, but the new menu options are needed additions nonetheless. if you'd like to grab the new Store update, you should be able to pull it down now. If you happen to notice anything else that's noteworthy, be sure to shout it out in the comments below.
Update: It looks like the Store now shows suggestions from the search bar as well, which is a pretty rad addition.
Thanks to Elroy for the tip!
Windows Central Newsletter
Get the best of Windows Central in your inbox, every day!
Dan Thorp-Lancaster is the former Editor-in-Chief of Windows Central. He began working with Windows Central, Android Central, and iMore as a news writer in 2014 and is obsessed with tech of all sorts. You can follow Dan on Twitter @DthorpL and Instagram @heyitsdtl.
Is there way to check History on what was recently updated? , or notification what apps got updated.

I think "My Library" will show the list..not sure though

Thats only the list of recently installed apps. Not updated apps or notifications. I was also missing the log and also don't get notified no more

That's the feature I miss the most in the old app. You could click on apps recently updated and swipe to the details and see the description of what has changed (unless it was a Microsoft app without a change list)

Yeah, lack of history has been driving me crazy. I want history in the people hub too.

MUSIC PASS STILL DOESNT WORK! FIX MUSIC PASS PLEASE

It is working for me, I assume you might have too many devices linked to your account as it considers windows 10 mobile different than 8.1. If that isn't it I have no solutions for you because I can "buy" and download apps still using the pass

Features?.. Always welcome :)

The only hamburger menu option I've really been looking for is the option to move it to anywhere other than the upper left.

How about, with that, the option to change the graphic to an ellipsis, for those who are smart enough to understand something other than the pedestrian "hamburger".

Equally frustrated by hamburgers, we can't do anything they think it is the reason why wp failed to live to the expectations

I really wish to have a feature back to open the app on clicking on it in update progress page...

Hope it is at least a little faster. Very slow atm. Crashes often too.

App is in Beta beta beta beta.. Oh wait.. It's out of beta.. :D .. Oh wait again.. OS is in Beta Beta Beta Beta ;)

Haha niklo "beta" jaldi agla fukron ka station hai lol

it needs to be faster faster faster though lol :D

The store is still need a lots of work...theirs an app still updating from last night

It happens every day in my Lumia.. Store is updating postiguiee,nokia acutire, and etc BS apps.. I dont know how to stop this.. Must be a bug.. Never mind :)

theres a pretty annoying issue where if you "try" an app before purchasing it, it stays in trial mode in windows 10 for PC even after you buy it. it's happening to me with Tweetium and it's REALLY ANNOYING. i basically can't use the app on my phone or PC because of it and i just invested like $12 into it and was kind of excited for a great twitter client. i just checked the and the issue still seems to be present after today's update. it even affects my windows phone 8.1 app, the developer says the windows 10 version of the app is pushing out bad data to the phone app as well. it asks me to authorize my twitter account everytime i launch the app and it usually fails to sign me in. i was wondering if anyone else had this issue. it seems at least a few people are plagued by it in the windows feedback app, but the votes are very low

That's why you agreed to the terms and conditions of Insider program.. You cant blame MS.. But you can complaint in feedback app.. Anyways..sorry to hear :-/

people needs to be understand about the purpose of EULA nowadays, or in other way, make it simple and easy to understand what things people can or can't do...

Sounds like why sysapp pusher is telling me theres an update for it when theres not(at least on wp8.1.1)

Live tile now works for the store

It is working since the last update...

Since last night the store wont even open for me

Soft reset... ? Still issue persists?.. Hard reset.. :D

Same here. Seems the update broke the app.

Loving the store design! Can't wait to get my hands on the official release of Windows 10 Mobile!

With this latest store update I can no longer install apps. Error 0x803F7003 on everything I try.

That was the first thing I tried, same issue. Getting the same error with Candy Crush on the PC store, and I'm far from the only one.

I get this error on certain apps, including GameHub, touch and Nokia Account. Tried hard reset too not fixing the issue.

Same with skype.
Try this if your device has an SD card, Open storage then switch app install to SD or the opposite. Open the store again and try updating the app. If it works, switch app install location back to previous setting. Worked for me

how about using Recovery Tools? have you tried it before?

Soooo....where to you go to update the Store? I have the same old store. I have automatically install updates selected...yeah that never works. Have to manually check. when it finds updates, only half of them install. The best part is all the links on this site and others bring to the website instead of directly to the store. The website has never been able to install an app on my phone. I have 46 emails telling me what I should do to install the app. I decide to go in the store and search for the app and it's never available. What? IseeVM, Hyperlapse, etc, etc....

Same problem here. Still on 2015.7.1.1

Have they added the ability to delete or erase a previous app youve had installed before that you no longer use? Im sure some people would like to get rid of it from their history.

Store version is still on 2015.7.1.1 ..how do i update to a newer version

Latest update now shows live results as you type. Missed that feature. Also now more accurate about what's apps i have installed on my device.

This latest store update is actually great. I just wish they did a way of navigating your account and history through the app itself, instead of having to go to the Microsoft Edge browser. Also, they took out the Downloads section. There's some people out there, like me, who'd manually check for updates every few minutes or so lol. Does this mean that the Store will automatically check for updates when you open it?

for people asking how to get the update, go to store, click check for updates, it'll find and hopefully install the update for store. I have v2015.7.15.1 now. Still unable to download 3 updates though.

I couldn't get updates until I did a hard reset, restored from backup. Haven't had any issues since, had like 9 or 10 apps that were just stuck before.

Problem is that on the 2015.7.1.1 store the check for updates doesnt work

While this is good, in-app viewing as opposed to Edge would be even better.

I get really annoyed at apps that shoot me out to the browser. I hope this changes for the store.

Can i know did we can use our phone prepaid/top up to buy apps?

Now it is more colourful than ever before

The store is still need a lots of work...

Looks like MS is the only one using these terrible cluttered hamburger menus on Windows. Such outdated ugly design. Don't even have a gesture to open them. Very poor design. Microsoft needs to hire people with better design skills.

You need to wash your mouth with soap young man.

Agreed. So sad... If they at least copied well and added the swipe from the left Android gesture, but no: Worst of both worlds! Yay!

I suggested to add the "Check for Updates" under the hamburger menu, aside from it already inside the download page.

Guess I'll be stuck on 2015.7.6.2. Check for updates doesn't work.

Best games for Windows Phone: http://nokiayandroid.com/tag/juegos-para-windows-phone/

Please add in the swipe in from left gesture to open the menu!

Swipe to open the horrible hamburger menu (ellipsis) should be configurable. Should be from off screen, from the left or from the right (one handed use for either right or left handed people.). Include everyone.

Why do you want an ellipse do bad? Why not any other shape that would look better, an ellipse bothers my ocd unless it has an eccentricity of 0 (circle)

Why store crashes while downloading some apps

Arrgh...the hamburger button! Anyways, can't really do anything about it now that MS has finalised it's use.

Keep mentioning it. The copying of the hamburger is horrible. Just because the apple and google people can't understand an ellipsis and we have to make it easy for them. I think they could figure it out.

The whole UI looks so dated when compared to IOS and stock Android. You need to brighten it up Microsoft, the whole black on white and vice versa was so 2009.

We need Modern design principles. Improve them, and stick to them consistently. Don't kludge together copying elements from other OS's. It is the mark of an amateur.

It also added the queue In the downloads section. You now have apps that need to be downloaded in one section and then downloading and queued apps on another below it.

I never got the update for the store. How do I get it? I also had to read another artcle here regarding some core apps being updated and go in to the store and download them again one by one. Is there an easy way to get the update to the store or any other update?

Same here. My store also hasn't automatically updated and I can't find any way to initiate an update for it. In fact, NONE of my apps ever automatically update. When I go "Check For Updates", I get the spinning circle for a while, then it stops with no apps appearing. However, if I find an app in the store that I already have installed, it thinks for a while and then starts downloading an update for it. For example, when the latest round of Office updates came out, I had to browse for each app one by one to trigger the update manually for them. I'm guessing my store is broken?

What about home screens not showing up. Loading.....

All my phones with win 10. Home screen only shows Loading....

Windows 10 mobile, it looks awesome!

looks fantastic.....Black background and colors buttons.

Wow! The future is now!! Microsoft is showing they are so ahead of the competition! Clearly these top-left menus are superior to something that is close to a user's finger! Glad they are finally listening to those of us who hold our phones upside down. Top left for other people is our bottom right! /s

I'm left handed and can barely reach the hamburger on my Lumia Icon. If I were right handed it would be almost impossible, and certainly not easy or comfortable. Complete design fail in my opinion and actually goes against the Microsoft design language of adapting to the device.