Windows 10 Mobile upgrades will be released first for these 10 Microsoft Lumia smartphones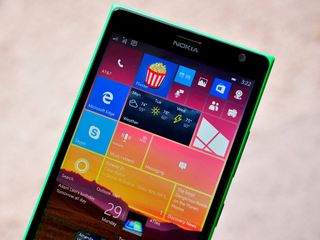 Microsoft plans to offer Windows 10 Mobile over-the-air upgrades first to a smaller list of 10 Lumia smartphones. However, the company has clarified that the upcoming mobile OS will be released for all Lumia devices that are currently using the Denim software version of Windows Phone 8.1.
A page on Microsoft's site this week posted word that the following list of Lumia device would be able to be upgraded to Windows 10 Mobile "when available":
Lumia 430
Lumia 435
Lumia 532
Lumia 535
Lumia 540
Lumia 640
Lumia 640 XL
Lumia 735
Lumia 830
Lumia 930
Microsoft's use of the phrase "when available" was rather vague, and suggested that just these ten phones would receive the Windows 10 Mobile upgrade. Neowin contacted the company and got the following statement:
So if you own, say, the budget-priced Lumia 520 or Lumia 630, your smartphone will still get the Windows 10 Mobile upgrade eventually. Existing Lumias are not expected to be able to handle features such as Continuum due to their hardware limitations.
From this perspective, nothing has changed. Microsoft, like Nokia, will push out Windows 10 Mobile for carrier and non-carrier phones in waves. Considering the army of Lumia models available, there is some considerable complexity to consider. Luckily, going forward, Microsoft is reducing the amount of Lumia models they make, resulting in fewer devices needing updates.
Windows Insider Program to the rescue
Of course, users of the Windows Insider program can get Windows 10 Mobile right now. It is also our understanding that much like the PC program those on mobile will also get the 'RTM' bits before any official updates take place. In that sense, even the Lumia 520 can have Windows 10 Mobile on day one making the above list a bit moot for those who really care about upgrades.
The question if firmware is needed for Windows 10 Mobile is not clear. The previous OS and software update - Lumia Denim - only saw firmware updates for a handful of PureView devices to enable specific camera changes, the rest did not need it. Of course, phones can still run Windows 10 even without firmware as it is doubtful Windows 10 Mobile will introduce any new hardware benefits to older phones.
Windows Central Newsletter
Get the best of Windows Central in in your inbox, every day!
Who cares when we have Insider Program and PfD ???

In case firmware enhances how it runs, would be one reason. Posted via the Windows Central App for Android

Wasn't there a report earlier suggesting firmware updates being rolled out along with OS update ??? Or did I miss something ???

My son's 635 still does not have Denim. It was purchased as a GoPhone and is currently being used on Cricket. Have seen threads that have said he should have it, and others that have stated it should not. With carriers still involved, where does this leave those without Denim? Should NOT have to use Insider App, but may have to?

wow... I can't believe the 1520 isn't on this list - I'm speculating that older models have too many carrier specific drivers to make the transition easy

Yeah I'm wondering if thats why I had so many issues with my 1520 running w10

If I remember correctly, they had issues with the 1520 from day one on W10. I'm without mine (cracked the screen) so I'm likely just going to buy one of the next flagships. Hopefully the rumors of surface phone will be true. That thing would be perfect for me.

Hmm... Got latest build on a 1520 last night... One morning of decently heavy use at work so far (camera, music, office preview, text, etc) but so far its been perfect... Not a single crash or hang.

Tried the latest WP10 build on my 1520 and it wasn't the best experience (as expected of tech preview builds)...couldn't get the latest Store build, Music Pass subscription not fully working with Groove, notifications were unstable.. had to go back to WP8.1... will wait for RTM

Are you on att ir what other carrier please rastanac?

"I can't believe the 1520 isn't on this list - I'm speculating that older models have too many carrier specific drivers" I don't think so since my 1520.3 has NO carrier association.

Business 101. Target the majority of phones by model in use currently, thus the list you see.

Lumia 520 and 635 are the largest 2 in use. Neither are on the list. Apparently Microsoft isn't using what you call Business 101.

Business 101 with IT 101: "Okay, maybe we can do the easiest first and then go after the largest market second. Cost/Benefit.

I am sadden by it, but not even surprised. One of the few flagships is being ignored, as always...

Windows 10 on my 1520 has been a miserable experience so far, so I'm not surprised by this.

I've used it on 520, 1020 and 1520. Been a miserable experience on all devices. Lol Posted via the Windows Central App for Android

Thrashed my 925 because of WP10 issues.

I've been running W10 on my every day use 920 for the last 5 months not a single hang or glitch battery life even better then 8.1 dunno why yall having issues (Shrugs)

I'm happy to support windows10 on my device 532

On my 1520, an upgrade from Windows 8.1 to Window 10 Mobile was pretty awful. But, after a hardware reset (wipe) of the phone and then going from vanilla 8.1 to Windows 10 Mobile, the experience is very good. Some features aren't done like Groove, granted, but the phone is very stable and usable. I did the same on my 920 with the same good result. Unfortunately, the audio warning bug is still there with it triggering even at low volumes after a short time. I wouldn't mind the warning if it worked and/or didn't change the volume so I have to dig for my phone when I'm biking, driving, etc.

I would say i'm surprised except that most of us with the 920 and up are probably going to switch to the newer 950's the second they hit the market and wont really need the upgrade.

I'll see you in line. That's all I'm waiting for.

Not surprising. I'm running TP on a 1520 and have some serious issues that nobody else (on other phones) seems to be having. The biggest being that I can't return to the start screen often. Either the home button doesn't do anything but bring me back to my current app, or I manually shut down every app and it just sits at loading for anywhere from 1-45 minutes (seriously - restarting does nothing to help either). Not to mantion the camera button does not unlock the phone, notifications (banners and sounds) are spotty. It has a long way to go (don't know why they use the device when demoing but I guess that's just none of my business...

Similar to my issue with kids corner. Once they use it I can't get the home screen back.

Try switching to high contrast mode. 1) swipe down from the top of your "broken" start screen & goto all settings. 2) Tap on "Ease of Access/High contrast" 3)tap on for high contrast mode. Your start screen should come back. & you're welcome. I have the same (reoccuring problem on my 1020 and since I did this I've been able to get my start screen to load faster. sometimes I have to restart and goto high contrast. and goto all folders and let the apps load up one by one then I can leave high contrast. I also think it has something to do with the background pic So I'm just using colors now but 97% of the time It works fine.

Me too . The 1520 has the most robost specs of all the windows phones so it should be able to handle the upgrade. What gives Microsoft?

Short sightedness on Microsoft's part. Posted via the Windows Central App for Android

Recently online chat with Microsoft Support.
Said it should be available End of the Year. Hope info is correct me use Lumia1520 too.

When has the Lumia Icon EVER been considered a "FLAGSHIP" phone worthy of any attention! One of the best, if not the best, Windows Phone available today and it's been treated like a bilge rat on a cargo ship since I purchased it! This is why WP has yet to take off in America! A lot of people want to blame the carriers, and to an extent they are correct, but Microsoft doesn't do themselves any favors by ignoring FLAGSHIP devices like the 1520 and Icon! These are the phones that should have been and still should be FIRST on the list for updates/improvements, or, at a minimum, INCLUDED in the list with all the others!

Pretty sure Microsoft is edging away from the 1520 because it has been retired. Not to mention most people are uncomfortable with the screen size. It was my favorite phone, but negotiating it without a case was my downfall...

I think people here are also over-estimating the amount of these phones sold. Icon did not sell well at all and the Lumia 1520 barely shows up on AdDuplex numbers. Microsoft is going for the phones with the biggest marketshare first, which is basically how you have to do it. Regardless, people can just put W10M on with the Insider program. Like I said, there is no evidence there will be new firmware anyway.

If you say about market share then the 520 and 630/635 should get the update first!

I don't have to have new firmware. The question on my mind is the AT&T 830 needing Denim... will it be left in the cold or will getting W10M also bring with it Denim?

I hope that someone with inside connections (i.e. moderator) will respond to your excellent question. Another ATT L830 user without full Denim

Good point. Still hurts though. I hope the Insiders Preview matures to the point that the Dev Preview did with Windows 8.1 so I can use that.

My personal feeling on the matter, though, is that if you drop the coin for a high-end phone, part of what you are paying for is good manufacturer support, that's part of the reason I bought an Icon outright instead of going with the older 928. So it is irritating to not be on the top of the list when it comes to these types of software improvements.

Going on what I saw in Terminator Genesis I'd have thought Lumia ruled the world, especially the 1520. Posted via the Windows Central App for Android

Daniel, Not that I don't understand the numbers of each model sold, but to me, you and Microsoft are missing the point. I didn't buy the 920, then the 1020, and now the 930, expecting to be used like a 900 buyer (I bought one of those too). There should be new apps rolling out exclusively / exclusive first for these phones and other pluses to show the appreciation to those spending the big bucks NOW. Not kissing butt of the cheap phone buyers trying to get them to some day maybe move up to a higher-end phone. Take care of your today's best customers first, not your potential maybe future customers.

I also have a 920, 1020 and 1520 and have watched Microsoft release software for iPhones and 'droids while Joe says "something else is coming for Windows Phone later". Meanwhile I wait for Denim (finally got it), test Cortana for Microsoft so it works on Windows 10, test Windows 10 via the Insider program and now test Windows 10 Mobile like a good soldier and now I won't get Windows 10 Mobile when it releases. And, because I have muliple phones my Windows 10 application count is used up more than someone with an iPhone (and I have some of tablets and desktops to upgrade to Windows 10, too). It has been pretty discouraging lately, but I guess it is my fault for thinking Microsoft would pay attention to their loyal customers: as others have said, we're a small minority. When will I learn???

Mostly, it is. But a Windows 10 Mobile update would need firmware and drivers to work correctly with Verizon Wireless' particular CDMA and LTE bands. It's not just a vanilla GSM phone.

Yes and no. The Icon is mostly associated with the Verizon version, which is known as the 929. Then you have the international GSM version known as the 930. So although the 929 and 930 are very similar, they are two seperate phones.

The Icon is the 930. It's just called Icon in the States and 930 everywhere else.

While mechanically this is true, Microsoft considerers it a different phone, the Lumia 929. When 930 came out and quickly got cyan, icon did not for months. In any and every release, 930 and icon are listed separately. The choice to leave icon off list to me indicates that indeed it is not going to receive update (at least not on same schedule). No matter to me, I will be switching to att once cityman comes out.

will lumia 640 dual sim support Continuum

Pretty sure it won't. I don't think any of the currently available models of phones support it.

No current Lumias will support Contiuum (per article).

As mentioned in the article, no past hardware devices will support Continuum. New handsets that come preloaded with Windows 10 Mobile is needed for Continuum support.

I think I remember hearing that Continuum requires USB Type C, and so far, no phones have arrived with that connector yet.

And more than a gig of RAM.

Continuum is a feature set, so it's hard to say what parts of that may be included. However, the 640 will not support display output, as the 640 hardware does not include that capability.

And Continuum will not be turned ON the day Windows 10 phones are released. Microsoft has stated this upgrade will come later few months after.

The continuum may fail because of heat! Imagine powering your hotel's big flat screen tv/monitor, do some office work, browse the net for an hour and finally get carried away and play your favorite games for hours!!! Your phone cpu could be fried!!

This is an initial list. Microsoft did say they want all Lumias with the Denim update to get Windows 10 Mobile eventually.

That is what bothers me. The 920 didnt get denim. there are LOTS of 920's out there being left out.The tech preview runs fine on my 920. But others that are to skiddish to to meddle with the tech preview maybe left out.

The 920 basically got an o/s bump, certain device tweaks and o/s additions (for example mobile data toggle) with denim like all the older models.

I don't get it my lumia 920 has Denim on it

Some 920s do, some don't!

I replaced my driving L920 phone with a L830. I no longer have ATT network connection with my L920 but it works fine on WIFI in its Cyan 8.1 version. I went thru dev upgrade to latest Win Phone software on the L920. After upgrade to WM10, It did not allow me to use WIFI. Anyone able to explain what to do to allow WIFI in such a circumstance. I had to revert to 8.1 and all is well using the WIFI for internet access now.

I'm itching to jump on the insider program with my m8... maybe next build.

Don't. My L820 is almost unusable with it. I will not put it on my L930 until the final version.

I use W10M on my L930 without any major issues. Yeah, sometimes it reboots but thats 1-2 times a week, which is nearly the same with my L635 on WP8.1. It was ok on the L640 but yeah, switched back to WP8.1 because I gave the phone away and I did not try the latest build on it.

I have preview on my 930. Needed 2 factory resets, but after that it runs great aside from edge crashing sometimes and not having photo automatic backup to one drive.

I tried on my 930 and it worked fine after a couple hard resets. It was still missing features (like call blocking) that I missed. It wasn't quite stable enough (dropping calls/rebooting) for me to use as a daily driver so I had to flash back to 8.1

I find the lack of quadruple digit lumias on that list disturbing.

Very much so. Cheap, non flagship phones get treated a lot better. Posted via the Windows Central App for Android

They also don't use the more complex features of Windows 10. They're easier to manage.

That doesn't make it any better. Flagship devices should always be front in line for updates.

surprised the 1020 isn't on the list.

I use a 1020, and read earlier that it will be Windows 10 comparable. And yes, also disappointed it's not one of those first out of the gate. But it's an older phone, so I get it. Still an excellent phone though.

Not surprised at all. Had the 1020, sold it a few weeks ago. Nice camera but that's where it ends. It's dog slow and was a proof of concept from day one. Not a modern piece of hardware midway through 2015. Sorry, but it's on fumes at this point.

The 1020 was let down out of the gate by the lack of dedicated image processor and the old soc it was running. The 808 uses a broadcom imaging chip.

Exactly. I use the 1020 for pictures on vacation, hiking, etc. but for a daily driver it is pretty miserable. You didn't mention how easily it overheats and sucks power when used as a GPS. That said, I would buy a phone with the same camera with the rest of the hardware upgraded; the photos are spectacular for a phone.

Is the 735 means both 735,and 730

According to the reply on first comment. Yes

Probably not. Otherwise 430 and 435 wouldn't have been mentioned separately.

Well Flagships would have more features so.. I'm guessing it'll be a little late..

Interesting that the 1520 is not one of the first 10

Lol, the flagship 1520 isn't on the list. The only one of 2 phones that will support for continuum. That irks me. But then again, I'll be upgrading to the 950XL anyway and passing my 1520 down to my mom.

"I'll be upgrading to the 950XL anyway and passing my 1520 down to my mom." I think the 4th commandment prohibits giving her a phone that's not good enough for you. So you need to give it to your child, sibling, uncle, etc.

L1520 wont support continuum.

"The only one of 2 phones that will support for continuum. "

If that is what you believe I would suggest re-reading some past article. No one has said that at all.

I am still hoping they will release new firmware, from what I noticed on wc forums and other social platforms the 930 has some issues with the screen(blinking)(not the interference with the radio signal). I know there was even an article on this subject here which brought to light that MS people acknowledge the issue and will fix it in the new fw, unfortunately this was like 6months ago. Bottom line is W10Mobile really needs a new firmware.

i quit, it is to difficult to stay in a google world having a microsoft phone (lumia 1020). I've been saying myself, wait, windows 10 will be an amazing new os, but is taking too much time for me. Today i'm changing to android. Sorry microsoft, you take too much time in this world.

Instead of whining like a little girl, how about you just keep your Windows Phone and also get an Android Phone. There is nothing preventing you from using both. Posted via the Windows Central App for Android

Send me your 1020 then! I'll make good use of its awesome camera, you can be sure :)

Pretty pathetic that you felt the need to go out of your way, waste minutes of your life, to post a comment on a website. Just to tell strangers your are switching phones. You should get a hobbie, or a dog, or something.

Not to strangers, to microsoft. Great community here. I'm just saying what all regular people think, not fans like you. Microsoft should change it's name to Microsoon, soon is the only word they know.

This website isn't run by Microsoft, just because it's called Windows Central.

Welcome to a world with Google services AND Microsoft services at your fingertips! Posted via the WC App for Galaxy S6

Genuinely curious, what is it about Google that you need? Apps or purchases or? I've personally never understood the idea of being sucked in and locked to an ecosystem, but I rarely buy Apps/games and I never purchase music tied to one platform. Now, if you just really relied on a few Google Apps, I could see that. Posted via the Windows Central App for Android

Can't talk for the original guy that commented but I used to use MS services for a lot of stuff, moving google over to outlook. For the most part I really enjoyed it, I much prefer the MS calendar web interface over googles. In the end I went back to google because their services work really well together. This is not a jibe at MS services, just a few reasons why I moved back to using Google services. A few Google services I love that are missing in MS services: Location look up in calendar. Love the MS calendar web view but not having location search drives me crazy. Gmail auto adding hotel reservations to google calendar and including all trip data in Google Now and their maps app. Gmail providing updates on shipping of orders from major suppliers such as Amazon, also feeds that info into Google Now. Unlimited photo/video backup via Google Photos. (Onedrive is a also really good at photo management but not unlimited) Google Play Music providing 50,000 free music track uploads to their service. I know Groove now supports OneDrive, but that will pretty much require a paid plan to get the space needed for larger libraries. Just a few things that I absolutly miss when using MS services, most revolve around the integration of email, calendar and personal assitant. These services also work seamlessly on iPhone, I'd be much more likely to use my WP's more if they were also available in that ecosystem. While MS services are great, it's a no brainer that not having Google apps available hurts Windows Mobile by not being able to attract converts from Android.

I just said the same thing, should have just left Nokia alone.

hope htx 8x will be soon follwed by these phone. Even tho i wanted to switch to lumia 640, my ageing htx 8x is still running smooth...

Your 8X and my 8XT are 2+ years old now, and granted, mine is running as good as the day I got it, I think we'll be left to use the Windows Insider if they ever open those doors up for us. Still no reason to upgrade, so I'm holding out for the WP10 announcements and to see what the carriers do.

From a performance standpoint, you are way better off on W8.1. Posted via the Windows Central App for Android

I also had a 8X from over two years ago and we switched to AT&T. SMS messaging was not available due to the VZW phone so I basically had to get something. Spent $69 on a 635 AT&T Go Phone and its been pretty good. I think I read the 640 is now the same price and a Go Phone. The 635 has no front camera, it takes better pictures than my 8X did. I am just waiting on the 950 or Surface phone. The 635 is working fine for now. It also has a microSD slot so that was also a nice surprise. I just want the W10M to be available for my 8X so I can test the OS and not put it on my little 635.

What d hell.. No 730? Did i make a purchasing it?

I know the 930 is basically the icon but does that include the icon as eligible for upgrade??

Probably not as Icon is tied to Verizon. Verizon most likely has to approve/test it and we all now how slow that process goes with Verizon (& sometimes AT&T and T-Mobile too)

Great! So what about my Lumia 830 that STILL does not have the DENIM software? Getting really bored with 8.1 lately and finally ready to try something new! God Damn you AT&T!!!!!!!!!!!!!

I was on T-Mobile with a 521 and switched to Metro with a 640. I decided to factory reset my 521 and load it with games for my daughter to play with. When the reset was done, I found it suddenly had Denim. I checked the version number to be sure, and it was the correct one. Not saying it will work with yours, but maybe because I pulled the sim card first, T-Mobile couldn't block it or whatever evil things US carriers do for fun.

That's a known bug with Extra + Info. It'll reset back to Cyan once that app is updated I believe.

Woo! I'm currently using a Lumia 830! This has made me SOOOOO happy right now!

What about "Nokia Lumia" phones???

Lumia 830 still a nokia Lumia phone...

as usual L1520 will be at the tail-end again, I remember waiting for 5 months after denim roll out before I got my update.. SMH.

If your Lumia 1520 was on AT&T, it took awhile because of carrier testing. It was the first phone besides the Lumia 830 to receive the Denim update.

except th 830 on at&t has NOT recieved the poper denim update, we are still running a pre release version of denim without the camera features.

I'm running the WP 10 Preview on my 1520. Works great with the exception of a few minor issues. (Have to occasionally reboot because texts can't send/receive) If you haven't tried the latest preview build, i highly recommend it.

I'm really looking forward to the next Win10 mobile build! Tempted to upgrade my daily driver phone to the current build now that slow ring got it.

Windows 10 doesnot best beacuse windows10. Cannot upgrade many apps

when on samsun ative???? ah forget it 950XL here i come

What's going on with the Windows Central phone app lately? No notifications since yesterday! Updated app SOON???

My guess is that it's because the Windows 10 review has been set as the top article, and all newer articles show below it.

Now that the Windows review is not the top article, I again see how many new articles have been posted.

I thought it was my wtp 1520....

Actually I haven't had notifications (numbers on tile) for few days already. And my Cortana tile stuck on one article for about week

And I thought that I was the only one experiencing this issue!

"All Lumias with Denim"? Is this another nail in the coffin for my 810s?

Guys windows 10 will surely bring new improvements but the apps wont be available from day 1 thats why i'm leaving this platform tired of this waiting game.... Posted via samsung galaxy S4

So they will be the first to get it in October/November ? Or was this an attempt to tell us that they pushed the time table up like they did with the other Windows 10?

Yeah we didn't need the firmware but getting a cleaner build Of the os update will have been nice. My 920 to forever to not on preview builds of the 8.1 update.

Great :/ I happen to own two 1520s, a 920, and a 635.

All I have to say is my 640 handles w10m waaaay better than my 1020. I think the older chipsets can't handle it as good. That being said, I don't care too much as I plan to buy one of the new flagships this fall!

Yeah, it doesn't run well on older Dual core devices. I was surprised how well 8.1 ran on an 630 I used for a minute (gave to my mom). Makes me think lower RAM devices might even run a more efficient version of the OS or something... I dunno, maybe these newer Snapdragon 400's are just that good, comparatively. Posted via the Windows Central App for Android

It says You need to have 4 gig of free space to upgrade to win 10. That's aditional 4 gigs over 4 that win 8.1 takes. My question is, after update to win mobile 10, how many memory the OS will consume, 8 or will it overwrite 8.1 and just 4 gigs? Answer please... #lumia 735

That's likely the space required to download the OS. I'm guessing 8.1 will be overwritten. But of course, no one knows how much space it will take up yet, since it isn't final.

Actually it looks like what it does is increase the system allocated size and that "fix" resides in the boot loader. The reason I say that, I downgraded to Wp8.1 Cyan from the WP10 preview and the flashing was much quicker and the progress bar only filled up once. Previously it would take much longer and the progress bar would fill up twice. Running a 920.

Edit: and a 520, I forgot. My two-year-old's PBS Kids Wifi-only device :)

I am a bit confused. Am I going to have to wait for T-mobile to release the update, or will I get it independently of them? Of course, I can join the Insider program and get the RTM that way. I would just prefer to wait until the builds are a bit more stable, as this will be on my primary (640) phone.

I would've thought the 1520 DEFINITELY would have been on the list. SMDH

Strange indeed that lumia 1520 is not part of the line up. It is THE flagship device and is very well capable of an upgrade to windows 10. If the 930 can be updated, then so can the 1520. Even 1520s were used to demo windows 10 in build and at windows 10 launches. Surely the info of this list is only circumstantial and that the icon and 1520 will be upgradable right?

Iam fully frustrating,plz add L730..

735! Bring it on! I got Windows 10 for my desktop and notebook already!

"Windows Insider Program to the rescue" That is BS, only very few can risk their main and often only phone being crippled by incomplete and not fully supported updates.

They meant in the future when the OS is actually done...

Not a problem if you have OneDrive and an SD card slot. I've tried the very first preview, didn't like it so I switched back to 8.1. Then I heard that the latest build was badass so I installed and bricked my phone. Recovered it using the recovery tool and synced all my messages and files. Amazing!

Props to any carrier that officially releases W10 to a X20 device. Posted via the Windows Central App for Android

Its time folks; time to move on from your old phones (you know who you are); for MS and Win10 mobile to succeed, we need old and new users to buy the upcoming new hardware, so starting saving your pennies...

my 925 still works fine and i see absolutely no reason to upgrade

I can now see why the Windows 10 Mobile Preview was working fine for my Lumia 830, its on the list!

I have the Lumia 928 on Verizon. I have been elligible for an upgrade since April of this year. I have been holding off until Windows 10 Mobile arrived to get a flagship device. Looks like I'll be waiting a little while longer. On the flip side, by the time W10 comes to my 928 perhaps there will be a Surface phone to use with my Surface Pro 3. One can dream...

Is 10166 final build for public release? :/

Hell to the no. Best build yet, but FULL of bugs.

Yeah it gives a good idea of what we can expect, but still not close to ready stability wise. Can't wait to have the real thing soon though, I am pretty stoked about Windows 10 Mobile after using it on my L635. Hope the apps come...

I'm trusting the 930 actually includes the Verizon 929 as I have the 10166 preview now on the Insider Program!

That is nice. AT&T still has yet to release the denim update for my 920. The FCC should look into this matter also. Deliberately holding improvements from older phones so they can force people to buy new phones. Seems unfair and illegal.

Carriers don't guarantee software updates. Always buy phones based on what they can do when you buy them, not hopes of future updates. Granted, we all expect SOME updates, but never buy a device expecting future support. Microsoft does what they can with Dev Preview/Insider programs to get newest OS updates, minus the firmware. Besides, Denim doesn't offer anything new to the 920. Posted via the Windows Central App for Android

Denim may not offer anything new to the 920, however the article states that W10m will go to Lumia that have Denim. That seems to imply that 920s do need it for that, unless I'm missing something. I'm on Dev Preview on my Lumia 920, and my phone says that I have Cyan. Not sure if there will be some update in the future of DP to bump people up to Denim by name only, only for the sake of being W10m ready.

I've tried to put W10 on my 920 a couple times now but with no success

I wonder if my AT&T 920 will ever get Denim.... Hopefully I can still get the insider builds.

You can use the Insider Builds without Denim. I had it on my 1020 with Cyan, but then shortly after AT&T pushed a Denim update. I couldn't tell a difference between them with W10. Posted via the Windows Central App for Android

They have about 2 more months to polish the OS. Hope it turns out more appealing than this, still lots of work to do.

1020 Posted via the Windows Central App for Android

1520. Best, most capable hardware ever (still today) and absent. Oh well.

I'll upgrading my 1520 to 950XL asap! My boys can use the 1520 as a tablet :)

Guess the Lumia 920 won't get the official Windows 10 update, since it never got Denim.

Does the Windows 10 update comes only to the Country Varient? Does the carrier has to approve the locked version?

I'm confused why there is surprise here. Aside from the 930, the rest are all of the NEWEST releases of Lumia phones in general. It only makes sense that the newer phones would get the technology first.

what about lumia 730 its far better than 430,435,540 and merely equal to other devices in terms of all specifications but its not in the official list

Not sure why they have the 735 and not the 730 though... Maybe popularity.

5 years later and my Lumia 920 is still on Cyan.lol

Yes but at least it's stable.

5 years? Is that sarcasm? It's not even 3

I know this isn't really the place for this but I'm not finding my issue in the forums. I did the insider preview on my 1520 and it was running fine with the occasional loading screen. It then reset itself and is now stuck in an endless loop of spinning gears followed by a sad face. I have tried the Nokia Care Suite and Windows phone tools but the computer will not recognize that the device is attached. I've even put it into the lightening bolt mode (Flash) to force the computers to install the driver but nothing works. Have tried on a win 7 computer, win 8 computer, and my Surface Pro running win 10 preview. Any ideas?

I'm guessing here. And its a long shot. Your phone could possibly have a virus. And this is its way of shutting down and stopping it from spreading to more apps. I'd go to a windows store and see if they can fix it.

I had the same problem a few weeks back. Your computer doesn't notice your phone because the cable your using isn't good, or can be worn out. Trying borrowing a friends cable or buy a new one and it will work.

1520 owner here. Very disappointed! I dropped Android because I was tired of the lack of support and upgrades. Here I think I bought a Windows flagship phone and its treated by Windows like an illigitimate child. Same stuff different day. Thinking about going with the Apple iphone now. Screw Microsoft!!!

IPhones are crap. All your doing is buying an very old software phone for the popularity, they slow them down when there's new iphones out. The battery life is crap. So there's no point. Microsoft is best. I know I'm upset I have the Nokia Lumia 1520, and looks like there's no update either.

my 1520 runs latest build better than my 535

Lumia 730 is der too ryt ?

I,m so lucky,i have lumia 535,butwhen is final Windows 10?

do you update your lumia 535? and have u microsoft lumia 535?

do you update your lumia 535? and have u microsoft lumia 535?

No 1020.... What a surprise •___•

Seriously hope they push Updates before November. 10 as it stands is unstable, with stacks of issues.

how much we have to wait for w10 moblie update now for a stable os ?

Is there still preview for developers? Or will it all be insider previews now?

Does Lumia 735 also includes Lumia 730?

...Lets wait...it's good... I don't think the windows 10 for phone will be stable as windows 8.1 it will be needing 2or 3 updates for daily drive use...the windows team will be in arush to release it by october hardly with bug fixes,so I ain't going to update as it arrives ...because I'm fed up downgrading to 8.1 ...

I'll be saving up for the new MS Flagship phone anyways.....

What about non-lumias then?

Probably up to the OEM if they want to release it or not. Wouldn't count on it.

C'mon 1020!! Is there a better Windows Phone than 1020 right now?

This time I don't mind that L1520 is late to the party. Not sure yet if that party is worth attending.

Will 730 get the Windows 10 Update? I'll buying Windows 10 Phones when they are made available In India

An optimistic way of looking at this: There will be new Lumia's available, (including flagships) that support continuum when the os is released :) Perhaps the 1520 isn't there because the 950xl will launch with the os. Positive thoughts people.

What ever happened to the promise all Lumia phones were going to get 8.1 update 2? My Lumia 1520 is waiting, no update here.

Okay, so, in other words, my 925 that's running Denim will get Windows 10, but my 810 and 920, neither of which have Denim, will not?

Yes. 930 owner. Happy days.

Will my 720 get update or not ???

It looks like SA get updates too quickly, i cant remember when i upgraded to denim, about months ago

Why so much love for the Lumia 1020?

Well, Thanks to AT&T in the States, even if my Lumia 925 was eligible, I couldn't download Windows 10 mobile if I wanted to. Yep, I never received Denim!!!! I have to wait for the preloaded phones. Still P. O. about AT&T choosing never to upgrade the 925........ .

Our hopes were high, now..............This is just wooooow..........

I guess Lumia owners with Cyan firmware are left in cold in Microsoft Maze to wonder around!

Only phones with denim will get windows 10, is that it? What about lumia 638 in India, still on cyan. Will it get the update at all?

Will the HTC 8x get the technical preview

Thats great but shouldnt they get the current build to a more stable state?? first? so they have a better view of all these? and talk about release? xD

Even Lumia 1020 isn't in the list

Denim ruined my icon. Made the beautiful amoled screen useless as blacks are now light red tint. I hope that gets fixed in 10 eventually.

Just got a 104mb update on my Lumia 1020

Does the 930 include the Icon too? I don't want a repeat of the 8.1 update where I had to wait like 6 months after everyone else got it.

No its just the Lumia no icon

Once again the Lumia 1020 Users (A SUPPOSED FLAGSHIP PHONE) are left in the dark. WTF is wrong with you Microsoft?????

When it will be relased??

I read it a little differently on another site. My Lumia 1520 has possibly seen its last update. Microsoft has moved on.

So they will be pushing updates to phones numberd as x30s and up and the criteria is 1gb ram. My poor lumia 630 is shaking with fear.

My L925 is running pretty smooth, almost as smooth as WP8.1, I hope they roll out the upgrade to my Lumia soon

Btw - windows 10 mobile is coming to almost all lumia devices, as well as HTC. Windows central posted this like last week. Looks like the minimal requirement is 512MB RAM and abt 2-3 GB of internal storage. That's the minimum requirement - so we all will get W10 Mobile...eventually

Hey what about lumia 638... The 630 variant that comes with 1gb ram and lte support. I have yet not received any denim update on it. It is still running cyan. It has better hardware specs than any of those 54x and 43x series. Will I not get win10 ? Believe me I decided against 730 and went with 638 as there was 4g and my budget got short. I will not go for any future lumia device and shift to sone other platform. Ms can't be so whimsical in deciding all these. At that time helpline and website had listed 638 and now they are saying it won't be there!!! Strange. This is really so frustrating. I have been a promoter of windows phone amogst my family and friends. Now there are around 8 wp users in our close family circle... And similarly i have influenced so many of my friends and family to choose wp. Have been a wp fan from day1. If this happens for real.... it will be a great disappointment.

I know this has been answered somewhere, but my paranoia/distrust: If I upgrade to windows 10 mobile technical preview, once the official version arrives, will it need factory clear and I will lose everything after install?

Microsoft plans to update the phone over the air without going through the carrier.

What about the Nokia Lumia 1520?? I want the update already?! I've been waiting for months ever since the windows 10 build has been talks about on windows central.

I have a question.Help me.I have Lumia 730 and I m also an user of windows insider(insider slow).when I get windows 10 free update?and how?for get windows 10 update will I roll back to windows 8.1 denim version again?

Considering the size of the 1520 you'd think they would want to make sure the OS works well on larger screens.

This is exactly how phone upgrades should work. I love this! And I'm never going back to 8.1. Hell no.

Lumia 920 is also enlisted

Are we really expecting carriers to deal with a whole Windows 10 upgrade? Maybe for phones released this year, and high-end devices going back to Lumia 1520, but I do not see AT&T "spending resources" on updating the Lumia 520 and such.

Glad I sold my 1520 a few months ago. I did hold on to my 920 with hop that it might get the upgrade, but since it's not and I hear Microsoft is working on a version of the OS that will install on Android Hardware...meh.

I have the Lumia 925 and to be honest I thought Microsoft might of release GDR2 for my phone by now. I have waited patiently for the update, as I read somewhere it should be release for most, if not all Denim version phones before Windows 10 mobile was released. Now reading this. it shows these few mobiles that will be updated to Windows 10 and they do their normal wording.. 'eventually', but just how long is eventually? The one main thing that Microsoft need to learn is that people who pay quite a lot of money for high end phones, what like better service from a company of this size. People are complaining about store errors and I've had problems both installing and updating apps for the last few months and Microsoft seem to be just sitting there doing nothing at all. They need to start talking to people or people who like windows phones could leave and all because of the slow, lazy and un-responsive way Microsoft are dealing with problems. I ended up deleting an app because an update was available for months and it would not update and just give an error. Users and the company where contacting Microsoft and it never updated on my phone, so was deleted. If developers have these problems, then users are not going to purchase apps or stop using windows all together.

Will my 1320 recieve w10 update

What about Lumia 1520?? U must give higher priority to it

What about Lumia 1520?? We want windows 10 update for LUMIA 1520

What about Lumia 1520?? We want windows 10 update for LUMIA 1520..

What about Lumia 1520?? We want windows 10 update for LUMIA 1520....

What about Lumia 1520?? We want windows 10 update for LUMIA 1520.....

What about Lumia 1520?? We want windows 10 update for LUMIA 1520!!!!!

What about Lumia 1520?? We want windows 10 update for LUMIA 1520..!!

WE NEED YOUR VOTES GUYS OR YOU NEED YOUR VOTE ON THIS ONE FOR YOUR OWN BENEFIT Every Lumia user needs this, very convenient in a situation where you don't want to make a separate contact profile. https://windowsphone.uservoice.com/forums/101801-feature-suggestions/suggestions/3195115-please-allow-custom-labels-for-phone-numbers-emai?tracking_code=1db4c0cbd29485ec7b2ca5d012152577


Will Lumia 535 dual sim supports continuum and when will we get windows 10 for Lumia series and i can't wait for it to upgrade Will it requires charges for to upgrade lumia

But why it will not work in 535 dual and in which Lumia will it works continuum

What about the rest of us using other Lumia Phones? We wont get the update? I am using a Lumia 720

don't worry, you'll get the update too

I'm using lumia 925 I have recently buy this smartphone I request to Microsoft who ever using Lumia 720 925 these users also an upgrade windows 10 & these users eagerly waiting an update in their smartphones so please an upgrades windows 10 in these compatible device

These phones will get the update "First", others will get it too, yeee excited to have windows 10 on my lumia 535!

My windows phone version is 8.10.14234.375 will windows 10 will be available for my phone or not to update it please tell

And I have lumia 535 and version is in that msgg.

Where is Lumia 730 in that list??

Once i installed windows 10 on my Lumia 520. It was so smooth on first start up may be few more days after that. Now i had to switch back to windows 8.1 due to the heavy lag. From my first few days experience i believe windows 10 rtm will work smoothly on my Lumia 520 once its launched. Lumia 520 now controls 34.5% of the market share for worldwide Windows Phone devices. Microsoft should add Lumia 520 to the first wave.

Is 10 going to be released for the HTC M8? Posted via Windows Phone Central App

Still waiting for preview for HTC 8X :/

What its not for my mighty 1020!?

How can I get this tile layout? I can only get one wide and one merium in one row.. Is this just for the phablets like the Lumia 1520 and Lumia 640 XL? I have the 930, with full HD display.. I would love to have this. I'm running the latest Win10 mobile build 10166.

Then what about other phones on which we are using insider preview?? Should we roll back to 8.1 when windows 10 release??

The plus side is that people who have devices like the 810 know that they have another option to get the latest software in spite the carriers.

Apart from 4g is ter ny difference in 735 &730.. Too sad :c

im using lumia 730..... i didnt get any software update upto now...... microsoft anouncced that windows 10 is available for mobiles too.... is it developer version.....? pls rply me guys....

when the next build for windows 10 will be released ?

OK, I'll say it. Microsoft buying out Nokias handset division does not seem to be panning out. I have been waiting on something to honestly upgrade to from Nokia since my 925 and even got a 1320 to hold me over. Recently went back to Android with a Nexus 5, this list just does not make me want to come home at all.

WILL WE GET THE CHOICE TO STAY ON 8.1? i DO LIKE ALOT OF PHONE 10 BUT THAT INBOX SUCKS BADLY AND IT IS THE SOLE REASON I DONT WANA PUT 10 ON MY 8.1 930. At least not unless they let me see all my emails from all my email accounts in 1 inbox. Just like android do on thier microsoft outlook app.

Litle disapointing but i can live with w8.1 on my 920, even if it does have 1gb ram For one thing is sure, buy a microsoft lumia with loose covers like those old cheap Samsung's no i do not go back to that.
I want propper solid phone, not plastic fantastic that damages so easy.. After some testing with mom's phone and my new work phone, i gueas when the Nokia Lumia 920 retiers, i probly go to Sony Xperia and Android... Unless Nokia makes a comeback. But i did hoped i got W10 on my 920 but not so importent..
Windows Central Newsletter
Thank you for signing up to Windows Central. You will receive a verification email shortly.
There was a problem. Please refresh the page and try again.