Windows 10 officially installed on over 110 million devices, with over 1.25 billion visits to the Windows Store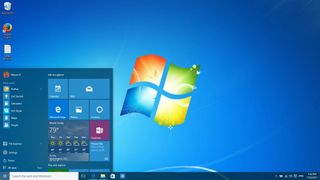 During Microsoft's Windows 10 hardware press event today in New York City, the company has confirmed that Windows 10 has been installed on over 110 million devices since it launched on July 29.
Microsoft also announced some other stats related to Windows 10:
There have been over 650 billion webpage views on the Microsoft Edge web browser
Gamers have streamined a total of 120 years of cumulative gameplay from Xbox One to Windows 10
1 billion questions have been asked to Cortana on Windows 10
Share of Windows 10 retail sales has grown every month since launch
Over 1.25 billion visits to the Windows Store have happened on since Windows 10 launched
Windows 10 app usage is up, with users spendingg more time using the Netflix Windows app than with the Netflix website
Over 8 million business PCs are already running Windows 10, and businesses are moving faster to Windows 10 than any previous release.
50% of managed business customers are already trialing Windows 10
Stay tuned for more news from today's Windows 10 hardware event from Microsoft.
10 million users in 23 days. At this rate Windows 10 will only have 500 million users in 3 years, far from the 1 billion users Microsoft is targeting. It seems Windows 10 is a flop.

How many Macs were sold in the last 2 years? Posted from the Nexus 6, Nexus 5, or the Surface Pro 3

Doesn't matter. All that matters is adaptation rate and that's pretty poor for W10. And even worse: In the same time frame (July to end of September) about 100 million iOS devices and over 400 million Android devices were sold. That's where people are throwing there money in. And Microsoft doesn't even accomplish to make people install a free OS upgrade. Ouch.

Hmmm. I think your dreaming. 400 million android devices. Rofl. 100 million ios devices? Hahahaha. You need to check bud. It ain't anywhere near 100 million for android or ios.

Your Android numbers are grossly inflated, and you gave those crippled OSes an extra month in your "comparison".

Apple announced earlier this year that since the first ios device it took till 2015 to SHIP 1 billion devices. That's from iphone 1 - 6, iPad 1 -3, ipod etc. That's shipped not sold to consumer. Then there's the little fact that the same people replace there phones!!!??? So the user base is probably somewhere around 40-80 million users at any one time??? When Microsoft release windows figures fir all their operating systems, they release active legal copies of windows. Which is currently over 1.5 billion when you put all the figures of windows xp, vista, 7, 8.1, 10 together. Windows is still far wider used.

Wow. You're dumb. 110 million devices in barely 2 months is incredible. For your reference, there are only about 200 million OSX devices active *on earth*, and that counts Apple's entire history.

The Mac is not really much of a competition for microsoft the same way Windows Mobile is not really much of a competition for android (yet).

Hololens You are Awesome..

"with users spending more time using the Netflix Windows app than the Netflix website" Wow, I can't believe Microsoft would lie like that. According to the comment section here, there were dozens of screeching harpies crying about how "why would anyone use an app on a desktop? They'd just use the website!".

But it says a lot that MS names Netflix as example. It's the only app I use on my desktop Posted via the Windows Central App for Android

I use apps on the desktop, I use chrome as my default browser so all the ram I can save the better...

i use a lot of store apps on my pc...

Exactly what I thought, some people here were pontificating about app store and consumer behaviour as if they were some pundits on the subject. I've seen people here say WHY would facebook or any social networking website consider making an app when they a website. Well, take THAT, company sees what they DONT. Push notificatons are better than logging into my browser and checking my profile, plus it would load up faster compared to my firefox, which takes ages just to open up.

Well even facebok finds apps are to slow for their creative egos to deploy changes unlike a web app.

So Netflix really is the only worthy app in the Windows Store Posted via the Windows Central App for Android

Windows 10 is beasting. Its the fastest ever adopted os. And this is without the phone, or the xbox one os releases. No os has ever hit 1 billion. This definately will.

Yea you are right... And when Windows Mobile 10 devices are out in the market then the windows 10 users share is definitely going to increase towards the goal of 1 billion share... Posted via the Windows Central App for Android

There have been over 650 billion webpage views on the Microsoft Edge web browser

Yeah cause it crash so much people visit the same page again and again

Lol even their in house devs are incompetent at making edge work for their sites(xbox for example)

I'm particularly impressed by that app store & usage data. It has some pretty positive implications for Windows Phone app development. It would have been a pity if people upgraded to 10 & mostly stuck to using legacy win 32 apps. I'm very optimistic. Bring on the Lumias!!!

Can anybody tell us when will windows 10 mobile be officially released ? Any answer is appreciated .

i think the phone are coming out be for the end october

I am looking forward to Continuum!

I mean : When windows 10 mobile is expected to be available for download \ upgrade ?

After the release of Windows 10 Mobile.

Devs need to know that their $$ income will make it worth the effort to port to Windows 10

There should be a RTM version out an official this month

Upgrade starting december. The RTM version is probably shipped in a couple of weeks. Then there will be a couple of updates after that before the december release
Windows Central Newsletter
Get the best of Windows Central in in your inbox, every day!
Thank you for signing up to Windows Central. You will receive a verification email shortly.
There was a problem. Please refresh the page and try again.