Windows 10 PC Insider preview build 10576 now available for Fast ring members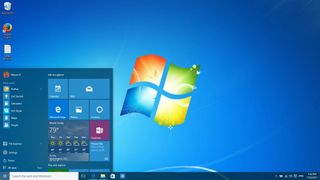 Microsoft has released a new Windows Insider preview version of Windows 10 for PC, with the build number 10576, to members who have signed up to get updates in the Fast ring. From Windows Insider chief Gabriel Aul:
Stay tuned for more on what's new, fixed, and more in this build.
Source: Microsoft
Windows Central Newsletter
Get the best of Windows Central in your inbox, every day!
Would it be cool,, in one of these future builds,, if live tiles could automatically reorganize themselves?
Reorganize themselves according to priority, new messages, updates, or anything else?
Of course this could be an optional feature, and be easily turned off.
.......
Tiles could reposition themselves to the top, or the action could be set for only specific tiles.. This would take the Live Tile idea to another level... Make Live Tiles even dynamic on PC, and Phone.

Download my both laptop right 16%

Please Microsoft, release its ISO!

Couldn't download my laptop says ur device is up to date but currently installing latest build on phone

Not showing up for me either. Very odd..

I wasn't seeing updates, then rebooted and now I'm able to download it. Been awhile since I last rebooted

Wish I could get insider builds, I'm stuck in a "restart now to get insider builds" cycle :(

Ugh, error code 0x8024401c and service registration missing or corrupt. Cant download anything. Reset pc twice, dism used and sfc /scannow found nothing, but still getting same errors. I still have internet and can download other programs, just not updates. Presently running Build 10565.

I wish the insider program didn't convert our legit copy to a preview copy of windows. Can't stand that watermark.

My netbook showed the update. But when I tried to down load it said my computer is up to date. Stuck on 10572. Ideas?

10572? I'm still on 10575 and apparently up to date...

I'm still stuck on 547. Corrupted installer for TH2 10565 and no solution to fix the corruption works. On a Surface Pro 3 no less.