Windows 10 Photos app will reportedly add intelligent search in future update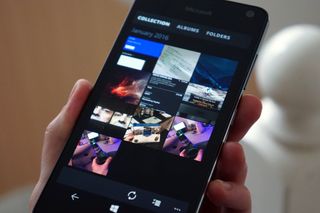 Windows 10 users may see some new features and improvements to the operating system's Photos app in the near future. A new report claims that Microsoft will add things like intelligent search and more advanced editing options to the app in the next few months.
In addition, the report says that more filters and effects options will be added to the app, along with a way to draw directly on an image. The new editing features will also be included in the Windows 10 Mobile version of the Photo app, according to the article.
Windows Insiders will likely get the first chance to see these additional Photos app features in the coming weeks, and the report claims that all Windows 10 users will get these features as part of the big Redstone update in June.
Nice new features windows 10 is adding. Lately good stuff from windows 10.

Good feature. But I think android already has it, still welcomed though. But they need to come up with original and solid features like Nokia came up with. Once upon a time Nokia showed who's the boss in camera segment.

Onedrive had it even before Android had it :P

I think they have done great with camera with 950, still more can be done. What Samsung has done with galaxy camera has been impressive. That's why I think a win 10 galaxy would be great. The biggest thing windows has done I think is universal apps and continuum. How well that progresses is key, but I think MS has some new things it will announce soon.

They need to push forwards with continuum and start adding some new features, I worry that Android is going to come up with something similar very soon and steal their thunder

I'd trade all this for a stable, good performing app with the edits available for the PC version of the app. There is nothing more important than performance, not even if it had all the features in this whole world!

You're still able to get .164 update, I've it on 720, but with no firmware, I don't recommend!

I don't recommend either.

First, we want the features on PC to come to mobile, the features that makes the app a replacement for Storyteller

Photos app on PC is still crap...first time opening a photo in Windows 10 is embarrassing...takes ages to load...also there is no zooming method via mouse wheel Posted from Windows Central for Windows 10

stop trolling, you can zoom in using the scroll wheel while holding CTRL!

Slow? The stuff is instantaneous on my PC.

The loading time thing is correct. But we can zoom by holding control and scrolling.

I think it will also depend on your hardware. I have no performance issues with the app on my laptop but I also have a sad and pretty nice processor. I could see if you had a hdd that it slows down due to the hard drive spinning up when loading pictures

Any new features are welcomed. I just hope they speed up the syncing of photos a bit more quickly. The amount of times I will take a photo or save a photo then on the app I need to wait like 10 seconds for it to appear (I've reported this on insider feedback app etc multiple times). But except for that, it's coming along well at least. +640 on Win10Mobile

Good! Things, Places were there in OneDrive, always wanted in Photos app. Actually discovered it when Google introduced it in own photos app, and later I realized its there in Onedrive already. :P

I was just thinking the same thing. I've been using OneDrive quite a bit for this. For others new to this feature, try going to OneDrive and search for things like "photos of sunset" or "photos with trees" or "photos of water" Posted from Windows Central for Windows 10

All these windows 10 mobile news now pain in heart for 512 MB devices

640 is super cheap nowadays and is fully supported

But it was lifted by Microsoft from all sellers in India , 4-5 months ago. Boring and awful L550 made available

640 XL is available and Amazon and many retail store, atleast I saw here in Mumbai
730 DS is also good option
640 was exclusive to online only!!!

But 640 was best with price tag.
I'm kinda holding myself back as SD400 in 640xl is quite old now and I want little more decent specs un that price range..but unfortunately no other option is available in windows phone segment.

I have the 550, it has 1Gb of RAM. Once its set up its quite a good phone .... Posted via the Windows Central App for Android

But looking ahead ..2-3 years from now...i see it's hardware is not so exciting to held on to.

That's why waiting for a decent mid range windows phone

If only they added the ability to delete folders directly from within the app..

And now please add Store option last update and version number

I just want all the features in Desktop to come to Mobile, just it. I'm asking for this since the Windows 8.1 Photos app.

How about adding force touch to the photo app for easy share

Well they'd need a phone that has the feature first

I heard someone said I can get .164 update on unsupported phones. Doubt it, since no update is detected. Is that true or just someone made a mistake? If it IS true, how?

PS. Lumia 630 with 10586.107 running.

How can I get that? Just check for update or rollback to 8.1 and then do it?

Try reinstalling the insider app, it worked for me!

It worked. Thanks. Posted from Windows Central for Windows 10 on Unsupported Phone.

But the crucial thing: Will it recognize my dog? Cuz that's the most important thing! And sometimes she has different haircuts.

Okay.............................but not for Lumia 1020 (stuck with insider .164 build) even update for windows maps not for Lumia 1020.

How did you get .164 update? I literally cannot get this! Posted from Windows Central for Windows 10 on Unsupported Phone.

Use the insider preview app from the store

OK, I reinstalled the app and it finally worked. Thanks.

I had no idea you could do this on/in OneDrive. Sounds cool though.

When I view my pics online the other mo th some were tagged "Bad hair day" and some "Good Hair Day"....and they were accurate too

Will the new features work on my Lumia 800?.....still wondering why my phone wasn't included in the Windows 10 upgrade yet, the Lumia 800 has great specs - it could definitely run it fine!

Waiting for them to introduce Google Photos feature where you search for anything visual and it shows that. Like type in BEACH, and you get pictures you took at a beach. That's cool stuff. SOON!

I wouldn't mind seeing decent editing options built into the photo app rather than having to open a separate app. Looking forward to the upates.

is there any way to disable adding finishing touch to the photo?

For a moment, the preview of the image captured in camera looks good ( I guess its the raw file we are seeing for a few milliseconds) and after that, the post processing (adding finishing touches), compression to jpeg, it looks like crap ! Bad camera algorithm. I thought Windows 10 Mobile would bring RAW support to capable devices (like the 640XL).
Maybe in future, a firmware update ..

I think turning off rich capture disables it.

When is panorama app coming for Windows 10 ? (Lumia panorama is not supported in Windows 10) I know there might be third party apps like Cycloramic, but it is limited to devices with gyroscope.

should also add an option for a light theme... Posted from Windows Central for Windows 10

The new photo app seems to me really bad. Not considering how Slow it is.... I have no more favorites folder neither I was able to tag a photo as preferred because the heart button is missing ! Anyone is experiencing such a bug ?

Agree with most here. New features welcomed, but basic functionality e.g. Time taken to delete or refresh photo album when new pic taken is lame

While I am all for more editing options more of the photos app "automatically"creating folders and albums "for" me...that's just great...not! I am quite intelligent enough to put my photos in an album or folder of my own creation, thank you Microsoft. This is where no more unlimited storage is going to come back and bite you in the butt. Has anyone thought that all these new folders and albums created by Microsoft in addition to those of your own creation will require more space on OneDrive...sneaky there Microsoft. lol

A welcoming feature indeed!!!!

dats what I'm talkin bout!! Bring it the hell on. Win 10 needs to so this, beef up the native apps to a state where Apple and Android are left with no option but to copy the OS that has for the most part been playing catchup.

Cần làm cho hình ảnh thu nhỏ hiển thị rõ nét hơn . Kèm theo đó hãy cải thiện tính năng Zoom của ứng dụng . Tính năng này hiện tại dùng chưa được tốt
Windows Central Newsletter
Get the best of Windows Central in in your inbox, every day!
Thank you for signing up to Windows Central. You will receive a verification email shortly.
There was a problem. Please refresh the page and try again.