Windows 10 for smartphones shown off for the first time on a Lumia 1520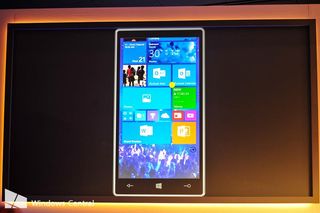 Microsoft has shown how Windows 10 event looks on smartphones for the first time, as a demo of the OS was shown running on a Lumia 1520 during today's Windows 10 press event.
Some of the features shown during the demo include a new Action Center that syncs with the PC version of Windows 10, a revised app list, a revamped settings page and more. Microsoft operating systems VP Joe Belfiore showed that Windows 10 on smartphones will show recently installed apps at the top of the app list.
The new Action Center will dismiss single items, and it will have some expanding quick settings. Users can pull it down for a quick reply from notifications. The virtual keyboard can pull off to one side in Windows 10 and move around. It will also feature speech dictation from wherever you can type and it can recognize proper names, hashtags and more.
IP messaging will integrate into Windows 10 Messaging hub for smartphones, similar to like Skype, but this feature is not a actual demo at the moment. Windows 10 for smartphones will become available for Windows Insider members "in a little while" but not today.
Stay tuned as we will continue to post information from the Windows 10 press event. To see it all roll in live be sure to join us in the liveblog!
Windows Central Newsletter
Get the best of Windows Central in in your inbox, every day!
*sigh* This presser has seemed like "same shit, different day" with enhancements that probably won't drive developers to care about Windows development. Oh 1520, how I wish I could use you more productively than my iPhone.

I'm sorry, but there's some really ground-breaking stuff going on here when you look at what Microsoft is doing. If you can't appreciate that, watch the presentation again. But your comment about develpers is valid. We'll see if the developers follow.

@jay_max, groundbreaking? yes, definitely. but in the end, it won't mean shit because the first-party developers won't be there.

If Windows 10 is free for W7 and W8 users, don't you think a lot more people will be running W10? If users take the free upgrade there will be a heck of a lot more users on Windows 10. It should encourage any type of developer to write a universal app for PC/Phone.

i would hope that would be the case, but it still seems that too many of these developers thumb their noses at WP regardless of how many are in the ecosystem. case in point: the directv app on WP does basically squat other than to allow me to pick a show and pick a receiver to record it on. the same app on my Note 4 allows me to set the start and end times and allows me to watch that program on the phone, if available! and then we have hbo to go, encore, and strarz, all having apps in android that stream movies flawlessly (on cellular, i might add), whereas WP doesn't (at least none that i know of). finally there's verizon, those asshats don't even support the platform and there's no way i or other verizon customers would switch to at&t because verizon's coverage is superior, in my experience. so, until first-party devs come aboard, until MS produces high-end devices, and until verizon gets fully onboard, i can't see the platform (WP), taking off anytime soon, regardless of the awesomeness of W10. and this makes me sad.

lol.. Verizon wont have much to do with if the platform is a success or not. They will get on board eventually IF it takes off. Thats how they do it. I personally think this is a pretty big deal what MS is doing with win10. We will see how it all shakes out but what i See now makes me want to try the platform (and i have been on android since day 1).

I think one of the reasons why WP hasn't taken off as it should is because verizon, which has a massive user base, refuses to stock a range of WP devices. I bought an 822 and nothing they have made me want to "upgrade". Even the 830 seems a little lacking, though I would've had to buy one at retail price- again not worth it. the M8 might've worked, but I wasn't trusting that camera. So, there it is- if MS wants WP to take off, it has to make very high-end devices. Android users will be looking for that sd card and apple lemmings want the apps.

Apps like PlayOn will help bridge the gap. I can stream HBO GO, Amazon Prime... You'll need the server software installed on your PC,but it works flawlessly.

That looks interesting from that point, but we still have the issue of missing apps and apps that die on the vine (apps that get like one update every year or so). While I am happy with my switch to ny Note 4, I still miss the tight integration my 822 has.

I already see plenty productive things I can do with my 1520 over my iPhone :P

Im hoping I can get out the ecosystem soon, hopefully my 1520 becomes the primary

My 1520 doesn't look like that. Different cap buttons, rounded corners...1530?

thats the sceen share software that shows a generic lumia phone to display the phones content on the screen.

The phone he used was 1520, but the picture shows what he mirrored to a bigger TV. So the picture has a frame for a aluminium framed phone which has smaller bezels than 930. Did they just spoil for a future flagship? :o

no they didn't its the same generic phone that they've had for the screen sharing app have used it beofre on my 1020 and I'm sure its the same.

No it's a regular emulator

Windows 10 update=better office experience and some core experience improvements...and nothing else....i guess windows phone 8.1 update was bigger and revolutionary

are you on crack? They pretty much state its early days and preliminary stuff. I guess you also missed the whole memo about apps working cross-platform on the same code.

More like great new features, same stupid whiners complaining.

thanks for beating me to that awesome respose.

Windows 10 definitely sets new standards, it's innovative, personal, great user experience, uniqueness.We comes about phones Windows Phone give to user personal experience, no cracking, no hardware problems, best camera shooting, video recording. So I prefer always to buy something to use, not something to look, like an apple. IPhone will no longer keep up, why? because his genius is among the angels. ​

@squire777 Amen. There is no pleasing some people.

Microsoft has an uphill battle. They could probably show a truely holographic display and barely get a response from the journalists. Whenever I show features of Windows Phone or Windows 8 to people they initally think, that's pretty neat, but then always seem to say something like "Android is better" or "it's not Apple".

Homographs are real. Cool prediction.

This! A thousand times, this!

While I agree with the same ole comment, i do see how universal apps might make sense for developers of they have a chance of reaching 1.5 billion people. I thought the ability to move the key board an indication of possible multitasking by moving other parts of the OS. Hopefully I'm not wrong about this fact.

Dude it fixed a couple things so idk what you were looking for but I'm glad they made these improvements.

What will you iPhone do, productively, that Windows 10?
Nothing. I'm not sure what you were expecting, maybe a phone that morphs into a robot and actually does your work for you?

"Transformers! Robots in disguise!
Transformers! More than meets the eye!"

Good bye droids, good bye iphones! Bad jokes compared to what Msoft is doing!

This a thousand times, I wish people could see how awesome it is. I WAS a Driod fanboy, but I had a few WP's, and just bought a 830, but had to send it back because of the light leak issue, and am stuck with my M8 Android, and dang do I miss the 830 already. I can't wait to get it back. I don't need 1.5 million apps or whatever Google claims now, I need a phone that connects to my PC and syncs perfectly!

Pfff I told you before, when the fake was leaked, that the final version would be like this... But besides this, metro UI isn't that bad, only thing, desktop is missing!

If you want a desktop on your phone you are insane.

Microsoft indroduced holographic computing. If that is same shit different day, you must like on Mars in the 24th and a half century. I have a 1520, it's more productive to me than the iPhones or Androids I have used. But you sound a bit like a bored socialite, so your idea of productivity may include belfies and applying glitter to your phone, so maybe that iPhone IS more productive for you.

Glitter and stupid games.God forbid if I can't play Toilet Flush, or Crap Runner on my WP, or whatever is the newest game on iPhone or Android.

I think the one-code, multiple platforms thing isn't the same-ol, same-ol, but a game changer. sadly, i doubt it will do anything for the windows phone space since so many first-party app devs will probably stay away. it's exactly why i left and got a Note 4. well that, and the fact that MS ain't making any high-end phones and verizon seems to have ignored the platform.

When will it be available in my country? *Dodges objects*

"Shown off", not "showed off" (um... I think). :) And this keynote is quite exciting!

Depending on context, both are valid. showed-off Verb simple past tense and past participle of show off

I hope they don't get rid of transparent tiles in lieu of that new background. I would prefer the transparent tiles.

Actually the pic has transparent tile.. Just observe clearly

Actually no tile is transparent there... Tell us which one is it

The calander is transparent. This could allude to a settings for each app or the transparency has not been implemented on those apps yet.

OK, I give you I wasn't very clear. Although if they are transparent the transparency is faint as I think I can see what you mean but maybe just barely or maybe now I am just imagning since you said it. :D I meant the transparent tiles where the main background is still black or white but the custom background only slides through the tiles with the parallax effect.

Take a closer look at the Word Preview Tile. You can see the background image through it.

Yup. thats just JPG artifacts, not transparency :\

They are transparent. Look at this (The images)... http://blogs.windows.com/bloggingwindows/2015/01/21/the-next-generation-of-windows-windows-10/

Agree. Start screen looks much better on 8.1!

They'll probably add that.

Yes. I absolutely HATE the FAKE Start Screen on Windows 10. I HATE the stupid Task Bar, too.

Hope they don't change transparency as that's unique to WP, as customization is unique to Android and IPhone's static tiles as well. My start screen background would be completely spoilt if these tiles aren't transparent to reveal the background. The only was for this to work is if every tile is made small and we spaced them out. If the ability to set the transparency level would be great as the ability to do so per tile would be a step in customization that not even Android could top.

Remember, MS is doing an Insider program for WP too- just send then feedback letting them know!

It seems the same actually

No, its not same. Its awesome

yayy !!!! this is all i wanted to see ... btw more to come guys .. a new windows !!! :D

Nooooooooooooooooooooooooo.. UI looks too bad

The new background behind tiles looks really really bad. The hamburger menu placed top left is going to be very hard to reach on a 5'' device, let alone a 6'' device like 1520.

True. The UI is even worse than on 8.1

Wow anything but complain at least they didn't leave WP (Mobile) out or cut rope.

me2 or +930, Some people can only complain about microsoft...

If you don't like it, just send them feedback if you're signed up for the insider program. Besides, I highly doubt they removed the option for a solid background color.

Yep they would hve messed up if they leave the dark solid background colour

Looks nice, but in all honesty, I prefer the 8.1 start screen. Hopefully this will be a setting somewhere.

Yeah... Hopefully there's a option for transparent tiles as well... But, I do like the full background image.. Both at the same time would be cool.

Don't worry rod, MS won't market, share remains the same, no one hurt.

Lol❗❗ I know that.... Well, at this point I'm talking about what I want, and I will be using..

I'm a bit disappointed I must say ):

I'm IMMENSELY disappointed. Metro apps all running ont the stupid desktop. I only want legacy programs to run there. I never want to see the Task Bar, either. And the Charms are completely gone. Stupid Microsoft.

Yeah lets limit what and where you can do things. Now that's stupid.

It all depends on how you have it set up and what devices you are running it on

Settings has finally been cleaned up. About damn time.

Settings were indeed looking sexy! :D

Yeah, looks 100% more Android now. Great.

They are only showing specific things it seems due to time. They have to show windows 10 for all devices. I am sure there will be a press event specifically for windows phones.

Waiting for windows 10 on my Lumia 1520

glad they used a Lumia to show it off. I like the look of it.

what else would they have used given that they spent billions on the transaction? a non existent surface phone?

I thought we'd see them using an m8 windows.

why would they randomly opt for showing a brief preview of windows phone on an external device, they've spent billions on the acquistion of nokia devices why would they use HTC?

Because techncially, the 1520 is an old model and the Icon is dated...I am happy they used a Lumia. I am just surprised they didnt bring out the M8 since it is 'newer' even though not better necessarily.

Is it really 1520? The nav buttons seems weird

That's the first thing I noticed. Looks like you and me are the only ones!

Look up, I said same thing...1530?

That is the project my screen function!! Ever used it?? I think you didn't!

:oo haha. Understood now :D
But i ever did once or twice.

The corners are also too rounded. That def looks like something else.

They ARE using a 1520, but the phone design for the project my screen app is just a generic template. The only thing that changes from phone to phone is the screen size when using the software. The software is actually available to people like us too, which is pretty cool.

To clarify, the physical device they are using is a 1520, but the phone OS is streamed from the 1520 to the big screens through a software that uses a generic template.

Ok, were morons, ignore us crazy, impulsive people.

It is the generic phone that apears on the Project My Screen App

New keyboard,,office get awesome ui ,, Messaging app gets new awesome features

Did he pull down the messaging app to message back while in the settings? Or was I just seeing things?

Yes, actionable toast notifications -at least for messages.

Hope they won't take my precious transparent tiles away

Looks pretty much the same :D

I need the preview right now

They also showed the return of things like hubs.

Wow what a dull ass crowd...probably all devs and journalists still pissed off about windows 8. Anyways, this doesn't look too bad so far, but I wish there was more features shown off instead of how it ties with the PC version. Glad to finally see they updated office finally though

Look at all those Macs and you'll understand why. They're just too "cool" to get excited.

Yeah I've noticed them...just a bunch of smug ass sheep if you ask me lol.

You should have seen the disgusting TWiT coverage of this event! I turned off their live stream, they even stopped covering it live before it was even over! Snarky comments, cracking jokes. You don't see that stuff at an Apple event.

So I wasn't alone to react to the unprofessional comments on the TWIT stream. Yeah,I turned it of as well.

Or.... Maybe you two shouldn't jump the gun on things. If you noticed their coverage later, they praised it and Leo said he's definitely buying one. I swear, fanboys can be annoying.

Just because a couple of them may like it doesn't mean they all will. It was still pretty rude of the audience to keep typing away when a could of presenters tried to interact with the audience directly. Right, but that's supposed to make it okay for people on here who don't like it to constantly complain about the OS and threaten to leave it? That gets just as annoying fyi...

My intent wasn't to Juno the gun. I was initially watching the live stream via twit and I didn't care for Elgan's commentary, and the heneral blahness, so I turned into the actual event stream after that.

I just watched the main stream on Microsoft's website and just noticed how a third of the audience were using Macs. Maybe some of them are Windows enthusiasts, maybe they're not. Either way I couldn't care less about what machine they used, I just didn't like how dull they were and rude they were being to the presenters when they tried to interact with them. Like when JB asked them if they wanted to see a demo of something in an enthusiastic way they were too busy typing away and didn't even acknowledge him. Overall they didn't really even seem that excited, and it just reminded me of the previous event where they showed off Windows 10. After that event I've seen countless articles by people that were titled "Windows 10 still wont save Microsoft" or "Windows 10: Too little, too late", stupid shit like that. With as boring as this crowd was it wouldn't surprise me if we see these same articles surface in a week or so. Apparently my post was worded wrong and people are getting pissed, throwing their shit at me thinking I had something against Macs just because I said some of their users are "smug ass sheep", which is true for some of them. I know that not all of them are. But to go to a Windows event with a Macbook, and hardly give any attention to the presenters or even hardly applaud their efforts Microsoft has put into this OS, because they're too busy trying to get their stories out kind of justifies my point. That's why I think Microsoft should include more consumers at these events instead of just making them exclusive to journalists and analysts. By doing that, consumers will get a feel for Windows 10 in person, and see how great it can be without having to go off of somebody else's opinion on it, aka journalists. I think that's where a lot of the bad publicity is coming from. It may even inspire journalists to write more positive things about Windows when they see the reactions of the audience.

I like twit generally but I have unhappy with their Microsoft coverage (windows weekly included) but its still something I listen to

But did you notice the Macs running Windows.
Surface Pro 3s' also in the crowd. I think everyone was just too busy typing.

I did notice a couple SP3s in the crowd so that was nice to see. I couldn't really tell what OS they were running cuz the live stream kept buffering on me and always went blurry. My point is that you never really see this kind of dullness at an Apple event. The last Windows 10 event was the same way.

Just journalists from the top windows fan sites like Windows Central and others.

No grouping on the start screen? No grouping for all apps?

Hopefully at least "Most used" at the top in addition to "Recently installed".

Yea, because most used isnt what the start screen is for or anything

Well, I am sure many - perhaps even you - occasionally and even with some frequency use apps that you don't have pinned. For those "second tier" apps it would be nice not to have search them in the complete list of apps.

Let's suggest those features when insider program for phones is available in february.

Bah, last week with my lumia 1520. This OS is not worth it. Ugly as hell !!!
MS keeps telling they hear the customers, but there were a lot of GREAT concepts over the last months, and they do this ugly thing? The settings are great, but the homescreen sucks A LOT.
I was HOPING this OS to have a great comeback, but they keep disapointing...

It is a short demo. You have no idea what options that will be available.

I dont care the options. If i dont like even the home screen, screw the rest. Unless it was some game changer, but it had to be something GREAT, which is not going to happen. You will be having a OS with some new functions, but even uglier than the last one.
The homescreen is the one i will be seeing most, so i better like it (which i dont)
Whats the purpose of having the background behind the tiles if they are solid color? If you have your homescreen full of tiles you wont even see the background...
And plus, the whole UI does not function as a whole. For example, look at the homescreen and then to the settings menu. If you DIDN'T know they are from the same OS, would you say they are a whole? There are NO similarities between them and that cannot happen.
On the other side, if you look to the Windows PC (which is looking GREAT BTW), everything seems to have a place on the UI.
This just proves that MS can't make a GOOD mobile os, just like they did with pc version. So i think that there is no motive to keep suporting this. I had WP for sometime now, since 7.8, but until now they keep screwing up, so í am done.

Yeah, I'm picking up the iPhone 6+ next week. Been using WP since 2011. Can't do it anymore. I need break from this rollercoaster ride. Comments like "good riddance" the feeling is 110% mutual.

"iSheep". Lol. Yeah, that's hurtful.

Half of what you said was PURE speculation.

take a chill pill. This is just an early build. A LOT can change once they open it for insiders to test it out and give feedback. They'll change it from there until the OS is finished.

If they screw it up for you, it doesn't mean they did for anyone else. I hope you dont come crying back. Good bye

The home screen is really looking awesome.

Piss off then.
If you don't like the start screen then it was moronic to ever choose Windows Phone to begin with.

He didn't like the new windows 10 start screen.

People like you kinda amaze me? Are you looking to be talked down from your ledge? Are you thinking your crying is going to make MS bow to your needs and wishes? Dude, grow a pair and go buy something that makes you happier. You people are like spoiled-ass kids throwing a tantrum over nothing.


Agreed. So many ridiculous comments. Don't like it? Leave. Don't care. Have a nice life. Shut up.

Its much better than those ugly concept

Lets not be too judgmental, we have a single screenshot and a small bit of information. I don't want a massive revamp of the OS anyways, I like it just the way it is.

they have just started wait guyss

I need action center , what's new??????

Im sure they wont take out transparent tiles. They're adding it on the Xbox one so why would they delete it off the phone?

Transparent tiles are UGLY. I keep the clean look of normal tiles.

navbar is gone... android runtime is coming!


So... from a blurred picture, the comments and reactions are, as always, negative. Knee jerk reactions from these dull forums... Whiner Central strikes again..... Disappointed with the attitude to be frank!!!!!

yep deciding the whole thing from looking at a picture .... crap!!!

Hey, an artworks value is judged by an image.

Some of these idiots (including the "journalists") had their mind made up to write some overly negative shit before the event no matter what they saw. Hopefully sensible people can look past their miserable crap and buy what makes them happy.

I hope the transparency will become optional, and that apps are all in the same colour/icon/tile accross all devices. Same goes for the UI of each app. It's a horrid difference in Xbox Music (to name one.).

I love my windows phone and the security of the apps store. I would like to tell Cortana to stop my music when I arrive at work. I love this phone. Nokia 925. I would love to get a more powerful version through my carrier t-mobile. X box music, videos, and awesome gameloft games really make this my pocket PC.

So excited!! Waiting on the release date announcement

Enough whining, just give me the 1520 on win phone 10 on cdma. Some people in USA don't get good GSM signal.

Screw CDMA, ban that shit from the states =/

In a little while. The new soon.

windows central users the hardest customers of Microsoft.

I thought that was the P0rn industry

Where is the interactive tiles?

Interactive notifications instead.

few months away? what you saw was so clearly a very early build lacking so many features that they couldnt even use the device to demo a lot of them, relax and wait for the mobile event

Who told you it was coming?

Shown off on a year old smartphone?! Cmon! Posted via the Windows Central App

I think that itself is a good thing. Things should last. Premium products last. And Nokia Lumia 1520 is that I guess.

Sooo? Still better than anything else out there...

You just don't get it do you?

MS took queue from other mail apps (like Mailbox) with the swipe thingy. Great enhancement and I am excited to get it! Also excited about wireless printing capabilities. Definitely +1 vs iOS.

Bluetooth Equalizer!!!!!!!!!!!!!

I don't think anyone expected the UI to look drastically different. Way back when they introduced the skinned/transparent tiles, this background was what people wanted. Hey look now we get it. Hope the skinned tiles remain, i still like it.

The UI is looking awesome, yea blind people can't see this.

II AM HAPPY TO LEARN THAT WINDOWS 10 HAS BEEN INCORPORATED IN LUMIA 1520. I AM NOW USING LUMIA 1020 on 8.1 windows. WHEN IS THE LAUNCH DATE FOR LUMIA 1520 IN INDIA AND ITS COST IN INDIAN RUPEES.

Lumia 1520 launched around 10 months ago in India, give or take 2 months. Price is upwards of 40,000.

You forgot pressing the shift key while typing 'on' and 'windows'.

A lot of this stuff has to be filed under 'to be determined', mainly because we weren't really shown working code. It was all 'in the comings months/comins soon' paired with video proof of concepts. It's all very slick, but without a working device.....it's basically vaporware until it gets here. I can already sense the disappointment among commenters here. Like I figured, nothing really tangible, no hardware, nothing aside from some renders and more 'coming soon'.

"After the superbowl" "Sometime in Februrary" we'll get the first bits, with incremental updates to RTM. This is an exciting time to be a Windows Insider.

Its a Microsoft take over..... For sure!!!

Why is the preview different for this. What happens to preview for developers?

Preview for Developers program is cancelled since we're on one OS now. Everything is through the Windows Insider program once you install Win10 bits.

The ui of home screen look so bad, nothing change from 8.1 :( so bad :(

why fix something that isnt broken? =/

LOL. Stop whining and get yourself an android. I don't know why people even use WP if they don't like the UI

Large square tiles and vertical rectangle tiles. Johnny America just used a poor screenshot.

Photo App has Hamburger Icon (seen in the video when preview), kinda of a fail.

It would be great if developers would build their apps in a universal format because it makes more since gets your more exposure and you dont have to be concerned with how many Windows Phones users there are when youre app is exposed to the entire eco-system

Looks exciting... Waiting for Windows10ForPhone....

Oh my can't wait to download. Big screen phones will have it the best way. Looking forward to getting a Lumia 930 soon.

What about dictation with punctuation!?? It's basically useless without that ability.

Not sure what you mean but Joe did dictate punctutations in the demo.

Yaaaaaay, my phone became the primary phone on WP
NOKIA Lumia 1520

Looks like junk with the background image. It's sad to see MS continue to throw out their clean and user friendly UI for more visual noise.

What? The ui is still looking clean and beautiful. Much better than those concept

here is a revelation: you are not forced to have a background image.

Why would you look at that. The concepts weren't too far off with the background image. Hope its a setting you can change though. I like it the easy it currently is.

windows 10 for phones will be out in two weeks !!!

I've herd there going to be doing a press event for windows phone 10 in March. Maybe there saving alot for then.

MS projects much but not efficient on deliveries. So will believe only once it comes to the Windows devices. Just remember the Denim, 80% of devices are still awaiting and they declare W10!!!

that. is. not. microsoft's. fault.

Yes. it. is. I remember the discussion prior to WP 8 coming out, and much of it centered on how the new OS would allow MS to push updates directly to the user rather than having to wait on carriers. IPhone seems to be able to push updates without any issue. I much prefer the WP experience, but this is something that should have been figured out a long time ago.

And don't you think the carriers had something to say about that? Only apple seems to be able to deliver the updates directly, not even Google can deliver the updates directly outside of a few fringe cases. I believe MS had good intentions and was railroaded in this case.

If Apple can do it, then it can be done, and MS should deliver. This is business, good intentions are nice and are appreciated, but delivery is key. If you can't deliver on your promises than all the good intentions in the world don't mean much. Go back and read the articles and promises prior to the release of WP8. Bypassing carriers was one of the things which consistently got mentioned and was used as a comparison against Android.

And they did with the developer preview.

Them co pletely not talking about it for over a year is another matter altogether though... That is inexcusable and I wish more journalists would call these companies out on the carpet over things like that more often. It all seems to always be forgotten when the next shiny is brought out...

Only some stupids are complaining. They are same, when 8.1 comes, they complain about transparent tiles. But now they want transparent tiles.

I think the situation is half and half, those who didn't complain then are complaining now... I just hope both options are maintained. With the right background both can accomplish very different but very beautiful results.

Yeah, they will definitely give options like 8.1 to selact.

Eagerly waiting, hope they released the preview soon

Hello whiners. If you don't like Windows Phone, then stop using it. I don't know why you use it if you don't like it, and keep saying 'I don't like it'. Maybe you should start appreciating things you've got instead of whining about what you haven't.

Lol its funny because a lot of them were complaining about not having custom backgrounds, but now that they see it they think it looks like crap, and they're judging the OS based on how Belfiore had his 1520 layed out. You can lay out the Start Screen any way you want it. I'm sure there's many more features that have yet to be revealed, JB was just focusing a little too much on how Windows Phone 10 syncs with Windows 10

probably not the same people

Dude I swear some people but you can never please people never!

I love my Brother. Sometimes he pisses me off, and I complain and whine about him. I am not going to discard him, and switch to a brother from another mother. Sometimes we complain, and whine because we love things. We want to see it change, and prosper. Just step down from your high and mighty chair, and cut all your philosophical rabmling. I dont like shit, I complain, I am human, deal with it!

That's why I specifically said 'Windows Phone' (and not your brother). Never discard your brother. But your lack of appreciation causes them (devs and others) to think why they develop something if people don't like it. (You know the story of MX Player on WP)

Landscape mode on home screen?

Looks the same ..booring!!!

*barf* Come March with no new phones, no android apps, and no interactive tiles or new UI and I'M DONE.

exactly my thought... what a let down.. this is more like wp8.2 update than WP10

I'm also disappointed. Was expecting a revamped home screen at least. Well I will grab the insider build in 2 weeks and test it properly. If MS fucks this up I'm moving back to iPhone.. Unfortunately. But you never know there could still be a lot of new stuff that could knock it out of the park!

WHY? Why would you expect a revamp? What lead you to believe this? You set yourself up for dissapointment, the start screen is windows, it will always be that, it wont change, dont like it? Then why are you here?

We wouldn't be on a Windows site and own windows phones if we didn't at least tolerate Windows so cut the asinine rhetorics. It's understandable that people would be disappointed by this even if they didn't set hight expectations. This is simply stagnation not improvement and stagnation may be allowed if you're already an established OS with a decent market share but it's not when you're a struggling platform with a market share below 3%. How is any of the gimmicks they presented today gonna help bring developers or raise market share? They're not even good gimmicks but crap about unifying your photo hubs or whathaveyou. They want us to pay the same price as others do for a quarter of the apps? Fine but for the love of God at least update the UI to make it humanly palatable! Their whole process is so pathetic atm, it's like they're not even TRYING to keep the users they already have let alone bring new ones.

asinine? no, expecting a damn overhaul every other major OS update is fucking asinine! and how? well, I dont know about you but universal apps looks damn appealing from a developer standpoint, and from a consumer stand point, the new messaging hub and notification center, also the quick reply notifications are all very nice additions! and least but not least....... wait for it.............. wait for it.,...... YOUR BITCHING ABOUT A PRE FUCKING BETA THAT YOU SAW A SMALL GLIMPSE OF My god, this is why most companies dont show previews like microsoft does, itsd ruined by morons like you that call doom and gloom over it as if thats what they are going to release, you did notice that what you saw, was so early in development, that most of the features they wanted to show off were shown via powerpoint because they werent implemented yet... right?

Do yourself a favor and get an iphone now. Nobody here cares, and despite your hopes, MS isn't giving half a shit about you being gone. Do the right thing and leave quietly... at least that way you don't look like a 'complete' idiot.

Hey idiot, if you want android apps, go and buy an android. This is just a beta release, we will may get interactive tiles in final version. And why we need new UI, if we have the best already. Now, they give more options, now u can select full colour tiles screen, transparent tile screen or semi transparent tile screen.

Still waiting for denim for my 1520...

anything about offline speech to text?

Frankly speaking it's awesome, they have kept it simple and added more utilities. I think the next flagship device with Windows 10 and m gonna buy it.
And for all those crying assholes just keep calm and wait for sometime for more clarity

we've waitied long enough! from wp7 we've been waiting for a game changer and look where windows phone have ended up till now. No F8ckn where!! this update looks more like an 8.2..not a 10!

What is a "game changer"? And why does MS always need to do that? Othe companies get away with the equivelant of tossing shit in peoples faces like monkeys at a zoo, and idots lap that shit up, accept it and never demand anything better from them.
Just by your statement alone it's easy to see that you put VERY LITTLE thought into anything beyond what you read from blog to blog... and sorry, if that's all the knowledge you have about WP then you know less than a person wh doesn't even use smartphones.

I have not waited for any game changer in windows phone. Because windows phone is already a game changer . When I have wp7, m very happy, when I have wp7.8 m happy, when I have wp8 m very very happy, when I get wp8.1 m happy but sad with removing of fb integration. Now, I will get w10, I will be

Will it have exploding tiles...

Everyone is speculating about the clear tiles. we already know the clear tiles is an option maybe he has the option turn off on the Lumia he was using. The info we have for windows 10 for mobile is so poor at this moment to make big conclusions in my opinion basically this was just a tease for mobile and it was more aimed to the PC. Don't worry we would have or moment at the wmc in march until then stop whining about something wasn't fully revealed.

When Phil Spencer fires up the Demo Gaming PC, the Start menu is translucent.... so i guess.. same thing as Windows for Phones.. there will be an option for that. :)

I'm expected more :/ but HEY! is just the beginning of the new era of Windows

How good a decision it was for me to get the 1520, 8 months back. Every penny's worth.

I dislike the background behind the tiles idea, especially with no transparency at all.

Maybe you can choose between solid or transparent tiles.... Options are welcome but if I can't choose may as well stay on 8.1

Totally agree, I love the transparency tiles. Has to be an option for that!

I think there will be major changes , only the background , email and office ? I was worried about those who have been waiting for a big change in the windows to phone :(

Nope. A lot more already revealed, see below.

Not much shown about more UI changes. What about transparent line tiles ??

Oh my god that's insanely ugly. Transparent tiles look much better.

When will we be able to have live wallpapers? That would look amazing.

does this mean, messaging apps like viber, WeChat, Kakao Talk, BBM, can be integrated in the Messaging Hub?

Ha, they're not even integrated into the People Hub, let alone the Messaging Hub.

http://az648995.vo.msecnd.net/win/2015/01/phone_start.png a better image from Microsoft website

Thanks for the link. Looks really nice.

VERY promising: - cross device integration/syncing improvements - notification center improvements - new music, office, xbox, people, outlook, games (etc.?) apps - new keyboard (wonder what that dot is) - more skype and cortana integration - at least "recently installed", hopefully more, to the the top of appl list - settings improvements - background images for those who want it And I am sure there is more! Very nice indeed.

I'm sure there is more to the os than what was shown, however if there isn't anything that wows me other than a wallpaper I'm jumping ship. I hope I don't have too because I love windows...

Hope there will be more improments in action centre in coming builds on phn as showing live status of different apps altogether.
But overall great job by ms..

The search and back keys are completely different to a 1520..... Is that the 1530?

That's how it should've been from the beginning.. At least give us options to do so.

All those hamburger icons in the top left corner. :( It's not that it looks *bad*. I do think it looks good. But I like the app bar. It looks nice, it gives very quick access to actions, and, especially, it's great for one-handed use.

Perhaps something we can still collectively influence a bit through feedback.

Sadly no. This is MS attempt to shoehorn the PC modern UI on to the phone form factor. All that we loved about Modern on the phone will have to be re-invented or scrapped.

No love for HIDs (Controllers, mice, keyboards).

I do appreciate that MS is trying to better each time but what I personally wanted is to have an experience of the apps that most people use like Facebook, Instagram, Twitter, YouTube, etc. work like how they work on Android and IOS where the experience and the improvements are drastically different. Windows take on these apps not to mention the updates are the worst. I didn't regret buying my Lumia 1520. I like it but the experience is just depressing... Very, very depressing. I'm even thinking of selling this phone and just go back to Android. My Moto G is far better experience than the Lumia.

This is the apps' developers' fault, not particularly Windows'.

VERY promising: - cross device integration/syncing improvements - notification center improvements, actionable notifications - new music, office, xbox, people, calendar, outlook, games (etc.?) apps - new keyboard (wonder what that dot is) - more skype and cortana integration - at least "recently installed", hopefully more, to the the top of appl list - background images for those who want it And I am sure there is more! Very nice indeed.

Windows 10 is superb...but wp10 was not discussed that much but all features are good and appealing...so..wp10 has good hope..leys wait for the preview ..the official update will be definitely be cool..

No reason left for now to buy a Windows phone,, I guess! Because windows 10 start screen. Hamburger style apps SUCK! Ooo but the camera.. Lumia camera.. What do we have good Lumia camera.. Lumia camera... Yes camera.. And Cortana! FUCK it! Windows 10 for phone, for now sucks... But I hope its just a preview it will improve alot.. and the camera .. Ooo ...

Hey smartass why don't you go build your own OS

I'm moving forward for the galaxy note 4....I have Lumia 1520....I'm not happy with the Windows 10

I love my 1520 with Windows 10!

When swiping to the right to the app lost OMG that is ugly. Why that white transparent cover and that vertical breakup of the startscreen. They now look like two screens, and not like the one screen feel you have in W8.1. This is ugly as shit.

Ok, cool. We and Microsot look forward to you buying another OS.

Probably because Windows has a wallpaper. Even in Windows 8.1 today the wallpaper becomes very dark so the text is more readible. For the app list has text as well as icons. Instead of making it darker with white text they've decided to make it whiter with black text. Note that the picture is not disappearing. It still feels as if you swipe to the right and the apps list is next to the start screen. But they have to do something because otherwise the chosen wallpaper might make the text unreadable. Also notice how the notifications icons on top are BLACK. Meaning he is using he WHITE theme. So if he wasnt using a picture the background (wallpaper) would be white. So it makes sense to make the screen even whiter to make the black text more readable. So maybe when you have the black theme activated the screen will become darker just like in Windows 8.1. And without wallpaper you probably wouldnt even notice that it gets whiter/darker. So wait with freaking out until you know all the facts. Thank you.

U whiners what did u expect...when first windows 10 build was presented it was said that there will be ui consinstency on all devices and since windows 10 preview kept windows 8.1 look you expected some radical ui change on phones and now you whine about it...if you dont like it go use laggy android or iphone who cares what just stop bitching around.

They are gonna be doing a seperate event for the full features of windows 10 for phones right ? i mean surely interactive notifications cant be the headline ? what about other countless requested functionalities ? Not whinning, just hoping someone would clarify why the mobile section recieved so little demo time.

Very interesting start screen development! Quite shocking how Windows has now vertical scrolling start menu like Windows Phone. But how Windows on phones looks more like Windows 8.1 than Windows Phone. I wonder if you can still select see-through tiles and have an image projected through tiles. Not that I greatly care. I've always prefered the Windows 8.1 look. Nevertheless if they do keep this feature than this means Windows 10 for desktop will also have it.

This has me considering getting a 1520 until something better comes out... assuming if I can get one that runs on Tmobile.

To everyone who says its horrible it's just the very beginning!

Some of the features I was hoping for was: Live interactive tiles Texting from pc to phone and vice versa Miracasting phone to pc.

From the new UI for phones seems no more one-handed fun (with that hamburger button on the right top corner being the omnipresent hero and the bottom Action Bar gone).

Multi-window on 5+ phones? No? Kthxbai

It looked nice until I saw this new design language.. which looks identical to Android. What?

Nah I prefer wallpaper floating in tiles than in background, or they could make the tiles translucent

They have. Look at Microsoft page, there's some pics.

There will be a transparent live titles in windows 10 for phones.......
go to http://News.microsoft.com/windows10story/

I need to see more pics for windows 10 for phones design

Hoping very soon for my Lumia 1520..

Okay I know that users have been asking for backgrounds but what about current background scheme? Also what about transparent tiles for the backgrounds that they showed off with Windows 10. Also, will these backgrounds extend across everywhere that black/white themes used to go or just the home screen/app list screen?
Because Id love to have previous background option present as well as transparent tiles ala XBox for upcoming background customization plus I'd love these backgrounds to occupy more spaces just like iOS 7

Ugly I like my 8.1 start screen with parallax scrolling background..you cant even see this background what's the point?

I'm impressed they created an API to bring back unified messaging. Time to reach out to FB/FB/Microsoft/BB/Etc to ensure their apps on WP take advantage of the new API.

Are the skinned/transparent tiles going away? I hope not. I am fine of course with having backgrounds an option, but the transparent tiles are one of the things I really liked with the 8.1 update, and something which sets us apart from Android and Apple.

i expected much better start screen for windows phone 10 , this event is not about phones only but same features like interactive tiles or various translationsare not montioned...we still waiting for an event to demonstrate windows for phones for more details on apps like music and video ...

Looks really nice :)!! Both w10 on desktop and phone looks really nice :)....

to people tha said , just like that ? now i'm switching to android, there's no hope with windows phone, now swithcing to iphone and etc, just go and switch to that platform and i will say welcome back to windows phone at MWC :)

Here's an image from the windows blog http://az648995.vo.msecnd.net/win/2015/01/phone_start.png

I can't wait! Windows 10 for phones needs split screen multitasking for 5-6 inch screens

Since alot of people are freaking out since they dont see transparency in that picture there is a better view here of the UI on their blog http://blogs.windows.com/bloggingwindows/2015/01/21/the-next-generation-...

Thanks! That should quiet down the nervous Nellie's...☺ Posted via the Windows Phone Central App for Android

I really like the new OS look and features on 10. It looks cleaner, more organized, and has features that will make using the device much more intuitive (text response from the notification ribbon). Plus the "one experience for all platforms" will make it much more appealing to consumers and developers which is always a good. To me, Windows 10 for Mobile feels like a mix of iOS and Android in certain aspects. The Action Center with more added settings up top feels like Android, and the aesthetic of the app list screen and the newly upgraded Spotify app has that familiar Apple look to it. I've been a using WP since August 2013 with my Lumia 925 and have really only had a few gripes since 8.1. The main one being the app quality and their updates but that's going to be more on developers now that Microsoft is using the single-line of code for all platforms. Lastly, I would love to see some additional features like an ultra power-saving mode like the Galaxy S5 and hopefully an updated music player app because Xbox Music and the third-party apps are all good but not quite intuitive enough to me. Anyways, these are just my initial thoughts from today's keynote. Here's to a great 2015 for Windows and all of its users.

- Say that you're not really enthusiastic about the Windows 10 news -> get hated on for having a different opinion. - Be part of the hype-train -> nothing to worry about, the fanboys are on your side.

Hopefully SMS will be visible on our Windows 10 tablet and PC or even Xbox if we want. Same for incoming call. Unified communications and notification center would be ideal.

i think i prefer the look of the current start screen where the backgrounds are in the tiles

Still no support for Bluetooth keyboards? I'm staying with my Dell Venue Pro, thanks —to which I went back after a bruh at the gym dropped his 110lb. dumbbell on my Lumia 920.
As a bonus I get to enjoy for a while longer the excellent and snappy Zune app (as opposed to the miserable garbage that is the XBox music app) and the natively integrated Facebook (where I receive and send messages qua SMS).
Post Scriptum:
Before someone screams "whatabou the lack of apps!", the preemptive reply is: 1) the ones on WP7.8 are more than enough. 2) Put your phone down sometimes and get a life.

A reminder, everyone: This will be released as part of the Windows Insider program. So instead of screaming and crying over a silly hamburger menu and stuff that you guys actually really wanted before (backgrounds, for one. What's wrong with that?), just send your feedback once the preview starts. Remember, this was an EARLY build of it. It WILL CHANGE many times between now and when it is finally rolled out through carriers, so chill. Sheesh...

Curious to see if the tile categories and groupings from the desktop come across to the phone as well...would be nice as an option for those who want that kind of grouping consistency... Wonder what happens with folders come to think of it...?

We will probable get Win10 before Denim at this rate.

I hard reset my Lumia 1520 to install Windows 10. It gets as far as the "turning gears" and the progress bar gets about 1/3 of the way to done. Then it reboots and repeats this exact process over and over but never finishes the install. Please help!! I love this phone...
Windows Central Newsletter
Thank you for signing up to Windows Central. You will receive a verification email shortly.
There was a problem. Please refresh the page and try again.