Windows 10 Technical Preview for phones now available to download!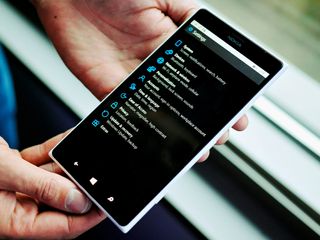 It's here! Microsoft has today flipped the switch and released its promised Windows 10 Technical Preview for phones. Outside of what we saw at the Redmond event on January 21, this is our first real opportunity to take a look at the next major version of Windows for smartphones.
If you're already enrolled in the Windows Insider program, to download it you'll need the Windows Insider app on your phone and from there the rest is relatively easy.
If you haven't yet signed up and downloaded the app, fear not, it won't take much of your time, just follow the links below to get cracking. It's also a good idea to consider, if you didn't already, whether or not it's a good idea for you to install the preview on your phone. We've got a post linked below with a few pointers to help you decide.
There's going to be a lot to look at in the coming days and weeks and we'll be back with much more very soon. In the meantime, be sure to visit the comments and share your excitement with us all!
Richard Devine is an Editor at Windows Central. A former Project Manager and long-term tech addict, he joined Mobile Nations in 2011 and has been found on Android Central and iMore as well as Windows Central. Currently you'll find him covering all manner of PC hardware and gaming, and you can follow him on Twitter and Instagram.
Man, this is escalating quickly

Increased velocity detected!!

No high end phones!? No 1520. Wth. I'm shocked

Which is weird because it was one of the internal devices used to test, and was used in the January 21st demo... My 1520 will have to wait I suppose...

microsoft is releasing the technical preview in waves ,only certain models will get it first check link below http://www.zdnet.com/article/microsoft-delivers-first-public-preview-of-windows-10-for-phones/

yes!!!!!!!!!!!!! i started downloading it for my lumia 730

I don't yet see anything for my 920. Dang.

Yes, the 920 isn't supported for the preview yet. *weeps*

supported devices- 630, 635, 636, 638, 730, 830

Your 920 it's not supported in this first wave, only "630, 635, 730, 735, 830". Patience, crying at the corner holding my 620

Downloading on my Lumia 930. Think size is about 90mb lol

How could you do that, 930 is not on the supported list?

How's that, if the preview is only available on 630/730/830 Lumias?

any changes or same old ?

started?? Man my phone is still checking for updates... what did u select slow or fast?? EDIT: GOT IT.... started!! DOWNLOADING @ 20%

Fast ey :) checking took veeeeeery long for me kn the 830

Hey using a lumia 630 dual sim. Checking for updates is taking so long. even with no internet its showing 'checking for updates' where usually 'we are unable to check' message should be shown. how long did u wait at checking for updates screen?

How is it ? is it worth it ? how bad is the lag ? is it worth the risk?

Hey in 730 is it supporting duel sim?

What's the size of the preview?

Seems like first wave available only for Lumia devices.

Tom Warren says it wont be on high end devices. Is this true?

Yes and that's mind boggling. Die hards have high end phones, why the hell do you leave them out?

it's being released in waves to different model phones

HHHOOOOLLLLYYY BAAAALLLLSSS!!!

Lumia 630 Lumia 635 Lumia 636 Lumia 638 Lumia 730 Lumia 830

my lumia 520 and 920 are crying very hard :'(

Hopefully not too long....plus the other devices can get major issues out first :)

no need to cry , it's being released in waves

The two phones I own are Lumia 930 and M8. Ugh, I feel so left out.

I can't believe there is that many phones in the Lumia 6xx series. Why haven't we had a flagship since the Icon/930 again?

I suppose it makes perfect sense to target the low-end first. If it runs smoothly on those devices then hopefully it will be lightning fast on the higher-end phones!

Have you read that somewhere or has it just not shown up for you on yours?

A bit disappointing to see the Lumia 1020 excluded after seeing Windows 10 running on a 1020 on so many screenshots. Funny thing, is they excluded the devices that most "enthusiasts would be running. 1020, 930 & 1520. Most of the users using a "low end" device aren't using it because they're an enthusiast --- it's all they could afford, although i know this isn't the case with ALL users of the low end phones.

The list of supported phones has changed. It now lists specific devices (1020 isn't on there) but when I looked just a minute before it listed 2 x HTC phones and said all Lumia handsets with single SIM and at least 1GB of RAM. Not sure why the page changed but we will just have to wait a little longer.

Yap that's the US website, The Global website still has the old list you mentioned. http://windows.microsoft.com/en-gb/windows/preview-supported-phones They will update this one too..

It's disappointing but they must have had reasons behind the choice. The other group of people I can think of with cheaper/lower end devices would be developers with test devices. I'm a developer but don't keep a separate lower end device but many do I think.

You make a good point. I personally picked up the 1020 (used) as a lab rat for the Technical Preview (HTC One M7 is my primary phone). 635's can be picked up for less than $80 if you really can't wait until the higher end devices are supported.

Damn!!! Posted via the Windows Central App for Android

Not on 1520, it cries for Denim and now Windows 10

wtf wow but what about the video joe belifore told?

At work. No WiFi. but update is ready. Looks like, I need to rush home. 730 FTW!

Anyone know how big the update is?

Wasn't there supposed to be a way to backup your current device?

Give us the hands on video ;)

What the... I'm still at work , wait for me >:(

Awesomenessssssss happening now on!!


OMG I'm shaking .. What about the video?

So Win 10 Tech Preview comes before Denim on my Lumia 1520 hahaha maybe its inclusive

it matters not whether you have denim or not, you can do it any order, but unfortunately no 1520 or any high end phone eligible for w10 tech preview in this initial batch :(

1520 isn't on the list :/

Dont worry, you can't get the win 10 update for 1520 either... Totally blackballing the best damn Lumia device made... SMDH

I don't know if I should wait for Denim so my firmware is all up to the latest before going into 10 preview mode.

I guess it's kind of a moot point since my phone is not even included.

Supported phones: Lumia 630 Lumia 635 Lumia 636 Lumia 638 Lumia 730 Lumia 830

I tipped you guys! I'm installing as I write!

No support for my L535 and 1520 at the moment. :(

My Icon can't find any preview builds :(

Supported phones: Lumia 630 Lumia 635 Lumia 636 Lumia 638 Lumia 730 Lumia 830

Its mainly devices with Qualcomm 400 -63x,730,830

Video, Video,Video, Video,Video, Video,Video, Video,Video, Video,Video, Video,Video, Video,Video, Video,Video, Video,Video, Video,Video, Video,Video, Video,Video, Video,Video, Video,Video, Video,

Patience young grasshopper.

The force is strong in this one.. But he is not yet ready

http://windows.microsoft.com/en-us/windows/preview-supported-phones

Yes!!!! I gonna watch vuds now bb

BOOM. BUT I'm gonna wait for couple of hours to see how many of you bricked your phones before I do it myslelf :P

Can anyone confirm if it is showing up for 920? I have my 1520 with me but want to know if I should go to my office to grab my 920. Thanks!..

Oh screw it, i'm gonna install it, what's the worst that can happen... edit: Really, no builds for the 1520. I thought that we'd be one of the first ones to support it. I wonder if they have more stuff they want to put in for newer phones with better processors that isn't ready yet. Oh well, have to be patient.

That server will be put to the test, it would seem.

So was I, I don't know what I am right about but you do.

rly? no 1520? Shame on u Microsoft!

Supported phones list: http://windows.microsoft.com/en-us/windows/preview-supported-phones

Beat me to it :), I guess people would have drawn conclusions if the 930 was on the list. I'm okay with waiting for the 920 to be supported and let the others be the guinea pigs :P.

On my 830 ... applied for faster updates. Device rebooted ... checking for updates ... Downloading. I still don't have Denim but here we go. Living on the edge as the 920 didn't make the list.

I applied for the slower ones on my 830 and after the reboot, I checked for updates under the settings menu. It says your device is up to date. :S

Go back in the windows insider app and change to fast.

Went there. Did that. Its happening now. Thanks mate. (Y)

Failed to open after preparing install. Fail. Maybe its storage space issue.

That just gave me a mini heart attack.
But I'm going to give it a try too. Lets see what happens.

Second go is good, GEARS screen now. Excited and a little scared.

Haha. That feels good to know. Lemme know the experience when this all is finished.?

seriously, no 920? FU microsoft

Relax... it will come in due time and If you think you can make a difference why don't join MS then?

No cortana in India region yet.. But win10 is out ~_~

http://www.windowscentral.com/activate-cortana-alpha-version-india-canada-and-australia August 2014, took a few seconds with bing search terms: "cortana in India". .....................

its for developers preview only right?

Lol no preview for Lumia 920

All low and mid range phones. Have to wait longer for my 930 I suppose.

Again, a bad move from Microsoft. They should have released it later this month or the next one (with a real date given to public) to all lumia phones, instead of prefering some over others. OF COURSE this will ignite peoples rage. While i have a lumia capable of runing the preview right now (at least my lumia 635, since my lumia 1520 wont), some people don't, so i get what they might feel.

nothing for me on 1020 USA

I don't see any preview builds for my Lumia 930

Not available on Samsung ativ s :'(

Put image and video of win ten budddies. My 520 don't have that.

My expensive 1520 sits here with no Denim or Win 10 Preview.

So what? My HTC 8X sits here with no official 8.1 yet and I'm not whining.

awesome! got my lumia 635 ready to go!

Ups no 930 support. Maybe it's better, maybe they think in case it breaks it's not on the expensive phones :P

No love for the #2# series :c

c: 630 gets it. Well I won't install anyway because it is my main/only phone

No flagship supported. Well...ok. Since the last reports on the state of the Preview on the 930 were that it made the phone even worse than it is with overheating and battery drain, might as well not be out yet.

The list of supported devices is.....damn too SHORT!

done with downoading.. :D installing now :P

Uhmm it says there's any build able for me T_T Lumia 520

Im not getting anything on NL928 I want it so bad!

What bothers me, is that I still have a 920 because Microsoft has yet to release anything compelling for me to replace it with in the last year. Now it's not on the supported list for first run. That really irks me and more and more am I thinking of picking myself up a OnePlus Droid phone

Hmmm was excited, then saw system requirements.... Anyway keep the reviews coming guys !!

dang, not 925 or 1020
excitement gone

ARE YOU FREAKIN KIDDING ME!!!!???.... I have all high end phones in my home and the LOW END ones get the preview today!?? I can't believe this!

Yay!!! My Lumia 630 is eligible for the first update #Windowsphone10

Wht the hell??? When coming fr my l720???

only with this Lumia 630 Lumia 635 Lumia 636 Lumia 638 Lumia 730 Lumia 830

this is upsetting, no 1020, 1520... just a much of international phones really smh whatever guess I'll wait and hate.. maybe that iPhone 6 plus is for me lol

Although most geeks will have the 930 and 1520.. So a bad move by Microsoft it's a TP so let the techies play :)

still nothing for my 930. but these are great news indeed! :) good luck guys!

.... And no damn DENIM!! I was very calm today, but now I'm mad!

that list of supported handset reads like a list of phones popular in the sub-continent! where is 920,1020,1520, i know it will come, but folk living in brick buildings are enthusiasts too ;)

Dont put this on your main phone... and if you do, dont cry when your phone screws up.

Nothing on Lumia 920 yet - from north America , Canada
I'm so hyped!

Nothing for Lumia 535 yet Posted via the Windows Central App for Android

Can't see it on my 830 UK

So, I have a not supported L920 ¬¬ Will be available for L920 someday or I have to forget it?

yep, on another day's batch, who knows when though

Please, someone know if people like me that still didnt receive the Denim firmware update for their phones will be able to receive it even if they install TP today??

yes, absolutely not dependant on denim (which is firmware only)

Not out for 1020. Waiting.

Guys what the size(MB) of windows 10 technical preview??

Someone show us your screenshots :)

I bet ppl will start the complaining about how bad the technical preview is. Sigh

Currently downloading the update on my 635!

Please Give us Hands on Video

This is a great step from Microsoft... Congratulations for all WP users.

1020? Nothing, by the way i am unable look for preview builds in windows insider app

cant get the build it shows when i try to login with my Microsoft account.

Will need a winows phone 10 forum now. And see how it gows on those devices. Thx.

No windows 10 available for My Nokia Lumia 520 . When it will available???

Good luck guys. My 1020 will join you soon :)

Go YouTube at windows channel. Watch the video

Cant get it with My 930..... :\

Dont worry guys. Support for high end devices is..............COMING SOON

Somebody, demo the experience atleast.

Ah so its only phones that have a recovery image available. Makes sense, although some will argue the Nokia recovery tool would suffice. One thing to bear in mind for people outside the US is that you will lose Cortana again. It took a while to come to the UK, and I may hold off now having found out its US English only for Cortana. Hoping there are preview builds with Cortana in the UK in time for me to participate and feedback. Excited to see some videos of the features on Windows Central soon anyway :-)

I don't undrestand why for 930 is not available. What a f#ck, 930 is a flagship!

Feeling like getting a gift. Wo..ho! No high end phones? :o It's because this is very first build with many bugs and crashes, so MSFT don't want to take a chance to damage those 30k-40k precious things. Lol! ;-)

I'm really confused why the 730 gets the update but the 735 doesn't. The only difference is wireless charging and 4G. Which the 830 has

I'm getting..
It's Really Really Fast...

I want to see a video of this preview, starring Joe Belfiore please!

There's a short video with Joe in another WC post

will whatsapp still work in this build?

For more information on the Windows 10 Technical Preview for Phones and what bugs it may have check this link guys http://blogs.windows.com/bloggingwindows/2015/02/12/announcing-the-first-build-of-windows-10-technical-preview-for-phones-2/

Glad I got that free 635 with the Xbox Music deal the other day. Should be arriving from UPS in a couple hours. Can't wait to take it for a spin.

What do you know? My Icon got Denim before Windows 10 was released. Never woulda guessed.

The list just for now rollout for remaining devices will come later but hopefully real soon

It says that Dual sim phones aren't supported (in the insider app), so I thought that the 730 in the list was a typo and tried to get the preview for my 735, but no, not available. Oh well, I will just have to be patient.

Apparently microsoft didn't update the global page for the supported phones yet, http://windows.microsoft.com/en-gb/windows/preview-supported-phones HTC 8X owner

What as about 535? I'm not able to c the update?

Well that's it for me. If MS doesn't care for those of us that have supported them from the beginning and have their current flagships why should we stick with them.

Jesus Christ man, it's a technical preview, not the finished product. And you'll get the damn preview as well, just wait a bit

Anybody from India done with the update????

How is the 1020 not on the list??

It'll be out soon, just be patient

what about rolling back part of the technical preview??

Strange. I'm signed up to the insider program and I have a Lumia 830. No preview builds available via app though...

Hoping my phone will have

Nokia 635 preparing install %43 ..... I'm excited

Update in process on my L730

Should've really been called Windows 10 technical preview for some phones.

This is making me angry and sad at the same time

Same! I cannot believe I chose this HTC 8S as my 2 year contract smartphone. My phone shouldn't exist! Its that terrible!

Patiently waiting with my 925

UGH! MY STUPID HTC 8S CANNOT DOWNLOAD IT! I FUCKING HATE THIS PHONE!

settings screen is ugly :(

Hows it guys...?any improvements...?

Why our hign end devices are currently excluded; "Some context on why we chose these and not higher end phones like the 930/Icon or 1520: We have a feature that will be coming soon called "partition stitching" which will allow us to adjust the OS partition dynamically to create room for the install process to be able to update the OS in-place. Until this comes in, we needed devices which were configured by mobile operators with sufficiently sized OS partitions to allow the in-place upgrade, and many of the bigger phones have very tight OS partitions." http://blogs.windows.com/bloggingwindows/2015/02/12/announcing-the-first-build-of-windows-10-technical-preview-for-phones-2/

Any news about bricking my phone is new can I install or not Lumia 730.can I loose the warrenty or else

Is it requires a preview for developers app?

Still nothing for badass Lumia 1520! Smh.

when is it comin for 520???

Hi I have a Nokia 830 from BELL CANADA. Is the Windows 10 is available for this edition? Please advise.. I registered with Windows Insiders.. But no luck. S
Windows Central Newsletter
Get the best of Windows Central in in your inbox, every day!
Thank you for signing up to Windows Central. You will receive a verification email shortly.
There was a problem. Please refresh the page and try again.