Windows 10 Technical Preview for phones still due in February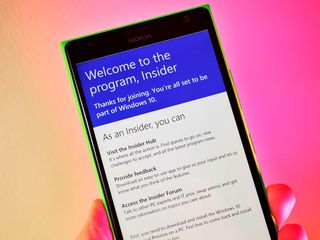 Microsoft today released the Windows 10 Technical Preview for PCs and tablets slightly ahead of schedule. With that update, many people are inquiring about the Windows 10 version for Windows Phone.
Microsoft was very clear on this point earlier this week during their 2-hour press conference: February.
Indeed, heading to the Windows Insider Program website on your phone (with Mobile mode enabled in settings) yields the above images for users. The news recapitulates what is already known that Windows 10 through the Insider program is on the way.
Will Microsoft release it in early or late February? We have to wait and find out, but just know it is close.
Thanks, Kiran K., for the website tip!
Windows Central Newsletter
Get the best of Windows Central in in your inbox, every day!
Daniel Rubino is the Editor-in-chief of Windows Central, head reviewer, podcast co-host, and analyst. He has been covering Microsoft since 2007 when this site was called WMExperts (and later Windows Phone Central). His interests include Windows, laptops, next-gen computing, and for some reason, watches. Before all this tech stuff, he worked on a Ph.D. in linguistics, watched people sleep (for medical purposes!), and ran the projectors at movie theaters because it was fun.
To be clear, I wrote this so (A) Many of you would stop asking this in unrelated articles (B) So you guys can begin to ask/complain about Denim updates So go at it here (and only here) for today ;)

But I've already got "denim."

Excellent, so you don't need to complain about it too.

i don't live in usa, but f**k Varizon

Verizon.. And yeah fck em!

What about AT&T :D fk them 2? Damn im in europe :D

No. AT&T is good. But fck Sprint

Btw i saw some lumia in North America is still "lumia black" on AT&T ... WTF

It seems funny..... In India we dont have carrier locked WP....So MS need to roll-out not Airtel

any idea about release for lumia 720

+1000000000000000 Oops, my Icon meant to direct that to the f Verizon posts above

And F**K the Canadian version of Lumias too! Sick of waiting for Denim!

At least you got 8.1rtw ativ s/8x users still don't have it

Yeah but I'm freakin greedy! LOL

My Canadian 830 came with Denim pre-installed.

Good for u bro.. Enjoy it!

Get unlocked phones, stop worrying..lol

Unfortunately, not as easy here, the carriers all use different bandwidths, Verizon is CDMA, AT&T is GSM

I laughed so hard at this.

ROFL!!!
That was good....my mouth was open!

You know that people will keep asking in every post the next questions (or the combination of the above): When for my country? When for my model? When Windows 10 for phones? When Cyan for Icon? etc

And "Will my Lumia receive the update?" :)

Yeah, engadget thrw some shade on what current phones will be getting WP10. I expect that question to come up a lot again.

Do you mean Chris Weber, Corporate Vice President of Sales for the Microsoft Mobile Devices group? http://lumiaconversations.microsoft.com/2015/01/22/the-lumia-you-love-gets-even-better-with-windows-10/

Yeah bro I've seen that and its embarrassing because I'm an indian too!

I say when in UK now, guess it's an easy way to make a point here. Like people use +930 etc. Why not lol

Yeah where the fuck is Cyan for icon? Wheres my Denim Jacket? When is Windows 9 coming to Icon?

Wait, so when is Windows 10 for Phones coming out? ;)

So Deniel, any update for my Lumia 1020...will my 1020 get windows 10..?....denim...? anything...?

Omg dude,sorry but u are so stupid

is anything wrong in the ques...?

For denim update, u will get that soon. As for windows 10, u will get it on February( but we still don't know when!) and don't worry u will get these both update and upgrade! Savvy?

Don't be sad bro. It happens

ALL PHONES RUNNING 8.1 WILL GET THE UPDATE, so RELAX!!!

Yeah, one word: "carriers"...

Thurrott suggested that not all Lumias would get it.

he was referring to the ones carrier branded

Do you need Denim ro get W10?

No. Denim is firmware specific to Lumias and is separate from the software OS. HTC and Samsung won't have Denim yet they will receive Windows 10 Posted via the Windows Central App for Android

Let ME answer you -> "............"

I have a question Daniel, sorry if it was answered already. I joined Windows Insider earlier but it said that I need to install WP10 on PC too. Does that mean that I cant have WP10 on phone without having it on PC first? Thanks

It doesn't matter dude! U can have that 100 times

@Blade800 Windows 10 for phones (the insider preview isn't due out until February) The only Windows 10 insider preview you can get right now, is for PC/tablet only.

About that unrelated questions.. I'm having issues with Windows Central app showing number of comments on articles. Example, there is one comment in article and when I enter it, actually there are 50+ comments. Noticed that about a week ago. Tried reinstalling the app and meanwhile I did hard reset and nothing changed.

I have the same issue sometimes... Check it out Jay! Thanks

I'm having problems with it disabling live tiles and resetting all my preferences too.

Comments number being different from the actual number is only because of the refresh time. I don't think its a bug.

I second that...Error connecting on launch!

Speaking of denim, I'm with at&t and wondering what's the hold up? The wait continues... It's exciting though!

That photo of your 1520 though. I see what you did there. Well played.

Yeah PT and MJF mentioned he took the hulk to the event, hmm

how about a little clairification on what most lumia devices getting windows 10 means please and thank you


It means that all the Lumias with WP8 or 8.1 will get Windows 10, and the ones with WP7.X won't get it. Not only Lumias, but any other device with WP8.X is eligible for the W10 update, so it means that the HTC One M8 will get it too.

@MSZika, has Verizon been clued into this?

@blushrts717 I'm talking about the preview, sorry.
But this is a real nightmare :/ Specially here, in Brazil. Some phones are stuck in Lumia Black, like my old 920 that I gave to my mom.

i wonder why the lumia blog would group phones in the bunch that have all been long dead. i figured that that was meant as there are current phones with 512mb of ram and there was 635s being shown off with 10 on it

Does that include Surface RT?

They said all phones on 8.1 or 8, as I remember.

Amen or did I mean to say denim lol

When will denim come to my phone? I already installed insider app, but it says I need a Microsoft domain account! Plz halp? Anyone?? /s

Denim has nothing to do with the Insider App, that is only for Windows 10 preview updates.

He was using a little thing called sarcasm

Daniel, is the rumour on Twitter true about Lumia 930 getting a small update preparing for this? Apparently has been rolling out on Denim phones and once updated still says "Welcome to Denim" via Extra+Info app.

Speaking of Denim, I wonder how the firmware updates will be handled for Windows 10. Will Microsoft (and the other OEMs) finally have full control of their update cycle?

Still waiting on Denim for ATT Lumia 1520...... Thanks, I feel better!

where can I find the "settings for Phone" in the insider? Please tell me:)

Thank you. It's so damn annoying that people constantly ask...

Daniel, was there anything mentioned about the attachment functionality in the new outlook app on Windows 10 for phones? Sorry I known its not related to the article.

Hi, I'm in Vietnam, I'm got Lumia 930, I'm in Windows Insider Program. I'm still waitting for Denim updates. When Windows 10 go live, of course I will upgrade my Lumia 930 immediately. I'm not sure which one go live first, Denim or Windows 10. If Windows 10, will I receive Denim ? I love Lumia Camera 5:(

Yes, they are separate things.

I'm waiting Posted via the Windows Central App for Android

So, Daniel. Will W10 for Phones require minimum hardware requirements?

Lol...very well stated, Daniel! :)

Hehe, too bad, they should release this one early as well. Because reasons. :D

I'm really hoping we get it right after the super bowl.

What and when is the Super bowl? Is it a big event?

It is like the IPL finale there, but of American Football. February 1 is the date.

Only the biggest sporting event in the world. Posted via the Windows Phone Central App for Android

In America*. UEFA Champions League finale is the biggest sporting event in the world, actually.

Not a chance, tbonenga. No world cup final nomanquandri?

I was speaking of yearly events. therefore not counting The Olympics and the World Cup.

What sport is that for?!!!!!

I agree. I don't watch much football but I never miss the UEFA final.

I thought the world cup was the biggest sporting event in the world.

The beautiful game is, or should I call it football ⚽!

I know ur question has been answered, but u could just have asked that to Cortana

It should be available either on 2nd or 3rd Feb earliest. Defo not on 1st Feb - its a Sunday.

Take your time. We are ready and calm and excited MS.

Em... I'm not really... I want it as soon as possible!

Read this article people!! So u wont ask that next time

But I still don't have denim on my 930. Do I need denim first?

my heart stopped beating when i read "Windows 10 Technical Preview for phones"!!

Me too bro got stucked...birds were flying around me...eee

Consider it a trailer for your heart then, for the time when that "still due in February" changes to "now available".

Can't wait. Apps!
Finally putting 10 on dvp. My laptop has had it for a while and was perfect, operationally wise. A great two weeks for my tech p3n1s.

I am very more intesrest in the Denim update that in the very early Windows 10 in Phones build...

Let's go denim for Icon, then I may get this depending on if there are any bad bugs for other people. Excited for the future for Windows Phone!

Oh Daniel. At first look at the article, I thought that phone preview is also live. You gave me a shock. :)

No denim update yet in jamaica

It'll release for all phones? Huh!

Some reports say that some will physically not be able to, but most say yes

And i thought for a moment that the update for phones is also available now :|

My question is, has anyone from Microsoft said anything about going from the tech preview builds to the final version? Will a rollback be required? Unlike desktop PC's backing up a WP device is not a complete process with most apps and games providing no backup facility so if there's a potential for data loss it would be good to know in advance.

There always is a potential with beta software. Nokia aka Microsoft has software to roll back devices. I have used it to install cyan and then 8.1 update 1 on top last round.

I'm too excited about Windows 10's new build being released early to be able to be excited about the Technical Preview for phones releasing earlier than expected too. So I'm fine with it not being launched until then. But I'm seriously too excited about that new build. I made 5+ posts on Vine with the Windows10 tag about my installation progress. (5+, since it's still happening.)

Just received Denim here. UK Lumia 930 CV =D

Me too! I thought you were just trolling.

Is true dude, is in MS update page! Come on 1520!!!

Not happening for EE 930, just tried after reading your comment :'( But enjoy your update!

Camera 5.0 still providing reframe function?

Heh heh, yeah that was me complaining about Denim updates

No big deal.. I still have hope that they will release it in the coming hours..

I wonder if today's Windows 10 release solved the Wi-Fi issue. No luck getting it to work in previous builds :'(

No biggie. Would be cool if it was released within the first week though.

So I can download Windows 10 and Denim for my Icon from this site?
*kidding*

Hoping for a on the dot February 1st release :D

Yeahaa denim available for 930 CV people uk

For crying out loud, why hasn't the CV Lumia 1520 (uk) got the update, thought the 930 & 1520 were gonna be first handsets to get denim

Not going to install it on my main Lumia I think I will have to find a cheap used Lumia for testing before the release date comes

Get a new one
Because Microsoft confirmed w10 for some lumias
Not all especially 520,620
Get a 532 or a 535

Hopefully Windows 10 for phone is set for February because they are planning on all updates to Denim being complete by then. *cough* Icon *cough*

lol Lumia 1020 still waiting for the technical preview lol glad to know it'll be coming eventually

Who knows, maybe Microsoft surprises us with the preview in this month.

No , WP 8.1 took 12 days
So w10 probably will take more
And Microsoft isn't that type that gives surprises:/

he says the day microsoft left us all a surprise

It's say the band was one hell of a surprise, then fuck up.

Denim was due in late 2014 for 1520

No it wasn't. MS said Denim will ROLL OUT to devices in late 2014...not due in late 2014.

How do I get this on my phone. In February

I'm on Mars. No denim update yet wtf?

Same:( have to wait for the satellites to get here first. Cmon spaceX.

One question (as I not so patiently wait for denim on my at&t 1520).. Daniel, you mentioned that the 5.0 Lumia camera would be the standard on windows 10, and also the corner photo icon would now take you to a new photos app. Is it known if that new photos app will include living images? I would imagine so, but just curious nonetheless.

Does reframe function still available for denim

Does any one knew if Lumia 920 getting the Denim update

I am waiting for a professional answer for this question as well, mostly if our 920's are legible to have all the features which 10 provides is my major concern. It should be powerful enough i guess.

I still don't have denim!!!

Just downloaded windows 10 for phone On YouTube

How do you download onto YouTube? Its not a platform.

Here's a question: Im running the developer preview for the new 8.1 on my 920. I personally think it'd too early for me to invest my time in getting the preview for 10. But if i do want to, will i be able to get it with the type of OS im running already?

Another question is this: I never got the Denim update, is it because i have been running the latest tech preview for 8.1? Because i do have the Live Folders.

Still no Denim in Slovenia:(

Slowly slowly catch a monkey

So if I update to W10 on my phone will I still able to get the denim update?

RELEASE DATE --- FEBRUARY 2ND MONDAY TO START OFF YOUR WEEK! :-)

Hope that is right
I want it before 8th Feb
My school starts at that time
I want to show it to my friends!

They hinted and said after the superbowl and thats a Sunday! Maybe they will surprise us and make us happy the next day on a Monday!! :-)

Oi! oi! Where is my lumia 1520 denim update in Malaysia??

I'm actually interested to see if my AT&T Lumia 1520 gets the Windows 10 Preview before it gets Denim.

Lol that's the rolling question for us US goers...Seems like all the US carriers are dragging on this...

Yup, especially the camera 5.0, it is embarrass if we get full features of camera 5.0 without denim soon.

If I get the W10 insider and subsequent preview build, are the 8.1 apps useable on W10? And will I be able to restore my whatsapp backups etc?

Feb has 28 days! Be certain Microsoft!

I'm going to predict February 2nd for the launch. Joe did say after the Superbowl! Wait, or did he mean after the game was over? I'll stick with my first thought.

So I didn't imagine it. He did say we'd get the preview when the Seahawks beat the Patriots.

So if the Seahawks lose then we get no Windows 10 update?

So if the Seahawks lose then we get no Windows 10 update?

Somebody better make sure those Hawks win then

I agree. I think we will get it on the 2nd. I said it a few comments up in caps!! Lol

Will the HTC HD 2 receive w10.

Does he mean phone insider ?!!

Stop teasing us and release it early...like today

When is denim coming for t mobile 521 in america? Damn its like there either forgetting us 520/521 owners or they just don't care that much about mobile any more:'(

When I open my 'phone insider' app it shows 2 options : 'Search for programmes' and 'troubleshoot' when I go to search it tells me to log in using my Microsoft domain account and I use my account 'sarthabehki@live.com' and when I log in it says that my username or password is wrong , though I know I'm filling in the right password. So I wanted to know is it just me or the app is having some problem? Please tell me. Or am I using the wrong app?

That's not your domain name, that's your MS account name

So how to get a domain name

You serious?
Unless you work for MSFT.... Nope

Not publicly available yet, wait!

I think MS are gonna get to grips with the crazy update delays with W10. I think much will be taken out of the hands of carriers. I also reckon that not all Lumia phones will get the update.

Didnt they say after Super Bowl?

Yesterday, my friend managed to double denim and he got laid, here I am waiting for single denim like an idiot fml

Lies. Nobody gets laid wearing double denim. Not unless they take a DeLorean back to the 80's. Lol

I don't even have the Denim update yet for my 1520.......... Terrible At&t/Microsoft.......

As long the upcoming flagship is a 1020 successor I'm happy. I can wait for the tech preview :)

The only auestion I have is will we get a windows central universal app?

Will this be through an app? Like the Preview for Developers?

I'm wondering if the active folders from WP8.1.1 will be discontinued.

Keep asking but no official feedback from Microsoft

So I downloaded the phone insider app but its asking for a domain username wtf is that please help

That's something you'll get only if you work for Microsoft. The app isn't actually working for general public,

You can start submitting your resume now

I'm wondering should I join MS or google

When Microsoft said February they mean April or later !!! They still work in windows XP transfer rate time...

Hi, will the technical preview equal the preview for dev in terms of maturity? will it be a daily driver or a true beta ver.? thanks

But, I have a big question, if I install the Insiders program could I use my normal applications?, I mean The applications support are for Windows Phone 8 and 8.1 and if I install it I would be using a preview of Windows 10

This is different than the Developer's Preview that enabled users to bypass carriers and upgrade early to WP8.1 last April, right? If you do this one, will you lose your data, files, apps, and the like when the final version comes out?

App purchases and OneDrive are linked to your MS account...not to the device. You should be ok

I think im gonna skip it this time, I don't want beta software to be honest, so far I've read unlike preview for developers, this wont be finished software waiting for stupid carrier approvals, but who knows, maybe a functional Skype app convinces me

Let's wait for the ppl that installed w10 preview and see if it worth the risk to update for beta.

I'm looking forward to this.

The main problem for me is if it will be good to use it as a daily driver OS.. In case it's too bugy, we can install (reflash) 8.1 again, do we?

Easy to reflash 8.1. I've done it several times to get a clean install before putting the Dev Preview on again.

Fuck AT&T I'm tired of waiting for Lumia Denim for my Nokia Lumia 1520!!! It was supposed to be release by end of year. I cannot believe I have to wait until March MWC '15 for AT&T to release the stupid Update when most Europeans carriers has it! fuck

I have an unlocked L830 set in usa region...i want to when I will receive the denim update.

I'll be trying this first on my 920, don't want my M8 to be on the fritz if it a buggy OS.

Wow same here got a 920:-) old school lumia:-)

Im just hoping the "Revamped" music app they spoke little about brings back all of Zunes features. BTW, I love the modern style there using with 10, keep it up. One thing, all apps is covered by the task bar.

Please roll out denim update for lumia 720, India !! :/

For all the griping, bitching, general gnashing of teeth, this has been an amazing year for Windows phone. My Dell Venue 8 Pro just tossed a shoe in update, but trying again. Have fun, everybody.

I am a bit confused. So the preview of Windows 10 for phones are no more using Developers Preview but Windows Insider?

Duh. Why the fuck would they make another app if they didn't need it?

Will all wp8.1 apps work in windows 10 for phones...?i haven't seen any posts about it .... Someone pls clarify it

I thinks so...usually apps are just non backwards compatible...but most always they are forwards compatible

When is kit Kat coming to the G 1 nexus 6 pro edition of my 1st ever android phone ?

Well that's all cool but I believe you guys need to write a proper article dedicated to WP10 preview; the features it offers and what's new ( the interface) .. Combining all of that :) @ Daniel

Won't matter. Look at all the stupid questions . You could run a video loop, still morons would ask.

Got some dumb mother fuckers on here.

Even aftr launching the preview version in Feb, very few people might be installing it as it'll be the first ever built of of WP10 and won't be as polished as WP8.1 DP

Yup, n we will suffer and enjoy at the same time

dont be late Feb, i want it right now~~~

I hope they have changed on how one gets cortana. We don't mind when the requirement is US English, without the need to change the region.

Plz enable hey Cortana feature for all Lumia phone..

Anyone wanna trade me a Nokia Lumia 930 for an iPhone 5? Seriously though. I need my windows phone back after destroying my 1520 :(

I was waiting for lumia denim update for my lumia 525. But now let windows 10 T.P for phones arrive.

I wonder if my HTC 8S will get the Windows 10 for Phone Technical Preview because I am so excited for it!

I really want the Windows 10 Technical Preview for Phone right now!

I signed in my whole family Lumia phones to insider, but they only want the official version soon, perhaps they already experienced the bugs on WP 8.1 PD.

Baffles me why anyone would buy a carrier locked CDMA device.

Pls keep looking into what Lumia users ask for new UI improvements, I believe there are tons of request.

Any idea what would be the size of the update??

Will Lumia 1320 be upgrated to Windows 10 ?

I really hope we get the denim patch soon... this hole in my jeans is gettin' worse all the time.
Windows Central Newsletter
Thank you for signing up to Windows Central. You will receive a verification email shortly.
There was a problem. Please refresh the page and try again.