Microsoft launches Windows 10 January Technical Preview ahead of schedule, now available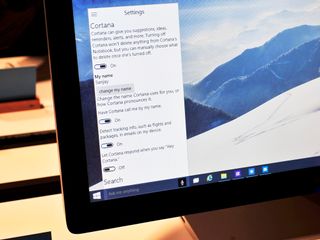 Microsoft today has delivered the Windows 10 January Technical Preview slightly ahead of schedule, with the update going live at 1 pm ET. Those who have enrolled in the Windows Insider Program can now either upgrade or install for the first time Windows 10 January Technical Preview.
The Windows 10 January Technical Preview is a particular early release of Windows 10 that was demonstrated by Microsoft earlier this week at their Redmond media event. The update is an important milestone, delivering many new features to the burgeoning new operating system.
Users can head to http://windows.microsoft.com/en-us/windows/preview-download (opens in new tab) to grab the download now. The update is also now available through the updating process for existing users.
Windows 10 January Technical Preview (Major New Features)
Xbox App – View your friend's activity, post to timeline, watch game DVR videos and more ( Xbox One to PC streaming is coming in a later update to the app)
Cortana – Cortana is now built into Windows 10 search and syncs to Cortana on your Windows Phone
Action Center – Gone is the Charms bar, and instead the Action Center now houses notifications, Quick Action keys, and settings
New Universal Apps – People, Outlook, Photos, and Maps are all overhauled with new features and designs
New Icons and design – Many elements of the OS, including Settings have had a makeover to match Modern 2.0 design
New smart snap mode – When snapping an app, a list of currently running apps will appear in the space next to it, as the system assumes you will want to snap a second app
Continuum – Users can now dynamically switch between Tablet and PC mode with a touch of a button, making apps full-screen (tablet) or windowed (PC). Devices like the Surface Pro 3 should do this automatically with the addition or removal of the keyboard
Microsoft's Joe Belfiore recently gave a tour of all of the new features coming to Windows 10 in a seven-minute video, which is embedded here.
Unfortunately, things like the new Touch Office suite and Project Spartan web browser will not be in this update. Instead, they arrive in the coming months through the Insider program.
Windows Phone Insider Program: Microsoft is expected to deliver Windows 10 for phones later in February.
For those with Windows 10 Technical Preview already installed, you can head into Settings, Change PC Settings, Update and Recovery, Preview Builds, Check now.
If you are not enrolled in the Windows Insider program, you can head to Microsoft's page to get started: https://insider.windows.com/en-us/. You can also now download the Windows 10 ISO files for a clean install from here: http://windows.microsoft.com/en-us/windows/preview-iso (opens in new tab). Microsoft has also detailed more about today's update on their Official Blog found here,
Windows Central Newsletter
Get the best of Windows Central in in your inbox, every day!
Daniel Rubino is the Editor-in-chief of Windows Central, head reviewer, podcast co-host, and analyst. He has been covering Microsoft since 2007 when this site was called WMExperts (and later Windows Phone Central). His interests include Windows, laptops, next-gen computing, and for some reason, watches. Before all this tech stuff, he worked on a Ph.D. in linguistics, watched people sleep (for medical purposes!), and ran the projectors at movie theaters because it was fun.
I'm at work and haven't updated yet. Is "Hey Cortana" working in this build?

It is there, but so far I could only get one sensible response and most of the time she tells me that "something went wrong". Might be becasue everyone is playing with her right now I guess.

"everyone is playing with her". Can we just cal it "it"? "Everyone is playing with it"... Hmm. That doesn't sound right either. Ok, her it is then. :P

LOL I thought hard about how to phrase that, but there is no way to make it sound any less.... wrong

Very much interested in the Xbox app @Daniel, can you please have a video solely on the Xbox app and it's features? Thank you in advance.

Visual Studio 2013 Ultimate runs on Windows 10 Tech Preview? Last time I checked I got compatibility issues with the installer.

By the way, smart snap mode had been around... Its not new in the update

Not showing up in Windows Update for me yet. :(

Check for preview build updates. c:

I did, but didn't show for me either, Doing a normal update since I rarely use this vm to see if theres a prior update I require... annnnd now it shows the preview build as available.

Omg! I'm downloading when I get home! Didn't expect this today.

Haha me too,I was gonna leave my PC on at home with teamviewer active for doing it from the office. I didn't do that today :(, but it'll be cool playing with it this weekend! (hope they fixed the Steam problems)

I was going to order a mic/webcam tonight. Didn't expect the build to go live before I received it. Now I'm going to want to try out Cortana so badly til the mic comes in.

What problems are you having with Steam? I'm having issues with the client freezing when installing updates or games.

How can I downloaded can you help me

There is a link in the article. Good luck.

I registered with windows insider but nothing happened afterwards..

Were you expecting an earthquake?

Where it's the phone companion video he talked about?

The page says it isn't posted yet.

There is nothing to see for phones. Nothing. When there is, you'll know.

This is probably a bad idea on a SP3 as my main machine, right? I guess my question is there an upgrade path to the final image? I'd rather not get everything set up only to have to reformat with the final release.

If that's your only machine. Don't you have a desktop? If you have a desktop just make a partition and install it. That's what I did on my main rig.

Well main windows machine. I also have a MBP. I think I'll take the plunge.

There is supposed to be an upgrade path to the final product. That was stated previously, but I don't recall where I read it. Having said that, make sure you create an image/backup of your existing install. This is beta software.

They stated that they were working to that goal. But nothing definitive has been said on it.

It's been reported several times that this time around the people using the preview will be able to upgrade to the final bits, probably without any hacks. Some people have been using it on their SP3 machines - may want to read up on their experiences before taking the plunge yourself.

Official statement is "we have no plans to make it otherwise" - In human words, yes, you will be able to upgrade straight to release.

I was hesitant to put it on my sp3, but now that contiuum is supported, I would be interested to see how users like it. Maybe if you go through with it, you could post an update.

Be aware that one of the bugs in the latest build is that the battery life on a SP3 will be reduced. This is something they are working on though.

It looks like it is an issue with standby mode, especially when the device is connected to other devices, like wifi. I don't think it has much impact on battery performance while in use but you might find your SP3 drained after waking it later.

February..pls come fast..

Is this stable? Want to put it on my Acer s7-392...

Well it should be more stable than previous version. Just install it on some secondary partition.

Been using w10 as my main Os, had no problems whatsoever... Only problem was that the feedback app didn't work. Vs and matlab worked liked a charm though

Me to I just put it on my main machine no problem at all touch wood. There was problem were ie kept crashing but that was sorted by patch.

I've been running the preview up until this update. It's been fairly stable. Explorer.exe crashes and locks up occasionally. It also seems to boot much slower than Windows 7 or 8.1.

Wow, an update is actually available BEFORE schedule, LOL. Downloading ASAP!

I mean how utterly fascinating, right? MS has always either been exactly on time or slightly late. Never early. I'm liking this new MS!

Build number on this one?

Windows 10 Technical Preview 2 (build 9926)

I have Windows 8.1 installed can I update it to 10 without losing my installed software and other things. Or a fresh install is mandatory?

If you partition your hard drive or have a spare hdd, you can install it and choose which one you boot to.

I already have 7 and 8.1. So was thinking of replacing 8.1 with 10.

Everything I had installed on my windows 7 laptop was compatible with the install, so it was smooth running.

Yes you can, did on Windows 7 Starter.

Okay will try in the morning

According to Daniel Rubino, you can just upgrade your old OS (Win7, Win 8, or Win8.1) with this and will keep your files and settings. I dunno about software you previously installed though.

Prateek, I trusted the installer enough to not remove everything. I did a inplace upgrade from 8.1 to 10 keeping all documents, apps, desktop apps. Pretty much everything

Damn. I'm stuck at work. Only 3 hours left until I get my hands on it. :(

Yeah leave! Go! Run while no ones looking!! Lol!

Less than an hour for me!

Wats the download file size.. Can u pls tell me..

Its about 2.8 GB if you're upgrading from Win 8.1...

I'm already in windows 10 oly..

Is this build the first one that would be acceptable for devices like the Surface Pro?

Sure is! http://www.microsoft.com/surface/en-us/support/install-update-activate/w... Haven't tried yet but damn will be once I'm home!!!!!

"Surface Pro 3 will not stay in hibernation. It continually wakes and then tries to hibernate until its battery is drained, leading to poor battery life. Shut down Surface Pro 3 to conserve power. " I'd wait until this bug is fixed.

Um. Hibernation mode destroys your ssd. Why do people with modern machines use it instead of pain sleep mode? Save your ssd people.

I thought the surface automatically went into Hibernation after 4hrs of inactivity. Is that not the case then; or can you disable this? Saying that Connected Standby doesn't work either.

It's a power setting that has been customizable for laptops since Vista I believe. Control Panel >> Hardware and Sound >> Power Options >>Edit Plan Settings >> Advanced power settings (blue link when editing plan near the bottom) Granted specific settings are fairly hard to find in Windows sometimes. Heres hoping the new settings app is easy to use but also offers all these small settings.

Yes. It has the "continuum" feature whereas the previous version was mostly aimed at testing the desktop functionality.

Christmas present 30 days late

Hope they do this with WP10 lol

This is the beauty of my job.I can download this on the clock and call it research. Im not lying either which makes it even sweeter. Ehh where's my surface Ethernet adapter...

Dammit I have to wait for Monday to download it at school

Me to but my windows 10 test machine is at mymain location. Looks like its getting installed on my mbp

What u said windows 10 for phone will launch in late Feb??? :0

After the Seahawks win the Superbowl. Either never or, if we are optimistic, in early Feb.

Depends on the air in the footballs...

I literally just started downloading the previous build to be ready for this...I guess I can cancel that other DL.

I have a question... They made a big deal about Cortana integration with Windows 10 and the new version is available in 25(?) languages. So are all those features available for all these 25 languages?

Cortana is available for U.S. English only for now.

Cortana will only launch in US English.

But how to download plz give me info

I suggest you read the article

Reading is your friend. And not just the headline.

Can you read bro? If yes, go for the article.

Is this for the Surface RT as of right now? Anybody know so I can download it when I get home?

There's some bad news for you.

Not for RT. :( In fact, at this point, it's still uncertain what RT devices will get with regards to Windows 10.

Thanks that sucks, but I can wait lol.

except that theyve said many times that wp and tablets on arm will be using the same sku of windows...

They've also said this: http://www.windowscentral.com/windows-rt-based-surface-and-surface-2-will-get-some-features-windows-10

There will probably be a special version of Windows 10 for rt tablets

Wow awesome! If all goes well we'll have it for phones in the first week of February.

Whoa. On campus and just checked my phone and saw this. Awesome!

Download at 100Mbps and choking up bandwidth for my main computer here!

Boy, that was a super fast download. Already installing...

i have 30Mbps and it's still downloading...

If only we had a progress bar. Hopefully this build will add one!

And installing progress bar too ...

Lucky people! I have 9 Mbps download speed at my home, and it's the fastest I can get!

I'm so dang excited for Windows 10

So that's not for RT, right?

Right. This build is the full version for x86/x86-64 systems.

i would be nice to have a download progress indicator or something. especially for such a huge file

Downloading it now... But what's with the rounded switch toggles in Cortana's settings?

I want the iso.. Where is it? Dammit I have to wait for Monday so I can download it with faster speed

If this came early then can we also expect first build of windows 10 for phone to come early?

downloading it over windows update right now. first time for me to try out windows 10 :)

Anyone planning on updating their Surface who hadn't prior to this? I am updating desktop now, but I am torn on if i should do on SP3 or not. Decisions, decisions.

I know. I have one of my desktop ssd's running windows 10 but now that continuum is supported.... very tempting.

Yeah. I use my SP3 heavily as my main computer so I need it to work. I know it wouldn't be a smart move, but I'm tempted to install the preview on it anyway.

"Surface Pro 3 will not stay in hibernation. It continually wakes and then tries to hibernate until its battery is drained, leading to poor battery life. Shut down Surface Pro 3 to conserve power. " I'd wait until this bug is fixed.

Thanks for the info. Holding off for now.

Daniel help us posting an article to upgrade from w7..

You guys get nothing, you can't upgrade ok, Ms is punishing u guys for not using either w8/8.1

I dont think the process is much different. Download the iso and install. When installing ovcer 8/8.1 you could boot directly from iso media and do fresh install or run setup within old os to keep files and settings. Im not sure how that works with 7 though. Run setup from within 7 and see if the option to keep files and settings is available.

We have a post on how to install Windows 10 Technical Preview. It's on the front page of the site right now.

Richard... It would be super if you could help those who use a imac get this up and running. Cry me a river then build a bridge and get over it

Downloading as we speak (as we type?).

It was failing to download on my desktop, so I started it on my surface pro , which is my main machine ... Leap of faith :)

Is there an upgrade path from the preview to the final build?

That is the plan. MS didn't "promise" it, but they stated that a direct upgrade is their intention.

Still not safe enough to install on my main pc, right? :c

Pft. I've been running it on my main machine since October 1st of last year. Have never run into a single problem.

Does anyone know when Windows 10 is officially being released?

Late summer or early fall most likely, but nothing definite as far as I know.

Phases give windows 10 for phones.

After installing this? All your data will be lost? You have to backup before installing it? Please tell.

This is beta software. You absolutely should have a full backup of some kind before installing. Most people install if from scratch. I have no idea if it supports an in place upgrade from W8.x or W7.

Yess. We can expect windows 10 for mobiles coming soon.

As windowscentral already noted, make sure you have installed KB3025380 update prior to installing this build.

Question. I have an HP Pavillion X2. It's my main machine and has 32gb of internal memory. Am I ok installing the preview? Is there a way to go back to 8.1 if need be?

i suggest to make it dual boot.

What do you mean by dual boot? Thanks.

Is it a laptop or tablet? Dual boot is having 2 OSes installed in different partitions, can be done ondesktops and laptops, dunno with tablet.

Lol, you definitely shouldn't dual boot with only 32gb.

Hwwow..so we can expect the same speed for win 10 for phones..

If u're not in US, change location parameters in URL to en-us and u have a chance to download new build

What is the latest Build number..??

I wish they release Windows 10 for phones TP earlier than scheduled too.

Ordered my HOLOLENS today

Ahhhhj I'm starting my VM now :)

Whaaat? Microsoft? And "Early?" in the same sentence?? No way.

How about Windows 10 Technical Preview for phones? Any idea?

February. Just like they said in the event earlier this week.

Only thing cooler would be 8.1 on my Icon.

or Windows 10 on your Icon

Your right, that would be awesom'er

Downloading..... Weeeeeeeeeeee!

Downloading........ But why I can't see progress bar? Does this "circling dots" means downloading anything? Oh sh1t! It's asking "Install now?' Damn, yeaaaaahhh baby!!!

Finally! Done updating to the new build! Cortana is here but no 'Spartan' browser yet, but its OK. PC Settings is more organized, though I got confused a little bit at first. Notfication has been improved as well. I also like the option to make the modern start button to full screen that will make it looked like the Windows 8.1 and also theres a one click enable/disable tablet mode.

Lucky! I'll install it soon too..

Should I install on my Dell VP8 is the question now

I'm assuming the Xbox app is replacing SmartGlass, am I correct?

Getting error message.unable to download. But I keep on trying.. Yeah

Maybe the phone preview will be released ahead of schedule ;)

Downloading, so stoked for this!

Can we see the new 'Spartan' browser in this build?

Nope.. Read the article my good Sir...

Downloading!!!! Now, should I load this on my Surface Pro 2, or just my test rig... decisions, decisions....

For those getting errors updating their build, make sure to turn off your Anti-Virus. I have had to do this with the last couple of builds.

Woot! A little over an hour to go before I get off work... And go home and install! Just so happen to have a brand new Logitech headset/mic just for Cortana!

I cannot seem to get cortana to respond from my headset microphone. The mic works fine in other applications. Any idea of why this is happening

I DO NOT LIKE THOSE ROUND ON OFF BUTTONS, woops just noticed caps, bring the square ones we have now back

Downloading right now :-)

Took the plunge. I want to check out that new Music App, or at least be ready when it's ready.

How is it ahead of schedule? Despite what you and Neowin were reporting, they clearly (well, to anybody with ears anyhow) said "in the next week" NOT "next week".

I'm tempted to buy a 10" tablet to play around with this.

Anyone else here also patiently awaiting the next build of the Windows Server Technical Preview? The one available for download is still the original version.

Does anyone know if the action center gathers notifications from toasts from modern apps? I hated being limited to lockscreen notifications and live tiles

Anyone know where I can get that wallpaper? (Snowy Mountains)

An Intel Atom processor should be able to handle Win10 right? I'm thinking of installing it on my Dell Venue 8 Pro. I somehow get the impression that it's recommended to install only on full PCs/Laptops. Any recommendations?

Can we still enable the windows 8 start screen instead of the start menu in this build?

I tried to download it to my 8 inch Toshiba Encore 2 Windows 8.1 with Bing and I couldn't install it. I received an error message saying that Windows 10 couldn't be installed on a compressed system. I'm tempted to install it on my laptop but I use Cisco VPN often for work. When I installed Windows 8 preview on it back in Feb 2012. I had change the registry to look like Windows 7 for my Cisco VPN to work. I'm afraid to install the Windows 10 TP on my laptop for that same reason. I was hoping to install it on my Toshiba Encore 2 because I only use it to surf the web and One Note for note taking so I figured it wasn't a big deal if it was buggy. I guess I'll be waiting to see if Microsoft releases a version of the Windows 10 TP for devices with Windows 8.1 with Bing. Bummer :(

Just installed it on my Surface Pro 1st gen, continuum works here too but I really miss my charm bar... It was really useful in tablet mode! :(

So, is there supposed to be a progess bar or anything? It's been going for about 30 minutes now, and my download speed is around 80mbp/s. No progess bar makes me feel like nothing's happening.

whats the actuall size of update through pc settings ??

Oh well, Microsoft seems faster. Lets hope the same for Windows 10 for phone:)

Hm... Hope, that my Lumia 2520 receive at least windows 10 for phones.

can u update to windows 10 preview from a racked win 8.1?

Downloading now.. hope it works..
Windows Central Newsletter
Thank you for signing up to Windows Central. You will receive a verification email shortly.
There was a problem. Please refresh the page and try again.