Microsoft debuts Project Spartan, a new web browser for Windows 10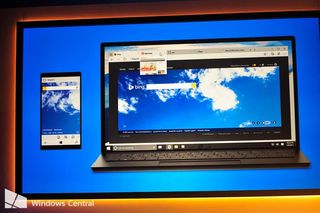 Microsoft has officially unveiled Project Spartan, their new browser in Windows 10. The browser features a new rendering engine, a new look and feel for Windows 10, and even features Cortana built right in.
Spartan includes features like note-taking mode. Note-taking mode lets you draw and jot notes down right on your screen, directly marking up the web. Spartan also has a new clipping tool to save sections of web pages. You can also freeze content, saving it for later with markup. You can save content to OneNote, and share with the built-in Windows 10 sharing tools.
The new reading mode takes out extraneous elements like ads, leaving you with just the text of the article you want to read. You can also save articles for later with the new Reading list feature. Reading list supports both PDF and markup, letting you save a variety of things you want to read later in one place.
Spartan has Cortana built right in. The personal assistant can be used right from the address bar, and can display results as a sidebar on the right of the screen. Cortana can track things like flights, so if you start typing an airline, Cortana can find a relevant flight in your Notebook. Cortana can also book reservations, find menus, and get directions right from a website.
Keep following along on our Windows 10 event liveblog for more.
Windows Central Newsletter
Get the best of Windows Central in in your inbox, every day!
Too much goodness for a day!

Dancing madly..Fucking loads of news in a jiffy..!!!!!!
EDIT--Windows 10,,Cortana and Spartan look good but not happy with WP 10..!!

Let the crying begin. I don't think they demoed every feature anyway.

If they decide to remove features that are currently in-place, they are foolish in my opinion. They can make it an user setting whether or not to turn it on or off. ;-)
Or implement them another way.

Awesome ,, really awesome ,, best features at all

Omg! I'm so excited seeing these features!

Why they had to send the search section to the top? For 1520 users will be a pain!

Spartan! What is your profession?

A GAME CHANGER BROWSER! PROMISES HAVE BEEN KEPT!

Did anyone else notice that, the phone isn't lumia 1520! It has on screen buttons, and smaller bezels

Just a generic render of a Lumia, not a real phone.

If u have ever developed some applications for WP, you would know its an Windows Phone Emulator fom Visual Studio...

Microsoft deserves to be ahead of apple...

Looks fantastic. Just hope it is as smooth as IE11. That thing is lightweight.

Nice! Posted via the Windows Central App for Android

This is so exciting awesomeness :D

What about Ad Block (non-reading mode) or the ability to add extensions like Pocket, Save to Evernote - you know, non Microsoft stuff?

Guess it will still work in ie11

What is the notebook in the photo? I'm guessing it is something that doesn't actually exist, but if it did I'd be interested.

i use Internet Explorer because i like the look and feel of the browser, not happy they're doing this. They could have baked these features into IE12 but keep the same look. If i wanted to use Chrome or Firefox i would.

I agree. Lots of cool features in this browser, but the UI / design is atrocious. They should've just made it IE 12.

If it's really exciting for the web, by the time Windows 10 is out other browsers would have copied the best features from Spartan. They do copying much faster than Microsoft is often accused to be.

My guess is they are behind in developing that because they ran behind moving from metro ie to this.

THIS! Tell me those don't look like Surface lines. Are we looking at the Surface laptop? And the phone too. What phone is that, with software keys?!?!?

They're just generic renders used for moments like these when they want to indicate a device but show no preference towards a particular OEM.

I think that will be the new navegation bar

This could be what's keeps me on Windows Phone. The cortana integration looks brilliant!

I don't like the directions bar on the top!!!

Spartan is Amazing there is no way to condemn this.

Why not just stop investing in a browser? This is just chrome without all the extensions that people get hard for.

The browser is one of, if not the most used apps on most devices nowadays. Why would you not want a first party edition to integrate all your services with? And do you really want to live in a rendering engine duopoly?

All good, all good but I hope MSFT does something and help make this browser run sites for wp as it did in wp 7.5 instead of tricking them as if we were using some android phone or ios.

Well, they need to fake ID because sites are hating IE aren't they ? And like the saying goes, haters will be hating. Good luck in convincing them to change.

I feel the same way c post'es site on wp8.x is broken whereas on wp7.x it run beautifully. Same can be said for rogers website until either Samsung Canada updates the ativ s or Verizon certifies 8.1.1

Wonder what's gonna happen to IE after Spartan. Probably just gonna abandon it.

I don't care for most of the features, just make it fast like hell

Will the phone version support streaming movies or watch football(soccer) online?

Spartan on phone perfect streaming check everything check. Perfect timing.

It looks nice and all but I will believe it when I see it. For me, it should be fluid and able to render pages properly unlike the current mobile IE.

In your face, web browsers. Microsoft all the way.


Cortana seems to b the centre of attention, bye bye Firefox

So... no Chrome extensions? ;(

I cant wait to try it out.

I just want to know if it will display websites on my phone like Safari and Chrome. I find web browising on Windows Phone to be very unenjoyable.

I've heard your point before, and I don't disagree. As a consumer, I want the best mobile web experience. I get that on iOS an Android. I don't think there is a chance we'll be able to get the web developers to change their ways. They're developing with iOS and Android in mind. If Microsoft wants the customers to have an enjoyable mobile web experience, and I hope they do, they should just handle it on their own.

Project Spartan, Sounds like a Halo term, seems like microsoft is really going all out with the Halo references these days, what with Cortana and Spartan?
Windows Central Newsletter
Thank you for signing up to Windows Central. You will receive a verification email shortly.
There was a problem. Please refresh the page and try again.