Windows 10 updates broken for some in the U.S. and UK
This time it's not Microsoft's fault and there's an apparent workaround to get back up and running.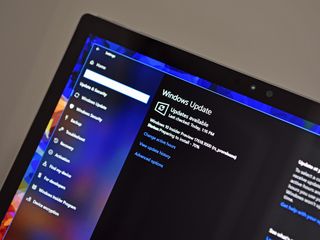 (Image credit: Windows Central)
If you're in the U.S. or UK and have noticed your Windows Update is, well, broken, there's some news. Yes, it does seem to be broken, but unfortunately the fault doesn't seem to lie with Microsoft, as ZDNet reports.
The issue seems to be linked to certain ISPs' DNS settings, in particular Comcast in the U.S. and BT in the UK.
Customers of both have been hitting the respective forums complaining of the issues which had been pinpointed by some to the DNS. The folks at Softpedia found that switching to Google's public DNS served as a temporary workaround to get the updates rolling again. Further confirmation that the issue lies with the ISPs.
How to change DNS settings on a Windows 10 PC
Specifically to BT, one of their representatives says that the relevant network team has been made aware of the issue, but other than that, there's no word on a resolution there. Sadly it's going to be a case of switching as detailed above or waiting it out for the affected ISPs to get their fixes out.
Richard Devine is an Editor at Windows Central. A former Project Manager and long-term tech addict, he joined Mobile Nations in 2011 and has been found on Android Central and iMore as well as Windows Central. Currently you'll find him covering all manner of PC hardware and gaming, and you can follow him on Twitter and Instagram.
There may be more to this. MS had a DNS outage earlier this week due to a Level 3 outage.

this doesn't seem to be true because i live in the Caribbean, Dominica(the country hit by hurricane Maria in 2017) and i got stuck updating. i got it resolved by pausing updates and cleaning the drive with the drive clean tool in windows. when i was done, i resumed updates and it worked.

So what? Your random issue does not mean that this is wrong. Sounds like something on your end.

What a year Google is having. Edge now chrome and Windows phone gone etc.
I don't think Microsoft will make 2030 at this rate.
With nudela at the helm, they will surely founder and become the new IBM... Reduced to nothing more than a cloud provider

Edge is not going away. It is being switched to the Chromium engine (same one Chrome uses). Note that Chromium is not owned by Google. Chromium is in the public domain.

Lol. Hey. I've always said that you can't survive without a viable mobile solution in this age. It's all MS's fault, amd nobody else's. Mainly because they failed to market terrific devices, and services, they had the best chance to succeed with. Particularly, Cortana, WP, Band, and Groove. Smdh

Yeah, huge antitrust verdict in the EU, hangouts and G+ dying (G+ for a serious security flaw they ignored). The Slate was a dud... and MS has been one of the top market caps with double digit growth in most sectors... Googlr is killing them.

Lol love comments like this. Apple fanboys said this a few years ago when Apple were worth more than Microsoft. Microsoft stumbled a few times with mobile even its main os a few years ago but with a new leader they are now pushing on. Microsoft are not going anywhere anytime soon and as it stands the favourites to become the 1st 1billion company. I am a big fan of google to have 3 Google homes, an android phone but even with that I still need a pc to get things done plus I have a 365 account and backup my pictures and documents to it and have a home server for my media needs with Kodi as my media player. You see one company is good for some things but not others and google needs microsoft and Microsoft need Google.

There is cloudflare's 1.1.1.1 DNS resolver as using Google's Public DNS is not option for many.

I experienced issues with Windows Update on my home devices (Comcast connection) for two days this week. While I had my Surface Pro at work it did not experience the problem. It also affected Microsoft Store app updates and SmartScreen. I ran the troubleshooter for Windows Updates and Internet but no issue was identified. Yesterday I came across a web site that alluded to the Network Profile causing problems. The devices at home were all connected by WiFi and the Network Profile was Public. After switching them all to Private, Windows Updates and Microsoft Store updates and SmartScreen all functioned normally. The odd thing was that I have not changed the Network Profile on any of my devices since setting them up. All updates had been working until this week while under the Public profile. I bring this up as it may help some resolve their issue without needing to resort to modifying the DNS settings.

Could be a good thing, Stops MS changing things.

This headline should be "ISP DNS failures cause Windows Update and Store issues" The headline as it is makes it sound like Windows Update itself is broken.

What exactly is broken? Finding updates, updates coming through, failing to complete updates? Other?

Windows update has been a broken for a long time. This to me sounds like an improvement.

Here's a good one: Clicking "get updates" in Windows 10's Windows Update panel informs Microsoft that you're an "advanced user" (because only advanced users proactively check for updates), and you're more likely to be sent not-quite-ready-for-prime-distribution updates. Confirmed via the Corporate VP of Windows. "These are preview releases, primarily for commercial customers and advanced users "seeking" updates. These updates have only non-security fixes. The intent of these releases is to provide visibility into, and enable testing of, the non-security fixes that will be included in the next Update Tuesday release. Advanced users can access the "C" and "D" releases by navigating to Settings > Update & Security > Windows Update and clicking the "Check for updates" box." https://www.forbes.com/sites/jasonevangelho/2018/12/12/microsoft-admits-... How's that for starters?

I'm Brazilian and also have problems with Windows Update. I changed my DNS W10 PC to Google ang got it, but I can't resolve it on my L950XL.

Took you guys long enough to report this. I put it in the comments (along with a few others) in the comments last week on the O365 outage, then tagged you guys on Twitter about it. However Dan's update worked so I guess it wasn't happening. I was on tech support with remote access to three computers trying to get it fixed and finally MS said it was a known issue that the engineering team was working on.

I keep trying to use my Surface Book 2 for actual work, but given all the issues with updates over the past 4 months, I just can't continue. I get everything working nicely, and then Microsoft messes up my machine with a new update (see: BSOD Surface Book 2 issues last December, due to a faulty update that Microsoft pushed out to "advanced" users who were silly enough to click "get updates").

It's finally back up for me. I'm on BT Fibre in the UK and it hadn't been working since the start of the month (no updates, no store updates or downloads). All ok now.
Windows Central Newsletter
Thank you for signing up to Windows Central. You will receive a verification email shortly.
There was a problem. Please refresh the page and try again.