Windows 10 will remove some features and apps when you upgrade from Windows 7 and 8.1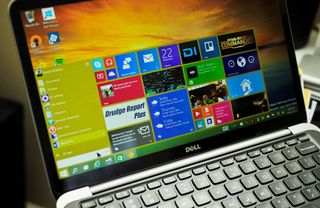 Microsoft will let Windows 7 and Windows 8.1 PC owners upgrade for free to Windows 10 for one year starting on July 29. However, along with all of the new features Windows 10 brings, it will also take away some features and applications that are a part of the older versions of the OS.
Here's the list of what's being taken away with the Windows 10 upgrade. Many of the items on this list will affect Windows 7 owners only
If you have Windows 7 Home Premium, Windows 7 Professional, Windows 7 Ultimate, Windows 8 Pro with Media Center, or Windows 8.1 Pro with Media Center and you install Windows 10, Windows Media Center will be removed.
Watching DVDs requires separate playback software
Windows 7 desktop gadgets will be removed as part of installing Windows 10.
Windows 10 Home users will have updates from Windows Update automatically available. Windows 10 Pro and Windows 10 Enterprise users will have the ability to defer updates.
Solitaire, Minesweeper, and Hearts Games that come pre-installed on Windows 7 will be removed as part of installing the Windows 10 upgrade. Microsoft has released our version of Solitaire and Minesweeper called the "Microsoft Solitaire Collection" and "Microsoft Minesweeper."
If you have a USB floppy drive, you will need to download the latest driver from Windows Update or from the manufacturer's website.
If you have Windows Live Essentials installed on your system, the OneDrive application is removed and replaced with the inbox version of OneDrive.
Microsoft's Windows Insider head Gabriel Aul has previously revealed that the company will "provide another option for DVD playback in the future" for Windows 10 owners. Microsoft has already revealed that a version of Solitaire will be included as part of Windows 10 but it looks like Minesweeper will be added as well.
Source: Windows 10 (opens in new tab)
What are you, an internet goat? Meh?

You might want to see this: http://www.oxforddictionaries.com/definition/english/meh

lol. I totally picked a goat saying "meeeeeh" when I read this.

In Germany we've adopted this meh in colloquial language and use mäh or bäh with a long vowel sound to mimick goats or sheep, coinciding with English maa or baa (see Oxford Dictionaries).

Top of the annoyance list will be the games and then DVD playing. Microsoft had better think hard about how much people love their existing Solitaire and high scores...

8 killed my blue ray playing ability, and 10 will kill the ability to play DVDs also? Who makes these decisions? It would have cost me a minimum of $80 to buy software to get the laptop to play bluray again after upgrading to 8. What will it cost to get my laptop to play DVDs after this update?

Ummm $0, VLC player will play DVD's and Blu-Rays, assuming the hardware is there.

It boggles my mind how people will complain, when more than sufficient free-ware is out there that can perform better than Windows Media Player..........not only is it availble in the store as a modern UI universal application, you can download/install the desktop version as well.

Many of these people shouldn't be using the set-ups they have. It requires a certain amount of computer knowledge that far too many users lack.

What can I get that will replace WMC and still allow me to run all the same media thru all the XBox 360s in my house. If something exists that week do that, I'm open to trying.

Check out plex. Install it on media server, has apps for pretty much everything.

Can't record TV on Plex. Especially Cable

You're arguing against a point that wasn't made. The poster was concerned with media playback across their network, not DVR.

As said already, plex will do it. Both the 360 and the one are dlna compatible as well and I can say first hand work well with Synology NAS's

It boggles my mind that people confuse wmp with wmc they are very different and there is no freeware that comes close to wmc. ​

It boggles my mind that people can't read a thread and get what people are talking about. The poster wants to stream media, he said nothing about the other features of wmc.

"It boggles my mind that people can't read a thread and get what people are talking about. The poster wants to stream media, he said nothing about the other features of wmc." Really? Mind boggling that you're wrong. You're replying to a post which asked about playing DVDs on his/her laptop. He/she said nothing about streaming media.

Read closely, there's more than one question in this thread dipshit.

Does VLC actually support Blu-Rays these days? Last I tried, maybe a year ago, it did not play BluRays directly. I've a perfectly good Samsung Blu-Ray drive, but VLC never played Blu-Rays directly from it. Or are you talking about ripping the BluRay with MakeMKV and/or Handbrake and then playing the file on VLC? I used to do that until I decided it's a poor way of spending my time. Also MakeMKV gives me the willies. It doesn't seem like they would be paying for the BluRay licenses, so they're probably getting the DRM codes illegally. If they're illegally obtaining those licenses, what makes me think I can trust their software on my PC? Better to just be legit, save your time and pay to stream . . .or go without.

MPC-HC plays DVD's and Blu-Ray's just fine, or just rip them and keep on your computer or a NAS. There are lots of easy guides to rip DVD/Blu-Ray movies without losing any quality what so ever and mux them into an MKV file.

Microsoft has to pay licensing fees to include this functionality natively in Windows. It just doesn't make sense to do this when there are plenty of free options you can install to get the functionality as others have noted.

Exactly. It is especially wasteful considering that the vast majority of devices sold these days don't have an optical drive. If you need DVD/BluRay playback there are plenty of open source codecs or players that you can install. However, those don't comply with licensing and MS can't include a codec without passing the licensing fees down to the consumer.

How very, very sad. People still waste their time with those games? I remove that garbage from every machine I install...including ones I setup for friends.

How very, very sad that you can't understand that people enjoy what they enjoy. What are you? The "fun" police?

Why would you remove solitaire from a new PC? You figure it takes up too much space?

Because... "Microsoft has released our version of Solitaire and Minesweeper called the "Microsoft Solitaire Collection" and "Microsoft Minesweeper.""

They should offer the bluray app on Xbox one as a paid app or something on 10. Vlc doesn't play bluray either. There was a hack u could install but that only works with a small %. Unless they add the feature recently?

What desktop gadgets on Windows 7?

I think clock and other gadget

The side gadgets that sit on top of the desktop on the right side.

That slowed the computers down.

Depends on what computer you have, I have one with Intel Core i7 Broadwell, 8GB RAM, 1TB storage space and my new laptop can get Xwidget on Windows 8.1 just fine.

Oh wow I forgot about those. I remember feeling like a bad ass setting up the CPU monitor gadget to show off my dual cores!

It's all the Android rage

I'm using XWidget on Windows 8.1 and works like a champ, it has many useful widgets as download network speed, hard drive storage status and a system gauge which tells CPU and RAM usage as my favorites. XWidget is also available for OSX.

First thing I did with win8 was find 8GadgetPack. Love gadgets. Site claims they will still work with 10. Pandora gadget has no ads :)

I am sure these will still be available for Windows 10.

Re: Sundaeg#WP,
Thank you for the info. I'm going to look to see if I want to install.

Re: Gabriel,
Thank you for the information. I didn't know. I'm going to try it.

Hahahaha, Oh no, what will people do without thier usb floppy drives! XD

That 4mb size. Jeez. I just wont cope losing that...

There are a lot of businesses that kept a lot of data on floppy drives back in the day, and some of them may still be in the process of getting that data off of floppies and onto other types of storage media (CDs, DVDs, Electronic Document Storage, Upgrading to more modern databases/etc. from Legacy FoxPro/Paradox/Dbase systems, etc.). Not sure why someone always has to make a joke about it when someone mentions a floppy drive.

Yeah..it has something to it

You have a point and I have no doubt there are still companies/people around with "important" stuff on floppy disks, but any company that hasn't copied their important data from floppy disk to another medium is at least 10 years past due. I mean, do those disks even work after sitting on a shelf for the past 15+ years? In many cases I bet they will find that the disks have degraded to the point that the data is corrupted.

They didn't migrate their data yet? They had 25 years! It's a miracle that half of them aren't corrupted yet.

C'mon now, they've had plenty of time to get their chit together, and get that data on a hard drive. Heck, even if they had a few hundred, they could probably get everything onto one SD card, lol. I will say that, up until a year ago, I had a few of them in my desk drawer from my predecessor. I tossed them in the trash because: A. Anything I need is already on my hard drive, B. If I needed anything on there, I could probably just redesign it myself in a few minutes, and C. aside from the fact that all of those designs were outdated 10 years ago, he sucked, and they were never very good to begin with. The last thing I used a floppy for was target practice.

Believe it or not, there are many proprietary systems that are not networked for security or practicality reasons and still only export data to floppy (even though one I'm aware of includes both USB and optical burning). This leaves the people using them stuck with a USB floppy drive to get their important or auditable data copied to a more reliable and backed-up location... Sad, but true.

If the computer is newer than 2011 it doesn't even have the right connectors for floppy, so its all being done though the USB. In which case, switch to USB! And if it's older than 2011, chances are it's more than 5 years old, and using tech that is very very very outdated, in which case, why would msoft bother to support it?

And a question. Can I install Windows 10 technical preview over a pirated Windows XP?

Windows XP it's "not upgradable". You can take a ISO of Windows 10 preview and make a clean installation, but when RTM come, you PROBABLY will need to put a valid Windows key.

Not exactly, You just need to install Win7 without a key and upgrade to 10.

You will still need to activate Windows 10 with a valid key.

A key will be generated based on your hardware

No, that is only for OEM version of Windows 7/8.1/10

Same method here.
I'm the past, when you buy Windows Upgrade ....setup had no way of determining if a key was entered. It only looked for a qualifying version of OS.

You should, but note that what you will get in the end is a pirated Windows 10.

Hope someone comes up with a descent Windows Media Center replacement. Nothing can record protected content except WMC.

There's nothing. My media center and Ceton quad tuner are on 7 now. I will probably take them to 8, but no further.

I parked my Ceton PC at Win7. Didn't feel like paying for Media Center under 8.1, and missed the free window under 8.

I'll probably never upgrade. Just keep running Media Center until something irreplaceable breaks. Media Center is more important for me than Windows, honestly. . . .

I don't think it's going to happen. I don't even have cable and I'm probably going to stick with Windows 8.1 on my HTPC just to keep WMC. I have tried MediaPortal, XBMC/Kodi, Plex, etc., and nothing works or looks as good as WMC, especially with RecordedTVHD and MyMovies installed.

XBMC became a thing out of home-brew so I'm sure there's a group of enterprising hackers who will reverse engineer WMC and release a solution.

There are a couple options out there that work much better than expected. One product was around before WMC existed, and has become a nice solution.

What are these products you speak of? I reiterate, Nothing can record protected content. SiliconDust claims their DVR will but, are sketchy at best on details. MS has certified DRM in place.

nothing can record protected content? like DVD's? you never heard of dvdshrink?

No...Encrypted Digital Cable. Windows Media Center is the only program that can record encrypted digital cable. This is especially important now that the FCC has stopped requiring Basic Cable be delivered unencrpyted (ClearQAM). My cable company encrypts everything but a local educational channel as of last October.

Take a look at DVBLogic together with Kodi (XBMC).

DVBLogic is a pain in the ass to setup and maintain.

Silicon Dust has their HDHomeRun DVR kickstarter project. It seems to be the CableCard DVR that media center holdouts have been waiting for. Search for it. Looking forward to dropping dependence on a 6yr deprecated platform. I don't think MS will miss WMC fans.

There's like 20 of them at this point i mean i feel bad this is a problem cable companies have created, not microsoft third party solutions would be great for the very small number of people who want htpcs with dvr capabilities, and it would be great if xbox one could dvr too, but hey, goddamned cable companies refuse to adopt a standard that is extensible and useful and makes dvring content easy

Not looking for another stupid subscription. EPG data is redily available for free. I'd be interested if it was a one time cost.

MS tried the free / value add solution and look where that got us. MS may add dvr / protected content to xbone eventually, but that will have limitations too. I think SD's $30/yr seems reasonable. Still cheaper and more flexible than a cable box. Free doesn't cover costs.

I don't think you read my 3rd sentence. Here it is again. I'd be interested if it was a one time cost. I don't pay for a cable box. Cablecard is free.

I'm just not going to upgrade my 8.1 entertainment PC with WMC. If they are so intent on everyone being on the same version of Windows, they sure shouldn't take away features like this that a fair number of us use. I've been using a computer as my DVR since 2005, and I'm not going to stop now. Would be nice, with the "open" company Microsoft has become, if they would open source WMC so someone could affair it to Win 10 if they don't want to expend the resources... Hint... Hint...

I don't understand that either. If Microsoft is deprecating WMC, why not just open source it, and let others build upon it?

The problem is not development costs, it's licensing. Microsoft has to pay a license for every single computer that has a version of the software. Ditto for playing DVDs. Prior to Windows 7 this made sense, but with so many computers coming without DVD players today and with such a small segment of the market using the WMC feature it probably wasn't cost effective for them to continue paying for every single Windows license they sold. That's why it was an optional upgrade for Windows 8. I'm guessing with Windows 10 it simply isn't worth to them anymore.

I have never seen a REAL PC (Notebook or Desktop) without a DVD drive. Tablets and Chromebooks are not PCs and Netbooks are essentially a tablet with a built-in keyboard. The one person I knew who bought one of those monstrosities (Netbooks) ended up buying an external DVD drive for it.

I've seen REAL PCs without hard drives, without even floppy drives. My first PC used a cassette drive. And today, I carry around a really awesome PC that doesn't have ANY drive (an SSD really isn't a drive, now is it? It is a chip). I love my Surface Pro 3, and if you don't think that is a PC, you have no idea what a PC is.

Yeah I'm not sure what lisarenee1982 is saying, though they did mention DVD drive while you seem to be talking about hard drive. There is almost no modern notebook (which make up the vast majority of sales) sold today that comes with a DVD drive. Ultrabooks don't, business laptops don't and even mobile workstations like the Macbook Pro and Dell's Precision M3800 don't. DVD drives in mobile computers are dead

My point, though I didn't mention DVD drives, is that NO drive makes a PC a PC. My Commodore 64 came without even a tape drive - I bought that separately. And yet it was one of the best PCs around until Windows came along.

The DRM part is the most valuable part of WMC. That isn't something that can be open sourced. If you open source DRM keys/code/etc then people are going to exploit it and use it inappropriately which makes it useless.

That makes good sense. So how about open source the parts that they own, and the DRM part they come up with a way for us to buy it? Or use our old license to prove that we did buy it? I have no problem paying for software, but I do have a problem with an upgrade taking away something that I did pay for.

Which is why I'm going to stay at Win7. Windows Media Center IS my household's killer app.

Go to 8.1. Runs WMC even better without Aero

Uh, Aero is permanently enabled on Win 8.x, at least in 7 you could still turn it off.

There's no glass interface on 8.x

Best reason to upgrade to 8.1 while you can is the 3 extra years of support. That might -- might -- give you three extra years of guide data. Who knows. . . .

My TVPC is running 8.1, and Media Center is great on it.

Agreed, No Windows Media Center option in WIndows 10, a few of my machines will not go to Windows 10. Even on my Office/Gaming PC, I will dual boot with Windows 7, so I can use WMC while I work. I do have a dedicated Home theater PC, for a DVR, Movie library (supporting DTS/DD HD master audio formats), music, pictures all with Xbox 360's around the home for exenders to other TVs. No 3rd party product replaces the experiance that it gives. Even the HDhomeun option looks like it would be great with a keyboard and mouse but, would suck with a remote. I know not everyone uses WMC but, Microsoft needs to provide people on what they want, not what they THINK we want.

I get it. I'm bummed about it, but I get it. Very few people are doing this.

SiliconDust has a Kickstarter going right now to build a DVR for their tuners that can run on Windows, or even some NAS boxes. They hope to be able to run protected content, but that feature is listed as a risk. I will be suprised and elated if they manage to pull it off. https://www.kickstarter.com/projects/1275320038/hdhomerun-dvr-the-dvr-re-imagined/description

It will run protected content BUT, look over the face of it and how it will run (plenty of videos now), it does not look even near what WMC is like, and it might work great with a keyboard and mouse but, a remote ? It does not look like it..

It might be faster... Just saying...

I should probably back up my stuff anyway...

Back it up to OneDrive... And it should make it easier to pull everything back over to 10 once you are done...