Windows 10's Mail app rolling out new option to select fonts
Time to bust out Comic Sans.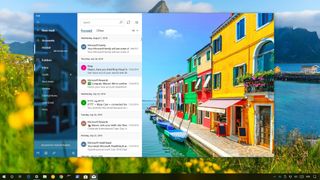 It looks like Windows 10's default mail app is finally rolling out support for changing up your fonts for emails. The new option, spotted by Windows United, comes along in Mail version 16005.11231.20182.0, but it doesn't appear to be active for everyone just yet.
Once available, you'll find the option to change standard fonts within the Mail app's hamburger menu, just under your signature settings. The usual font settings are available, allowing you to not only select the font itself but change up its size and add features like bold, italics, and underlines. You can apply the same settings to all of your accounts or reset back to the defaults with the click of a button.
If you're in the Release Preview ring for the Windows Insider program, you should be able to access the new settings now.
See at Microsoft (opens in new tab)
Dan Thorp-Lancaster is the former Editor-in-Chief of Windows Central. He began working with Windows Central, Android Central, and iMore as a news writer in 2014 and is obsessed with tech of all sorts. You can follow Dan on Twitter @DthorpL and Instagram @heyitsdtl.
Windows 10 mail app is one of the worse email client I have ever used, they should have stuck with Outlook express, instead of trying of this mobile phone type app nonsense. I wonder how many people use it?

Personally I love it, I use it everyday. I prefer the actual outlook application on my desktop, but use the mail app on my surface when on the go. Obviously it depends on your needs, but it works well for me.

It is the fastest mail program I know. I loads super quickly, it is basic, and reliable.

I use it every day and love it. Fast, reliable, looks great. Windows Mail & Calendar app has a 4.4 (out of 5) rating on the Store from 2,000 reviews, so besides personal opinion on it, curious where you get the idea that it's not good or popular for the majority of users who opt to use it? This seems to fly in the face of any facts or numbers we have access to.

I do not go for ratings to be honest, I have got soft ware that people have said is awful and yet it works for me. It comes down to taste.
i do not use the calendar, my phone has a calendar on it, so no need for one on my computer which stays in one place. I just find the windows mail app, to mobile phone looking, it is something that is suited for a windows phone and not for a computer.
I also do not like the way it works with multiple accounts. I use thunderbird, I load it up and all my email accounts are there in front of me, I do not see where i said it was not popular for the majority of users who opt to use it, I said i wonder how many people use it. There is a difference.

I hate the Windows 10 Mail and Calendar app. In my opinion, both have a trash user interface. I've managed to install the Windows 8.1 Mail, Calendar, and People app on Windows 10, and that's what I use now.

Was Windows 8.1 better than 10? I haven not tried 8 jumped directly to 10.

I would consider Windows 8.x to be more stable than Windows 10, but people didn't like the start screen or forced full screen apps. Today, Windows 10 has many more useful features that 8 never had. It's hard to say one is better than the other; 8 is better in some ways and 10 is better in others.

I prefer Windows 8 to 10 as well, once I got rid of the silly start screen and the charms, replaced them all with a nice start menu. Windows 10 is just full mobile style apps, like the ones we are talking about here. , thankfully , Ms is doing the decent things and allowing us to remove more of them,. just a shame they do not allow us to remove cortana and the telemetry.
Not so sure about Windows 8.1 being more stable, maybe at the start of Windowws 10 I would have said so, but windows 10 is very stable here. I would have stayed with Windows 8.1, but when I updated to a Ryzen chip and board, for some reason Windows 8 did not like it and kept crashing, something about memory management.

How did you get Mail from 8.1 onto Windows 10? I would love to do the same.

I was not that struck on the one on windows 8.1 version either, that was like a mobile app as well.

I use it every day. Judging by the Microsoft Store reviews it's both popular and well-liked. There is an apparent bug with copy and paste, which can be unreliable. OneNote has a similar problem. Basically, cutting from anywhere else in Windows doesn't guarantee that when you paste into the app it comes out like you expect (it usually pastes the previous thing in the clipboard). But this comes up only once in a while. Otherwise, it's a very solid app. I'm looking forward to true dark mode (with the email itself darkened).

It's good for what it's supposed to be, a lightweight email app.

I use the app everyday at work, and I love it.

I use it every day, even on my desktop. I see no need to use the full Outlook program for just personal emails.

Does anyone knows why does Mail and acalender creates two drafts for Gmail, one which syncs with online Gmail (I can not edit from the app only view) and other a local one.
Outlook 2016 don't have this problem, they why Mail and Calendar?

Weird I have a business Gmail account connected to the mail app and I don't have that issue. Have you tried disconnecting the account and reconnecting it?

Yes I did, there are number of feedbacks in feedback hub stating this problem. This is really weird.

Weird I have a business Gmail account connected to the mail app and I don't have that issue. Have you tried disconnecting the account and reconnecting it?

I just want to give a nod to the subtitle. Comic Sans 4 Life.

Under the hamburger menu? All that does is expand and contract the left column. Sure it's not in the settings?

Ha ha ha. After how many years. I tried Windows Mail for a few months. What a pain. What about spell check. I use three languages and I cant simply switch beetwen spell checkers. No, I must set specific language in Windows, if I want to use other language spell check. So funny that I almost cry. I never understand how Microsoft became such a hit. Just look at Windows mobile system - Windows Phone (hahaha) and yes Edge is so perfect that even hardcore Microsoft users stop using it.
Windows Central Newsletter
Thank you for signing up to Windows Central. You will receive a verification email shortly.
There was a problem. Please refresh the page and try again.