Windows 11 showing broken Windows 10 Start menu and Taskbar on some PCs
Don't get too excited; the Windows 10 Start menu appearing on some Windows 11 PCs doesn't work.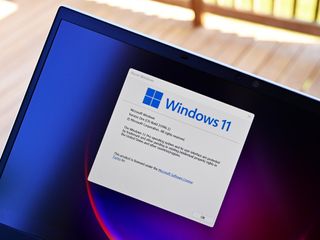 (Image credit: Daniel Rubino / Windows Central)
What you need to know
Windows 11 has a bug that causes some PCs to show the Windows 10 Start menu and Taskbar after updating to the new operating system.
The Windows 10 Start menu shown does not work on affected PCs.
Some have managed to fix the issue by uninstalling the latest Windows 11 cumulative update.
Windows 11 officially launched this week and is gradually rolling out to PCS that meet its minimum requirements. Some people that updated their PC see a bug that causes the Windows 10 Start menu and Taskbar to appear on the new operating system. The Taskbar and Start menu do not work on affected PCs.
The issue was flagged up on Reddit, and a similar thread appeared on Microsoft's website (opens in new tab).
"Updated to Windows 11 using Microsoft's official update assistant," reads the Reddit post. "I still have the old taskbar and the start menu doesn't work at all."
Several commenters in the Reddit thread shared that they've run into the same issue. There appear to be a few workarounds, though there isn't an official fix at this time. One option is to uninstall the most recent update. Another involves creating a new local account and giving it admin rights. Neither of these is an elegant solution, and neither addresses the cause of the problem, but they can help make an affected PC usable while Microsoft works on a fix.
The same issue appeared for Windows Insiders two months ago, though it doesn't appear to have been fixed.
The Start menu and Taskbar on Windows 11 have proven controversial since their unveiling. Our senior editor recently wrote about how the Start menu sucks. Concept artists have shown what they believe to be improvements to the design of the Start menu.
If you want to change the appearance of Microsoft's latest OS, make sure to check out our guide on the best apps to customize the look of Windows 11.
News Writer and apps editor
Sean Endicott brings nearly a decade of experience covering Microsoft and Windows news to Windows Central. He joined our team in 2017 as an app reviewer and now heads up our day-to-day news coverage. If you have a news tip or an app to review, hit him up at sean.endicott@futurenet.com (opens in new tab).
I had this one of my devices. But a simple restart fixed it for me. Not sure what's up with this randomness.

Same on an unsupported device for me. The settings app was also still old and some context menus after the upgrade. Restarting fixed everything.

It is certainly strange but not enough to stop me from upgrading when Windows 11 becomes available for my device!

why do you want to upgrade to Windows 11?
I have Windows 11 running on this machine, just to see what it is like and to be honest, it is flipping annoying sometimes, more annoying than Windows 10 ever were.
I will give it a few weeks, just to see how it runs my software and see if it is really any better, it does seem smoother than windows 10 in the U.I, but I think I will go back to ten after a few weeks. If you are a seasoned Windows user, you will find Windows 11 a pain in the neck because there will be things you do in Windows 10 that you either can't do in Windows 11 or have to run through hoops.

I'm a seasoned Windows user and I don't find Windows 11 a pain in the neck. Maybe you should provide your own opinion as your own opinion and not speak as though you represent anyone but yourself.

Maybe I should have said you may find it a pain in the neck, it depends on what you do on your computer. If you just start software and use it then yes Windows 11 will be fine maybe, but if you like to personlise Windows 11 then you are out of luck, apart from changing the background and colours.
You can't even click on the taskbar and close all windows of Explorer or other software, that is stupid.
A lot of people who gets into the settings of Windows 10 will find the normal way don't work, come on it was bad enough with Windows 10. I have stuck a control panel icon on the taskbar, so it is easy to get to.

Does wisdoms 11 work on Unsupported devices?

I actually have it running fine on an "unsupported" Cinese tablet but no Start menu (even after trying "fixes") on a brand new supported Dell laptop.

Working ok on mine, Ryzen 7 1700, it is doing what it is supposed to do, it does have some bugs, like this morning I took my computer out of sleep and the taskbar was in the centre of the screen, i clicked on it the Explorer crashed and reset itself.
But by all accounts these bugs are normal, so not just my machine.

Windows 10 start menu on Win 11 might be considered a plus, if it worked. Too bad.

"broken Windows 10 Start menu" sounds more like the Windows 11 Start Menu. :-D I'm definitely waiting, probably a year or more, before I jump. W11 looks very tempting other than that stupid Start menu and some of the rushed ergonomic changes.

The bug causes there to be NO Start Menu

Just proves the point that Windows 11 is still windows 10 under the skin.

Well, if its all the same to you. The version number hasn't changed.
Its Win 10.0.22000.194

Every version of windows is somewhat the previous version under the skin.

Indeed. Has anyone claimed that Windows 11 wasn't built on top of Windows 10, as every version of Windows has been built on top of the previous version? No one that I've heard. That's what Windows 10X was supposed to be. Triumphantly pointing out that something "proves" something that we already knew seems a bit... sad.

Some people have, I say it is Windows 10 with a different skin and some code changes and I get, NO IT IS NOT, IT IS A NEW VERSION OF WINDOWS. :)

I've not been a windows insider, but have read a couple of reports of bugs where people say it was already known 2-3 months ago during insider testing. Why would MS then not fix them??

It depends on how many people were affected and under what circumstances it occurred. As a software developer myself and can tell you that some bugs are very hard to reproduce and, even then, hard to address. I've never worked on anything close to as complex as Windows either. I think that a lot of people have some very unrealistic expectations in this regard. It would certainly be ideal if there were no bugs at all and especially no known bugs but the people who fix those bugs and the people who set the release schedule are not the same.

You're over complicating it like they are. It's not a bug it's by design. They have 6 upgrade paths for different parts of the OS. 1. Core installation - upgrade or clean install
2. Store - apps and store. You might see old Win10 store.
3. Windows update
4. Windows update optional
5. Feeder - some functions just appear at random times. Like Win 10 widgets.
6. Delayed install - feature downloads to your hard drive and wait for a specific rollout date. It may be that start is on a feeder path at first installation. Like the Teams chat. That's why a restart is a fix.

Well, that's a crock. Why would there be a "fix" for something that is "by design" and "not a bug"?

If your internet slowed during the first restart, a restart is a fix.
If you runout of petrol, a refuel is a fix. But the fuel ran out by design... Logic here.

I have upgraded one unsupported device with core i5-3470, runs quite well so far, and I upgraded a ProBook 450 G6 no start issues as of yet.

I reported this via the feedback hub shortly after the release of the first insider build of Windows 11, so it's certainly surprising the issue is still present after general release. I found the issue was present after upgrading an existing fully patched Windows 10 insider build to Windows 11 and it appears that the Windows Feature Experience Pack is not updating during installation. My workaround was to perform a clean install of the current build of Windows 10, then upgrading to a Windows 11 insider build. I am unsure if this issue is present upgrading from a Windows 10 final build to a Windows 11 final build.