Windows 8 featured in The Walking Dead advert, used by a zombie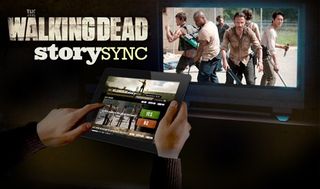 Humans and the undead can use Windows 8?
Microsoft decided to take advantage of AMC's popular television show The Walking Dead for promotion of its upcoming Windows 8 operating system. A Windows 8 advertisement was spotted in the season premier, during a break within the first half hour of the programme.
The advertisement has yet to be uploaded to the mass amount of tubes we know today as the Internet, but Neowin provides enough detail on what was seen. The advertisement featured a person using a tablet running Windows 8 that showed off a Walking Dead experience. While watching an episode of the show, the user was seen messaging a contact. Fairly normal, right?
At a point in the advertisement, the person seen in the clip appeared to transform into a zombie, who then sent an IM that read "I can't wait to eat you." This then turned out to be a dream by the same person, but then the audience witnessed a keyboard being used by what appeared to be zombie hands.
AMC has a user experience on the official Walking Dead website called StorySync that enables viewers to participate in trivia questions, polls and more while watching episodes via the web browser. It's an interesting take on Windows 8 promotion, which shows off how easy the interface of Microsoft's next OS is to use - even the undead can make Skype calls.
Windows 8 is to launch on October 26th, and we can expect to see further advertising throughout this month in the run up to the date of release and beyond. As well as Windows, Microsoft is also set to reveal Windows Phone 8 on October 29th, both will be available in time for the holiday season. It's a good time to be a Microsoft fan.
via: Neowin
Windows Central Newsletter
Get the best of Windows Central in in your inbox, every day!
Rich Edmonds was formerly a Senior Editor of PC hardware at Windows Central, covering everything related to PC components and NAS. He's been involved in technology for more than a decade and knows a thing or two about the magic inside a PC chassis. You can follow him on Twitter at @RichEdmonds.
It was a great ad. The discription of the ad in your story is a little off so I hope it gets uploaded soon everyone can see how good it was.

Care to expand on what's written above so we can reach 100% in accuracy? ;-)

The commercial starts off with a young man watching the walking dead and using the walking dead story sync on a Windows 8 tablet. They then show him using the snap feature to bring up chat app where he is chatting with someone else watching the walking dead. They talk about getting together and they show off the calander app where he sets the date. They then show a pair of skeleton hands, belonging to the other person, type in "I can't wait to eat you". Then some lights go crazy and the guy gets all scared and they show a shadow of a zombie banging on the door. He then wakes up and sees in the chat box, "I can't wait to meet you".
It was very nicely done and they were able to show off some of the features of windows 8 as well.

+1. Was a fun ad in the best show on TV. Made me grin twice as large. The season premiere was spectacular, by the way!!!

I'm pretty sure I saw a Windows Phone commercial last season. It was about the extras that play zombies in the show. Something about how to date a zombie or something like that. It was pretty funny.

This is good on Microsoft to put ads on all shows that have a good following, regardless if it's cable or the main networks.

Yeah who also seen the stupid iPod ad with the different colored iPods?

The Walking Dead on my Xbox, PC, Phone =

"Day are over what u can do with your tablets"
"day are coming what couldn't imagine you can do with your tablet on a go"
special thank to Microsoft

I told it before ! ;-) ( about the zombies & lumia ...

I Tivoed the show last night. Was going to tip you about it, but couldn't find any video of it on YouTube. If I get home and the video is still not on the web, I'll rip it myself and post it on here. Just for you Rich, cuz you're the best. Daniel is a grump.. :D

I'm suprised that no one has posted this on youtube yet. Or that MS themselves haven't posted it. It was a very good ad. Look forward to you posting this later. I'd love to see it again.

Windows 8 Walking Dead Commercial
http://youtu.be/w8GU3ih3kv8 Windows 8 Windows Reimagined Commercial
http://youtu.be/frkoPQ60zaE
both 1080p HD

I love that Microsoft is using Walking Dead as a promotional resource again. After the Bing ads last year, it's great to see them doing this. I hope they'll work these things in with other shows going forward too.

Can we get a link to the video that is useable from our phones?

Yeah so it. Now that's a way make tv commercial not like stupid lumia beta test commercial was so lame

Found a posting of YouTube that someone has posted, the quality is not that good.
http://www.youtube.com/watch?v=Ph_VdjXCI5Y

Here's mine:
Windows 8 Walking Dead Commercial
http://youtu.be/w8GU3ih3kv8 Windows 8 Windows Reimagined Commercial
http://youtu.be/frkoPQ60zaE
both 1080p HD

Post Deleted, it duplicated the link pbroy posted above.
Windows Central Newsletter
Thank you for signing up to Windows Central. You will receive a verification email shortly.
There was a problem. Please refresh the page and try again.