Windows 8 grows in market share and Microsoft intends to invest $405 million to keep it up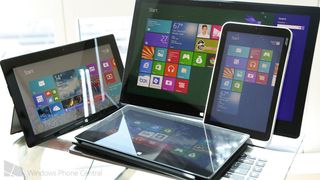 We recently reported that Windows Phone is the world's fastest growing smartphone operating system with a 275% percent growth rate, but that might not be Microsoft's only reason to smile. According to NetMarketShare, Windows 8 now owns 9.25% of the desktop market. Breaking that number down even further, we find that 1.72% of all market share belongs to Windows 8.1, while the other 7.53% belongs to the vanilla version, Windows 8.
Windows 7 and Windows XP still hold the top command for Windows operating systems with 46.42% and 31.24% respectively. In total, Windows owns 90.66% percent of the desktop market share and is trailed by a distant Apple with 7.73%.
According to Paul Thurrott of WinSuperSite, Microsoft has set their eyes on a set of goals for this holiday season, during which, the company is looking to sell 16 million Windows devices. They also plan to work on bringing down the barriers that multiple versions of the operating system have created with Windows 8, Windows RT, and now – Windows 8.1.
Microsoft has its sights set on the future and that future includes a world of hybrid tablets running Windows. That being said, only 20% of PCs that are shipping this holiday season will come with Windows 8.1 – the remaining 80% percent will include the original version of Windows 8. According to reports, Microsoft will be providing retailers with special USB Windows 8.1 Upgrade Kits, so they can upgrade machines on the fly.
While the market share for Windows 8 might be growing, it isn't enough and Microsoft plans to invest $405 million dollars in funding and marketing for its latest creation. This new number is in contrast to the $241 million dollars spent last year.
Let's all hope that Microsoft can get the ball rolling a bit faster with Windows 8.1 this holiday season.
What version of Windows are you currently running?
Sources: WinBeta, WinSuperSite
I've upgraded from 8 to 8.1 via Windows Store. It took me more than 5 hours to complete. Have to say that my internet is not the fastest, but still ...
Is it worth it? Yes. It's so much better. New IE is fantastic too. I would definitely recommend. Good luck.

Wow, took me like 45 min to DL and about 20 min to install on my tablet.

I don't recall downloading the update. but it updated... the weirdest part is, i don't even recall connecting my laptop. so some freaky magic shit is going down. and i'm not complaining... cause it's sweet

Took my laptop 30mins more or less over WiFi and then 30mins more to install. Windows 8.1 is so much better!!!

Now if only the WYSIWYG comment editors on most sites (WPCentral included) would play nice with IE 9+, and IE on WP. I have a feeling all the editor libraries are coded for WebKit and similar ilk.

My HTPC took about 20-25 minutes to install, unfortunately. I had 4 6gb files almost completely downloaded when I got the restart time prompt. I tried to complete all the downloads before the restart but only finished 2 of the 4, had to restart the other 2 which took hours. I wish they would have included a option to delay the restart like when regular updates want to restart the PC. Or maybe I could start reading directions in the future...

8.1 on all edit: first to truly read and answer the question!!!!

I know but we can't see what's in the background..

Windows 8.1 Pro on my gaming box - rocks better than 7 no lock ups since 8.0 installation a yr and half ago. Windows 8.1 rt on Asus Vivo Tab much faster!! Just wishin Asus got their act together and made a vivo tab RT 2. Windows Phone 7.8 on my Sprint HTC Arrive - smoother than ever, just crappy Sprint coverage, will jump ship and go to Verizon for the 929!!!

Windows 7 Professional on Dell Precision M4500 Windows 8.1 RT on Microsoft Surface 2 Windows Phone 8 on Nokia Lumia 920

Win 7 on desktop (custom built)
Win 8.1 on Acer Iconia
Win 8 GDR 2 on Lumia 920.

Hey M.S., I'm available as a product tester!!!

I'm only a product taster...

They dont sell methamphetamine...

<p>~~http://technet.microsoft.com/en-US/evalcenter/dn205286.aspx?WT.mc_id=New...

I see javascript on the article when viewed from the wp app

Thanks for letting us know! We will look into it!

I thought it was supposed to be like that...

So what sense did it make? :)

I just figured they wanted to show of a bit of code, it is a technology orientated site after all... I wouldn't have thought twice about it unless someone were to question it.

So...when's the surface 2 and surface pro 2 review going to come? And yes, I'm on 8.1 on my Pro 2. :D

Can I have the disposed Surface 2 after reviewing it?

I have 8.1 on my Surface 2. But still haven't been able to use it after almost two weeks. But all my desktops have had 8.1 since RTM.

We always knew it would make it. :3

I have 8.1,and it's great and running well

Gotta spend money to make money.

Microsoft should also consider the decline in the sales desktop PCs.

Which is why they introduced hybrids . . . .

Shame I am having issues upgrading to 8.1...running 8.0 just fine. Too bad journalists are on Macs and write as if EVERYONE else is on Mac.

Mac OSX is a good operating system

I promise, we aren't on Macs here. ;P What problems are you facing, tribexx?

I, too, have experienced issues with 8.1. First, my Iconia W510 now has video driver problems such as crashes while unlocking and several seconds of delay when enabling the screen. This is even with the latest drivers released Oct 25th. Second, my desktop workstation/gaming PC is having serious issues with my Intel Rapid Storage Technology drivers. I routinely get a blue screen (DRIVER_IRQL_NOT_MORE_LESS_EQUAL (iastorA.sys)) and Intel tech support has been less than helpful. They instructed me to downgrade the drivers to version 11 which caused an entirely different bluescreen issue. Needless to say, I'm reluctant to update my wife's PC and my 4 year old laptop to 8.1. I have never had this much trouble updating or upgrading windows before.

My right click button Isn't working after 8.1

My upgrade also failed...

I've had the complete opposite experience. In Windows 8, Windows explorer crashed on a regular basis and re-installs did nothing to solve the problem. Performance also seemed slugish (and my machines are far from slow). I'd installed all the latest drivers and updated them on numerous occasions. (thankfully I'm not the kind of person who says Windows 8 as a whole is bad... it isn't - I just had a few issues :() Windows 8.1 on the other hand is amazing and is fast, stable and Windows explorer doesn't crash. Well worth the upgrade :D :D :D

I'm running W8.1 on my Surface and W7 on my PC (by choice. I have the pack of W8 on the shelf). Numbers of W8.x adoption should also end up rising, since Microsoft has finally put an end to support for Windows XP, and so people with Windows XP machines should start upgrading now. I've also seen a couple of articles on the media around here, noting how importat it is for them to upgrade from XP once the support is over, since costs of maintaining an XP machine will rise considerably. That ought to help people move on. Microsoft would do well on emphasising that aspect actually. A couple of ads making clear to people that's it's cheaper to buy a new OS than to maintain an unsupported OS, would help...HOWEVER...here is where we'll see the damage caused by Apple's "our OS upgrades are now free" policy. How will Microsoft convince people that they need to *pay* for Windows 8.1 when Apple tells them that on Mac's the upgrades are free.

well it's both free and have to pay actually. I think you need the prevoius version of OSX to run Mavercicks

Well, on the keynote they announced "machines dated back to 2009". I honestly don't own a Mac (nor any Apple product) so I don't know which OS is running on Mac's bought in 2009. Still the principle seems to be that if XP was by Apple, supposedly, it could upgrade for free. Though that probably wouldn't be true since XP dates to 2002/2003. Still...people with Vista (and apparently 3% still bares Vista...) and W7 have to pay for W8.x something it wouldn't happen with Apple (and that's the core of their attack I think)

Apple charge copious amounts of money for hardware though so their "oh look at us we're so helpful at keeping costs down" mantra is complete bs.

Mac OS is not a free upgrade: you have to buy an overpriced Mac to get it. Unfortunately, most consumers are a little too thick headed to realize how badly they are overpaying and they'll likely view Apple's claims of "free upgrade" to be true even though it was more than built in to the original cost of the Mac.

They also pay for overpriced phones so I think we can assume Apple fans are thick headed by nature. But what about other people? If the marketing is good, people may be lured in even easier than they already are. Every single Mac in history has been overpriced, yet people still swear upon the Cross that they are better than any PC's (and here also enters the myth of the "Apple doesn't have virus").

Hence the reason a customer would be idiotic enough to pay 1500 dollars for a 13 inch macbook pro. Complete morons.

Mac employees are overpriced too.

OS X's upgrades have been more like Microsoft's (free) Service Packs than the major Windows version increments. They aren't really comparable. In fact, they had a nerve charging for some of them in the first place.

From xp to 8 is probably less of a change than 7 to 8. If they put search in the right click windows icon/start button it would be better.

Running 8.1 on the original Surface RT and Win 8 on the Toshiba laptop that I upgraded this year from Win 7. May go ahead and upgrade the laptop to 8.1 this weekend.

I liked my RT before, 8.1 made it awesome. Well the wife's rt, I am rocking Pro 1

405 million?? I don't know, better do 406 million.

Or they can donate 1 million to me! :P

8.1 on my XPS 10. 7 on home and work laptops..

Invest all that money in apps and watch the ecosystem and customers grow before your eyes

I'm having a small issue with my pc. I updated to 8.1 Pro and since then the number keys on the right side of the keyboard don't work when booting up. I have a Microsoft keyboard, think its called x4 or something like that.
They work after about 30 seconds again but not straight after booting up.

Have you installed the hardware drivers for your specific keyboard? Check to see exactly what model you have, go to the Microsoft hardware page and download the latest driver package for your board and install it. See if that helps. If not your BIOS might need NUMLOCK enabled so it works during boot up. If that doesn't fix it, it could be a driver related issue with 8.1 that will get addressed it a future driver update. 8.1 is still quite new and its bound to have a few quirks that need addressed still. Good luck.

Thanks for the reply. Yes, I do have the very latest drivers available for all my components. I don't think the BIOS makes a difference since it worked with the previous version of windows.
I too hope that this issue is fixed soon, its not really much of a problem anyway since I've still got the main number keys at the top.

Well I am having an issue with my creative Webcam. The video wont work after updating to 8.1. This is not ideal. I use Skype a lot. So you can imagine what I am going through. My mom now Skype using my Lumia 820. I contacted creative for help. They said they are in process of resolving it.

I'm sorry to hear about your cam issue, must be frustrating and I hope you're helped soon.

Well lets hope so. How are you holding up with 8.1. I found it amazingly fast and much more useful.

Generally I don't notice a difference, although that's because it was already very fast to start off with. One feature I do like alot though is the button at the bottom left corner that brings up all the programs, that I find very useful.

8.1 on laptop and desktop and loving it:)

Windows 8.1 on desktop PC and Surface. Liking the added features of 8.1 much better than 8.0. If you haven't updated to 8.1 I suggest you do, its a much better experience IMO.

I don't get it. How exactly is this money to be spent? Was there another article about this that I may have missed?

8.1 on desktop. 8.1 on Surface RT. I would think that the majority of people reading this will have the same.

Running 8.1 on my desktop, laptop and Surface RT

8.1 at home on my laptop, 8.1 at work on my desktop and 8.1 RT on my Surface.

1 x 7, 2 x 8.1, 1 x 8.1 RT
I honestly feel so hobbled everytime I get on my Windows 7 machine (but that could also be because it still has Office 2007).

Windows 7 currently, but after seeing 8.1 in person I plan on upgrading. :)

I love Windows 8, but my desktop is Windows 7 and I just can't justify switching. I think that might be the uphill battle. Not because Win8 is bad, but Win7 is So durable and So robust most people will wait until they feel like their current OS outdated and I'm not there.

You don't know what you are missing, Jerry!

Some of us want to switch but cannot. Take for example my home server. Dual processor Tyan MB which does not have any Windows 8 drivers on it. It freezes and has to be rebooted every few days on Windows 8. I hence had to create a dualboot with Win7 which is my primary OS. Basically I have a monster of a machine with all default drivers but something or the other failing all the time and no proper support from the hardware manufacturer. Its not Microsoft's fault, its just a crappy situation to be in. I now have 8.1 and am hoping the reboot problems go away.

Running 8.1 . Proud owner of Windows. Love you MS

Wish they'd just take the marketing money and put it towards hardware.

Running 8.1 on 2 Dell desktops and a Surface 2 tablet.

8.1 on my PC. WebOS tablet. 7.5 on my phone (c'mon already, 929!)...

WRT8.1 on my Surface 2, W8.1 on my 5 yr old laptop, WP8 GDR2 on my L928, will get the XBONE once out. What's wrong with this picture? Absolutely nothing :)

I have a Surface RT running 8.1, liked it so much that I just ordered another. Also have a laptop running XP, a desktop running XP, and a work laptop running 8. Work desktop runs 8 (we do enterprise-wide). I also have a Win98 machine in order to support an obsolete 8/8 audio card for which drivers are no longer produced.

Windows 8/8.1 needs more apps. WP8 is getting more apps, yet Windows 8.1 is not. MS needs to spend money getting market share up, and promote companies to make Windows store apps. I would like more app value out of my surface 2.

Just installed 8.1 enterprise evaluation on my desky, will go with it smoothly for at least the next 6 months...it beautiful nd fast..

7, Vista, XP, and WS08R2 at my house. I haven't seen any reason to go to 8.x. Maybe someday.

I have two desktops with 8.1 and a Surface RT with 8.1, and it's running great.

Running 8.1 on all my systems at this point. 5 Desktops, 3 Laptops, Surface Pro & Surface RT. Couldn't be happier with the upgrade! It's fantastic. We recently finished up our migration to Windows 7 at work and have already started rolling out Win 8.1 on select systems outside of IT. It will likely be the next OS version that we perform widespread deployment of.

Windows 8 can be daunting to even the savviest of tech people only because its so different (I've witnessed unsubstantiated resistance at work). Once they shed more light on its purpose and use it all begins to make a lot more sense. Converged platform is something they need focus on a tad more, too. Commercials show uniform OS but they don't beat to death what that convergence will mean. All stuff we all know. I just like typing. I'm excited!

I LOL'd at the end of this comment. Good points btw.

Upgraded to Windows 8 for 50€ on my gaming PC one week before Windows 8.1. I didn't like vanilla 8 but I love 8.1. I will get Surface Pro 2 next week. And I'm writing this from a WP8 device, and I hope MS will release WP8.1 soon to feature all the good stuff we got in 8.1.

Just look at XP still hanging onto over 30% of market share, despite being twelve years old. "If it ain't broke, don't fix it", is obviously still the thought of countless IT departments across the world. On another note, why haven't more people upgraded to 8.1? It's free and it's a major improvement.

Windows 8 doesn't prompt you afaik? It didn't prompt me. I had to go to the store to download it.

Yea, mu entire company uses XP because the software we use does not function 7+. One of our suites even require IE6 to function properly. So we're stuck on that as well. The also just dumped a bunch of money into a new tool that lets us dump IE6 that will be rolling out this summer. But we're still stuck on XP company-wide. Whirlpool is great to work for, but damn the systems need reevaluated.

Running Windows 8 on my desktop PC, 8.1 on my 2 laptops, Windows Phone 8 on my Lumia.

I just updated my desktop, laptop, and Surface to Windows 8.1. Everything is running smoothly. Just need WP 8 GDR 3 on my HTC-8X and this update cycle will be complete.

Upgrading from Windows 7 to Windows 8.1 was a cinch, and my Alienware's performance is awesome now that the driver situation is under control. It's nice! Me likey!

Was dual booting between W7Pro and 8.1 Preview until recently. It's 8.1 RTM now.

Lenovo W510 running win 7 pro
Samsung series 7 running windows 8.1
Custom built desktop on win 8 to be updated!
Lumia 928 rocking gdr3 preview

Upgraded 5 machines including surface rt. No issues

Windows 8.1 on my work laptop, home laptop, home desktop, daughter's laptop. Windows 8 on my other daughter's laptop. Windows Phone 8 Update 3 on my 1020, 920. Windows 7 on my work desktop. Windows CE for my Dreamcast games...

I'm on 8.1 for my Surface RT. It's much better and faster. IE11 is a great improvement especially those live tiles for websites like this. I also like the new mail app. A huge improvement. But just the improvement in the performance alone was worth it. Its almost like a new tablet..

I have WP8 amber and windows 8.1 laptop

8.1 on all but my phone which is gdr3. Surface, laptop and desktop.

http://store.steampowered.com/hwsurvey Go to Steam, and you will see that Windows 8 totals at almost 18%. Gamers always know what is best for them when they look under the hood, and Windows 8 is great software.

8.1 on a touchscreen Acer V5 laptop and its superb.

Windows 8.1
On my acer aspire e1-571
And m having issues with facebook video calling. :(

8.1 on Two devices and 8.1 on Surface 2

For me I cant justify installing win8 on a non touch screen device. As the only section my fam would use is the desktop mode... as win8 is counter intuitive in certain respects i.e. You need to go to settings to shut down.. Lol. Plus some people find it confusing as it no longer follows the flow they are used to. So my next project would be building a AIO, once the consoles arrive.

Well, if you end up upgrading, it's best you go to 8.1 since they added option for booting straight to desktop. Not sure how credible Windows Index score was but my PC maxes it out on Windows 7 and Windows 8 and can definitely tell there's a performance increase going from 7 to 8. Everything is a lot snappier. But yea, as you mentioned, there is that small learning curve since it's so different from previous Windows.

You don't have to go to settings for shutdown. Just set it up to shutdown with the power button. Couldn't be simpler.

" Breaking that number down even further, we find that 1.72% of all market share belongs to Windows 8.1, while the other 7.53% belongs to the vanilla version, Windows 8." Yeah i'am one of those who can't upgrade from windows 8 to 8.1. Download stops af 50% every time with error 0x80070005

Download the ISO from a torrent site, problem solved.

Windows Vista Ultimate SP2 (HP desktop),dual boot Windows 8.1
Windows 8.1 Pro (HP Laptop)
Windows phone 8 GDR 3(Nokia Lumia 620)

When is the retail iso for Windows 8.1 going to be released? I don't want to download the update again if i reboot....

It took me all day to upgrade from Windows 7 Home Premium through Windows 8 Pro + 80 updates through Windows 8.1 ISO download/8.1 install on a 5 year old Fujitsu Lifebook S6510 with a SSD. Boy, was it worth it. Much faster than even Windows 7, more features, and the Start screen doesn't clash so much with the desktop. trying to use Windows Store apps as much as possible to familiarize myself with everything new. There's a lot different from Win 8. And to think this laptop came new with Windows Vista Business with an alternate Windows XP Pro install disk...

I've done the same as far as trying to familiarize myself with the Modern style apps. Some great experiences, some gripes, but overall I'm very satisfied.

There is 1 thing that concerns me out of all of this. They stated that MS has 90% desktop marketplace. Correct me if I'm wrong but weren't they at 93 or 94% just last quarter? If that's the case, then that is a pretty quick and significant drop in a short amount of time. Not sure what the exact number would be but that could equate to anywhere between 30-50 million people changing their OS in 1 quarter. Am I wrong here? I hope so.

Hmm... Anyone have the official word on this?

Windows 8, which i purchased during that deal they had. Have not looked back or regretted since. I adapted quite well and i didn't miss the start menu at all. Now on 8.1 and am happier too! :)

I am using 7 home premium and 8.1( I have two laptops) and personally, I love windows 8.1.

8.1! Is it perfect? No. Better that previous versions, hell yeah. Shit I even let my Apple fanboy buddy use my ThinkPad 2 for a week. Gave him a quick run through of the basic features. After that week he confessed that it was better than his iPad 4 in several areas - multiple app viewing, office, win 8 design language in general. Now he stopped short of saying he liked it better, but I think that's because he would feel dumb for spending the kind of money he did on his iPhone, macbook air, and iPad that he could have gotten the windiws equivalents (eg Lumia 920, Asus xenbook touch, and ThinkPad 2) for the same price plus a dell venue 8 pro, with enough left over to buy apps for all three for a year.

Oh yeah, and now he can't tell me how "great the apple ecosystem is... Icloud, iTunes, etc etc. and that no one single company offers anything like it."

Finally,
Now if they continue to target all price points that will make the growth faster

8.1 on my desktop, 8 on my HTC 8X. I'd like to add that I built the desktop originally in 2006 and it started on XP, then 7, now 8/8.1. It runs like it always has (some components have been upgraded over time of course). How/Why are so many people still running XP?

I had 4 computers to upgrade so to save time and bandwidth I downloaded W8.1 image and performed a clean install on all my machines. You just need a generic install key and enter the proper key later.

At my company I have 4 XP, 1 Vista, 3 7, and 2 8.1.

8.1 on Dell Latitude E5510 7 & 8.1 dual boot on Dell XPS17 Phone 8 GDR2 on L820, L920, and L822 (wife, old, and new)

Wow, don't think I have ever seen such a pro-Microsoft forum before! Running 8.1 on my laptop and also now Desktop. My family hate Windows 8 though, and its that problem that MS have I think. They have lost many casual users. I am a developer so see past the BS and avoid the bad corners (such as the Store apps which are like going back 20 years in time in comparison to Desktop counterparts. :-)

I have a laptop with 7, 1 desktop with 8 pro and 1 with 8.1 pro. Despite the fact that my one desktop has been running 8 pro for a year, when I try to upgrade I get a message that my CPU can't handle 8.1.

Seeing as my only Windows 8 machine is a Surface 2 Pro, I'm obviously running Windows 8.1. ;)

These numbers shouldn't be called market share. I don't think Windows XP is still being sold.

Have been using windows 8.1 on my surface pro for the past week. Although officially released its far from bugfree. The searchfunction and contextsearch within the app is messy and inconsequential. When in an app such as maps when pressing the search key in charms or search on the keyboard on the surface pro, it is directly coupled to bing. I actually have to press search within the app to start a contextual search. In windows 8 the switch from (bing) search to in app contextual search was automatic. Now its become messy and disfunctional in my experience. Also as an example the contexual search in maps doesn't recognize villages and mistakes them for a street name. This was not the case in windows 8. So for me I'm experiencing a lot of frustrations and sighs. Microsoft please do something about this. Bing search as applied now is very conterintuitive in relation to apps. Also the shortkeys keyboard keys such as search, volume and share on my Type cover do not work anymore since the 8.1 update.

Staying at Windows 8 for now. It's better at gaming than 8.1. Mouse is smoother.

So there are more windows 8 users now than apples OS

If you let us run ARM compiled normal apps on WinRT it would make the chart spike.

Windows 8.1 Pro on my gaming box - rocks better than 7 no lock ups since original 8.0 installation a yr and half ago. Windows 8.1 rt on Asus Vivo Tab much faster!! Just wis