Windows 8 retail software sales end Friday, but Windows 8.1 sales continue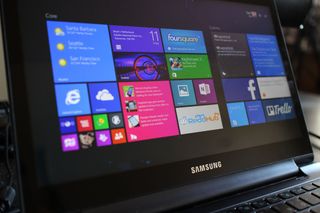 Microsoft will officially end retail software sales of Windows 8 on Friday, October 31, but there's no reason to panic as the company will still be selling the full versions of the newer, and better, Windows 8.1 operating system directly to consumers for the foreseeable future.
Microsoft's Windows lifecycle web page shows the ending of Windows 8 software sales on Friday but OEMs can still offer PCs with Windows 8 pre-installed. So far, Microsoft has yet to set a date for those sales to end. They have also yet to reveal when sales of Windows 8.1 software sales, or sales of the OS pre-installed on PCs, can stop.
Keep in mind Microsoft is selling the full version of Windows 8.1 for $120 and Windows 8 Pro for $200, without the need for the PC to have Windows 8 pre-installed. In other words, the end of software sales for Windows 8 is really just a footnote.
Source: Microsoft (opens in new tab)
Windows Central Newsletter
Get the best of Windows Central in your inbox, every day!
How long before other sites say "MS decides to give up on Windows 8." LOL!

Windows 8 is a stepping stone towards success. They would never give up on it. Not directly at least.

Windows 8 lives on in Windows 8.1 and Windows 10... no joke.

The joke is that sites that hate MS are now going to spread lies that MS has discontinued Windows 8 because it failed, even though Windows 8.1 will still be available.

They are just completely missing it. LOL!

They said that with vista

He's trying to joke about what MS hating sites will put up the story ;)

This explains why some dunce came into our IT firm saying "You know they discontinued Windows 8, right?"

So you didn't hear it from me, but to add to what John said, you can also get the OEM version for only $90

Windows 8.1 with Bing is free.

I think that's only available to hardware OEMs.

Just like the preview for developers is only available for developers?

The "Preview for Developers" is called that way to prevent pissing of cariers that like to have something to say about the official update process, otherwise, Microsoft would push updates out as soon as they are available. Anyway, Windows 8.1 with Bing is only for OEMs.

So was office starter but that didnt stop anyone from posting it for download

Why would OEMS still offer 8.0 on prebuilts?

8.1 doesn't work well with integrated graphics on Celron CPUs I think.

Sounds like FUD. I'm sure 8 and 8.1 share the same graphics driver architecture.

I've had it happen to me on a cheap netbook my aunt got, traded it in for a Surface RT

I called the computer shop where I bought my cheap Windows 8 OEM software. They now sell both the 8 and 8.1 versions - but they sell the 8 cheaper by about $10 compared to the 8.1 so I presume the OEMs get them from Microsoft at a cheaper price compared to the 8.1 so that might be the reason why.

Maybe they generated to many kits

Maybe there are businesses that support 8 but not 8.1 for some reason?

I went to my favorite computer shop and bought Windows 8 OEM really cheap so I could upgrrade my Windows 7 desktop. I presume they will continue selling those but in the 8.1 version.

Journalists will say "Microsoft Kills Windows 8 on Friday." Because they don't read full statements.

I don't even know the last time I actually bought a retail copy of Windows. I think it was Windows XP Pro SP2 in 2005.

Anyone know the cheapest way for me to get windows 7 or 8 for an old desktop still running win XP?

Sounds like the cheapest legitimate way is to purchase an OEM copy and install.

Microsoft ends win8 looking around they killed the name windows phone. everything i see right now bugs me a ship going in no direction. they buy Nokia phone division but we have throw away devices that are exclusive un exciting. say what you will about android lest they have exciting devices and the same for iPhone 6 and the 6+.

Doesn't Microsoft offer the 8.1 upgrade to Windows 8 for free via download?