Microsoft's Windows 8.1 hub control has made app development even easier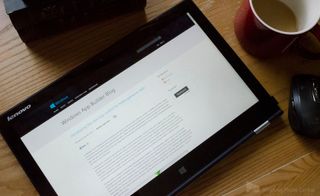 Developing an app for the Windows Store calls for skill with not only the code itself, but also with the design of the user interface. We had all experienced downloading a Windows 8 app with high hopes of its success, but instead received disappointment when we see that the developer simply did not invest enough time in the UI. With Windows 8.1 Microsoft had added a new control to the tool bags of developers to help remedy some of the past interface development woes that may have been experienced.
You will notice that upon launching your favorite Windows 8.1 application, that it is split into different sections as you scroll side to side. One of the issues of these "hubs" that you first say in Windows 8 when interacting with an application was that they were usually only designed to hold one type of content at a time. Content can vary from simple text to pictures to high definition video. Developers of the past have tried to remedy this limitation by using certain hub controls for various types of data, but it just was not doing the job.
After the Microsoft development team received feedback from developers, they decided to create a new control that works with various types of data sources. Microsoft had introduced the new hub with the launch of Windows 8.1 and it allowed developers to handle lists, text, videos, links, and images, all in one convenient package.
As a Windows 8.1 user, this means that applications are better able to present the data you are searching for; it allows developers to forego the need to split up their content into various hubs simply because the proper control is not available. Microsoft had improved the backend for developers, but you, the users, are currently reaping the benefits of the new development control as it has become implemented. In fact, it is the control that our current Windows Phone Central app for Windows 8.1 uses on the front page!
You can head over to the official Windows App Builder Blog to find out more details about the control and how to implement it into your latest app.
Are you a Windows 8.1 developer – have you been using the heterogeneous data hub?
Source: Microsoft
Windows Central Newsletter
Get the best of Windows Central in in your inbox, every day!
Very Good. Make it easier for WP now

Kudos to MS for trying to stay on top of things.

Historically, this has been something MS hasn't done a good job at. They give us visual studio and come out with UI design styles that are then hard to implement without more work than should be neccissary or 3rd pary tools, often which don't follow standards too.

"Historically, this has been something MS hasn't done a good job at." I have to ask, "relative to what?" I've used the tools provided for building apps on other platforms and found that .NET developers are spoiled, by Microsoft, by an embarrassment of riches in terms of tools (VS, Blend, Design, MSDN, Channel 9) designed to make the design and development experiences as easy as possible. Is it perfect? Hell no! But, it's much closer than the other offerings I've seen.

I am a "soon to be" windows 8.1 developer. The abilities to create optically impressive apps for win 8.1 are amazing...

Good luck make some good apps.

We need a more flamboyant calendar app, a wifi/blue tooth app, a movie trailer app, a better podcast client..... Ready......set...... Go!!!!

This is good to hear. One of my biggest issues with Windows 8 is that developers lack design skills to effectively make good looking and functional applications. Microsoft has clearly limited them by not providing them the proper tools for controls. The more standardized tools Microsoft provides, the easier it is for them to maintain a consistent and affective user experience across all 3rd party apps. Flat UI design is gorgeous and affective when done right, but completely falls a part when done wrong. Microsoft needs to provide more of the tools so developers don't have to rely on their own skills to "design" the app.

Good... Maybe the VLC can stop crying for five seconds and concentrate on what they took money for. Most dev's are awesome. That crew is a bunch of whinny b*tches though.
Windows Central Newsletter
Thank you for signing up to Windows Central. You will receive a verification email shortly.
There was a problem. Please refresh the page and try again.