Official WPCentral apps updated today with fixes and new features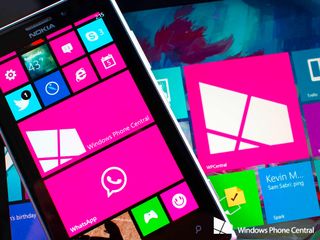 Just in case you thought we actually slept around here, we have new updates to share with you today. A fairly substantial one for our new Windows 8 app which is already live and waiting, and a small patch for our trusty Windows Phone offering which we're expecting to be published later today.
You can pick up the Windows Phone app from the marketplace right here including a free unlimited trial with ads, and you'll find our Windows 8 app here in the store (opens in new tab) for free with advertising. Curious as to what we've been working on this time? Check after the break to find the full change list for both apps.
Windows Phone Central for Windows 8.1
Right now is my favourite period in developing a product, because after months of building the core product I can now build in changes that are in direct response to the mountain of feedback we've received from you all. Version 1.1.0.4 is the product of that first week of work, so cast your eyes over the extensive changes below, including customisable fonts and improved offline functionality.
Added option to sign in from settings
Fixed issue where the comment reply box was not sized correctly
Tapping the number of comments in the article page now brings comments into view
Tapping anywhere on the lead image will navigate to that article
Added spell check to comment entry
Added font size options
Added font style option
Links in comments can now be followed by clicking on them
Marginally improved the header fonts
Fixed bulleted lists formatting
Always refresh the news on navigation to the home page
Improved offline experience and added offline indicator to key pages
Main page returns to the section which was being viewed
Fixed display of version numbers
Fixed issue where a page could be navigated to even if blank
Fixed a typo in the privacy policy
Fixed issue where reply could be started with no login credentials
Hopefully these are the major points of concern addressed, we know a few people were unhappy with the Serif font used in article reading so we've given you the choice to switch to Segoe. It's worth mentioning though that we did follow Microsoft's guidelines for fonts when reading large quantities of text.
To save this article being flooded with comments asking when forums will be available through the app: don't expect them any time soon. I don't expect to be able to re-use any of the code from Windows Phone and will once again need to write my own Tapatalk engine from scratch. That takes time, let alone having to then figure out the user interface.
Windows Phone Central for Windows Phone
The update to our Windows Phone app is much more modest as you'll see below. That doesn't mean we're forgetting about it of course, this update was necessary to fix a major issue for Windows Phone 7 users. We'll be revisiting (and likely rewriting large parts of) the Windows Phone app later this year, for now enjoy version 4.4.15 (expected to be published later today):
Fixed a crash on Windows Phone 7 devices caused when scrolling through articles
Fixed bulleted lists formatting
Improved the display of an error message
Other minor bug repairs
Once again this update is not yet certified by Microsoft and ready to go, but we're expecting it to be released today and we'll update this post once it has been released. In the meantime be on the lookout for an update notification on your Windows Phone device.
So there you have it, two new updates to try out today. If you like the apps be sure to rate the highly on their relevant stores, or if you'd like to suggest something you think we could improve, make sure to visit the dedicated forums for each app. You'll find the Windows Phone app support forum here, and the Windows app support forum at this link.
Update: As you are no doubt aware the Windows Phone update has still not been released as of today (Friday). There appears to be a delay at the moment in the certification process on the Windows Phone store. We've contacted Microsoft to see if this can be resolved and will update this post again when the update goes live. In the meantime make sure you've downloaded the Windows 8 version above!
Update 2: It's finally live! We've no idea why this update took 5 days to pass certification but there you go. Version 4.4.15 is now available in the store, here's the link again if you missed it.
What a response!
If you've checked the Windows 8 store recently you might notice that our app is already one of the top news apps for the platform (depending on the region you're accessing the store from), something we were not expecting in only a week! So thank you to everyone who has downloaded and reviewed the app, and helped us to get top spots on both Windows Phone and Windows 8, we hope to live up to this status.
Windows Central Newsletter
Get the best of Windows Central in in your inbox, every day!
Keep them coming Jay! Just updated the app on my Surface 2 and Surface Pro! Now I'll go to bed and wake up and hopefully see the Windows Phone update ready!

Where is the addfree windows 8 version

Remember everyone, you can force Windows 8 app updates by going to the settings charm in the Store, that will make sure you get v1.1.0.4 :)

Thanks Jay, good work. Just a small request, could you leave a space at the top of the article, so that when the image loads it doesn't jump the text to a different place while in trying to read it?

Sorry Jay, just read down the comments and can see everyone asking for new features and you repeatedly telling them to put suggestions in the forum. Ha ha, I feel stupid now. I have added them to the forum.

Great app, Jay/ long awaited, but great. Now it just need to be a bit more smoother

It loaded this morning when I started my @surface rt :-) as a matter of fact I'm using it now!! Thanks Jay!

U know! It's always the first app i watch in the morning after i woke up :3 keep it up!

I think you guys should rebrand to 'Windows Central'.

Since the app covers all the windows environment it actually makes a lot of sense.

But they are part of mobile nations after all , and naming it so would be in a sense breaking from that(no conformity with the rest of the mobile nations team )and the emphasis has always on WP rather than windows in general.I would prefer it to be the way it is.

You don't think Windows Central conforms to naming convention of Android Central? Android Central refers to Android phones, tablets, and other devices. So too would Windows Central.

I 100% agree, Windows Central sounds perfect! And much more inclusive.

If you go from the article to the comments and back. The last image is gone. The one under what a response.

Hmmm not seeing that happen here but I'll keep my eye out

It would be nice if I press the up button after the send button, the keyboard would disappear.

Good idea, will do that for the next update

Keep up the good work Jay!! Yourself and Rudy should team up !!!!

I have a couple of suggestions for the WP app. What about adding voice reply option so that we don't have to type our comments? Like on text messages. Also, what about the app reading the article to us like the NBC app? That way my lazy butt doesn't have to read. In addition, emoji support from the built it keyboard so they appear here in the comments.

Great suggestions, head over to the forums and add them there to make sure I don't forget about them :)

Cool, just did. I also added custom notification sound. :)

All three of those are great, especially reading articles out loud. Would mean I could work and consume at the same time.

I simply dont understand why wifi cannot be simple toggle button... i am so sad... And there is no cellular data nor flashlight for toggle in the action center as well. Shame. All very simple features and still not available. They are more important than this Cortana...

Comment count is never updated when pressing send.

Guido could you collate your feedback and post it in the forums? Would be very helpful to me

I've noticed something annoying in the WP 8 app but I'm not sure if others have noticed. When I reply to a comment the white box that shows what I'm typing hides behind the keyboard so I can't see it. I have to hit the back button once so the keyboard disappears, then click on the text box which finally makes the white box appear above the keyboard. It doesn't happen 100% of the time but it does about 20%. Very annoying. EDIT: Wow, it just did it to me right now when I tried to edit this post. If you don't know what I mean Jay, I can send you the screen shot so you can see how the keyboard is showing but not the text box. Let me know.

If you could post this information in the forums it'd be really helpful, helps me see if others are getting the problem, I think I know what you mean but it occasionally happens on several apps, where the OS doesn't properly resize the app you're entering text in to

This happens to me as well

The only app I've noticed it in is the WPC app.

This happens to me too, mainly when editing. Also when revising a comment, whenever the number of lines changes it scrolls to the bottom even if the cursor isn't at the bottom (eg, you could be editing the start). Also sometimes the height is stuck at 1.5 lines. (posting here so blackhawk can add it to his list).

You are right. This also happens to me but it's not always, some times it's ok.

Updated but not seeing the font style and size options...

Should be in the article page's command bar. Same place they are in the Bing News app :)

I found them, how do the work? Never mind. I tried them in the comment section. :-)

Yep they currently don't affect the comment section, although I may let the size one change the comment size as well, I'm undecided there

See, this is why I read the comments. I (thought) I searched everywhere for the font options, and could have sworn the update didn't work for me. Now I've got them set, though, and I'm loving the Segoe.

Custom notification sound maybe ?

Good work Jay! Greetings from Portugal.

No updates on my Lumia 2520, oh well gonna have to wait till I get out of work.

Really looking forward to "Subscribe to the forum/thread" feature for windows phone...

Well it still doesnt show up here in India....

Auto updated and feelin' fine! I just have to ask, is there a reason why I can't use my mouse wheel to scroll like the Bing apps and Skype? I can make do without, but it would be nice.

Your mouse wheel should scroll, it certainly does on all of my test machines?

Thanks for the updates Jay. Looking forward for the WP app once it gets published in the store. :) Jay, I would like to include a suggestion in this post for the WPCentral Windows Phone app, not sure how feasible it would be. It might be too much of an ask but still I would like to share it with you. Currently say a post is made by one of the editors. The live tile gets a count 1, if another post is made, the count increases to 2 and so on. If I have logged in via the web and read the new posts, the count on the live tile still remains. I have to open the app manually from the phone in order for the count to zeroize. Considering an app like Facebook, if we receive an update and I have read it via the web, the app on the phone synchronizes the count automatically after a while. I would appreciate if you would share your thoughts and views on this. :)

It is very difficult to do without writing a whole new user tracking framework to watch what our users do on each device (and that's something for our server team rather than me as the app guy). Typically we've stayed away from tracking our users in such a way as we do value your privacy, but Mobile Nations as a team may eventually decide there is value we can provide to our readers with such a system

I really like this idea. I don't mind that I'm tracked, if that means much better personalization.

Any notifications and tile count??

Tile counts are not really a concept in Windows 8. And notifications are not currently in the pipeline, but we may do something about them in the future

What do you mean not a concept? The store has them, mail, nextgen reader, just to name a few.

Sorry I meant to say most news readers haven't used them. I'll look into it, should be able to do it with notifications I hope :)

Still old version on UK WP store.

Thanks for including my suggestion (& concurrently Microsoft's) ;) of tapping the image for details!

Everything is so fucked up right now. I can't update cos i have a trial version. Overall that isn't my fault as i can't purchase app yet in my region.

The Windows Phone app update isn't out yet (read the article again) and you will be able to update your app whilst using the free trial, as you have always been able to :)

Jay, I would like a feature in our app which allows me to navigate through all the comments that I have made in a particular article, it becomes very tedious for me to scroll through 100's of comments. At the moment though, this can be only through the link emailed to me when somebody responds to my comment.

Thanks for thinking of those of us still hanging on with our WP7 phones until our contracts run out! That scrolling bug was sooo...frustrating! WP Central is my 1st read of the day , honestly the crash pushed me to move to a new 1520 before contract ended (I love the 1520) but others in my house still hanging in for now.

WP central team thank you

Still the best news app in the Store, Jay! Keep up the good work! If only other companies would employ your services...

Thanks a bunch Jay! Keep up the good work!

I have an interesting problem with this app, when i sign in from a browser to wpcentral it gets signed in. But when i sign it with this app it says wrong password or username. I tried it about 100 times in last few days. What should i do?

Head to our support forums :) You might find that this is your issue: http://forums.wpcentral.com/wpcentral-windows-phone-app-support/256107-5D-how-login-app-using-facebook-twitter-google-microsoft-account.html

I had the same problem long time ago but it for sorted just try to logout from browser reset your password and username or with a new password. U will get the email for confirmation then try login again with your new username it may work. If it doesnt work Jay, brother u have to adress that bug

Dnt knw what it was...but when i uninstalled the app and re installed it worked. :D

No update available for Lumia 520

As we said in the article (3 times) the Windows Phone update is not published yet and will hopefully be released later today

I Love this App, and this is why i Love Microsoft. I even get used to this pink Color. Hehe.

From what I have heard, the Android WPCentral app is better than the one on Windows Phone itself.
If that is the case, surely prioritise development of this WP app?! It is Windows Phone Central after all...

I don't know, but maybe that app is based on the Mobile Nations android news/forum app and therefore may have different functionality based on what the OS offers.

Keep it coming, Jay! I hope you've addressed the issue about the large tile on WP, where sometimes the tile would look all black, forcing me to go back into the app, reload the main page, then exit it to see the tile functioning again. Don't know if I'm the only one having this issue, though... Oh, and it's been going on for quite some time now.

From where I come(Bangladesh)......buying apps from windows phone store is very hard......there are many apps I would buy(moliplayer pro for example) but can't.......thanks for making the wpcentral app free :)

Just updated this morning and everything looks great Jay! Thanks a bunch to Jay and the WPCentral team!

Nokia treasure app available for download http://www.windowsphone.com/s?appid=026c771b-473d-4593-b5db-e43cc8a3117b

Plz add share to whatsapp option ;)

That's not really possible as far as I know, but you could try tapping the Share "link" option which will copy the article link to your clipboard for you to share on Whatsapp

Una aplicación muy buena, pero también deberían añadir el idioma español u otros idiomas más por favor =) A very good application, but should also add Spanish or other languages ​​more please =)

PLEASE CORRECT ME IF IM WRONG: the wp central app for android is better than windows's, it has NO ads, so its free...WP central for WINDOWS PHONE HAS ADS so you have to pay in order to clear your screen a bit. so i dont understand why the FFFFFFF does that mean, we are the windows phone community so we deserve the better/free app -___-

I'm not going in to this again. Go look in our forums or to any one of the past articles as to why we have this system. Also, is deserve really the right word?

Why does it say last update 12/26/2013 ? I thought there's an update...who ever headlines with an update when it hasn't even happened yet -Brilliant!

Read the article. Or even read the first paragraph of the article, we can't put every detail in the headline or you would never read the content!

Does this address the bug where the spellcheck/wordflow gets out of sync with the words in comment boxes?

Wasn't aware of that issue but we're using standard Microsoft controls so I'd hope it will work fine

It's kind of hard to describe and recreate it but I've seen another person or two that mentioned it as well. It probably is just an issue in the underlying control. It seems as if it gets confused between word boundaries and white space and parses out the words incorrectly. The end result is it flagging a word being misspelled when it isn't. I've only noticed it in the WP Central app but that may just be the only app I use that uses that control. I'm not sure what triggers it. It's probably something in the way I interact with it that most people don't seem to trigger. Really love the app too. It's an example of how an app should be designed on WP!

Just a quick question about the Windows 8 app; theres no way to Access the forums from it?

Yes, they are there, just slide to the right.

Still see old version in Store.

@Jay any plans on an ad free version that we pay for like the Windows Phone Version?

Only 4 more hours left of toDAY and 13.5 hrs after article was published how much "later in the day" ? Or update be this evening then? ;-p

We expected the app today, but apparently Microsoft's publishing department had different ideas!

Apologies, unfortunately the certification process for Windows Phone is taking significantly longer than usual. We have contacted Microsoft regarding this problem

Are you serious? ya don't say an update is eminent unless you KNOW it is, full stop. Journalism 101.

Good job I'm not a journalist then

Today I bought WP App. Great job! WPCentral app is very quality product! Every day i open wpcentral web page and read articles becaues every articles are very intersting and useful!

Please tell me that it is not going to lag anymore, because that is really an issue. I wrote you from the feedback in app, but i got no answer and i saw nothing better with the last update. Wht it lags so much in the news feed? Is this android or WP we`re talking here?

WP8, Lumia 920, and i also bought the app about 1 year ago, when I had HTC 8S

Any update on the WP update?

Yep it's finally been published :D

I finally got the update! Yey! Thanks, WPC!

Got the update right now...:D

I'm a bit late with the comments but "wow"! For whatever reason the image resolution seems to really pop on my "old"Surface RT. This is an incredibly good looking app that's well laid out. Great job Jay; I'm willing to bet the folks in Redmond have taken notice.

Application is running like a cogwheel when I slide my finger. awfull in my Lumia 920

Scrolling is a bad experience in Lumia 920, at least mine!
Please fix it asap

One question that has been bothering me for a long time: why isn't this app free?

Jay, you're awesome! Not sure if it was the most recent or prior, but you fixed the issue where the more button was too low. Thanks!
Windows Central Newsletter
Thank you for signing up to Windows Central. You will receive a verification email shortly.
There was a problem. Please refresh the page and try again.