Official WPCentral apps updated today with fixes and new features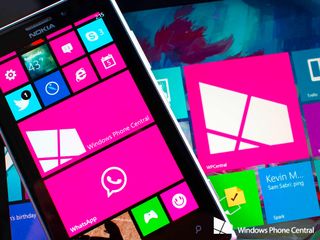 Just in case you thought we actually slept around here, we have new updates to share with you today. A fairly substantial one for our new Windows 8 app which is already live and waiting, and a small patch for our trusty Windows Phone offering which we're expecting to be published later today.
You can pick up the Windows Phone app from the marketplace right here including a free unlimited trial with ads, and you'll find our Windows 8 app here in the store for free with advertising. Curious as to what we've been working on this time? Check after the break to find the full change list for both apps.
Windows Phone Central for Windows 8.1
Right now is my favourite period in developing a product, because after months of building the core product I can now build in changes that are in direct response to the mountain of feedback we've received from you all. Version 1.1.0.4 is the product of that first week of work, so cast your eyes over the extensive changes below, including customisable fonts and improved offline functionality.
Added option to sign in from settings
Fixed issue where the comment reply box was not sized correctly
Tapping the number of comments in the article page now brings comments into view
Tapping anywhere on the lead image will navigate to that article
Added spell check to comment entry
Added font size options
Added font style option
Links in comments can now be followed by clicking on them
Marginally improved the header fonts
Fixed bulleted lists formatting
Always refresh the news on navigation to the home page
Improved offline experience and added offline indicator to key pages
Main page returns to the section which was being viewed
Fixed display of version numbers
Fixed issue where a page could be navigated to even if blank
Fixed a typo in the privacy policy
Fixed issue where reply could be started with no login credentials
Hopefully these are the major points of concern addressed, we know a few people were unhappy with the Serif font used in article reading so we've given you the choice to switch to Segoe. It's worth mentioning though that we did follow Microsoft's guidelines for fonts when reading large quantities of text.
To save this article being flooded with comments asking when forums will be available through the app: don't expect them any time soon. I don't expect to be able to re-use any of the code from Windows Phone and will once again need to write my own Tapatalk engine from scratch. That takes time, let alone having to then figure out the user interface.
Windows Phone Central for Windows Phone
The update to our Windows Phone app is much more modest as you'll see below. That doesn't mean we're forgetting about it of course, this update was necessary to fix a major issue for Windows Phone 7 users. We'll be revisiting (and likely rewriting large parts of) the Windows Phone app later this year, for now enjoy version 4.4.15 (expected to be published later today):
Fixed a crash on Windows Phone 7 devices caused when scrolling through articles
Fixed bulleted lists formatting
Improved the display of an error message
Other minor bug repairs
Once again this update is not yet certified by Microsoft and ready to go, but we're expecting it to be released today and we'll update this post once it has been released. In the meantime be on the lookout for an update notification on your Windows Phone device.
So there you have it, two new updates to try out today. If you like the apps be sure to rate the highly on their relevant stores, or if you'd like to suggest something you think we could improve, make sure to visit the dedicated forums for each app. You'll find the Windows Phone app support forum here, and the Windows app support forum at this link.
Update: As you are no doubt aware the Windows Phone update has still not been released as of today (Friday). There appears to be a delay at the moment in the certification process on the Windows Phone store. We've contacted Microsoft to see if this can be resolved and will update this post again when the update goes live. In the meantime make sure you've downloaded the Windows 8 version above!
Update 2: It's finally live! We've no idea why this update took 5 days to pass certification but there you go. Version 4.4.15 is now available in the store, here's the link again if you missed it.
What a response!
If you've checked the Windows 8 store recently you might notice that our app is already one of the top news apps for the platform (depending on the region you're accessing the store from), something we were not expecting in only a week! So thank you to everyone who has downloaded and reviewed the app, and helped us to get top spots on both Windows Phone and Windows 8, we hope to live up to this status.
Get the Windows Central Newsletter
All the latest news, reviews, and guides for Windows and Xbox diehards.