Windows Alarms & Clock, Maps nab updates on Windows 10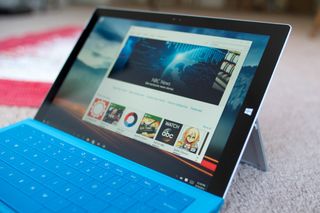 (Image credit: Windows Central)
Microsoft has pushed out updates to a couple of Windows 10 core apps today, bringing new versions of Windows Alarms & Clock and Windows Maps. There doesn't look to be anything new in these updates, so they're likely chock full of bug fixes and performance improvements.
The good news is that since these are universal core apps, they've been updated on both Windows 10 desktop as well as Windows 10 Mobile, so you've got double the updates to grab if you're running with a PC and Windows Phone.
If you happen to notice anything we missed in the updates, be sure to shout out in the comments below. Otherwise, you can hit up the links below to grab the latest updates.
Dan Thorp-Lancaster is the Editor in Chief for Windows Central. He began working with Windows Central as a news writer in 2014 and is obsessed with tech of all sorts. You can follow Dan on Twitter @DthorpL and Instagram @heyitsdtl. Got a hot tip? Send it to daniel.thorp-lancaster@futurenet.com.
Weather needs an update. I can't get it primed to go using any location.

In Mobile it doesn't even launch :/

Reset WM10. Does wonders.

I've done two hard resets after I first installed the latest build on top of 8.1 (which I also hard reseted before upgrading). I just can't get it to launch, and it stubbornly shows me what's the weather like in London :/

Same, I can't get the Live Tile to work.

I see what you did there.

Update available on 10 mobile too

Yup, says that right in the article ;)

This added scheduled Quiet Hours yet?

Aren't the scheduled Quiet Hours done via Cortana's notebook?

I see the scheduling option on my phone in Cortana's notebook but not on surface or desktop...

Huh, that's weird since it used to be in the settings on 8.1. Yet another thing that got lost during translation. :/

I love these posts alerting about an app update, yet there is no idea what the update brings. Is it really worth a post in these cases?

yeap its make me open the store to update

Which will automatically happen by itself....

i have disable auto updates i dont want to get 1000ms ingame

yes its happen even few mb of song download

Yeah, because a 10 second download of a couple of megabytes is going to make such a massive difference to your l33t frag rates and push your latency to 1 second. These along with Windows updates go through the BITS mechanism. If your connection is heavily utilised, during an online deathmatch for instance, it throttles the downloads to a trickle. These tiny app updates would have no noticable impact on your latency, unless you were on dialup of course. As it happens, I disable automatic updating of apps too, but not because I'm scared of losing a few ms of latency. But because I want to see what is update and when. As there is no update history in the store at present, you'd never know these things were being updated if they were set to automatic, and sites like Windows Central didn't tell you about them.

the highest internet connection you can get in Greece is 11mpbs on VDSL because ISPs here are shit and also VDSL isnt even available in my location im running between 4-5mpbs

Do you game on a dial-up or slow DSL connection? On my 100mbps connection I can game, download a file, and stream HBO Go on my Roku concurrently and get virtually no change in my PING to servers. And I play predominantly MMORPGs, so if there was an issue wiht PING, I'd definitely notice it almost immediately when things suddenly started happening half a second after I pressed the button on my mouse, keyboard or gamepad.

the highest internet connection you can get in Greece is 11mpbs on VDSL because ISPs here are shit and also VDSL isnt even available in my location im running between 4-5mpbs

And in India most of us are stuck at 512 Kbps!!!

If you follow the links, you can click on version notes which for maps says "The new Maps app brings together all your favorite features—3D cities, Streetside views, turn-by-turn voice navigation, and offline maps—into one universal app for Windows 10 PCs and phones."

Interesting... is this MS slowly moving away from HERE Drive then? Using their own app, and just licensing the maps from that car manufacturer consortium?

Nothing slow about it, Here Drive won't be preinstalled anymore.

"I love these posts alerting about an app update, yet there is no idea what the update brings. Is it really worth a post in these cases?"

100% worth it. Reason? If we don't know what is in the update, we can crowdsource you guys and maybe

you

will discover something that we can then pass on/be aware of ;) Also, it costs us - and you - nothing for an article that may not be worth it :P

Glad you clarified. I was concerned that I was being charged for thes posts :P

Maybe off topic but I finally was able to Install Windows 10 desktop after 2 weeks of launch. Since I had an issue with my AMD graphics card driver, I had to roll back to 8.1 using recovery tool from Dell, but I couldn't get the Windows 10 reservation app again. What I found was that the secret to install Windows 10 is to download the media creation tool software, which should be renamed to Windows 10 installer, no need to have a DVD or USB stick, just run the tool and after a few minutes you will start Windows 10 installation. Good luck to everyone which still don't have Windows 10!

What's the point of this comment?

A PSA for people who can't Bing for "Windows 10" and click on the first result?

I think some users which rolled back to 8.1 due to graphics issue may be surprised that Windows 10 reservation is not available anymore, you need to download the tool and install Windows 10 directly.

Erm, no. No you dont. You just have to wait for Windows Update to pick up the requisite updates again, and for the system assessment scan to run. The tray icon can remain absent for several days following a downgrade. There's a trick online somewhere to trigger that system assessment scan to run manually, and for the upgrade prompt icon to then re-appear but I can't be bothered to find the URL for you from when I did it. Google/Bing it :)

May be off topic? I think you mean WAY off topic.

So...he was being helpful. Cut the guy some slack.

For fixing issues with graphic card, manually download the driver before upgrading to windows 10.
Save it. Then install it exactly after Windows 10 installed, before Windows update black our screen.

Used to drop the alarm just by opening the app. Seems fixed now

My alarm doesn't go off in the morning on mobile 10, I hope this fixes it!

I have noticed it doesn't go off for select ringtones but works for others.

Anyone else got 'Waiting for installation' message on one of the updates halting all the others from being processed?

Do you mean Windows 8.1 updates from blocking you on getting Windows 10? I believe there is a workaround for this issue, you need to go to C:\WINDOWS\SoftwareDistribution\Download and delete all the files there (you need admin permission). Once you do this, you can safely get the new updates required to get Windows 10.

I'm actually talking about Windows 10 update service getting stucked on one of the driver updates saying "Waiting for installation".

Have to say I love the new Maps app overall :)

Maps add street side view in the uk.

If I try and view the Alarms and Clock entry in the Store (because its not finding any updates) my Store App crashes

The world clock in the alarm app is one of the best I've ever seen.

Pinch to zoom not fixed in this update

The issue is in an underlying level so the fix will come up with an OS update in the future. We're fully aware of the pinch gesture problem and working on releasing a fix soon.

so, I know I'm doing something wrong. Not sure if this is a potential bug fix/something that was fixed. On 8.1, I could turn off my alarm on the lock screen. Now, I have to put in my pin first then turn off the alarm. Kind of annoying when groggy.

I've been using Here Maps since I got my Windows Phone and I don't how good Windows Maps is.

Windows Maps app brings the best of HERE and Bing together into one single app. Give it a try and let us know what you like or not like.

It's rather good as a mapping app, but when it comes to navigation it falls short of its predecessor HERE Drive. If you could update it with all features HERE Drive currently has (and maybe even add some more), that would be great. Thanks.

What features from HERE Drive do you feel are missing or in which specific areas do you think it falls short for navigation?

For Maps the update includes several reliability fixes (fixed several of the top crashing issues!), we changed how the business hours information is displayed on search results to make it easier to read and also we added a Streetside layer to make it easier to jump into the Streetside view of any place in the map.

Thanks, much apprechiated. Assuming you're a Microsoft employee, why don't you include this kind of information in the Store's "What's new" section?

Yes, I'm a Microsoft employee and I'll pass on this feedback to the team.

I still find the new MAPS to not have accurate location information. I have a laptop running W8.1 and Maps locates me perfectly, on all of my W10 machines - it does not often being miles away - have checked all of my location settings... was hoping this update would fix it. Anyone else experiencing this ?

My Windows 10 quit updating. Probably 2 days ago. I didn't install anything or change anything except the hosts file. But it sits at 0% for the last 2 days that I know of. Not only that, my mail quit working as well. Odd stuff.

My alarm and click tile icon now
looks normal, not with just the small bell. Waiting some update for calendar too, same problem with incomplete small tile.

Drive always locks up on me

Do you mean driving with the new Maps app? Can you clarify what do you mean by locking up? Does it hang, stops following you or something else?

I can't zoom anymore. There are no zoom buttons and pinch to zoom is not working anymore. Do you have a solution for that ?

As mentioned in another comment we're aware of the zoom gesture issue. It is an issue in an underlying layer so we're working to have that fixed in a future OS update. In the meantime you can double tap to zoom in and tap with two fingers to zoom out.

Just for the record, I miss: -Inbetween steps for routing.
- fast and optimized routes.
-train and buses.
-folders for favorites places! The new Bing map website use this already, I created different folders and put many favorites in there, just to recognize that in the app everything is gone :( And : Routing speech as OVERLAY over my running music !! With the old win phone 7.5 I could listen music AND navigation, now every time the navigation wanted to tell me something, music stops. I make no joy to use that at all

Thanks for providing specifics, this will help the team understand the feedback better. I'll make sure to pass this requests. For the music issue, although music is muted it should restart once the instruction has been spoken, are you seeing something different? If so with which music app? Is it through Bluetooth?

Thank you for asking ! The music is muted and restart after the instruction, same behaviour with bluetooth connection and without. I use the default groove music app. But on the good old windows phone 7.5 the music faded nto the background, but was still there and the navigation voice was added a little bit louder. Then the music faded back to the original volume. I like to drive and hear music a lot, and I need a navigation system when I go to some traveling trips, but I is NO joy anymore to use this system. For me this is a reason to not use the maps app, really and it is so saad because it was working perfect in the past. At the moment I do navigate OR listen to music because it drives me crazy. It would be so great to get back the old music fading, really. In my case I would pay for it, if neccessary.

Yes, that's the default behavior currently, wanted to clarify since we have seen cases where it doesn't behave as expected. We have previously heard feedback that this is not the best experience for some users, some would prefer it to be paused, faded out/in or for it to do nothing. The current behavior ensures that you can listen to the instructions clearly, which could be an issue when you're listening to podcasts, for example. But I understand this could be a frustrating behavior and we'll definitely consider it for future app updates. We want our app to make you happy, not sad.

Thank you, I understand your point for podcasts. For me the best case would be an option to setup the behaviour. This way everybody could be happy with the ne app.

This now launches for me. Had to use other account to download update from the store. Each updated app fixes the launch problems for me. Just store, weather and phone companion left that don't launch now.

finallyyyy alarm works it has sound :DDDDD!!!

please add this feature in windows 10 Mobile:-
Password restriction to uninstall app.
Windows Central Newsletter
Get the best of Windows Central in in your inbox, every day!
Thank you for signing up to Windows Central. You will receive a verification email shortly.
There was a problem. Please refresh the page and try again.