Windows Calculator snags minor update on Windows 10 PC and mobile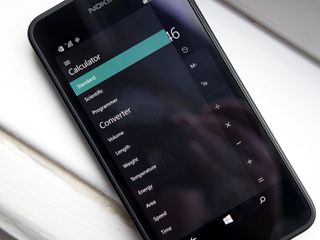 Microsoft's useful Windows Calculator app for Windows 10 PC and Mobile is receiving a new update. However, this appears to be a minor new version with no updated change log,
For all of you keeping track of version numbers (and there are a lot of you) the new one for the updated Windows Calculator app is 10.1601.49020.0. We haven't spotted anything new or noteworthy, but if you happen to notice any additions or improvements to the app, please let us know in the comments.
Thanks to everyone for the tips!
Download Windows Calculator from the Windows Store (opens in new tab)
Windows Central Newsletter
Get the best of Windows Central in your inbox, every day!
Did we notice any additions? Was that an intentional pun?

It's common in similar articles.. No pun intended ;)

This is the story of windows phone lately. Minor update to a boring app.

Yeah, let's just not fix hidden bugs at all. /s

exactly what I feel right now :/

Yeah let leave all those hidden bugs there

I swear they update Windows Calculator more than anything else in W10...

Only until they release Calculator for iOS..

Yeah and still I don't get what they may be fixing in it. Or just changing the version number. It's not even the case that some calculations are going wrong or anything else noticeable.

I found this page after a search for problems with the calculator. When I try to open, it displays an error, and says there is a problem with Calculator. So maybe they are having issues with the windows 10 kernal being able to do math equations, since that's all computers are, is logic and equations, maybe it runs a risk of crashing the whole system, and they keep updating it to try and fix? Food for thought.

Oh boy! I guess the MS Calculator dev team must be working harder than the rest of MS. I'd rather have a fix for the Outlook Calendar reminder snooze issue (PC & Mobile) or dark theme for Cortana!! Also the Windows Central app no longer giving me updates and notifications on W10M the past two days. App broken or is the new Beta app coming soon???

Win Central app on W10M working just fine foe me on my L925.

What's the previous version number?

I thought it was ridiculous that Calculator of all things was one of the very first apps updated going from WP81 to W10M. Since then it has also been, by a very long distance, the most frequently updated app. While there's plenty of actually important stuff to be done.

Send a note to Microsoft telling them to leave all the bugs in the "unused", "boring" and "useless" apps like calculator till they take care of bugs in all those "useful", "major" and "heavily used" apps and games.

some of us use this calculator, so its not useless, if you don't use it don't think others don't.

Why are there no changelogs in the store? Posted from my Note 5

I'm basically 100% sure it's the update to stop the calculator from asking for ratings since a MS Employee promised to remove that after it blew up on reddit.

Sometimes it is just hard t be a fan. I feel like a fan of a losing sports team where the owner intentionally trades away their best players and wont re-sign top talent. This may seem as an offbase comment to this article but it sucks that the users have to play junior g-men and investigate what if anything has changed to an app. I guess it really doesn't matter anyway because MS intentionally hides all update info in the store anyway. Oh well, done venting.

#MajorLeague #GivEmTheHeaterVaughn

Please Ms, move this active developer to People or messaging app

How about an update for the people app. That app literally gets ZERO attention. It is the same as a year ago.

what do you want to change?

Now if they could just fix the problem of the Calculator appearing behind other windows when launching from a keyboard calculator button (like on any of Microsoft's own keyboards) and then not focusing properly when you click on the taskbar link, forcing you to click inside the "screen" area of the calculator app so that it'll start accepting keyboard input (at least when launching from Cortana, it focuses in the foreground as expected, so I just have to train myself to stop using the really handy calculator button on the keyboard. If anyone else here finds it annoying, please stop by the Feedback app and upvote the many feedback items describing this problem?

They have added a date calculation feature ages ago, yet you don't have it in today's article picture.

Seriously, they update calculator every week with no new features, just minors bugs that we never seem or heard. How difficult can be to make a simple calculator app? Imagine how they're struggling to make an system operational.

Could be an update virus that upates weekly without MS knowing. MS, please fix this bug.

there are a lot of things that have to be updated on the calculator, one of them is data, 1 megabyte is said to be equal to 1,000 kilobytes yet its 1,024

Does this fix the slow loading? On windows 8.1 the calculator was fast and i have a ssd, but now looks like there is a delay to calculator really load.

I think we are all getting tired of all this BS, nothing new or exciting... I am a really big fan, but getting frustrated as no new major apps are developed. Also, existing apps are not receiving any updates regularly (instagram, facebook, kik.. etc).

Blame Instagram, kik and Twitter on those companies...not MS.

That s why w10m was delayed, ok. All devs were busy on this LOL ;-)

Wow, MS can't win with it's "fans." If they don't update something, then obviously they are not working on the system enough. If they update one app too much, then obviously they aren't working enough on the app/component/ pet peeve that is important to each fan. Personally I'm fine with the development of W10 and quite happy with my 950. I would still like and RPN mode though :)

I agree...some people can find anything to complain about.

It's not the only Microsoft app updating today. It seems like the entire W10 core apps are updating. The APi bridge app, Movies+TV, the Store itself, Groove, Windows Voice Recorder, Microsoft Phone app, Windows Camera, Windows Photos, Windows Alarms + Timer, Windows Contacts, Windows Maps, Windows Calculator and Solitaire Collection Besides the core, also Microsoft Wi-fi (former Skype Wifi), Microsoft Translator

You joking right? (I'm on 8.1).

Microsoft has no priorities anymore.

Agreed...bug fixing in core apps should not be a priority! LOL J/K!

I cannot believe that MS updated the calculator and did not fix the gigantic, glaring calculator problem that people have been griping about since the Windows 10 version: There is no way to use the history anymore. I have no earthly idea why they would ruin the old calculator like this. You could do multiple calculations before, then simply click on the result of anything within the history to insert the number within the current calculation you are entering. Now? If you click on anything from the history, you lose the current calculation, and you can only look at the number--which is useless. The only way to reproduce the old method, is to type out your calculations, then painstakingly retype the result of the old equation--which may be impossible if the decimals run out to infinity. I need to find something to replace the MS calculator, as it is pretty weak without a usable history.

Lots of great apps out there

Try Calculator²​! Windows: https://www.windowscentral.com/e?link=https2F%2Fclick.linksynergy.co... Android: https://www.windowscentral.com/e?link=https2F2F...

I liked that 8.1's calculator more. Wish they upload that as an app in store who miss those apps.

What did you like more? Cus this one has TONS more features

wow, I see that as a funny "like" :)


Same people complaining about small bug fixing updates...are the same people complaining that the OS and core apps are buggy LOL

Very much would like to see Microsoft put app install/update history option back in the Store as this is getting silly now, having to manually check for updats every so often to try and see what is updating to then go to it and see what's new.

Under standard calculator, occasionally decimals cannot be inputted properly.

My experience is sometimes I launch the calculator it opens for a half second and then closes. It simply won't launch until I log out and then log back in.