Windows Central App update brings bug fixes, better SD card support in latest update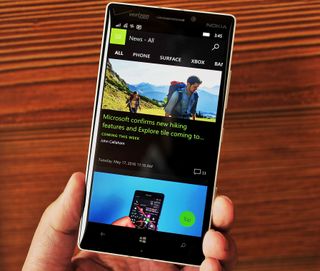 The app for Windows Central is getting an update today. Version 1.2.1 should be live in the Store and with it comes a lot of work on improving stability and addressing app crashes.
It turns out, a lot of the crashing issues were stemming from people who had the mobile app installed on their SD card, which can cause problems with pulling cache and data from the site (SD cards are slower than main memory; Personally, I don't recommend installing main apps on the SD card). We think we finally got a handle on that and when article comments spanned into the hundreds, which could result in a crash when scrolling rapidly.
Here's what's fixed.
Windows Central App v1.2.1
Articles load quicker
Fix for app crashing at launch
Fix for app crashing in comments
Fix for app installed on SD cards
We're still working out some kinds with deep linking for articles, which we'll address next week. For now, we're curious if the fixes improve the experience for those who were having problems.
Please continue to use our Windows Central UserVoice Page to file bugs and thanks to those who worked with us to isolate their crashing issues. The update is now live, but you may need to go to the Store listing to see the update until later when it is pushed automatically.
For those still who have crashing, trying an uninstall and reinstall may help in this case.
Download Windows Central for Windows 10 and Mobile (opens in new tab)
Windows Central Newsletter
Get the best of Windows Central in in your inbox, every day!
Daniel Rubino is the Editor-in-chief of Windows Central, head reviewer, podcast co-host, and analyst. He has been here covering Microsoft since 2007 when this site was called WMExperts (and later Windows Phone Central). His interests include Windows, Microsoft Surface, laptops, next-gen computing, and for some reason, watches. Before all this tech stuff, he worked on a Ph.D. in linguistics and ran the projectors at movie theaters, which has done absolutely nothing for his career.
Why I'm getting down votes??? Why ???

Lol some are not liking the fact that u r downloading it :P

Because they don't like Sasuke U.U

These are actually upvotes. Downvotes are shown as negative numbers.

They just turned those down votes to up vote....21:15

Hope it fixes big time crashing bug... App is crashing randomly... Upon starting, upon scrolling, on browsing comments...

Yeah still there are few bugs but will be squashed in coming WC updates.

Yeah true, i think its fixed now.

Still scrolling through comments is making app to crash.
Already Crashed 4 times.

Haha, it just crashed for me when I read your comment.

I wonder if its W10M/uwp issue at root, WP8.1 app just works.

Of course you wonder. As if you weren't a known troll around here.

Well it do requires some extra effort to create crashing apps with today's modern frameworks, if frameworks are solid.

And some terrible developers

I really doubt you know anything about programming other than buzzwords.

A very long list consumes a lot of memory. As everyone knows, the app hasn't been optimized.

I haven't come across crashing issues with the other uwp apps I use. Windows Central is really the only app I use which has been crashing pretty consistently. Hopefully this latest update shores things up.

Is the text too large for everyone after this update ?
EDIT: lumia 950 here

Yes. It is. Font size has been increased. Though the same font number.

The thing is, font size in settings is same as that from last update. But the font size in the articles is increased

On my 950, 8 now is bigger than 11 was before.

I dropped to 8 and it's still really large. It's fine in the comments, but not in articles. Mine is set use the system font for articles, 950 XL. Edit: Even without using the system font it's really large.

adjust it to 8 in settings.. It is still big.. But u can live with it. Last update's font I liked it a lot

It's actually getting smaller for me. Had to change the font size to 14 EDIT: Xiaomi Mi4 LTE with 1080x1920 resolution and 250% scaling

Same on my 1520, maybe the issue is screen res detection.

I'm not having any issues with text size. L640XL

Yeah for me tooo text size decreased

Yes, for me too the font size became smaller @ 10. I changed it to 12 on mobile.

Nope, looks same ad usual for me :)

Nope, looks same ad usual for me :)

You can fix it in settings

I think you can vary the size of the text in settings.

No looks normal on my 550

Yea, my size 12 font suddenly went waaay too big on the Lumia 950. 8 is tolerable, but still a touch bigger than 12 in the last update.

Mines now smaller - presume it's reset your font size setting

Mine has actually been DECREASED. Lol

Looking really good... Happy :)

Still seeing an issue where scrolling articles glitches then displays duplicates of each article.

Articles now loads super fast. And looks like the keyboard hiding comment box is fixed too !

Comment box still gets hidden on my 950XL. Also, quite often opening reply doesn't "focus" on comment box, I have to tap it to be able to type

I love to coming over here to catch up reading. However, this site have become very slow (crashing and simply wouldn't load) Using either Edge or IE11 to view either browswer are working well. Not sure what the caused are. I've tried different PC and Laptop, it just load extremely slow. I have 100MBP download speed at home and T3 from work. Does anyone else having this issue?

It's because the site has alot of ads. You will have to use an adblocker. Or use the app. Posted via the Windows Central App for Android

Please, upvote issues when scroll or pressing arrow keys in comment field causes article change
https://windowscentral.uservoice.com/forums/348765-general/suggestions/1...
https://windowscentral.uservoice.com/forums/348765-general/suggestions/1...

Getting upvotes on user voice page will help instead of here

And therefore there are two links to WC Uservoice in my comment. So reader who has same problems can find them with ease :)

Haha my bad... I replied from notification center... Where links weren't shown.. I must have opened the app :P

Article opens according to internet speed... I want the articles to open superfast and then let the internet load the pictures! Now it takes too long to open if there is too many pictures or if we have slow internet.... Articles with lots of pictures on slow internet takes forever to open!

The app is terrible at such optimization.

Hmm i see but well some of us dont have the 950 with 32gb storage so we dont care where apps go :P

I'm aware, but here's the thing: most people only use 5-7 apps on a regular basis. You could move those to main memory for better performance and keep the ones you don't use often on storage ;)

All my apps including windows central are installed on device. Still its crashing. L830 14393

Try reinstalling the app...it reduced my crashing problem a lot...move it to device after installing...

Or directly install on device after reinstalling !!

All my apps are installed on Device BY DEFAULT

The live tiles has stopped working

The scroll bar seems to be stuck in the articles on PC. And on mobile, the Up/Down vote buttons are even shown under my own comments and I don't know if you have noticed it or not but the text in the search box is incorrectly aligned and so is the Tip Us arrow button in the splitview pane. And yes, the app has not yet crashed.

Please provide an option to sort forum posts.

This is not a main app so I don't mind installing it in the SD card

Hope it doesn't crash any more

I cave in. I used to open windowscentral on the browser but it seems like the developers are committed to the app that I decided to give it a try.

The browser is horrible to use. So full of ads and it takes forever to load. The app is just brilliant in comparison.

I've never installed any of my apps to SD card and still get the occasional crash. #BlameW10MBeta

That is true. I install all my apps on internal memory. And the WC app been Ok,.. .. then crashes ...

You know it's funny timing. I am getting a new microsdxc card for my lumia 950xl and when I moved WC app over to internal memory yesterday, I noticed it stopped crashing so often. Then jump to today and that bug/issue with sd cards is confirmed.

I don't understand why this app doesn't stay open in the background when I hit the back button like every other UWP app.

Probably because it's coded properly unlike the POS MS core system apps that stay open all the time since MS likes to piss us off by draining our batteries.

lol, no.. The apps on the background are actually suspended and won't affect your battery life. But if you keeps exiting the app on the task view, and reopen them all over again, it will drain the battery since they have to reopen and reload everything from scratch.

I don't know about that. I know there's been a lot of discussion on this theory but battery hog apps like Edge I don't trust running in the background ever.

Incorrect. According to MS Guidelines, the app should only suspend when the back button is pressed. This is enabled by default for all apps.

Microsoft Health is the same. Force closes the moment screen locks after the preset time. And doesn't stays in the background. Typing via this WC Windows app is horrible. Keeps missing keystrokes, cant swipe through letters. Their android app is far better actually.

Navigation in the forum section is under-developed. Its frustrating to get to the last page... Nonetheless its coming along nicely, and surely....

So when are you going to add a red accent color that's actually red?

The app really lacks in customization.

Yeah, this "red" is peach red. I hate it! I like strong, vibrate colors!

The app is getting better with each update. You should look at MSPU app. I really like their approach to a UWP app. I hope that the app could be as stable as their app.

But you should consider the time this app has been available. Their app is released only a couple of weeks ago and works better. But you should consider that the community isn't great at MSPU.

Font size in articles seems huge even on 8...compared to my memory of the app before I updated a few minutes ago...is it me?

It's you, and many others.

Still can't get an article count with the live tile. Any suggestions?

Yes, finally it works as it should.
Was faced with constant splash screen freeze and crash

Suddenly my font is too big now.

Hope this fixes it so I can use it again.

Sd card installation.. Superb.. Appreciated hard work.. :)

Found a bug: It's still not in Dutch (haha)

Excited like a mother I updated only to find it still crashed when scrolling thru comments (for this article in fact). But based upon "I don't recommend installing main apps on the SD card" I have now moved the app to internal memory - so when it crashes again I'll be sure to call you out. Haha

Down voted, really? In any case, the app does still crash, albeit quite a lot less than before. Whatever thw issue, it's still shoddy programming.

I have it installed on device memory. Crashed while scrolling too.

My font became smaller than previous build. :\ Anyway great job on the startup time as it starts much quicker now and also sadly it crashed when I scrolled quickly through the comments. Appreciate the hard work..
Peace

The Optimization of installing apps on the micro SD card is yet to come from Microsoft. When? God knows!

At least they let you move and install apps on sd card. Stock Lollipop/Marshmallow doesn't

I think it is time to bring other Mobile Nations apps to the store.

Definitely faster than before

I store all apps to my phone, not SD and I was getting the crashing app. I uninstalled and reinstalled and seems to work now!

I think they will never fix that pull to refresh statement appearing bug where every time i hide the navigation bar it appears... Very disappointed

I have had the crash issue installed in my phone memory.

Just started my old Lumia 720 with the old WC-app. Works like a charm. Is it really that hard to make an app that works on W10(M)? Or is this something an apprentice works on? I am sceptic.

Surprisingly the MSPU app is much better than this app. You should give it a try.

Yes. And we have received only 2 updates since the app launch of mspoweruser but its still buttery smooth.

Remember this does have a lot more functionality than the old WP WC app.

Sometimes stability is better than functionality.

I don't think its WM10. Have you used an app like Baconit? That's one awesome app!

This app has more updates than I've had got dinners. Hopefully it will stop crashing and freezing soon.

Yes, it's has fixed crash issue on my mobile. Cheers.

Please add a button in comments section ro jump between your own comments. Why? You can only click the notification once. After that it is very difficult to find your comments.

Font is too big. Even on 8. Everything is blown out.

Excellent work guys - *MUCH* quicker on mine (L735, on MicroSD), but unfortunately still crashing on large number of comments when scrolling quickly (e.g. on this article) - have trained myself to scroll slowly.

Here (950 XL) it's the same with the font. Used 10, didn't change it but the font appeared bigger. Changing to 8 didn't do anything. Out of curiosity chose 20 (should be way too big) - the font became smaller!
The greater the chosen number, the smaller the font is displayed.

Definitely has massive font on 950. Was at 10, now at 8. Still disproportionately large. Hope it gets resolved. Nevertheless, enjoy the app. Thanks.

When you have a 640 with 8gb of internal memory and have to move things to install builds because you don't have enough space, you have to install whatever apo you can to SD

Exactly!
Wish that WC's Editor-in-chief could get a understanding of it.
I wish I could move that stupid messenger app to sd card too. That and WhatsApp are the only apps I have in my internal apart from system apps. I have Instagram, facebook and every other 100+ app on my SD Card, installing them on internal is not even an option!

Still can't quote the forums for reply...

Daniel, you recommend not installing main apps on an SD card. Some of us don't have any option but to do that.

He meant to say put it on virtual memory....:)

This is fantastic! Speed of my internet connection (over wi-fi) is 10/1 Mb/s, and it opens the app in 2 seconds, and articles and comments same second as I swipe it! No crashes while scrolling.
Before was 14 seconds and 6-7 seconds for articles and comments.
I had no problem with font size. Same as before! The app is stored on SD card. I use Microsoft Lumia 535.

Ha! There it was! I wrote that, and it crashed! I'm a witch! Bad, bad Jelena!
Next time, I'll keep good things for myself. When I say, or write it down - bummer! :)

Funny, I just updated this app and it crashed for first time.. reading comments. Btw. How about you update this again and [somehow] make it highlight *my comments*? There's no way to differ my comments from other on W10 version. On W8 on your comments on right top corner you can also see 'delete' and 'edit' buttons

the app don't work for me more than month in my phone and laptop i try everything but no way?!?!?!

Ty. Finally works on my 550.
As for installing on an SD, with a 550, you either need almost all apps on an SD, or you need to wipe and reinstall with every build update (or never update the phone again).

I have a request for the app, allow us to block users.... :)

As with all previous update it good for a while then it start behaving badly especially reading in the comment column. Hopeful this time is fix.
Edit. Oops it just crashed twice while strolling on the comments.

I've always had this installed on my SD card, and have had terrible crash issues. After the last update I moved it to phone storage and haven't had a single crash since. I appreciate the work to rectify the SD card issue, but I won't be moving it back.

Never had this app installed on sd, and always ran like crap! Updated it, and guess what? Crashed the first time I tried to comment!

Now the font becomes way too big even when set to size 8

Set it to a higher number. I read someone suggesting here in the comments to put it to 20

Thanks. Set to size 20 and it's smaller now. Such a buggy app.

Yes it works. Set it to 20... Font size decreases.

Better SD card support is welcome.

Works better now after the latest update but the comments scrolling still crashes.

Why can I not click on app download link from the app now? I need to go the the browser to see the active link.

Latest update makes this app smoother. Luv it ❤ .

Latest update ver. 1.2.2.0 if you change the articles font size to any numbers, exit and relaunch the app. It will change back to default value 10. It happens on PC and Windows Mobile.

It added continuum support. Lovely...

Personally i dont recommend installing main apps on sd
You said The phone only has 0.7gb of free space i say. The rest is populated with system files and system apps.
Windows Central Newsletter
Thank you for signing up to Windows Central. You will receive a verification email shortly.
There was a problem. Please refresh the page and try again.