Windows Central apps for Windows 10, Android and iOS deliver all the goods on the go
One of the best ways to keep up with everything that's happening on Windows Central, whether it's blogs, forums, videos or podcasts, is by using one of our apps for smartphones, tablets and PCs.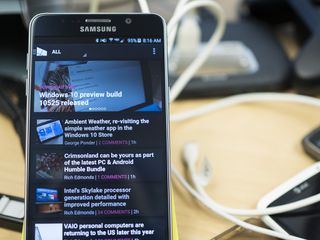 Regardless of the platform you use, we have a mobile app for your device. And we're constantly working on the app experience to make sure you get the level of service you've come to expect from us.
Here's a look at our most popular apps, along with links to the app stores where you can quick and easily download them.
Windows Central for Windows 10
This is our app for Windows 10 PCs and Windows 10 Mobile devices. The look and feel are in line with what you expect from Windows 10, but the content is the same as our other Windows Mobile app: Everything and anything Windows Central.
Download from the Windows Store (opens in new tab)
Windows Central for Windows Mobile and Windows Phone
This is our mobile app for Windows Mobile devices that run Windows 10, Windows Phone 8.1 and Windows Phone 8.0. The look and feel aren't quite as modern as our app for Windows 10 (see below). But we love it just the same.
Download from the Windows Store (opens in new tab)
Windows Central — The app! for Android
We don't necessarily like it, but we know that many of our loyal Windows Central readers have jumped from the Windows Phone ship to another, healthier platform, such as Android. As such, we not only offer apps for Windows phones, tablets and PCs, we have an Android app that also delivers the goods.
Download from Google Play (opens in new tab)
Windows Central 'WC Forums' for iOS
Apple's iOS platform is hugely popular (again, we're not thrilled about that ... but it is what it is, right?) We want our iPhone- and iPad-toting readers to have access to all the Windows Central content they want (need?) from wherever they are. So we created an iOS app, too. (It's called "WC Forums" but the app serves up all of our blog content and other site goodness, too.) You may also want to check out our [Windows Central podcast on iTunes](https://itunes.apple.com/us/podcast/windows-central-podcast/id1120948170?mt=2&at=10l3Vy 'Cause it's awesome.
Download from the App Store (opens in new tab)
Al Sacco is content director of Future PLC's Mobile Technology Vertical, which includes AndroidCentral.com, iMore.com and WindowsCentral.com. He is a veteran reporter, writer, reviewer and editor who has professionally covered and evaluated IT and mobile technology, and countless associated gadgets and accessories, for more than a decade. You can keep up with Al on Twitter and Instagram.
Windows Central Newsletter
Thank you for signing up to Windows Central. You will receive a verification email shortly.
There was a problem. Please refresh the page and try again.